Pumpkin roll cake with all its classic autumn flavors and color is a fantastic fall baking treat. This easy recipe will take you through every step of a tightly tucked roll created with pumpkin puree and pumpkin pie spice, and packed with a decadent sweet cream cheese filling. We're also zooming in on how to roll the perfect pumpkin roll with no falling apart or crumbling. Not on my watch.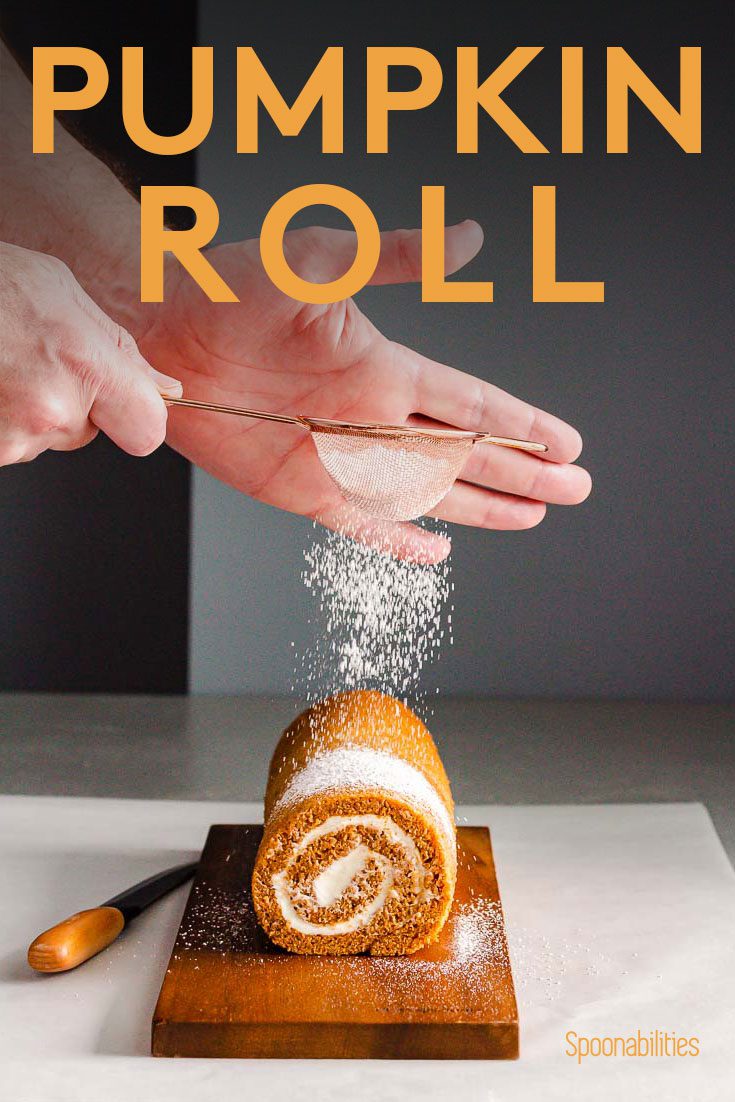 Blog post contains products you can purchase in our online shop, and affiliate links.
Read our Disclosure Policy.
Hello my friends. Today we're baking a pumpkin roll. You've seen these around. Beautiful spirals of flavor embodying the spirit of fall and time with the family. A slice of a rolled-up spiced pumpkin cake with a sweet cream cheese filling is the very essence of fall. It's classy and high-browed without losing the homey and comforting feel of a home-baked treat. Pumpkin puree and autumn spices combine nicely with a sweet cream cheese filling in a spiral of flavor. A cake so beautiful you'll want to invite everyone you know for a piece of this delicious pumpkin cake.
This cake is the fluffiest and most aromatic pumpkin roll we've made. The bread is so "pillowy" and the filling so buttery and rich that every bite melts in your mouth. Wait… I meant "one" of the fluffiest cakes because I almost forgot that we have another heavenly cake, which is one of our top recipes at Spoonabilities, called "pumpkin tiramisu cake with coffee-maple mascarpone cream."
A bit of doubt and fear always surrounds this pumpkin roll recipe and every rolled-up cake because most home bakers feel the whole thing will crumble while assembling. This recipe will take you through every step, guaranteeing a tightly tucked roll with different layers of color and flavor.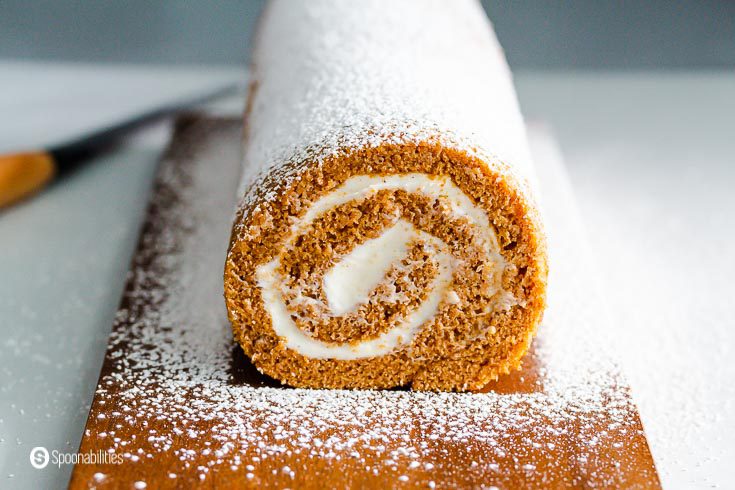 The Ingredients for Pumpkin Roll
We'll be using a can of pumpkin puree and aromatic pumpkin pie spice. Let's call these the soul of our pumpkin roll. The rest are baking staples I'm sure you already have at home: eggs, sugar, flour, butter, and baking soda. Finally we have the filling, and we're going super classic on this one — cream cheese, butter, and powdered sugar. The result is a pearly white, creamy filling that's just beautifully simple.
Every creamy filling benefits from a touch of vanilla, so we're adding a teaspoon of vanilla paste in there. You can also use vanilla extract, but if you're planning on baking often this year, I recommend picking up the good stuff. Vanilla paste is intense and thick, and it's ten times better than the extract.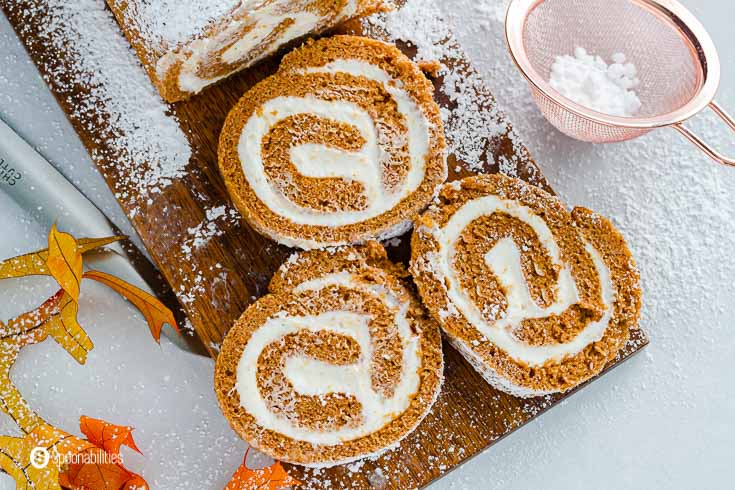 How to Roll the Perfect Pumpkin Roll
We'll go into detail in the recipe below, but I want to talk a bit about the art of rolling a cake without it falling apart.
What would you say if I told you that cakes have memory? They do! Well, let's just say that cakes are malleable when straight out of the oven and you can 'train' them to take a specific shape.
If you roll your pumpkin cake just as it has cooled down enough to handle, it will remember its shape, and even if you unroll it later to add the filling, you'll always be able to roll it back up risking no rupture. After you roll up the cake, let it cool completely before adding the cream cheese filling.
Of course parchment paper helps keep everything in place, and trust me, if you skip this step, your cake will be almost impossible to roll. Some people use a tea towel dusted with powdered sugar to roll up the cake, but this step is unnecessary. Using the parchment paper has double duty. It will line the baking sheet for easy removal, and help you to roll the cake up.
After the pumpkin cake is rolled up, cover tightly with plastic wrap. Leave it in the refrigerator, preferably two hours. It helps to make a cleaner cut. If you want to have a pretty end like this one, slice the end off about ½ inch.

Like this recipe so far? Be the first to know when we release new ones!
---
9 Simple Steps How to Make Pumpkin Roll
Prepare the pumpkin cake batter.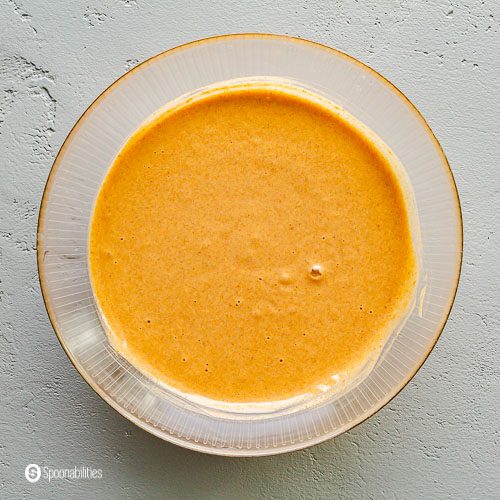 Transfer the cake batter to the baking sheet lined with parchment paper.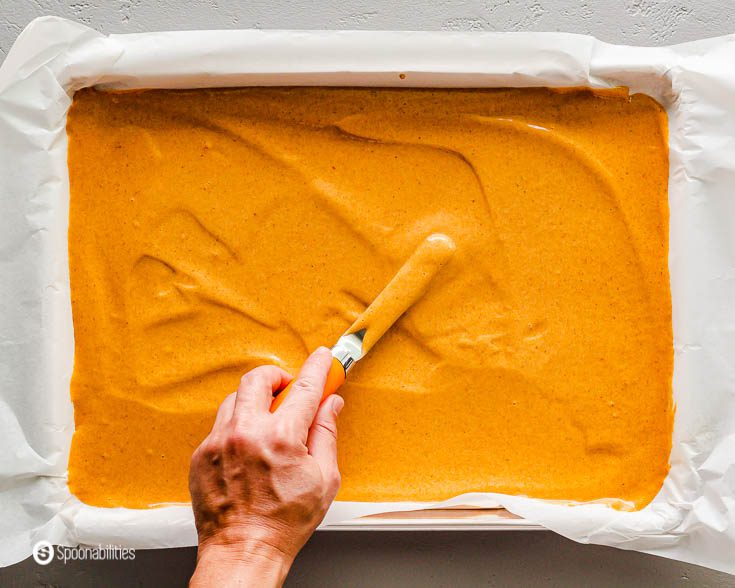 Bake for 15 minutes.
Remove cake from pan and let it cool slightly.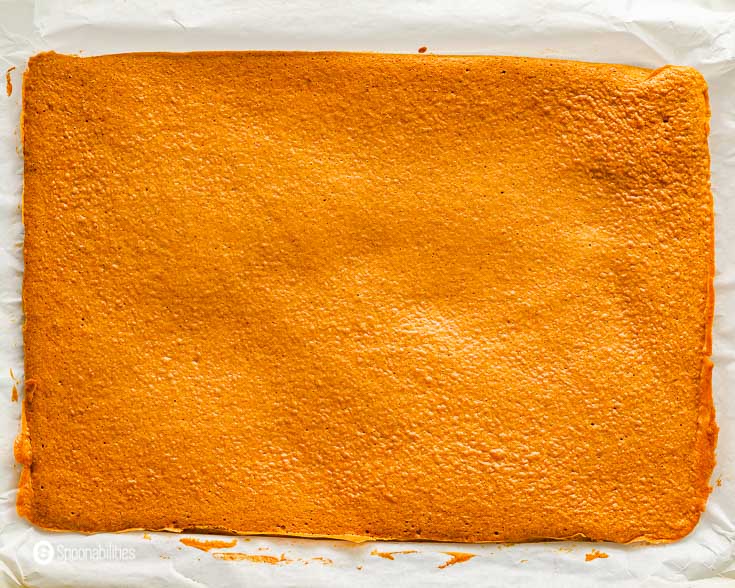 Roll the cake. Let cool completely.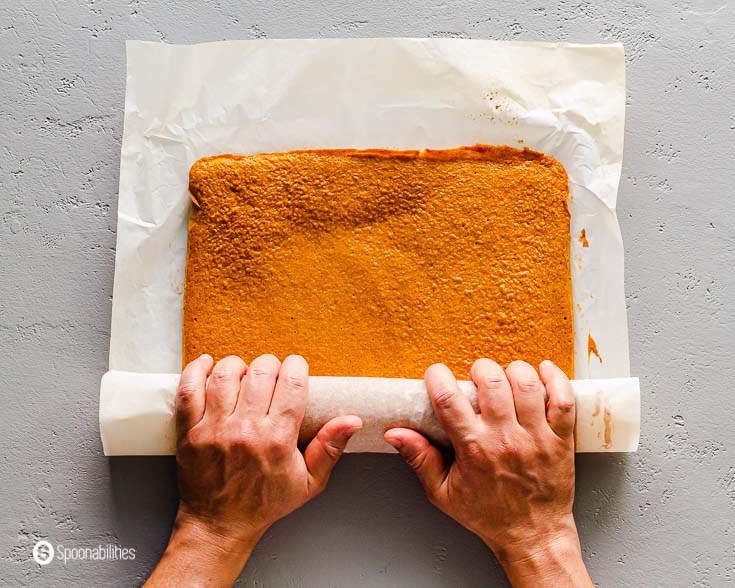 Make the cream cheese filling.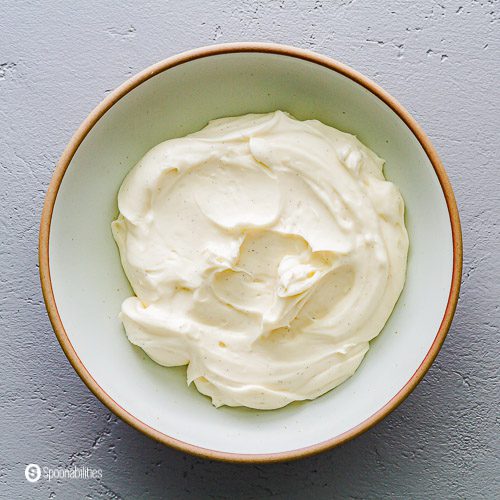 Spread the filling on to the cake.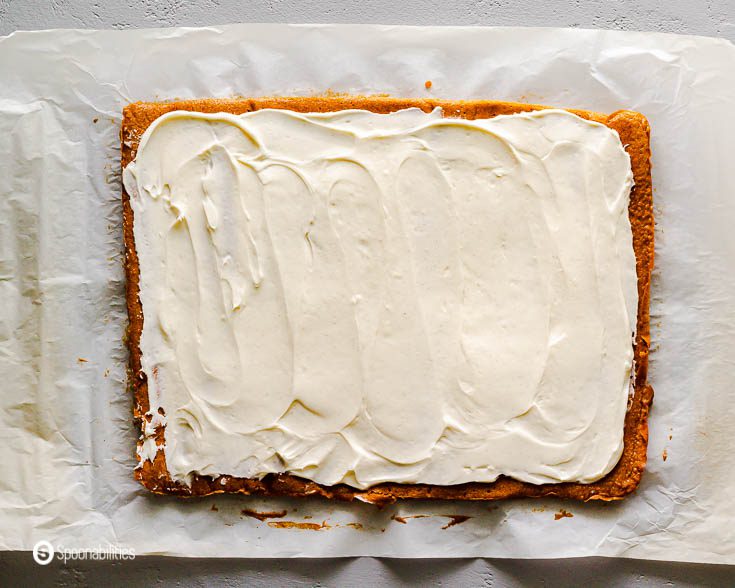 Roll up the cake, cover tightly with plastic wrap, and keep it in the refrigerator for a least two hours.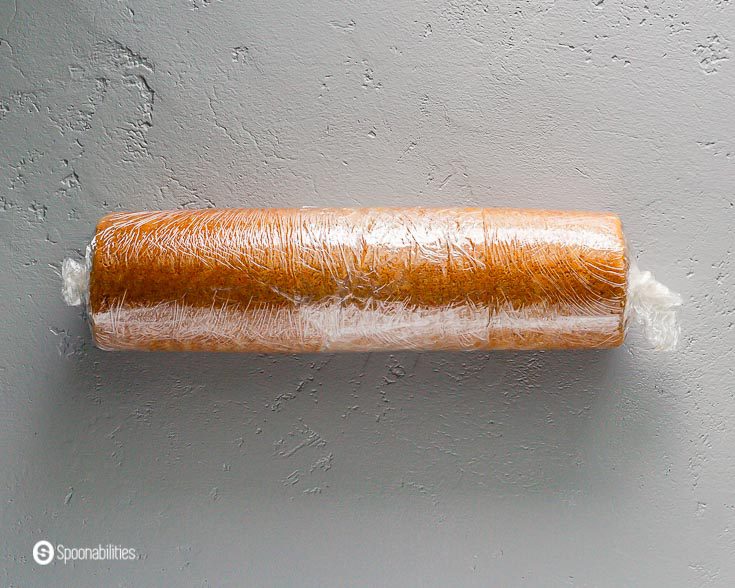 Dust the pumpkin roll cake with powdered sugar and cut a slice for yourself. :)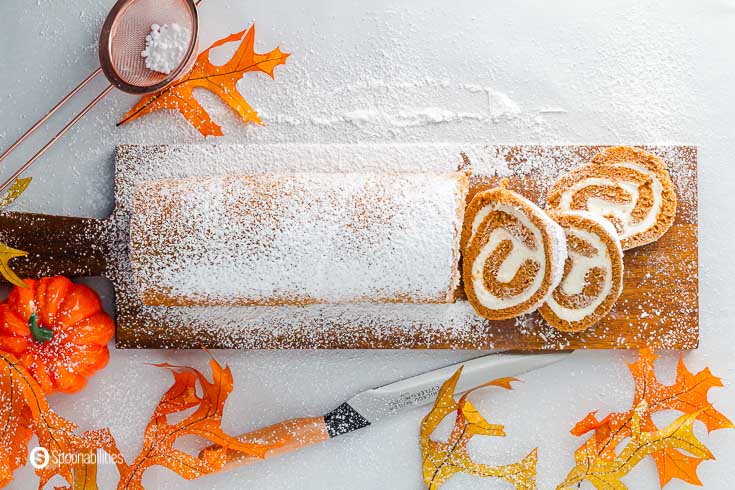 Why Does My Pumpkin Roll Get Sticky?
I know a lot of you keep asking why after you take the cake out of the refrigerator, the cake gets sticky. I have done some research and I was not able to find a clear answer for you. So, don't stress about it. This cake is moist, and it will get sticky. I believe the pumpkin puree is what gives the stickiness to this cake, and the alternative to a moist sticky cake is a dry, flaky cake that will not roll properly.
What Tools Do I Need to Make Easy Pumpkin Roll Cake?
Hand mixer – a hand mixer is the most convenient mixer to make this cake. There is no need to pull out the big stand mixer.
Standard baking tray – A lot of people tell you to get a jelly roll pan. If you have one, then use it, but a standard baking sheet will work perfectly as long as the height is 1 inch. I use a 17-½" x 13" x 1" baking tray. Anything around that size is ok. You don't need to get a special tray for this pumpkin roll cake.
Parchment paper – As I mentioned above, the parchment paper will serve to both line the baking tray and help you roll the cake up. Make sure to leave around 1-inch of the paper over the sides of the tray. The extra inch will allow you to pick up the cake and use the excess paper to start to tuck the cake.
Offset spatula – This kind of spatula is the best tool to help you spread the cake batter or spread the cream cheese filling.
Plastic wrap – You will use the plastic to wrap the pumpkin roll and to keep it tight in the refrigerator.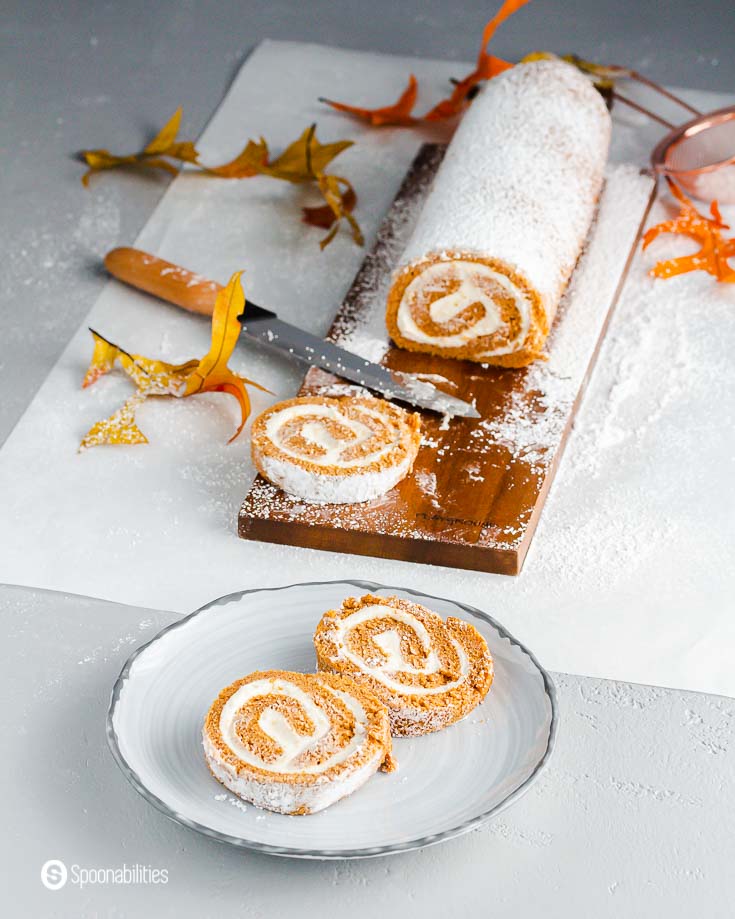 How Can I Store My Pumpkin Roll?
Refrigerator - Wrap the cake roll tightly in plastic wrap, sealing the edges well. It will last for five days.
Freezer - Wrap the cake roll tightly in plastic wrap and then with tin foil, sealing the edges well. It will last for three months. Before use, let it thaw in the refrigerator overnight.
This cake is definitely the most straightforward cake to make and the best pumpkin roll cake recipe. I hope you get a chance to make this cake. When you do, tag @Spoonabilities on Instagram or add a photo or comment on Pinterest, so we can find you! And we love to hear from you in the comment section below.
Happy Pumpkining!
Carlos Leo
Your Recipe Concierge!
More Pumpkin Cake Recipes:
Print
Pumpkin Roll with Cream Cheese Filling
---
Author:

Carlos Leo

Total Time:

30 minutes

Yield:

1

0

1

x
Description
Pumpkin Roll Cake with sweet cream cheese filling is finished with a powdered sugar dust. This easy pumpkin roll has all the flavors and aromas of the Fall season. This cake might be the holiday season's prettiest and tastiest baking treat.
---
Pumpkin Cake Batter:
Cream Cheese Filling:
8

ounces

softened cream cheese

3 Tablespoons

softened butter

1 teaspoon

vanilla paste

1

cup

powdered sugar plus extra for dusting
---
Instructions
Preheat your oven to 375F.
Mix the Wets: In a large mixing bowl, beat the eggs, sugar, and pumpkin puree.
Mix the Drys: In another mixing bowl, mix the flour, pumpkin pie spice and baking soda.
Combine: Add the dry ingredients slowly to the beaten egg mixture and combine until smooth.
Line a 17-½" x 13" x 1" baking tray with parchment paper overhanging about 1 inch over the sides. Spread pumpkin cake batter mixture evenly on top of the parchment paper with an offset spatula. Note: the baking tray doesn't need to be precisely the same size but a height of at least 1".
Bake in the oven for 15 minutes or until the top of the cake springs back when touched. Remove from the oven and allow to cool just enough to handle. Lift the cake out of the pan using the overhanging parchment paper.
Roll: Starting from the short end, gently roll up the pumpkin cake with the parchment paper inside. Allow to cool completely on a wire rack.
Prepare the cream cheese filling. Beat the cream cheese, butter, and powdered sugar until smooth.
Unroll the cake and spread the cream cheese filling on top using an offset spatula, leaving ¼-inch edge to prevent the filling from spilling out when you roll it up.
Roll the pumpkin cake back up without the parchment paper, cover in plastic wrap, and chill for at least two hours before serving.
Dust with powdered sugar before serving.
Prep Time:

15

Cook Time:

15

Category:

Dessert

Method:

Baking

Cuisine:

American
Keywords: pumpkin roll, pumpkin cake, fall baking, fall desserts, cake roll, cream cheese frosting, pumpkin spice, fall recipes, pumpkin dessert
Recipe Card powered by
Available via these affiliate links:
Disclaimer: Links that open in another site, i.e. Amazon, may be affiliate links where at no additional cost to you, as an Amazon Associate I earn from qualifying purchases, should you decide to purchase the item. Read our Disclosure Policy.