Deciding on the right sauces and tasty textured bases can make all the difference in the enjoyment of appetizers. In this post, we'll help you find the perfect dips and crackers for charcuterie boards to impress and delight your guests.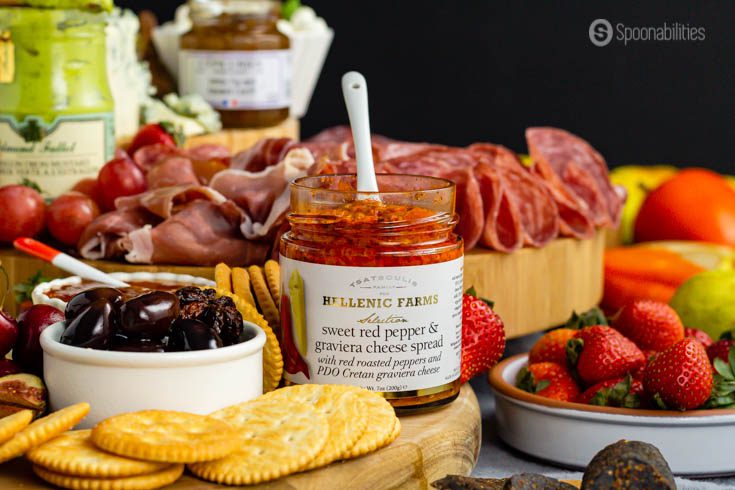 Dips for Charcuterie Board leveling up
Sauces and dips level up your charcuterie board from a basic appetizer tray to a culinary work of art. Here are some go-to sauces, jams, and dips to complement charcuterie meats, cheeses, and supporting cast of fresh and dried fruits, veggies, and nuts. You'll find some tasty dips that you can make yourself, buy pre-made online, or pick up at the local grocery store. Here are three that are usually a big hit:
Classic Basil Pesto
Basil Pesto is a simple combination of pine nuts, salt, pepper, basil, good parmesan, high-quality extra virgin olive oil, and garlic. Quite a mouth-watering combination!
Depending on how fancy you want to be, a more classic flavor and texture can be achieved by crushing all the ingredients together with a mortar and pestle. However, the same great flavors and a more consistently smooth texture can be had by blending all of the ingredients together in a food processor. If you have the time and motivation, give the classic method a go! Your "foodie" guests will probably notice.
There are also many variations of pesto, depending on the flavors you're trying to achieve. For example, for an earthy dip that is nut-free and low carb, try artichoke pesto.
Olive Tapenade
If you succeed in balancing the taste of anchovies (umami salted) and black olives correctly, then you may indeed be a chef in the making. But don't get us wrong, that doesn't mean that making tapenade is difficult! You just need to achieve the right balance of flavors with olives, anchovies, capers, garlic, basil, lemon, and olive oil. You can follow these tapenade directions we found on WikiHow. They've even provided different versions like spicy, roasted red pepper, and sundried tomato tapenades. For a classic olive tapenade with Kalamata olives, try this all-natural olive tapenade, or if you like the idea of tomatoes in your tapenade, you can try this delicious tapenade with dried tomato and basil.
Choose fresh bread as support for spreadable tapenades, as there is just the right level of porousness for absorption of liquid while the textured tapenade remains intact. To elevate the flavor even more, serve some natural sea salt flakes that can be sprinkled on top of the bread and tapenade. The sea salt flakes are great to have around even if you're not hosting a party - try adding some to buttered bread as a snack and thank us later!
Fig Chutney
You can make your own fig spread using either fresh or dried figs. We're a little partial to dried mission figs for chutney. Dried mission figs have thick, purple, sweet skin that gives the chutney an added flavor dimension. If you're looking for a slightly sweet spread with a balance of savory notes, try our fig chutney by L'Epicurien. Scoop it over soft cheese like brie or ricotta on crostini (toasted baguette). It also makes a nice spread for sandwiches with prosciutto and white cheeses.
Sauces and Jams for Charcuterie Boards
If you're looking for a few super-flavorful charcuterie board sauces and jams that are sure to be a hit, we've got you covered. Here are some we've found to be crowd pleasers and even great conversation starters.
Spicy Honey Mustard
Honey doesn't need to be one note - while it's sweet, it can also be made spicy with infusions of different types of peppers. This can be a surprising, unexpected, and delightful taste to accompany various charcuterie board ingredients. Spicy honey tastes spectacular with creamy cheeses like ricotta and burrata. To make a spicy honey sauce, try combining Espelette Chili Mustard with Provence flowers honey.
Caramelized Onion Jam
Jam featuring a rich caramelized onion flavor pairs beautifully with several cheeses, but cheddar and brie are especially nice. Try spreading a smoked spreadable cheddar on mini rye bread slices and top with caramelized onion jam. Amazing!
Peach Jam
Like onion jam, peach jam is also versatile. Its sweetness and light flavor make for a perfect pairing with goat cheese or blue cheese, or really any cheese that has a bit of tangy aspect to it. Of course you can make your own peach jam, but might we suggest trying a really unique vine peach jam with its own distinct and sweet, tangy, slightly musky flavor.
Crackers for Charcuterie Boards - Bread and Crostini Too!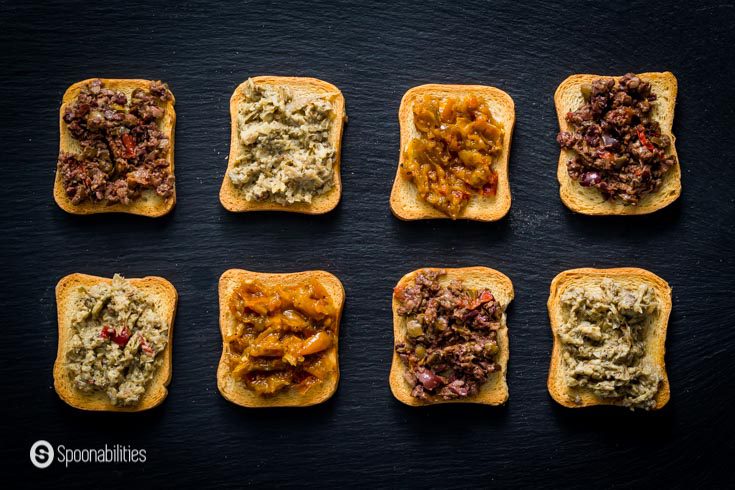 To get all of the delicious dips, jams, and sauces into happy mouths, they need soft or crispy food-to-face delivery vehicles like bread, crostini, and crackers. Here are some options to consider.
Crostini - Here's an Easy Crostini Recipe
Crostini is just a fancy name for toasted baguette slices. It's an Italian word meaning "little crusts." And little crusts are perfect for a nice crunch to go along with charcuterie meats, cheeses, and spreads. For an easy crostini recipe, slice a baguette, brush the slices with some extra virgin olive oil and fresh garlic, and bake at 400 degrees for 8 - 10 minutes. Immediately after taking them out of the oven, sprinkle the slices with a touch of sea salt.
Sourdough Bread
Sourdough is a firm, chewy bread with a slightly tangy flavor that comes from a "starter" made with fermented flour and water. Unlike many other breads, there is no yeast used to make it rise. Sourdough bread makes great sandwich bread or bread to support appetizer meats and cheeses.
Ciabatta Bread
Ciabatta is an Italian bread with a crispy outer crust and softer, open crumb inner texture. It is made with flour, water, yeast, olive oil, and salt. Ciabatta is excellent as a base for hard and soft cheeses and the cell texture absorbs spreads and sauces nicely.
Flatbread
Flatbread is exactly what it sounds like - flat bread! It's made with flour, water or other liquid, yogurt, and salt. It is rolled into a flattened dough and baked. Depending on the ratio of liquid to flour, flatbreads can be soft, crispy, flaky, or even puffy like pita bread. Choose one that you think works best to hold your dips for charcuterie board excellence, along with your appetizer ingredients.
Like this guide so far? Be the first to know when we release new ones!
Pita Bread
Pita is another flat bread. In fact, "pita" means "flat" in Greek. It is a leavened bread that is normally made with a plain flour called maida. Pitas are white in color, soft, and spongy. Pitas roll and fold nicely, so they're great for allowing your guests to create their own mini wraps.
Rye Bread
Rye bread has a distinctive deep flavor that comes from rye flour and the addition of ingredients like molasses and even cocoa powder. Charcuterie board ingredients that go well on rye include cream cheese, tomatoes, ham or prosciutto, pastrami, pesto - really, the list is almost limitless. Try creative combinations and if you find a great one, please share it with us!
Pumpernickel Bread
Pumpernickel is a variation of rye bread with a slight sweetness to it. This bread is made from a mixture of coarsely-ground rye and sourdough starter. We suggest using pumpernickel with butter and jams or fruit spreads, maybe with a topping of nuts or nut butter. You can even toast it and spread on some cream cheese, cranberry jam, and pickled red onions.
Cornbread
Cornbread is bread made of cornmeal and flour, along with butter, sugar, eggs, and milk. When made well, it is soft, fluffy, and slightly sweet. It pulls apart easily and is great for dipping as it absorbs liquids readily. The sweetness offers a nice contrast to anything spicy, which is one reason it is often served with chili. Try spreading on some of the spicy honey sauce we mentioned earlier, or you can even try making your own with our recipe for jalapeño cheddar cornbread. To die for!
Water Crackers
Water crackers or water biscuits are thin, crispy, and brittle, and don't have much flavor of their own. These are great for supporting hard cheeses so the cheese flavors stand out, and are often the types of crackers used for wine and cheese parties.
Butter Crackers (rounds)
You probably know butter crackers best as RitzTM crackers. They are round in shape, firm but not as brittle as water crackers, buttery, and lightly salted. Most people like to spread jams and soft cheeses on them. We might like using them for peanut butter and jelly, but don't tell anyone. We can't be messing with our gourmet reputation...wait, sure we can. Peanut butter and jelly on butter crackers is fun and reminiscent of good childhood flavors. On second thought, tell everyone.
Multigrain and Herbed Crackers
Multigrain crackers tend to have a deeper flavor because they are made with more than one grain. Similarly, herbed crackers offer particular flavors like dill or rosemary. If you have lighter-flavored appetizer ingredients and want to make the crackers the star, multigrain and herbed crackers are the way to go.
Specialty Sauces and Dips for Charcuterie Board Excellence
Your guests are sure to have an unforgettable experience and ask you where to find (or how to make) the delicious dips, jams, and sauces you have served.
If you don't have the time to prepare all these dips for charcuterie boards, often buying the packaged versions costs less than making the dips, jams, and sauces at home. And if you have anything left over and need some inspiration for what else to make, let us know - we love coming up with ideas to help you do creative things with leftover ingredients.
Spoonabilities Guides to Charcuterie Boards