Need some charcuterie board ideas? With the right balance of flavors and textures, and the overall feel, there's a lot to think about when creating a charcuterie platter. We'll give you some ideas, tips and tricks to master the art of assembling snacks, cheese, and other one-biters in an impressive charcuterie board. We're also talking about tasty flavor combinations.
Hello my friends. If you're putting together a dinner party, a get-together with friends and family, or a nice romantic supper at home, you know you need to have some sort of finger food to get things started. We have learned a few cheese and charcuterie board ideas throughout the years, and we want to share those with you along with some easy-to-follow thoughts for an impressive charcuterie board.
Well, there's nothing better than laying a charcuterie board out there for everyone to grab a bite. A varied, well-stocked board is laid back and casual, yet high end looking and tasting. Charcuterie boards are an opportunity to show creativity and taste preferences. You can mix and match flavors and textures for an extraordinary experience.
So where to start?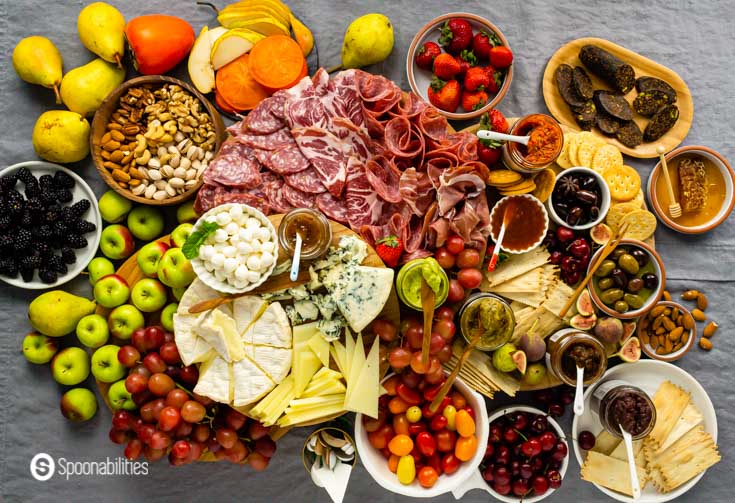 Questions to Stimulate Your Charcuterie Board Ideas
Before you start to plan your charcuterie and cheese boards, you need to think about:
how many people you invited,
what kind of presentation you want to showcase, and
is this the only food you will offer at the party,
your budget, and
will this charcuterie board be your show-stopper attraction of the night.
Also, don't forget to consider that you need to provide some vegan options for your guests with dietary conditions or preferences. These are some of the questions you need to consider before you start to plan your charcuterie board.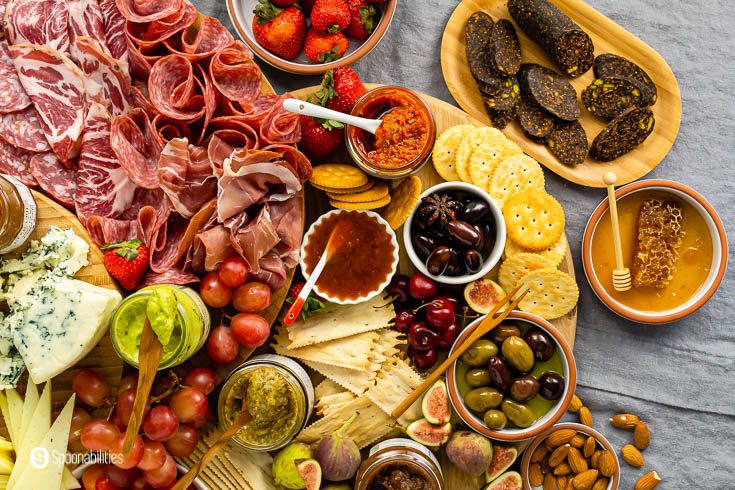 Charcuterie Board & Plate Selection
So, now that you've answered some of the basic questions, let's pick the serving board. The serving board can be a large board or a combination of smaller boards. Also, don't get stuck thinking that you need a special wooden board and cutlery set to present your appetizers. Use plates, trays, platters, or even cake stands. You will need small bowls for some of the spreads, jams, and nuts, and also an empty bowl for your guests to put pits. Use small glasses filled with toothpicks, teaspoons, and spreaders.
For this charcuterie board, I'm using four different sizes of round serving boards. I arrange those to create different layers of height. I put some of the spreads, olives, crackers, jam, and some fruits in the first layer. I like to keep the spreads in their original jar so the guests can see what they are. The second board layer has the dried cured meats and the jar of mustard. On the third board, I have the cheeses and Fig and Almond Confit. In the fourth board some fruits.
A Few Charcuterie Board FAQs
How do you pronounce charcuterie?
Charcuterie is pronounced "shahr-ku-tuh-ree" and it means the art of preparing and assembling cured meats and other meat products.
Can a charcuterie board be round?
Absolutely you can have a round charcuterie board. The boards themselves come made of several different materials, shapes and sizes. We even have an acrylic one in the shape of a painter's pallet (Geoffrey's favorite). Check out The Best Boards for Charcuterie in 2023 where we talk all about the boards themselves. Most important thing is to select ones that fit your style.
How much food do I need to serve on my charcuterie board?
If you serve the charcuterie as an appetizer or starter course, calculate approximately 2 ounces per person. If the charcuterie board is the main course in your gathering, estimate about 5 ounces per person. If you are inviting Geoffrey and I to your party, you might want to plan for a little more... we're not shy when there's a good charcuterie board nearby.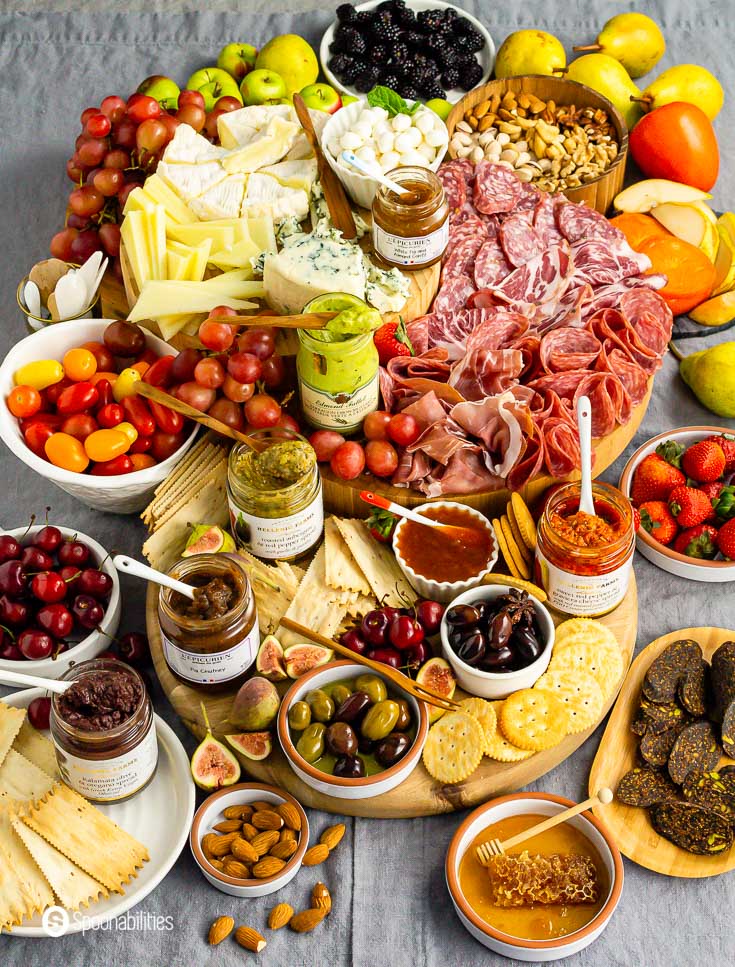 Like this so far? Be the first to know when we release new ones!
---
Charcuterie Board Basics
Now build your charcuterie and cheese board starting with the essential basics; cheeses and meats, and then the party appetizers.
Charcuterie Board Cheese Ideas
You probably want to start with some cheese, a few different varieties. Soft and hard, aged, or funky; there are many types of cheese to choose from. Visit your local cheesemonger and see what's on special. Here are the cheeses that I selected for this cheeseboard:
Brie cheese,
blue cheese,
Manchego cheese,
Bocconcini (small mozzarella cheese balls).
Charcuterie Board Meat Ideas
You also want to add some cured meats. Together with cheese and crackers, cured meats are the pillars of any good charcuterie board. You need not be picky here, go with some cured 'serrano' hams, salami or saucisson. Go ahead and choose at least two or three types of cured meat. That should cover the basics. My selections for this charcuterie platter were:
Uncured calabrese,
prosciutto,
uncured capocollo,
spicy salami with fennel seeds.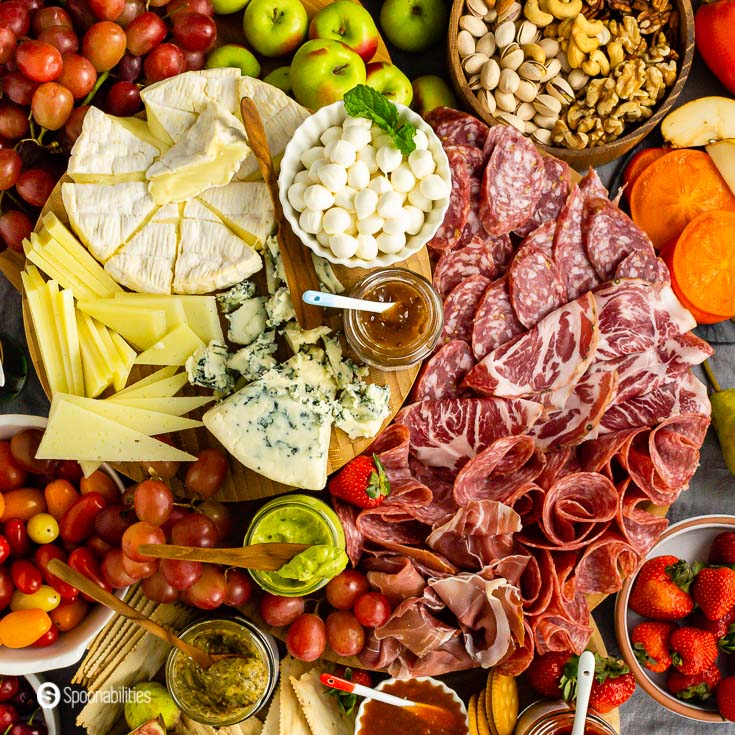 Beyond the Basic Charcuterie Board Ideas
Once you have cheese, crackers and cured meats, things get really interesting. It's time to add some details; gourmet foods and some contrasting elements to make your charcuterie board stand out. Don't worry, you don't need to chase down all those gourmet foods, you can find all of them in our online shop.
Let's start with vegan fig salami with orange zest and Aleppo Pepper. Today, more than ever, you want your charcuterie board to be inclusive, and the Greek fig salami made by Hellenic Farms is delicious and vegan!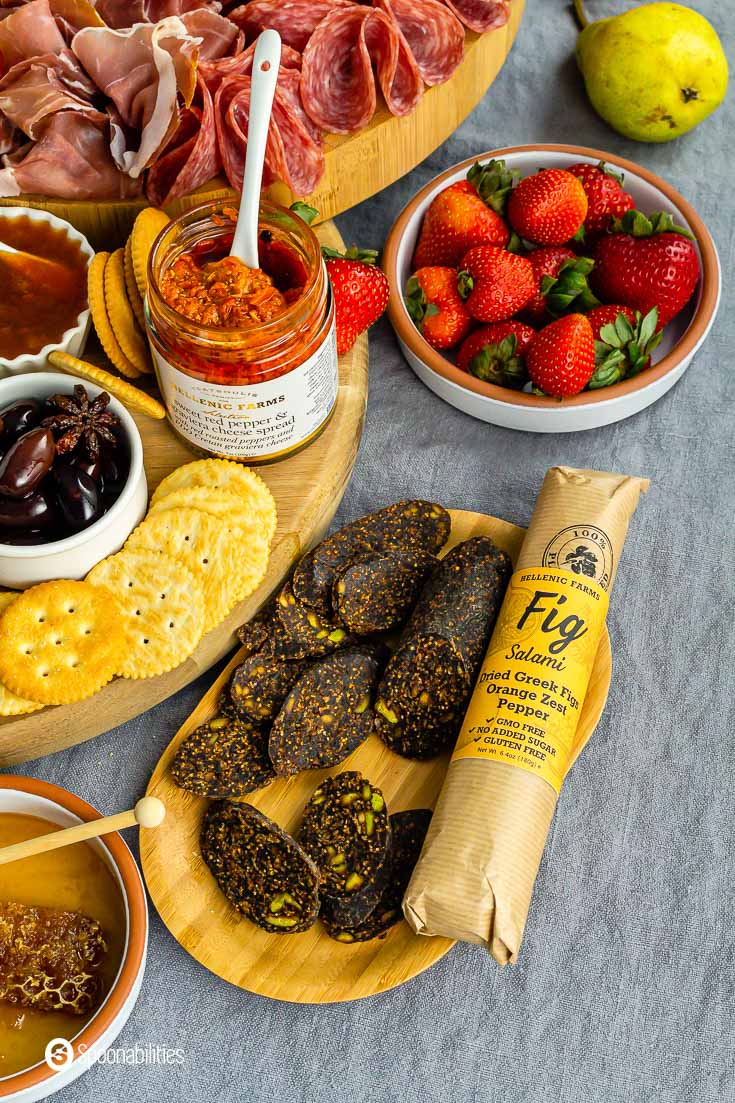 You'll also want to contrast all those salty elements with some sweetness, which is where chutneys, Greek honey, and preserves come into play. Check out our store and get inspired by our line of Jams & Preserves. Any of them will do, but for this appetizer board, we are using French Apricot Preserves.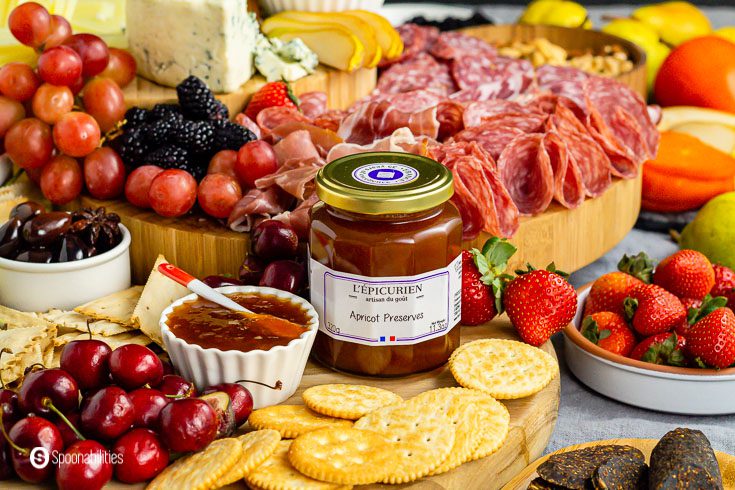 If you want to take your charcuterie board to the next level, you want to make sure there's some premium artisan mustard around. The savory spread will complement the cheese and cured meat beautifully.
Finally, there's the wine because no charcuterie experience is complete without some fermented grape juice. Historically, it's red wine that you want. A sturdy Tempranillo from Rioja will do the trick, and we can say the same about Sangiovese-based wines from Tuscany. Why not a bottle of Chianti!
To fine-tune your charcuterie board, look at some specialty products below that will definitely make your composition shine.
Flavor Combinations to Take Your Charcuterie Board to New Heights
Charcuterie boards must include sweet, savory, salty, spicy, and fresh food to be able to take you on a gourmet journey. Here are some that we recommend:
L'Epicurien White Fig and Almond Confit - French producers, like L'Epicurien, are at another level. They've just been doing it for so long! Jams, preserves and confits, they have it all. The almond confit though is perfect for a charcuterie board. Those nutty flavors and the thrilling fruit sweetness contrast with the saltiness in your cured meats.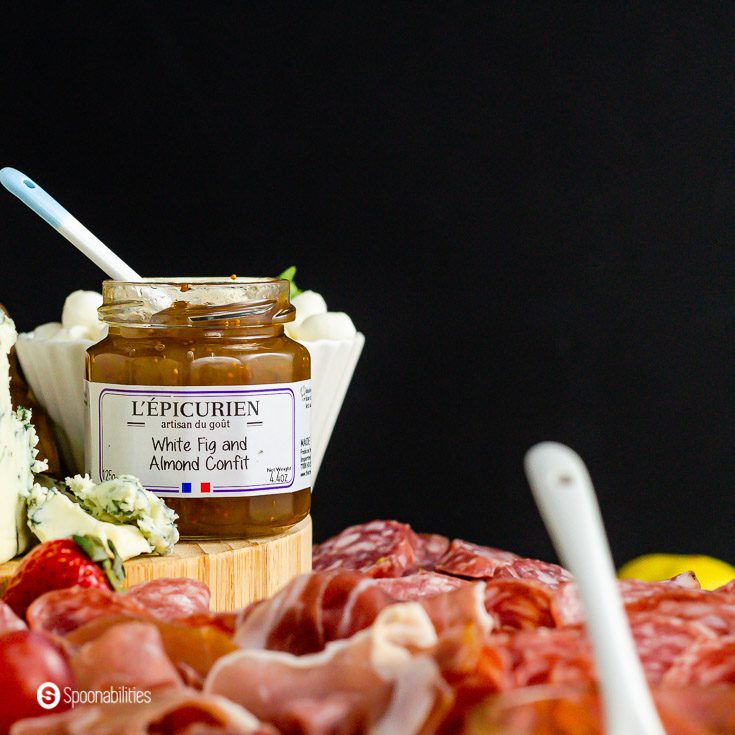 L'Epicurien Fig Chutney - the sweet and tangy flavors in this chutney will contrast with the board's savory elements too. No board is complete without something sweet. This one, by the way, is cooked with artisanal methods in copper cauldrons, which is quite cool.
Edmond Fallot's Tarragon Dijon Mustard - We said above mustard complements any charcuterie board nicely, and it's because the intense, spicy flavors in mustard cut through the fat, but they're compatible with sweet elements too. You might want to go for the good stuff. Edmond Fallot, a French mustard genius, practically invented Dijon mustard as we know it!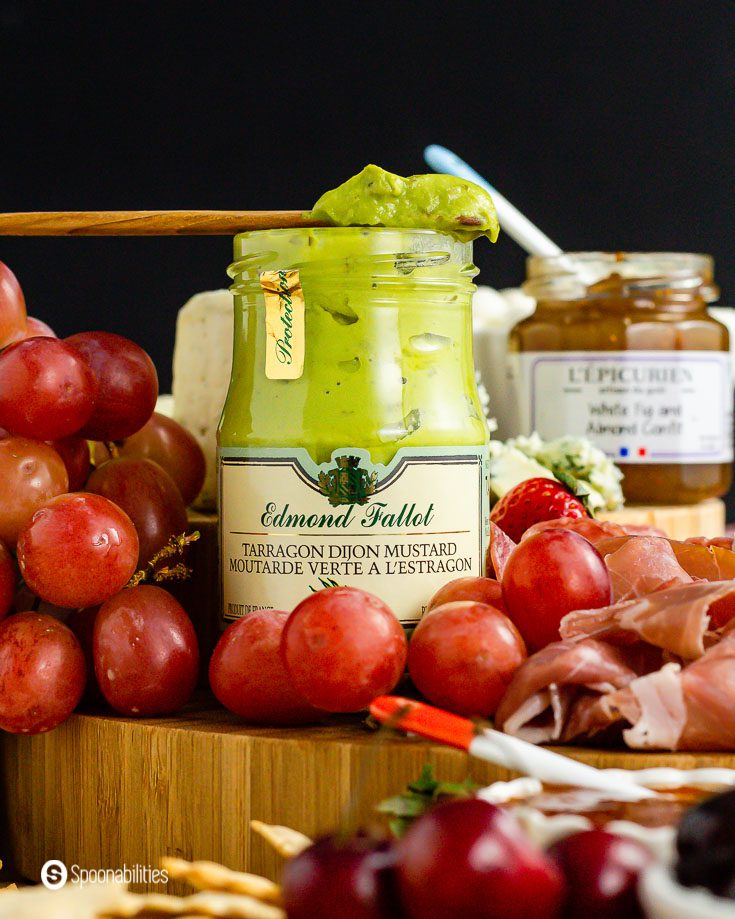 Olives always make everything better. The tangy, meaty fruits are the quintessential snacks. Their inviting flavors are almost addictive and will keep your guests close to your charcuterie board. The Magnificent Five Greek Olive Varieties, a selection of Kalamata, Chalkidiki, Nafpliou, Amfissa, and Thassos olives, is precisely what you need to keep things varied and exciting. Another amazing option is the TREA Greek Olive Trio. This is another of my favorite snacks, also available from Hellenic Farms.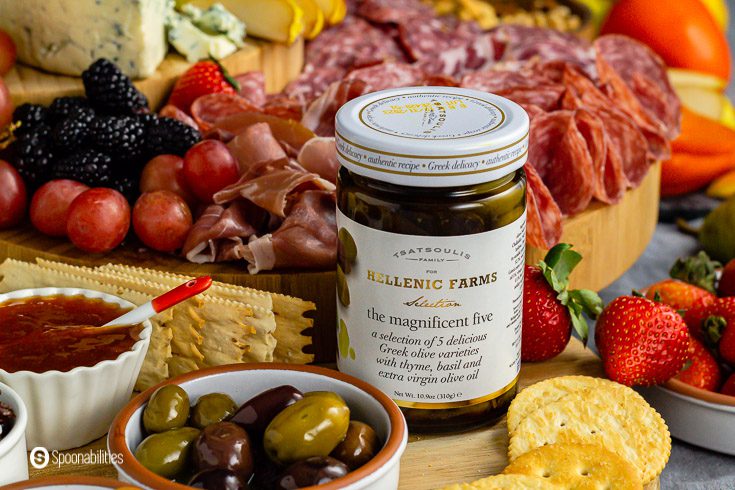 Spreads are the savory elements that complete this grazing table and bring the whole experience to a new level. We are using the following spreads and you can read more about each of these tasty gourmet products in our recent recipe posts "How to Build a Mediterranean Mezze Platter" and "How to Make a Vegan Appetizer Board."
Serve the spreads in the same jar, so your guests can identify them.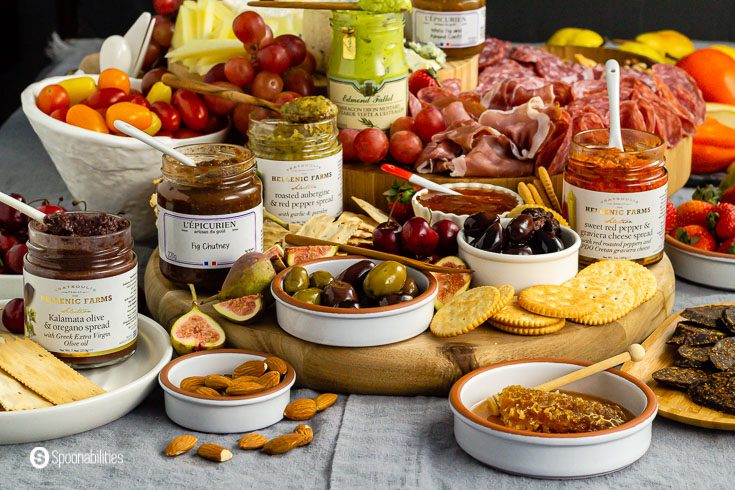 Filling in the Charcuterie Board Gaps
Here are more charcuterie board ideas that will help you fill-up the empty spaces with fruits, nuts and crackers to make your board fuller, colorful, and fresh.
Fruits: Grapes, Apples, Cherries, Strawberry, Blackberries, Pears, Figs, and Persimmon.
Nuts: Pistachios, Almonds, Pecan, and Walnut.
Remember no two charcuterie boards are the same, and that's part of the fun! Make the board your own by using your favorite products, and we're sure you'll be fine. When your charcuterie board is the topic of conversation, you know you've done right.
If you want to learn more about charcuterie boards, cheeseboards, and wine pairings, check out our blog post "How to Plan a Wine and Cheese Tasting Party," and you might also be interested in some other separate appetizer recipes, especially if you're having a big party or dinner.
I hope you get a chance to bring these Charcuterie Board Ideas to fruition. Did you make this or another charcuterie board recipe? Tag @Spoonabilities on Instagram or add a photo or comment on Pinterest, so we can find you! And we love to hear from you in the comment section below.
Carlos Leo
Your Recipe Concierge!
Print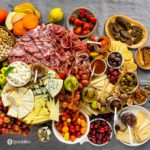 Charcuterie Board Recipe Ideas
---
Author:

Carlos Leo

Total Time:

15 minutes

Yield:

12
Description
Let's put together a charcuterie board! Vegan fig salami, olives, fig chutney, Dijon mustard, jams, and a few other goodies complement and contrast each other for a combination hard to forget. We will give you the best charcuterie board ideas to impress your guests.
If you like this recipe, why not join our newsletter list.
---
Dried-cured meats: Uncured calabrese, prosciutto, uncured capocollo, and spicy salami with fennel seeds.
Cheeses: Brie cheese, blue cheese, Manchego cheese, and Bocconcini (small mozzarella cheese balls)
Fruits: Grapes, fresh figs, apples, persimmon, cherries, pears, blackberries, strawberries, and cherry tomatoes.
Crackers
Nuts: almonds, walnuts, pecan, and pistachios
NOTE: All of the following products are available to you from our previous suppliers
Vegan Fig Salami with Orange Zest and Pepper
Magnificent Five Greek Olives
Fig Chutney
Tarragon Dijon Mustard
White Fig and Almond Confit
Kalamata Olive & Oregano Spread
Sweet Red Pepper and Graviera Cheese Spread
Roasted Aubergine and Red Pepper Spread
Apricot Preserves
Pure Greek Honey with fresh honeycomb
---
Instructions
Place serving board on the table creating a tiered form if you are using more than one board.
Arrange the sliced cured meats and cheeses. I recommend slicing the hard cheeses, and crumble some of the blue cheese. Add the jar of Fig and Almond Confit next to the cheeses, and the Tarragon Dijon Mustard next to the meats.
Situate small bowls on your board and outside of the board and fill with olives, honey, vegan fig salami and apricot jam.
Position the jars of spreads on one of the boards.
Fill in blank spots around the board with fruits, crackers, and nuts.
Add a small glass with toothpicks, appetizer forks, and spreaders, and an empty bowl for your guests to throw away pits or any other food waste.
Prep Time:

15 minutes

Category:

Appetizer

Method:

Arranging

Cuisine:

International, Mediterranean
Keywords: cheeseboards, cured meats, grazing table, grazing board, grazing platter, mezze, Mediterranean food, Greek meze, Greek tapas, meze ideas, olives, platter, mezze platter, Middle Eastern food, Greek food, food platter
Recipe Card powered by
Available via these affiliate links:
Disclaimer: Links that open in another site, i.e. Amazon, may be affiliate links where at no additional cost to you, as an Amazon Associate I earn from qualifying purchases, should you decide to purchase the item. Read our Disclosure Policy.
The Spoonabilities Guide to Charcuterie Boards

Download Free Appetizer Recipes