Need some charcuterie board ideas? With the right balance of flavors, and textures, and the overall feel, there's a lot to think about when creating a charcuterie platter. We'll give you some ideas, tips and tricks to master the art of assembling snacks, cheese, and other one-biters in an impressive charcuterie board. We're also talking about tasty flavor combinations.
Hello, my friends. If you're putting together a dinner party, a get-together with friends and family, or a nice romantic supper at home, you know you need to have some sort of finger food to get things started. We have learned a few cheese and charcuterie board ideas throughout the years, and we want to share those with you along with some easy-to-follow thoughts for impressive charcuterie boards.
Well, there's nothing better than laying a charcuterie board out there for everyone to grab a bite. A varied, well-stocked board is laid back and casual, yet high end looking and tasting. Charcuterie boards are an opportunity to show creativity and taste preferences. Thus, you can mix and match flavors and textures for an extraordinary experience.
So where to start?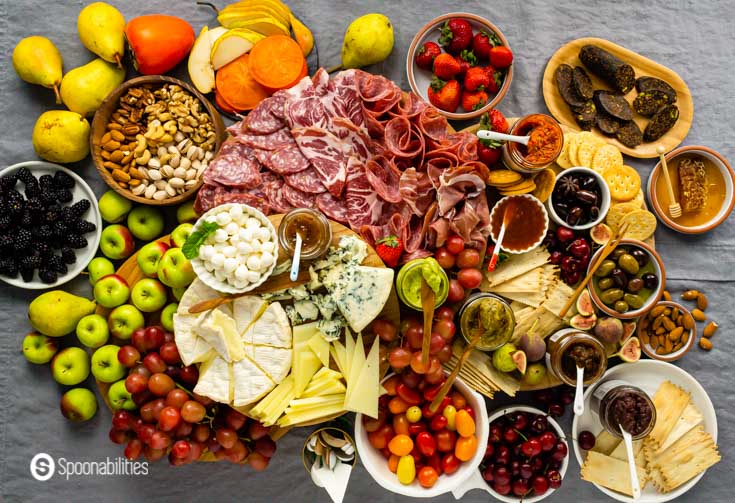 Questions to Stimulate Your Charcuterie Board Ideas
Before you start planning your charcuterie board shopping list, you first need to ask yourself the following questions:
How many people have I invited?
How much is my budget for this?
Will this charcuterie platter be my show-stopper attraction of the night?
What kind of presentation do I want to showcase?
Will this be the only food served at the party?
Also, don't forget to consider that you need to provide some vegan options for your guests with dietary conditions or preferences. In general, these are some of the questions you need to consider before you start to plan your charcuterie boards.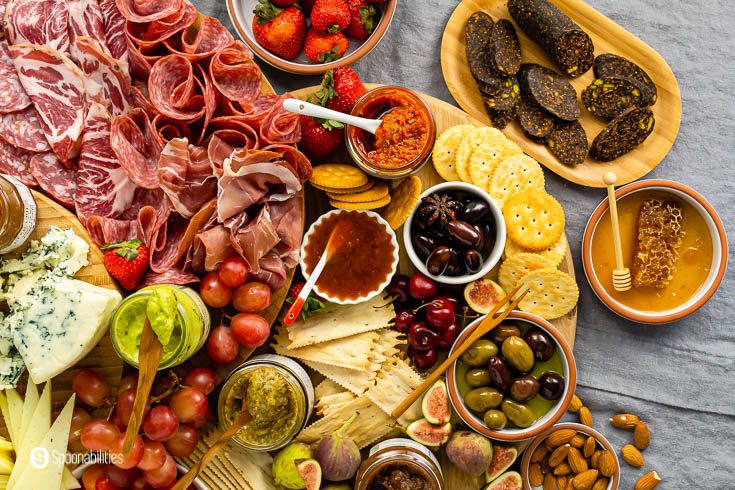 Selecting the Right Boards and Plates to Use
So, now that you've answered some of the basic questions, let's pick the serving board. The serving board can be a large board or a combination of smaller boards. Also, don't get stuck thinking that you need an expensive wooden board and an olive wood 3-piece cheese set in a clasp box to present your appetizers. Use plates, trays, platters, or even cake stands. You will need small bowls for some of the spreads, jams, and nuts, and also an empty bowl for your guests to put pits. Use small glasses filled with toothpicks, teaspoons, and spreaders.
For this charcuterie board, we're using four different sizes of cheese boards, including a 9" round serving board. Arrange those to create different layers of height. Put some of the spreads, olives, crackers, jam, and some fruits in the first layer. Keeping the spreads in their original jars is a great way for your guests to see what they are. The second board layer has the dried cured meats and the jar of mustard. On the third board, we're placing the cheeses with a fig and almond confit, and on the fourth board some fruits.
3 Charcuterie Board FAQs
How do you pronounce charcuterie?
Charcuterie is pronounced "shahr-ku-tuh-ree" and it means the art of preparing and assembling cured meats and other meat products.
Can a charcuterie board be round?
Absolutely you can have a round charcuterie board. The boards themselves come made of several different materials, shapes and sizes. In fact, we even have an acrylic one in the shape of a painter's pallet (Geoffrey's favorite). Check out The Best Boards for Charcuterie in 2023 where we talk all about the boards themselves. Most important thing is to select ones that fit your style.
How much food do I need to serve on my charcuterie board?
If you serve the charcuterie as an appetizer or starter course, calculate approximately 2 ounces per person. If the charcuterie board is the main course for your gathering, estimate about 5 ounces per person. But, if you are inviting Geoffrey and I to your party, you might want to plan for a little more... we're not shy when there's a good charcuterie board nearby.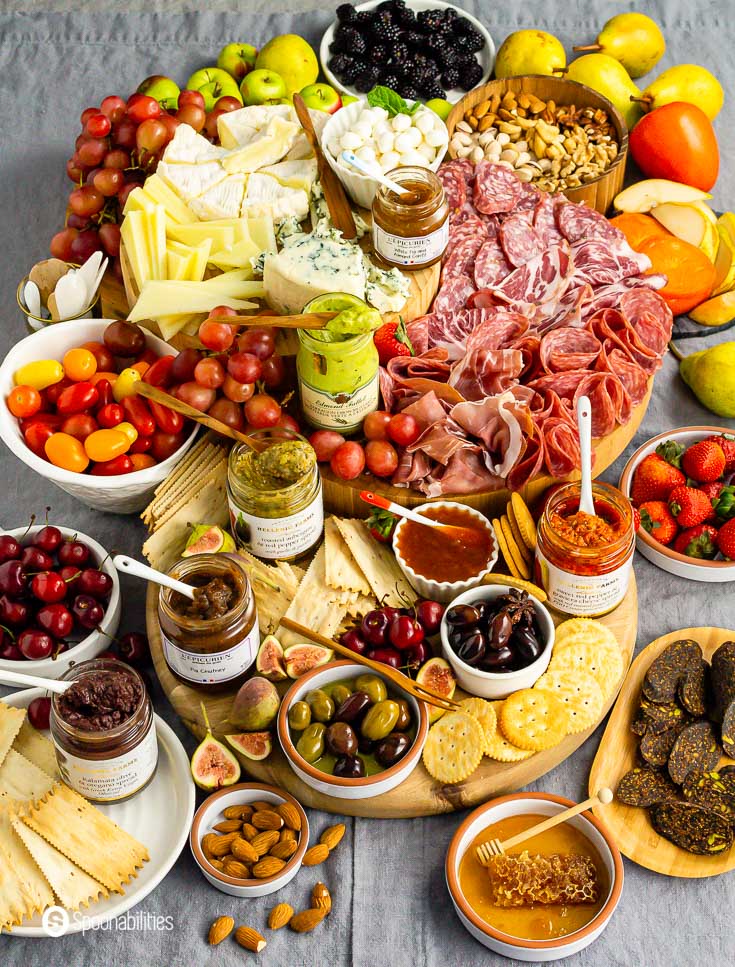 Like this guide so far? Be first to know when we release new ones!
---
Quick Guide on How to Make a Charcuterie Board Masterpiece
A charcuterie board is a versatile and visually appealing way to serve a variety of cured meats, cheeses, fruits, nuts, breads, and other accompaniments. It's perfect for many special occasions and gatherings.
Here is a quick guide to the art of crafting charcuterie boards that are not only visually stunning but also irresistibly delicious.
Charcuterie Board Basics
Let's build your charcuterie and cheese board starting with the essentials. I'll walk you through these essential ingredients; the cheese and meat pairings, then add creative charcuterie board ideas and other party appetizers you could try out for your next special occasion.
Charcuterie Board Meat Ideas
The selection of cured meats is crucial for a balanced charcuterie board. Together with cheese and crackers, cured meats are the pillars of any good charcuterie board. After all, without the meat it would just be a cheese board.
Prosciutto: A delicate, thinly sliced Italian ham that pairs well with both soft and hard cheeses.
Salami: Opt for a mix of spicy and mild salami, such as soppressata and finocchiona.
Chorizo: This Spanish sausage adds a smoky and spicy kick to the board.
Coppa: A marbled, air-dried pork shoulder that offers rich, savory flavors.
You need not be picky in your choice of charcuterie meats. You could add some cured serrano hams, salami or saucisson. Go ahead and choose at least two or three types of cured meat. That should cover the basics.
My selections for this charcuterie platter are uncured calabrese, prosciutto, uncured capocollo, and spicy salami with fennel seeds.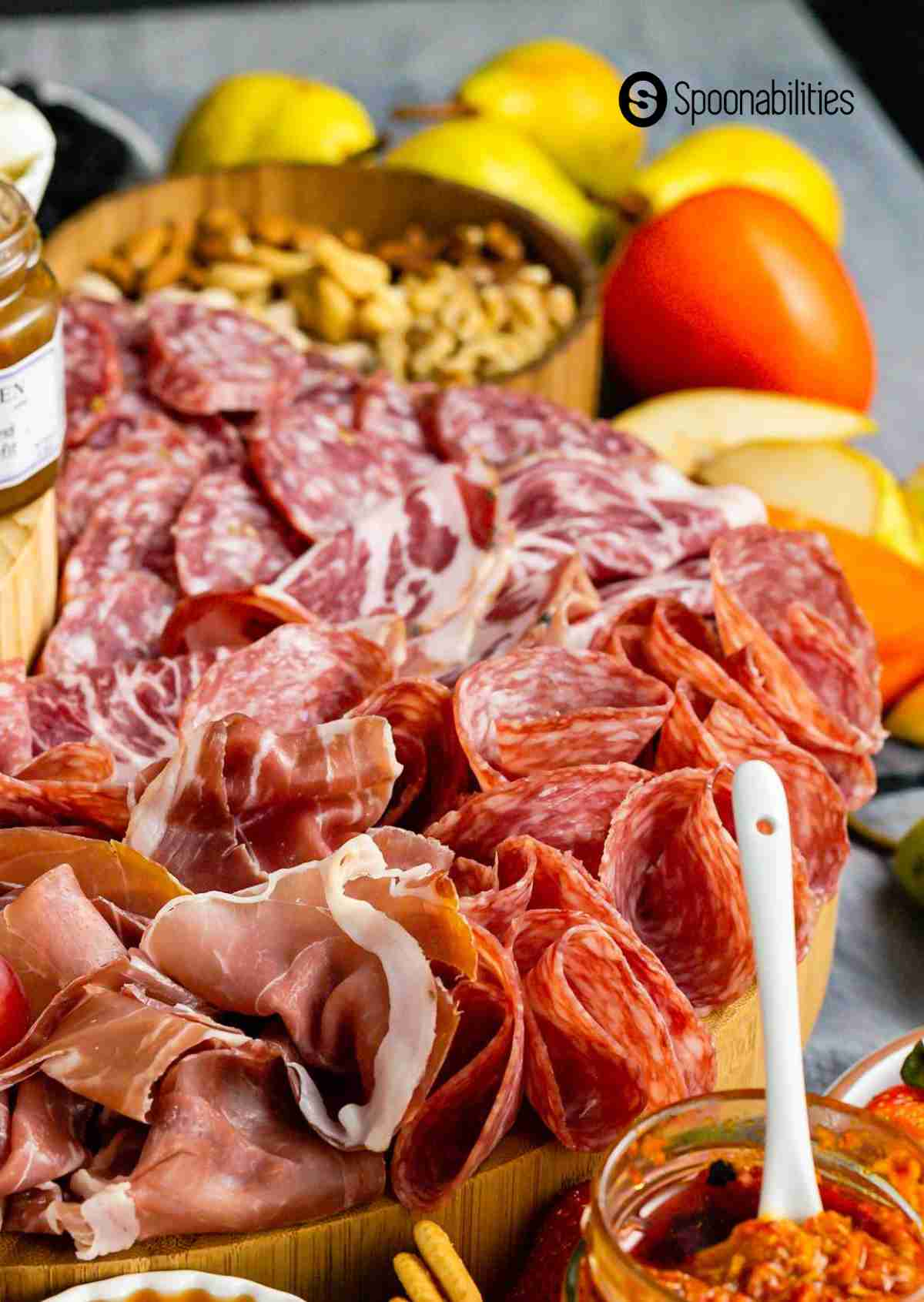 Charcuterie Board Cheese Ideas
No charcuterie board is complete without an assortment of cheeses that cater to various tastes. Aim for a mix of textures and flavors:
Hard Cheese: Include classics like aged cheddar, gouda, or manchego for a robust flavor.
Soft Cheese: Offer brie, camembert, or goat cheese for a creamy and tangy touch.
Blue Cheese: Add a punchy flavor with varieties like Roquefort, gorgonzola, or stilton.
To expand on your knowledge of various cheeses, visit your local cheesemonger and see what's on special. That's a good start to find something new, and ask him or her questions. The cheeses that I picked for this cheeseboard are brie, blue cheese, manchego, and bocconcini (small mozzarella cheese balls).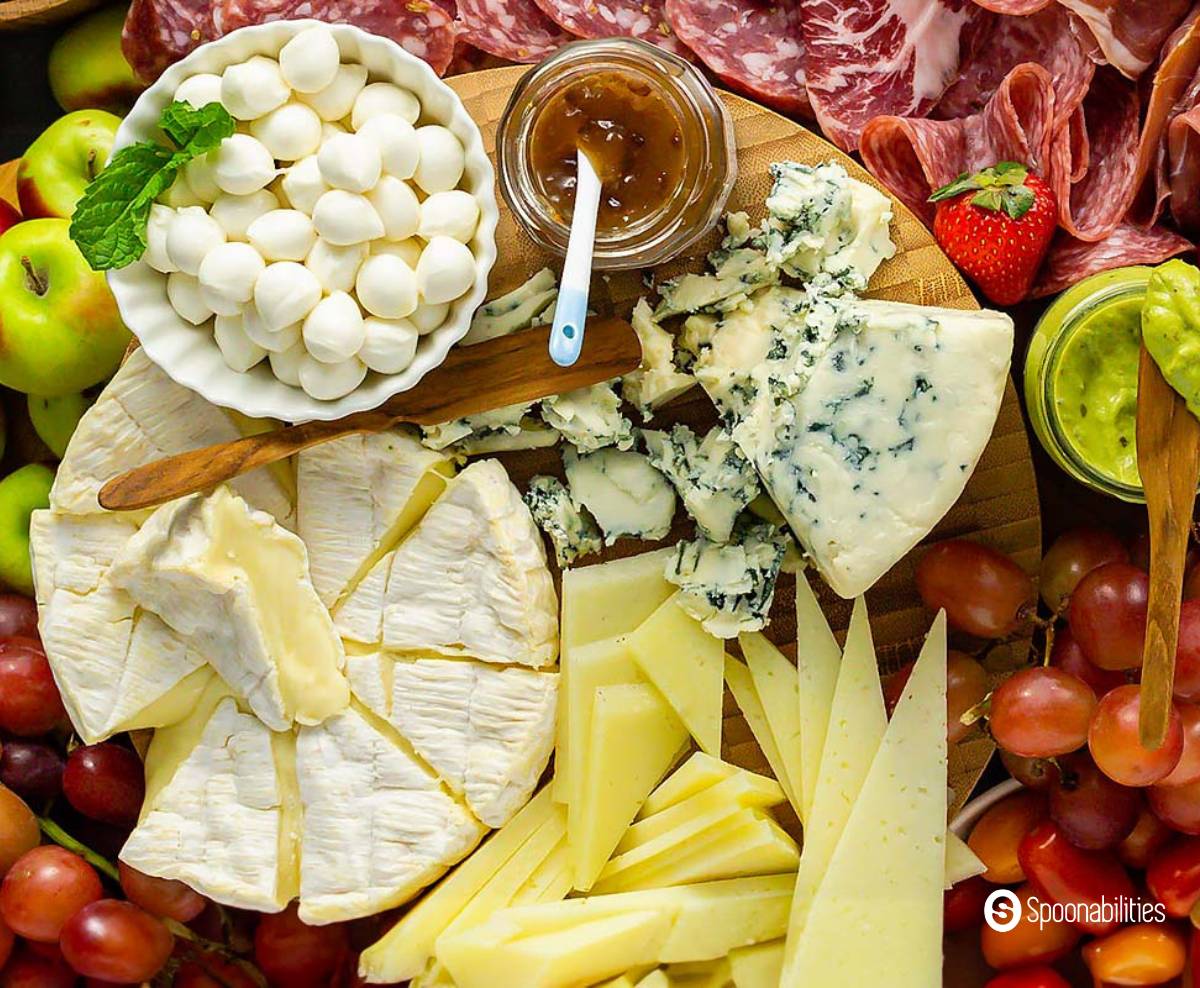 Filling in the Charcuterie Board Gaps
Charcuterie board ingredients must include a variety of flavor combinations so your guests are taken through a memorable journey of delectable tastes and textures. In order to achieve that, don't forget to fill-up the empty spaces with spreads, fruits, nuts and crackers to make your board fuller, more vivid, and fresh.
Spreads: Chutney, honey, jams and preserves are a great way to contrast all the salty elements. You'll also want a premium artisan Dijon mustard around that both cuts through the fat and is compatible with sweet elements.
Fruits: Grapes, apples, cherries, strawberries, blackberries, pears, figs, and olives are all good options. Yes, olives are fruits and are the quintessential snack. Their inviting flavors are almost addictive and will keep your guests close to your appetizer table. There are many olive varieties to choose from including Greek olives like Kalamata, Chalkidiki, Nafpliou, Amfissa and Thassos, which you can get from our Greek food product supplier Hellenic Farms.
Nuts: Introduce a medley of nuts to your meticulously crafted charcuterie board. Plus, these nutrient-rich snack staples add crunch and depth to your spread that enhance both texture and flavor. From buttery almonds to earthy walnuts, nuts offer a nice contrast to the savory cured meats and cheeses. Pistachios, almonds, pecans, and walnuts are our best picks.
No two charcuterie boards are the same, and that's part of the fun! Make the board your own by using your favorite products, and we're sure you'll be fine. When your charcuterie board is the topic of conversation, you know you've done right.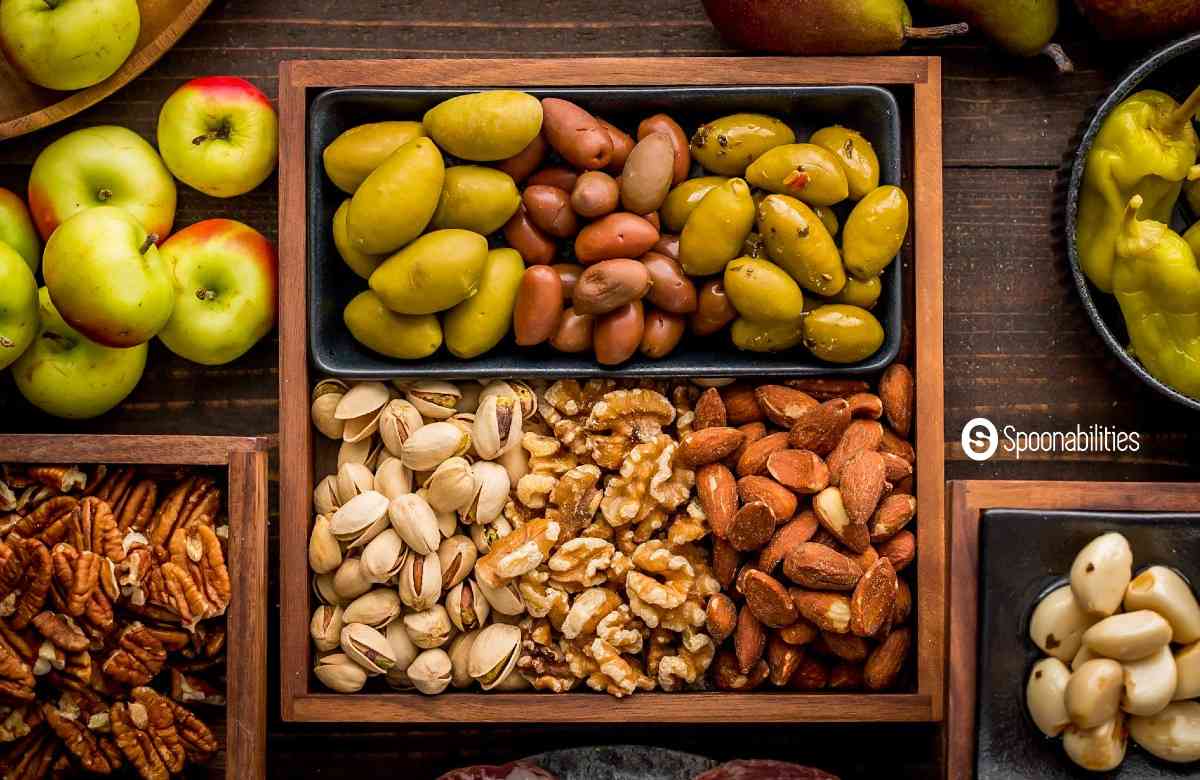 Show-stopping Ideas to Make Special Occasions Extra Special
So, are you ready to take your entertaining skills to the next level? Whether you're hosting a grand holiday feast or an intimate celebration, a well-curated charcuterie board can be the star of the show for the next gathering you create. Here are some special occasion themed charcuterie board ideas.
Thanksgiving Charcuterie Platter
Give thanks in style with Thanksgiving-themed charcuterie boards that celebrates the flavors of the season.
Cheese Selection: Slices of butternut squash-infused cheese, cranberry goat cheese, Gouda and nutty Gruyère
Meat Varieties: Roast turkey slices, smoked turkey, apple cider-brined prosciutto, sage-infused salami and chorizo slices
Accompaniments: Pumpkin butter, cranberry compote, apple slices, spiced pecans, and mini cornbread muffins to capture the holiday spirit
Breads: Dinner rolls, sliced sourdough
Christmas Charcuterie Board Ideas
Spread holiday cheer with a festive charcuterie board that would make your guests feel the magic of Christmas.
Cheese Choices: Cranberry-coated brie, alongside aged gouda or cheddar, blue cheese and herbed cream cheese snowballs
Assorted Meats: Highlight thin slices of roast beef, duck or goose, smoked ham or sausage, cinnamon-dusted coppa, as well as a good prosciutto, and salami
Accompaniments: Cranberry sauce, fig jam, and candied nuts
Crackers and bread: Festive flavored or shaped crackers, baguette slices
Holiday Touches: Decorate with rosemary sprigs fashioned like mini-Christmas trees, pomegranate seeds, and red and green apple slices
Cultural-themed Charcuterie Platter Ideas
Have your guests embark on a tasteful journey with a cultural-themed charcuterie board, with each element paying tribute to the flavors and traditions of a particular culture. Some examples of cultural themed charcuterie boards include Italian-style, Mexican-style, Asian fusion style, Spanish-style, and Indian Curry style.
Take the Mediterranean charcuterie board "mezze", for instance, a vibrant fusion of tastes that brings you to the sunny shores and rustic villages of Greece and nearby areas.
Cheese Selection: Feta, creamy goat cheese, and halloumi
Meat Varieties: Lamb souvlaki, Greek meatballs called keftedes, and loukaniko which are Greek sausages made with a blend of pork, spices, and orange zest
Accompaniments: Olives, marinated artichokes, sun-dried tomatoes, hummus, tzatziki, tabbouleh, baba ganoush, plus aged balsamic vinegar and extra virgin olive oil for drizzling
Breads: Pita bread or chips, naan, or any rustic bread slices either toasted or grilled
Hosting a Greek-themed party?
If you're hosting a Greek-themed party, or just love Greek food, let us show you how to build a Mediterranean Mezze Platter that will surely impress your guests.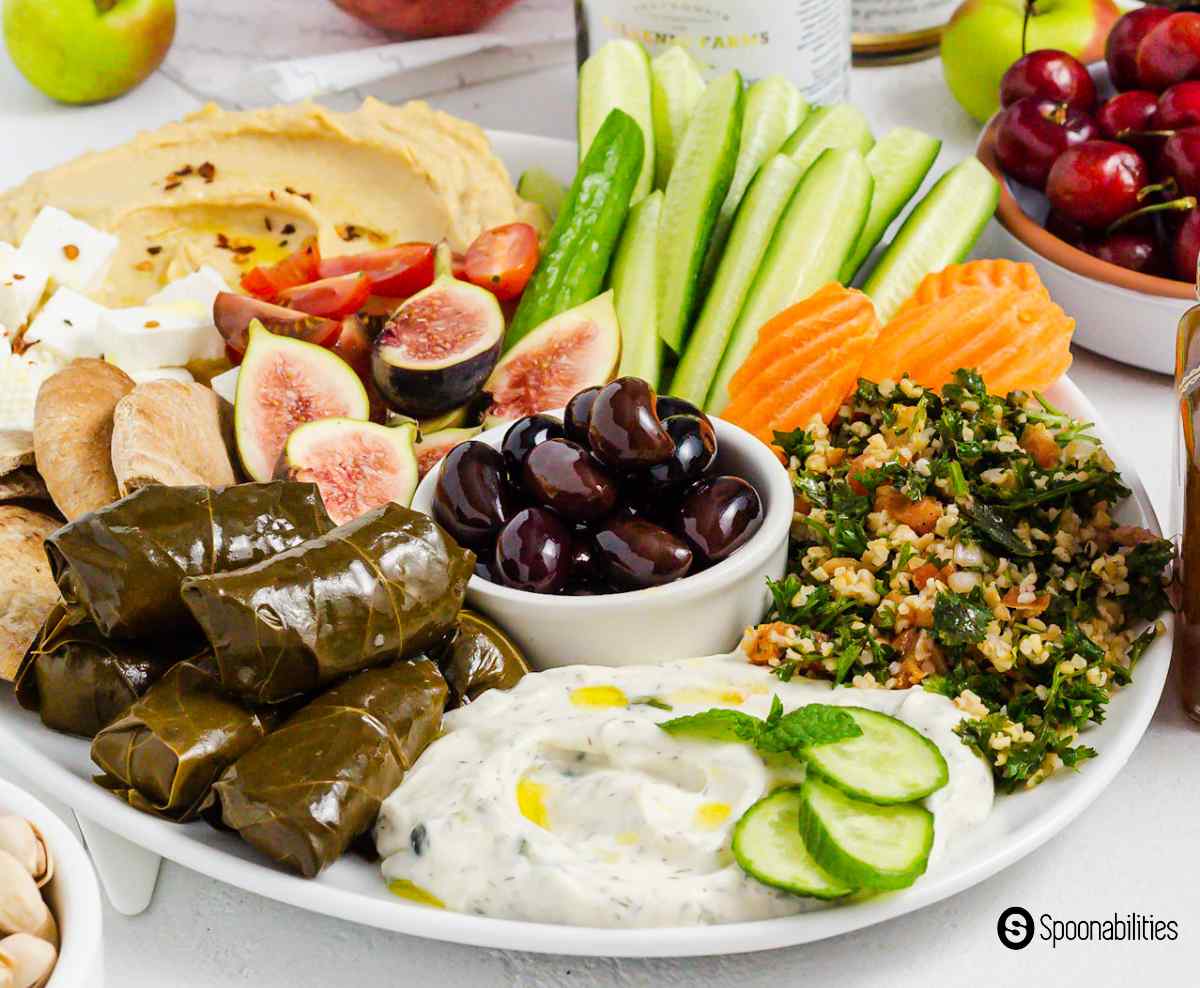 New Year's Eve Party Charcuterie Spread
Ring in the new year with a dazzling charcuterie board that promises a taste of excitement.
Cheese Array: Showcase champagne-infused cheddar, gouda, midnight blue cheese, and goat cheese soaked in sparkling wine.
Party Meats: Feature gold-dusted prosciutto or prosciutto-wrapped melon. You could also cut the cured meats into fun shapes like salami confetti-style and star-shaped chorizo bites.
Accompaniments: Champagne grapes, dark chocolate
Crackers and Bread: Crostini, breadsticks
Glamorous Additions: Add edible gold leaf to selected cheeses, plus chocolate-covered strawberries
Birthday Charcuterie and Cheese Board Ideas
Make the birthday celebration extra special with a custom charcuterie board that reflects the guest of honor.
Cheese Showcase: Display a variety of cheeses that match the birthday person's faves. Try different combinations from Colby jack, mozzarella sticks and other types that may be truffle-infused, spicy, or funky.
Signature Meats: Reflect the celebrator's favorite flavors in choosing the meats. For example, pepperoni, mini sausages, black pepper-crusted prosciutto or truffle salami.
Accompaniments: Hummus, veggies, fruit skewers
Crackers and Bread: Mini pita bread, pretzel crisps
Customized Additions: Incorporate edible decor that show the birthday person's interests, like shaped crackers or cheese flags.
Vegan Friendly Charcuterie Platter
No meat? No problem! Make a vegan charcuterie board (yes, that's an oxymoron) that celebrates nature's bounty and creativity. Crafted without animal products, create a masterpiece of flavors and textures for everyone to savor.
Vegan Cheeses: Cashew-based spreads, almond feta and aged coconut gouda
No-Meat Proteins: Marinated tofu cubes, smoked tempeh, together with seitan slices that mimic the richness of traditional cured meat. Add in some Hellenic Farms vegan fig salami too.
Accompaniments: Fresh and pickled veggies, cucumber rounds, cherry tomatoes, and pickled radishes, roasted red pepper hummus, artichoke tapenade, balsamic-glazed mushrooms, as well as various nuts and seeds
Breads: Baguette slices or gluten-free crackers
Customized Additions: Roasted almonds, spiced pumpkin seeds, candied pecans, dried apricots, figs, cranberries, and aged balsamic vinegar and truffle-infused oil for drizzling
Craving for more vegan party options?
For even more vegan "charcuterie" board options, check out our guide on how to make a Vegan Appetizer Board.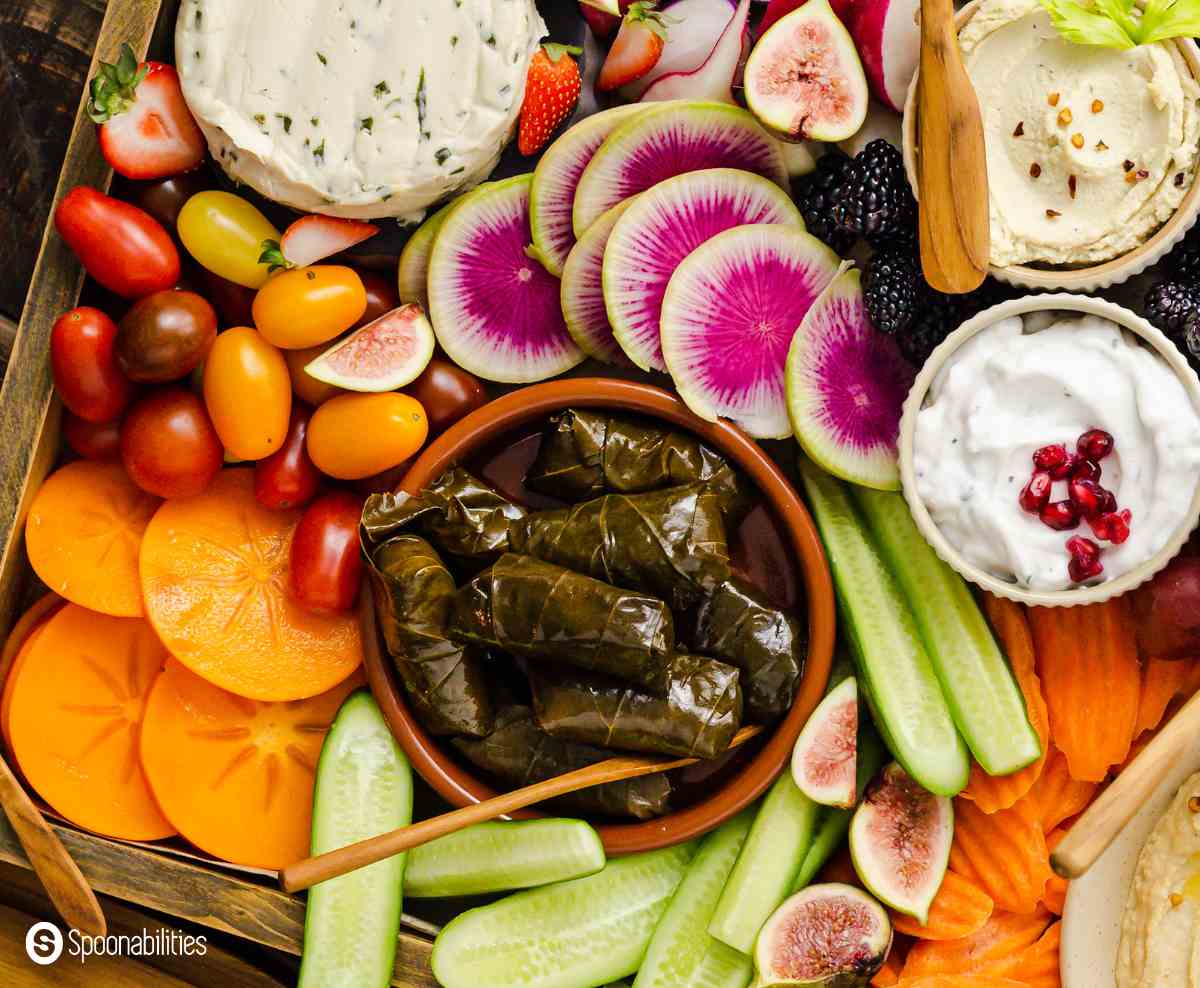 Incorporating these charcuterie board ideas into your special occasions is sure to leave a lasting impression on your guests. Thus, the combination of delectable cheeses, carefully curated meats, with the perfect accompaniments will transform your charcuterie board into a masterpiece that dazzles the eyes and delights the taste buds. So go ahead and let your creative juices flow as you craft charcuterie boards that are as unique as the celebrations you host.
If you want to learn more about cheese boards and wine pairings, check out our blog post "How to Plan a Wine and Cheese Tasting Party." If you're having a big party or dinner, you might also be interested in making some other separate appetizer recipes to balance your charcuterie and cheese selections.
I hope you get a chance to bring these ideas to life. So, did you make this or another charcuterie board recipe? Tag @Spoonabilities on Instagram or add a photo or comment on Pinterest, so we can find you! And we love to hear from you in the comment section below.
Remember no two charcuterie boards are the same, so use your favorite products, and have fun putting it together. You're guests will be talking about your party for years to come. You got this!
Carlos Leo
Your Recipe Concierge!
Print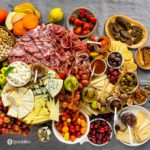 Charcuterie Board Recipe Ideas
---
Author:

Carlos Leo

Total Time:

20 minutes

Yield:

1

2

1

x
Description
Let's put together a charcuterie board! Dried-cured meats and specialty cheeses are complemented by Dijon mustard, jams, chutney, olives and other fruits, for a combination hard to forget. We will give you the best charcuterie board ideas to impress your guests.
Remember each board is unique so you literally can't get it wrong, and there's nothing wrong with leftovers. The quantities below are for 12 people.
If you like this recipe, why not join our newsletter list.
---
Dried-Cured Meats:
5

oz

Uncured Calabrese

5

oz

Prosciutto

5

oz

Uncured Capocollo

5

oz

Spicy Salami with Fennel Seeds
Cheeses:
8

oz

Brie Cheese

8

oz

Blue Cheese

8

oz

Manchego Cheese

8

oz

Bocconcini (Small Mozzarella Cheese Balls)
Spreads:
1

jar Dijon Mustard

1

jar Chutney

1

jar Honey

1

jar Jam or Preserves
Fruits:
1.5

cups

Grapes

6

fresh cut Figs

1.5

cups

Olives (assorted types)

2

sliced Apples

1.5

cups

Cherries

2

sliced Pears

1.5

cups

Blackberries

1.5

cups

Strawberries

1.5

cups

Cherry Tomatoes
Nuts:
1

cup

Almonds

1

cup

Walnuts

1

cup

Pecans

1

cup

Pistachios
Bread Slices and Crackers:
24

+ Bread Slices (baguette, ciabatta, etc.)

2

boxes Crackers (assorted types)
NOTE: You can purchase high quality spreads, olives, honey, and more from our previous product suppliers using our 10% off discount code.
---
Instructions
Place a large serving board on the table, or create a tiered form if you are using more than one board.
Arrange the sliced cured meats and cheeses. I recommend slicing the hard cheeses, and crumbling some of the blue cheese.
Add a jar of chutney or fruit preserves next to the cheeses, and the dijon mustard next to the meats, and any other spreads close by.
Situate small bowls on and outside of the board and fill with olives, honey, nuts, and any other small items.
Fill in blank spots around the board with the remaining fruits and crackers.
Add a small glass with toothpicks, appetizer forks, and spreaders, and an empty bowl for your guests to throw away pits or any other food waste.
Notes
Nutritional information and quantities of ingredients are approximate, and designed to make sure you have enough for everyone.
Prep Time:

20 minutes

Category:

Appetizer

Method:

Arranging

Cuisine:

International, Mediterranean
Keywords: cheeseboards, cured meats, grazing table, grazing board, grazing platter, Mediterranean food, Greek tapas, olives, platter, Middle Eastern food, food platter
Recipe Card powered by
Products & Equipment available via these affiliate links:
Links that open in another site, i.e. Amazon, may be affiliate links where at no additional cost to you, as an Amazon Associate we may earn from qualifying purchases, if you decide to buy the item. Read our Disclosure Policy.
Spoonabilities Guide to Charcuterie Boards