If you're looking for a quick and delicious dinner option, look no further than this easy BBQ chicken pizza recipe. With its tangy smoky orange BBQ sauce, melted smoked gouda cheese, and thinly sliced red onions, this pizza is sure to be a crowd-pleaser. Whether you're cooking for yourself, family, or hosting a get-together with friends, this recipe is a tasty and satisfying option that will leave everyone asking for seconds. So, fire up the oven and let's get started!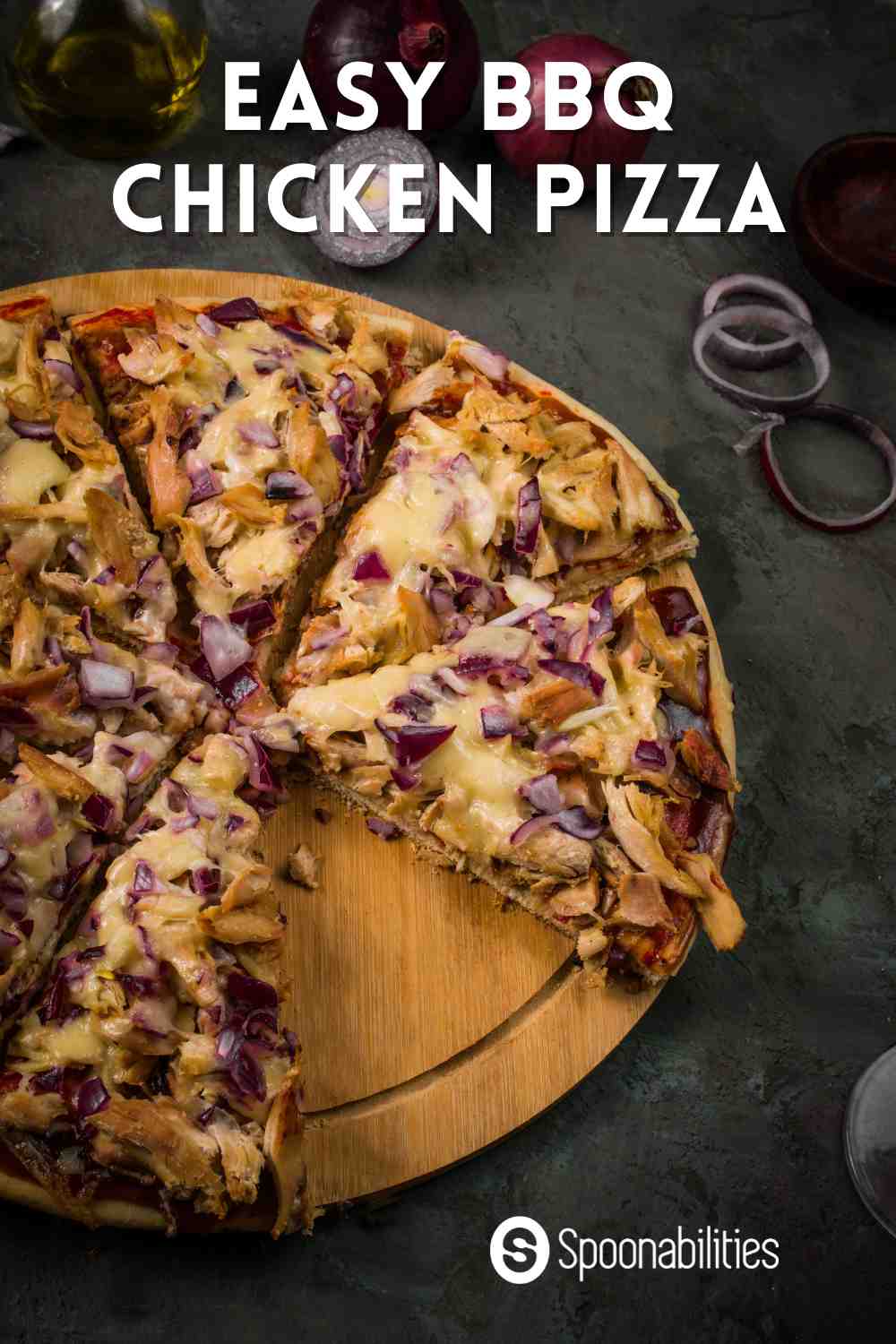 Hello my friends,
I have a secret… I love more involved recipes and I enjoy doing everything from scratch. But with my full-time job, I don't always have the time to spend in the kitchen with elaborated recipes and lots of steps. Lately I have been feeling that I deserve to take a break and cook quick bites that still have bold flavor. I decided to do this easy 1-2-3 recipe, a delicious BBQ Chicken pizza. The best part is that all the ingredients were already made, and I just had to assemble them and put it in the oven. This is a perfect bite for a movie night, an award party with friends, a sports night or easy entertainment parties with "0" stress.
Jump to:
Where did BBQ Chicken Pizza come from?
Pizza has a long and diverse history, with its origins dating back to the ancient civilizations of the Mediterranean region. Flatbreads topped with various ingredients were a staple food in Greece, Egypt, and Rome.
However, it was in Naples, Italy in the late 18th century that the modern pizza with its tomato sauce, cheese, and toppings truly began to take shape. Originally a simple and affordable food for the working class, pizza soon gained popularity among the upper classes in Naples and eventually spread throughout Italy and the rest of the world. The introduction of tomatoes from the New World in the 16th century was a significant turning point in the evolution of pizza, and it soon became a beloved dish enjoyed in countless variations and styles across the globe.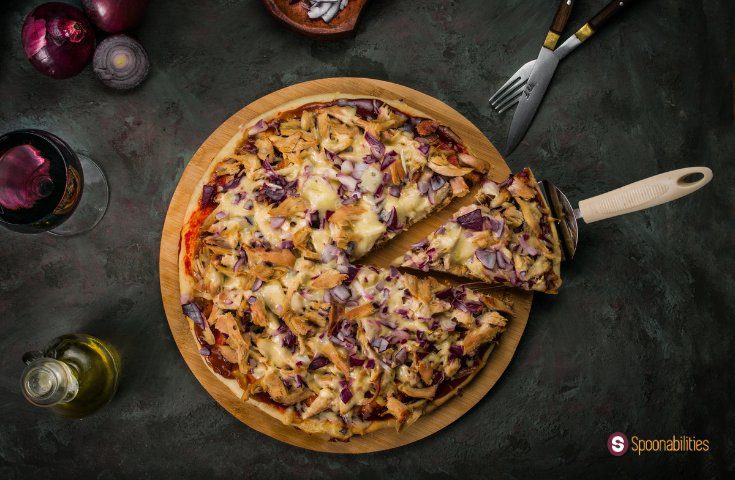 Italian immigrants brought pizza to the United States, where it underwent a transformation into the "pizza 2.0" we know today, with larger, thicker, and saucier pies and a greater variety of toppings. In Italy, pizzas typically consist of little more than cheese.
The California-style pizza emerged in the 1970s in California, and pushed the boundaries of traditional toppings to ingredients like Brie, truffles, smoked salmon, and yes, BBQ chicken.
BBQ Chicken Pizza Ingredients
To make this delicious, easy, barbeque chicken pizza, you'll need three cooked chicken breasts that are shredded, Smoky Orange BBQ Sauce (or your favorite barbeque sauce if you prefer), a 12-inch pre-baked pizza crust, shredded smoked gouda cheese, and thinly sliced red onions.
You can cook fresh chicken breasts for this recipe, but then it won't be a "quick and easy" recipe. I had some leftover chicken which also was made into a rotisserie chicken salad, and recommend making this recipe when you have leftover chicken in the fridge. To shred the chicken, you can use a fork or your hands to pull it into small pieces.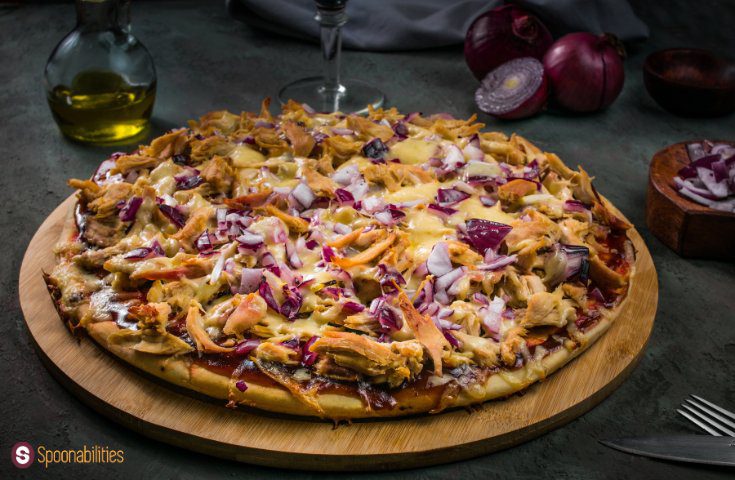 As for the BBQ sauce, I highly recommend trying the Smoky Orange BBQ Sauce as it gives the pizza a tangy and smoky flavor. That link will take you to Amazon where you can find this special BBQ sauce, or you can substitute with regular barbeque sauce mixed with a bit of orange juice or zest for a similar flavor profile. However, you can use any other type of BBQ sauce that you prefer.
For the pre-baked pizza crust, you can either buy it from the store or make your own from scratch. Again, why would you make your own for a quick and easy recipe? The smoked gouda cheese adds a nice smoky flavor to the pizza, but you can substitute it with any other type of cheese that you like. And finally, thinly sliced red onions add a nice touch of sweetness and crunch to the pizza.
Drooling over this recipe? Be first to receive new recipes!
FAQs: Chicken Pizza Frequently Asked Questions
Do you need to cook chicken before adding it to pizza?
Yes, it is important to cook chicken before adding it to a pizza. Raw chicken may contain harmful bacteria that can cause foodborne illness if not cooked properly. It is recommended to fully cook the chicken and then add it as a topping to the pizza.
What other toppings are good on a chicken pizza?
There are many toppings that go well with chicken on pizza. Some popular options include mushrooms, onions, bell peppers, jalapeños, bacon, pineapple, and barbeque sauce. You can also experiment with different cheeses, such as feta, goat cheese, or blue cheese. Additionally, fresh herbs like basil, cilantro, or parsley can add extra flavor and freshness to the pizza. Ultimately, the choice of toppings depends on your personal taste preferences, and you can always customize your pizza to your liking.
What goes on pizza first, toppings or cheese?
It's generally recommended to spread the sauce on the pizza crust first, followed by the cheese, and then the toppings. This helps the cheese melt evenly and the toppings to stick to the cheese. However, some people prefer to put the toppings on first, followed by the cheese, so it really comes down to personal preference. Personally, we love extra cheese, so we put the sauce, then the cheese, toppings, and then more cheese on top.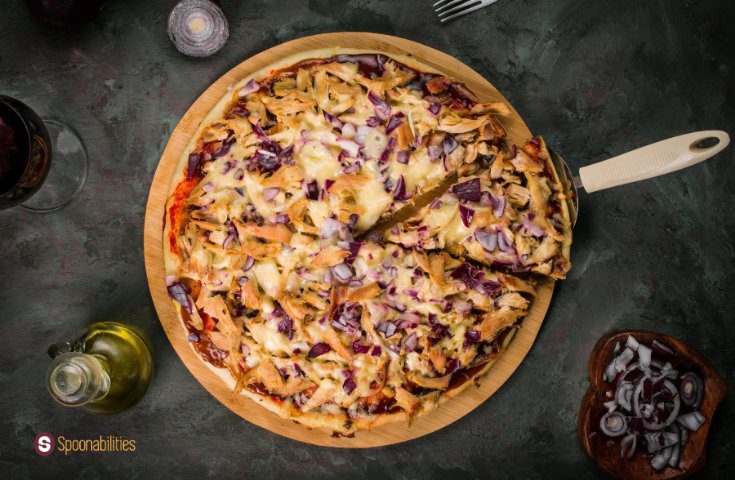 How to Make the Pizza
Making this chicken pizza is a breeze, and you don't need any special skills to get it right. Here are the step-by-step instructions:
First, preheat your oven to 425°F (220°C) to get it nice and hot. While the oven heats up, take a pre-baked pizza crust and place it on a baking sheet or pizza stone. This step is crucial, as it ensures that your pizza crust gets crispy and delicious.
Next, spread the Smoky Orange BBQ Sauce evenly over the pizza crust, making sure to leave a small border around the edges. The sauce gives the pizza a smoky and tangy flavor that pairs perfectly with the chicken.
Once you've added the sauce, it's time to add the shredded chicken. Spread it evenly over the sauce, making sure to cover as much surface area as possible. You want each bite to be packed with chicken and flavor!
Finally, sprinkle the shredded smoked gouda cheese over the chicken and top it off with thinly sliced red onions. The smoked gouda cheese is the perfect accompaniment to the BBQ sauce and chicken, and the red onions add a sweet and tangy flavor that balances out the other ingredients.
Once you've added all the toppings, it's time to bake the pizza in the preheated oven until the cheese is melted and bubbly. The smell of the barbeque chicken pizza cooking in the oven is sure to make your mouth water, and you won't be able to resist taking a bite as soon as it's ready.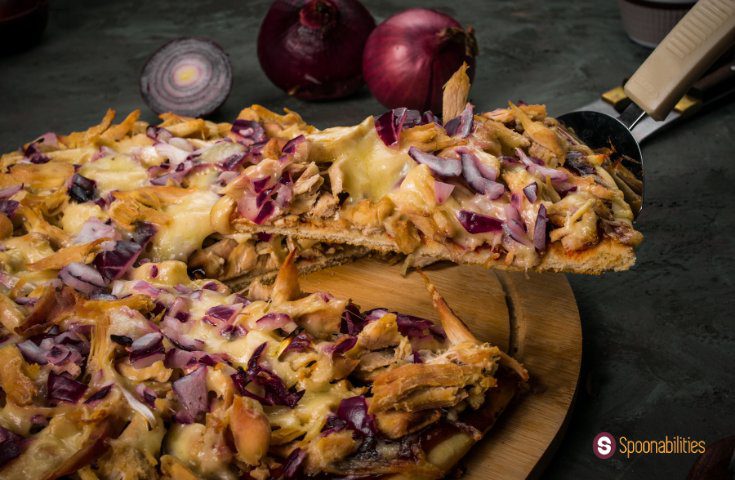 What to Serve with Your Chicken Pizza
Now that your delicious BBQ chicken pizza is baking, it's time to think about the perfect way to serve it. One of the best things about pizza is how versatile it is, and this chicken pizza recipe is no exception.
To make it a complete meal, consider serving it with a simple side salad. The fresh greens and vegetables in the salad will complement the rich and savory flavors of the pizza perfectly. You could also add a drizzle of ranch dressing or sprinkle some cilantro on top of the pizza to add some extra zing.
When it comes to drinks, a cold beer or a glass of your favorite wine is always a great pairing with pizza. If you want to mix things up a bit, you could try a fruity cocktail or a refreshing mint iced tea to wash it all down.
And let's not forget about dessert! For a sweet treat that won't overpower the flavors of the pizza, try serving a fruit salad or a scoop of ice cream. If you're feeling adventurous, you could even try making a dessert pizza with fresh berries and a sweet cream cheese topping.
So go ahead and get creative with your sides, drinks, and desserts, and enjoy your delicious barbeque chicken pizza to the fullest!
Many BBQ Chicken Pizza Variations
There are endless possibilities for customizing this BBQ chicken pizza recipe to suit your taste preferences. For those who enjoy a bit of a kick, consider adding some jalapeño slices to your pizza before baking. You can also switch up the cheese by substituting the smoked gouda with either cheddar or mozzarella cheese. If you're looking to add some color to your pizza, try tossing some pineapple chunks or diced bell peppers on top before baking. Other popular toppings to experiment with include mushrooms, spinach, and bacon. Don't be afraid to get creative and make this recipe your own!
If you're looking for a change from the classic BBQ chicken pizza, we have a few other options to try:
Crispy Veggie Pizza is a light and healthy option with a Mediterranean twist. Featuring zucchini, feta crumbs, tomatoes, onion, and oregano sea salt, it's perfect for a light lunch.
For those who prefer a gluten-free and low-carb option, the Cauliflower Crust Pizza with artichokes and roasted red pepper is a great alternative. Topped with mozzarella, roasted red peppers, watercress, cilantro, and drizzled with olive oil, this pizza is scrumptious.
If you're feeling adventurous, the Chicken Flatbread Pizza with apple and caramelized onion is a must-try. Featuring a unique topping of Gruyere, shredded chicken, sweet apple and caramelized onion, this pizza is sure to satisfy your sweet and savory cravings.
Boxing this Pizza Recipe Up
For most of us, pizza is something you order, not make at home. But making pizza is beautiful; it's so artsy. It's definitely more than just cooking.
This easy BBQ chicken pizza recipe is a delicious and quick dinner option that you can whip up in no time, and I promise you'll have a wonderful time making it! Try it out for yourself and feel free to experiment with different toppings to suit your taste buds.
Don't forget to share your feedback and variations in the comments section below! Share your creations with us on social media by tagging us @Spoonabilities on Instagram and on Pinterest, comment on this Pin.
Enjoy your home pizzeria!
Carlos Leo
Your Recipe Concierge!
Print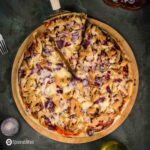 Easy BBQ Chicken Pizza Recipe
---
Author:

Carlos Leo

Total Time:

30 minutes

Yield:

4

1

x
Description
This easy BBQ chicken pizza is a delicious and satisfying dinner option that's perfect for busy weeknights. With tangy smoky orange BBQ sauce, melted smoked gouda cheese, and thinly sliced red onions, this pizza is sure to be a crowd-pleaser.
If you like this recipe, join our newsletter to know about future ones.
---
3

cooked, shredded chicken breasts

½

bottle of Smoky Orange BBQ Sauce

1

(12 inch) pre-baked pizza crust

1

cup

shredded, smoked gouda cheese

1

cup

thinly sliced red onion
---
Instructions
Preheat oven to 425°F (220°C).
Spread the sauce: Spread the BBQ sauce evenly over pizza crust.
Toppings: Top with shredded chicken, smoked gouda cheese, and sliced red onion.
Bake in preheated oven for 15-20 minutes, or until cheese is melted and bubbly.
Slice and serve immediately.
Prep Time:

10 minutes

Cook Time:

20 minutes

Category:

Dinner

Method:

baking

Cuisine:

American
Keywords: California style pizza, Homemade pizza recipe, Pizza toppings ideas, Easy pizza recipe, Delicious pizza recipe, Family-friendly pizza recipe, Gourmet pizza recipe, Pizza night ideas, Pizza party food
Recipe Card powered by
Suggested Ingredients & Equipment
Links that open in another site, i.e. Amazon, may be affiliate links where at no additional cost to you, as an Amazon Associate we may earn from qualifying purchases, should you decide to purchase the item. Read our Disclosure Policy.
Interested in More Related Recipes?
Here are a few related recipe ideas you might enjoy: