Putting together an amazing charcuterie board may seem overwhelming, but it's not as intimidating as it sounds. We have written this guide to help you decide on a theme, what to put on a charcuterie board, pairing ideas to get you started, and some direction on how to arrange your ingredients. You've got this!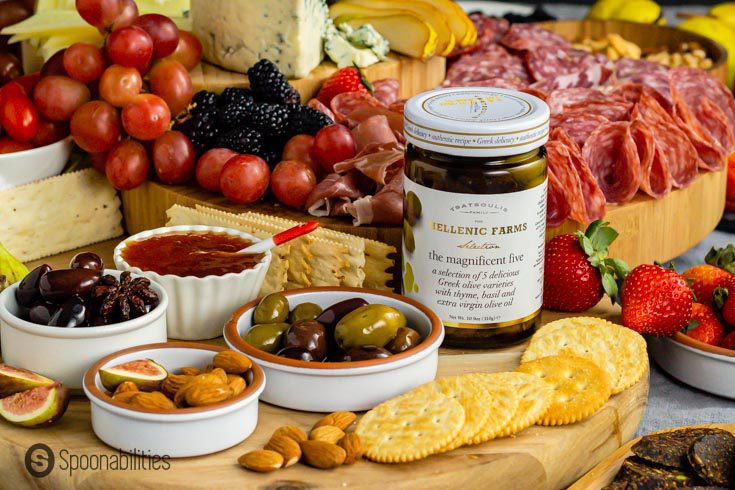 First, Select the Right Charcuterie Board
We've got you covered! Check out our list of the best boards for charcuterie, as well as these different charcuterie boards utensils and knife sets.
Next, Make Sure You Have the Right Tools
In addition to the board itself, you'll want to make sure that you include serving utensils such as knives, cocktail forks, and mini skewers. Additionally, it's important to have serving vessels like small bowls or ramekins for sauces, spreads, or ingredients like olives that might otherwise roll off the board.
What to Put on a Charcuterie Board
There are a few things to know about what to put on a charcuterie board, and we've covered everything from types of meats and cheeses to ingredient costs in our post How to Make a Charcuterie Board.
How to Assemble a Charcuterie Board
Meat
Depending on the type of meat, it can be laid or folded in different patterns. Keep in mind that it's nice to have some meats and cheeses that pair well placed near each other.
Cheese
Lay different cheeses out around the board. You can leave soft cheeses unsliced (maybe start one or two slices to give guests a head start), and hard cheeses should be sliced ahead of time.
Sauces, spreads, and other condiments
It's a great idea to place sauces, spreads, and jams near cheeses that pair well with them, for example fig jam near brie. These items should go in small bowls or ramekins.
Pickled Ingredients
Pickled ingredients like olives, gherkins, or other pickled veggies will require dishes to contain them, so make sure to account for this space on your board.
Fruit
Always wash and pre-slice any fresh fruit, and just like sauces and spreads, try to keep fruits near cheeses that pair well, for instance apples and sharp cheddar or Havarti. Some additional ideas about how to pair fruit with cheese:
Apples pair well with almost any cheese
Berries and grapes pair better with soft cheeses like goat cheese and brie
Fresh citrus fruits like oranges and pineapples don't typically pair well with cheese, but dried fruits like apricots and figs can often be complemented by soft cheeses
Nuts
Nuts should go next to cheeses, since they are a crunchy bite and the contrasting texture of cheese makes for a nice combination.
Crackers and toasts
Crackers and toasts can fit in the remaining spaces on your board, but don't worry if you don't have a lot of space left - you can place these on a different serving platter near your charcuterie board.
Like this guide so far? Be the first to know when we release new ones!
Preparing Your Charcuterie Board Ahead of Time
While it's not necessarily wise to build a charcuterie board more than a day ahead of time, doing so 24 hours ahead of the party works really well and can save you precious time for other prep on the day of your gathering. You can cover your board or tray with plastic wrap and keep it in the refrigerator as long as you're able to make room. You'll want to remove the board from the refrigerator about 30 - 45 minutes ahead of the party because it's best to serve cheeses and cured meats at room temperature. No earlier than this, though, because the safety window for the foods that require refrigeration varies from around 2 - 4 hours.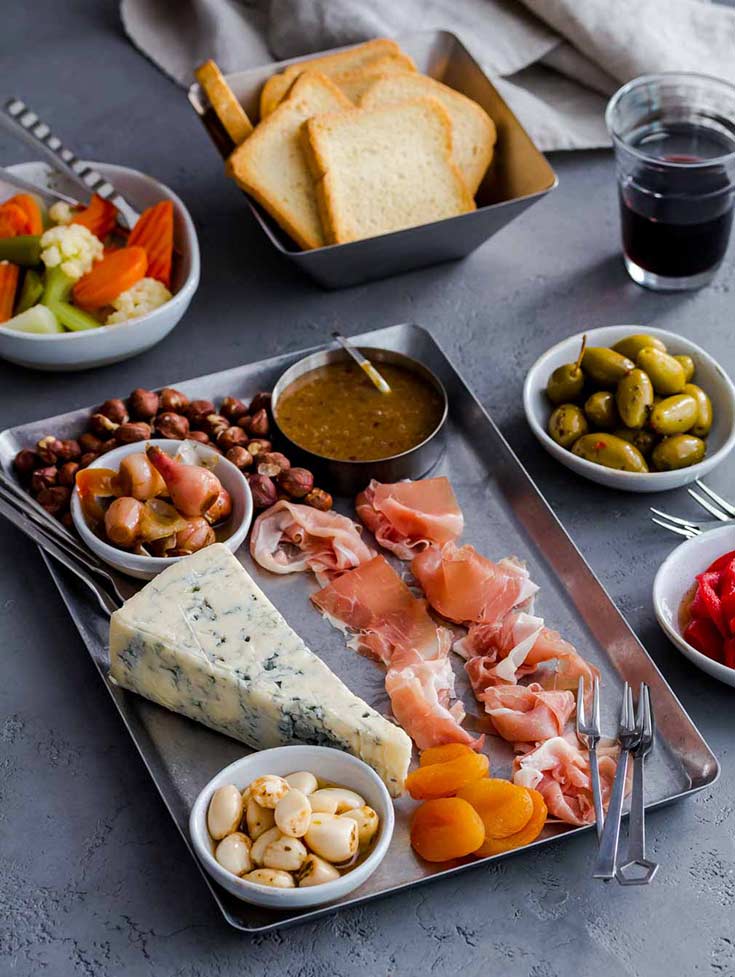 Common Questions About Charcuterie Boards
What is a charcuterie board?
A charcuterie board is a combination of appetizer foods, typically displayed on a board such as a cutting board or cheese board, that offers contrasts in tastes, textures, and colors. The appetizers are meant to be eaten primarily as finger food, although for some appetizers, serving utensils are used.
How do you pronounce charcuterie?
Charcuterie is pronounced "char-KOO-tuh-ree." Feel free to roll your Rs like Inspector Clouseau, but it's not required.
Where can I buy a charcuterie board?
You can charcuterie boards, cheese boards and utensils locally in almost any store that has a kitchen goods section. HomeGoods is a great place to check, and there is a myriad of selections online, including Amazon, Bed Bath & Beyond, Wayfair, Target, Wal-mart, and more. A Google search will provide you with many options!
How much does it cost to make a charcuterie board?
It really depends on the ingredients you choose! On average, a charcuterie board will run you somewhere between $50 - $150, though it's quite possible to assemble a decent one for under $30 or get very elaborate and spend over $200. The estimate of $50 - $150 is a common range for most boards.
How do I clean and season my charcuterie board?
This depends on what the board is made of - is it a wood charcuterie board? Is it a stone or marble board? The care will be different.

Wood charcuterie board care: Gently wash the board with mild dish soap and water. Dry it as well as possible with a towel, then let it air dry completely. Using a food-safe mineral oil, pour on a good portion of the oil and work it in with a clean cloth (don't use a paper towel or you'll leave paper fibers behind). You can also use coconut oil, but that is the only cooking oil that's okay - never use vegetable oil, as it can go rancid. It's okay if it seems like too much oil at first, as you'll notice that it absorbs well after 10 minutes or so, especially the first time you oil the board. Let one side dry overnight and make sure it's completely dry before working on the other side. The time to re-season is if you notice the oil layer becoming thin, if you see patches that look drier than others, or if the board begins to absorb liquid. You can pour a few drops of water on the board to see if it beads - if it doesn't, it's probably time to oil the board again.

Stone or marble charcuterie board care: Never put a stone or marble board in the dishwasher because the high heat is likely to cause it to crack. The board should always be hand-washed with a mild dish soap and water mixture, using a soft sponge or cloth. You can sanitize with vinegar diluted in water. Make sure not to use more than half vinegar, as too much acid can damage a stone or marble board.
What's the difference between a cheese board and a charcuterie board?
A cheese board is typically made from a wide selection of cheeses, while a charcuterie board tends to first focus on a selection of meats. Charcuterie is a term generally used for the appetizer meats and accompanying ingredients served at cocktail parties. In the United States, a charcuterie plate may contain cured meats such as salami, bacon, sausage, prosciutto, and pepperoni.
Do charcuterie boards stain? And how do I clean mine?
It is possible for charcuterie boards to stain, especially if not seasoned properly. Please see the answer to "How do I clean and season my charcuterie board?" above.
Can you help me with charcuterie board ideas?
Of course! We've included a charcuterie board recipe here, and you can also check out our popular charcuterie board ideas post.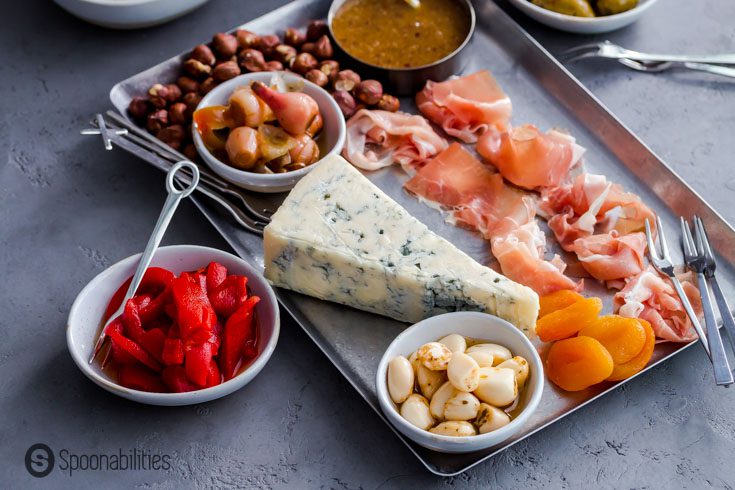 Still Not Sure How to Get Started? Try This Charcuterie Board Recipe
Print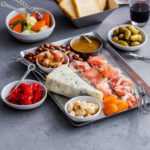 Easy Charcuterie Board Recipe
---
Description
Here is an easy recipe to dip your toe into the waters of charcuterie boards. Remember every board is unique and created based on your tastes, so add something you like and remove something you don't. You got this!
---
1

package of prosciutto

1

wedge of blue cheese

1

jar of honey mustard

1

package of toasts or crackers

1

jar of roasted red peppers <- available for

10

% off

1

jar of large pitted Greek olives <- available for

10

% off

1

jar of marinated garlic
Optional: Dried apricots, pickled mixed vegetables, pickled onions, nuts
---
Instructions
Unwrap the wedge of blue cheese, and place on a platter.

Open the package of prosciutto, separate the pieces, roll or fold them, and place next to the cheese.

Place toasts or crackers in a bread basket or bowl.

Pour the honey mustard in a small container and place on platter with a spoon

Using a spoon, remove the roasted red peppers, marinated garlic, mixed vegetables, pickled onions, and olives into separate small bowls with minimal water/brine from the jars. Place bowls on the platter or on the table next to the platter.

Garnish/fill remaining empty spots with nuts, apricots.
Prep Time:

10 minutes

Category:

appetizer

Method:

charcuterie

Cuisine:

International
Keywords: charcuterie, cheese boards, appetizer board, meat and cheese platter
Recipe Card powered by
Spoonabilities Guides to Charcuterie Boards