Tender, warm, broiled peaches topped with a spoonful of crème fraiche and black cherry preserve is an easy three-ingredient, restaurant-quality dessert. All you need to do is broil the ripe peaches on the top oven rack, and garnish them - that's beauty in simplicity right there. We're also telling you more about an awesome, deep-hued black cherry jam, and you will learn how to broil, bake, and grill peaches.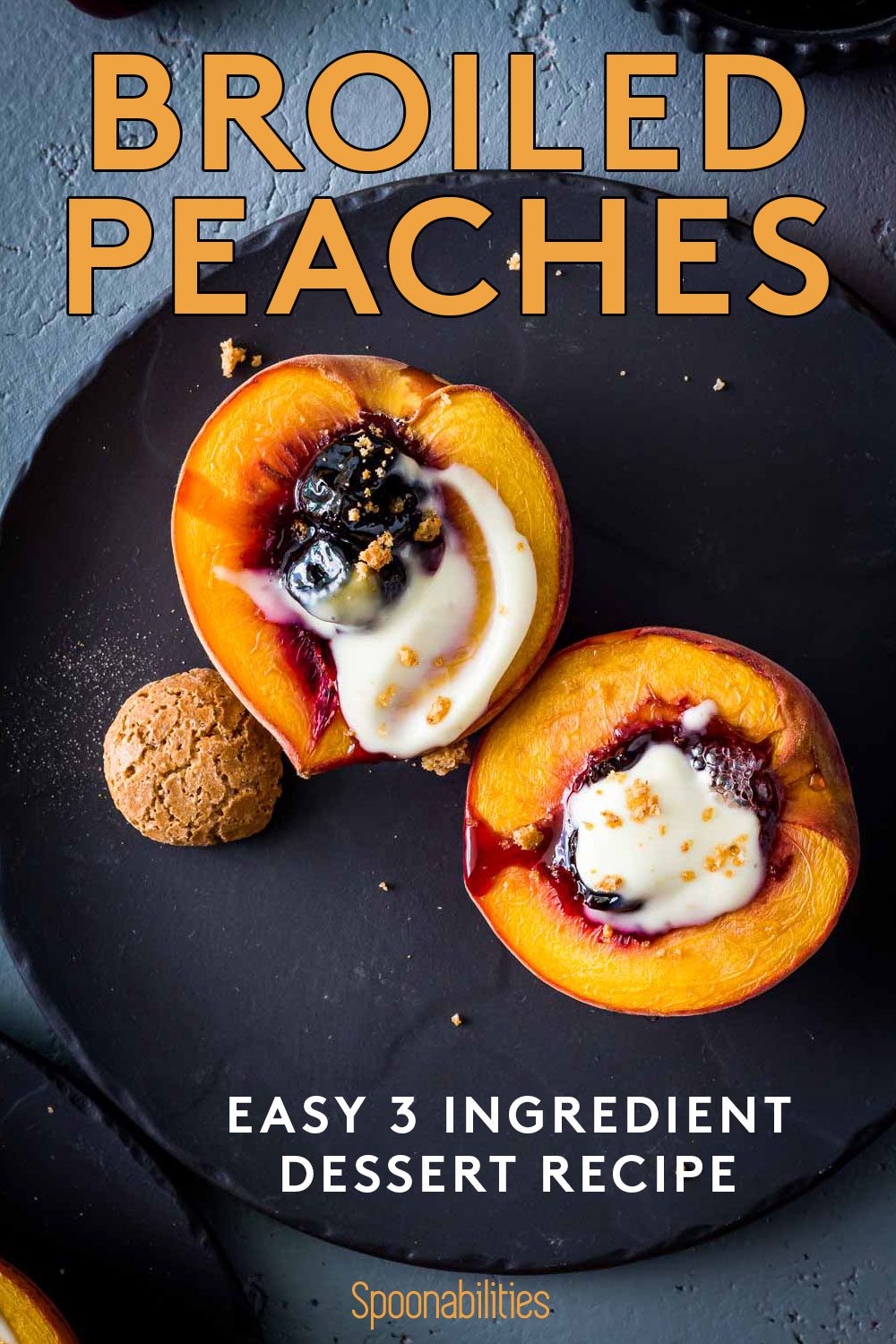 Hello my friends. I have a question for you: How good can a three-ingredient dessert really be? Well, as you'll soon find out, they can be glorious. It all comes down to the quality of these ingredients and how you use them.
So many dessert recipes are super complicated, and don't get me started on baked treats. Don't get me wrong; I love baking. Just check out our ever-growing Spoonabilities' dessert recipe section. But sometimes you need to put together a sweet course, and you're in a hurry. That's why I'm sharing with you this pretty combination of flavors in this broiled peaches recipe.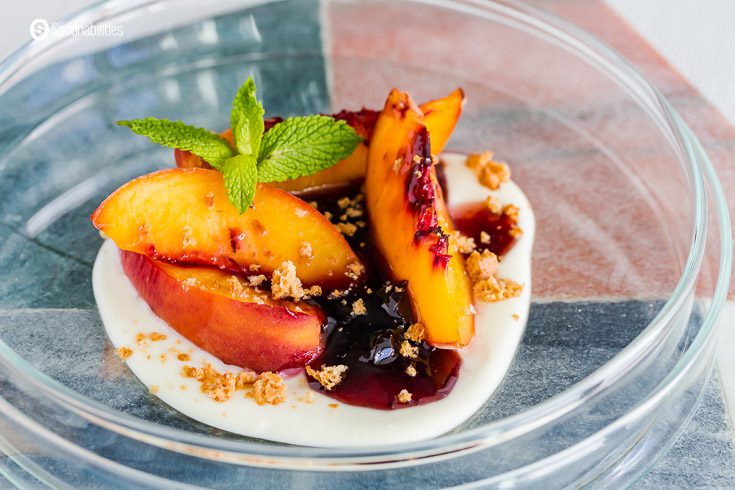 Three Ingredient Dessert: Easy Broiled Peaches
Our three ingredient dessert all starts with a few firm, ripe, halved and pitted peaches which become the base of our dessert. Then grab some crème fraiche, and finally, you can find in our shop one of our favorite black cherry jam by L'Epicurien. That's all you need. With those three ingredients, you have a delicious summer dessert, but you don't need to wait for summer to make this peach dessert. Thankfully today, you can find peaches year-round. But the ripest you'll only find during peach season. That's roughly between early May and early August.
Freestone Peaches vs Clingstone Peaches
There are several varieties of peaches, but in terms of color, they can be yellow or white. But first, you want to look for freestone peaches. The fruit's pit is loosely attached and can be removed easily by twisting the pit. These cling-free peaches are a pleasure to eat out of hand, as well as for cooking, baking, and canning, since they are easy to prep. Freestone peach season is between mid-June and mid-August.
You also can find clingstone peaches, which, you guessed it, are nearly impossible to pit. Clingstone peaches have the flesh attached to the pit. These peaches are better for eating as fresh fruit, but they are not pleasing to use in the kitchen for cooking, baking, or canning, because they give you a hard time removing the pit. Cutting the flesh from the pit can bruise or damage the fruit, which will produce oxidation in the fruit or browning. The clingstone peaches are usually the first peaches available at the beginning of peach season, between mid-May and early June.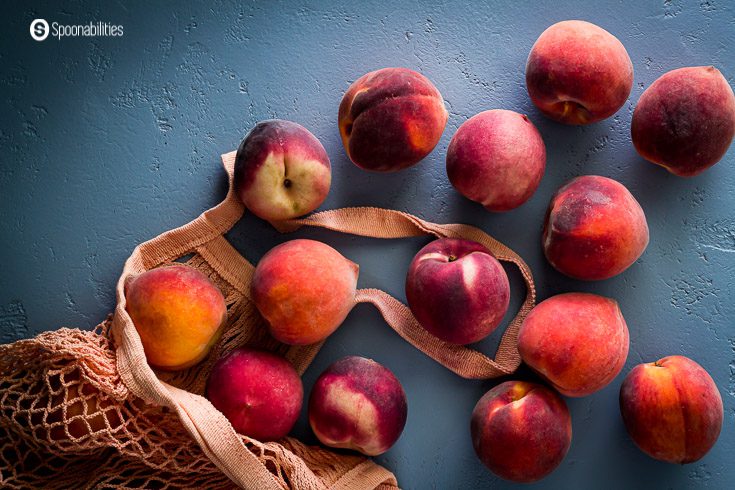 How to pick ready-to-eat ripe peaches?
Look for fruit that is heavy for its size, unbruised, and fragrant. If it doesn't smell peachy, it isn't quite ripe yet.
How to cut a peach?
Once the peach is ripe, slice a paring knife down the fruit's center and around the pit, and then twist to open. Then remove the pit. You cut a peach the same way you cut an avocado.
How to store fresh peaches?
You should consume peaches within two days after purchase and keep them on the counter at room temperature for optimal flavor.
Did you get a lot of ripe peaches that are ready to be eaten? In that case, you could store ripe peaches in an open container in the refrigerator for up to a week. Before you eat the peaches, let them come to room temperature for the best flavor.
Like this recipe so far? Be the first to know when we release new ones!
---
How to cook / broil, bake, and grill peaches: Three easy ways to cook peaches
When we were developing this recipe, we experimented cooking the peaches using three different cooking methods, so we can give you different options depending on your liking.
How to Broil Peaches
We broil these peaches two ways. The first way we tested for this recipe is the one in the recipe card below. We cut the peaches in two halves, remove the pit, place the peaches cut side up, and fill the center of each peach with one or two teaspoons of Black Cherry Preserves. Then we place them in the oven and broil for about 6-8 minutes until they are caramelized but not burnt. Serve warm, topped with a spoonful of crème fraiche.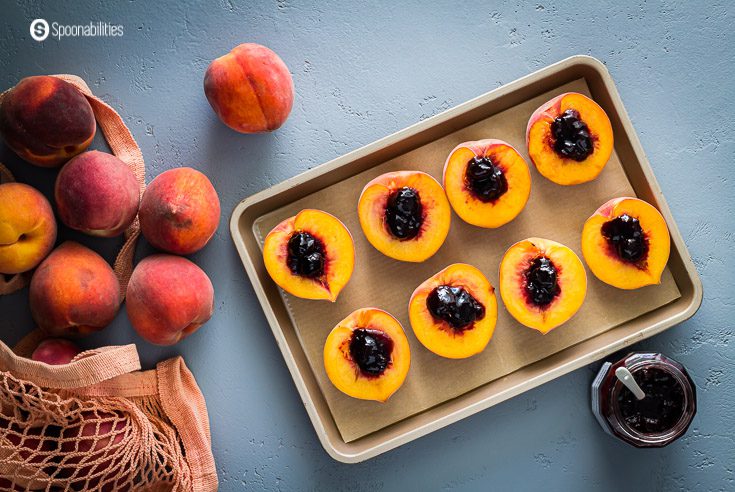 After taking the first set of photos, I was not 100% happy with the presentation. So the next day, I broiled the peach halves without the black cherry jam. Then I cut them into wedges. For the photo, I spread some crème fraiche on the bottom of the plate, and then I arranged the broiled peach wedges before topping with some black cherry preserve. I then crushed some amoretti cookies and sprinkled them on top, and for the final touch, added some color with fresh mint.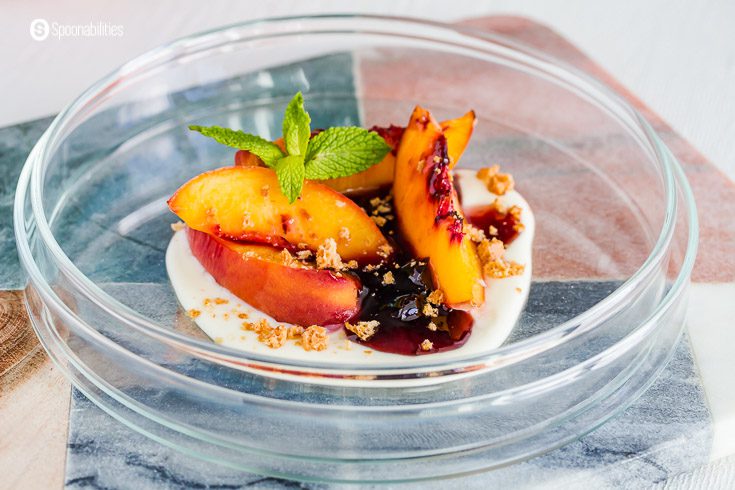 How to store broiled peaches
Store your broiled peaches in an airtight container in the refrigerator, without the crème fraiche or jam on top, for up to five days. You can add the crème fraiche after you re-heat them in the microwave for a minute or so.
How to Grill Peaches
When you grill the peaches, the sugar in the peach caramelizes making them more flavorful, juicer, and tender. When you pick peaches for grilling, select the ones that feel hard to the touch. Let them ripen on your counter, but just enough so they can still hold their shape on the grill. Set the temperature on your grill to medium high.
Cut your peaches in halves and remove the pit. Brush the flesh side with a neutral-flavored oil to make sure it doesn't stick to the grill. Place the peaches on the grill flesh side down first and grill for about 4 to 5 minutes on each side. Don't touch the peaches until each side is ready. Be patient and let the grill do its job to create beautiful grill marks. While the peaches are still warm, add a spoonful of the black cherry jam and some crème fraiche.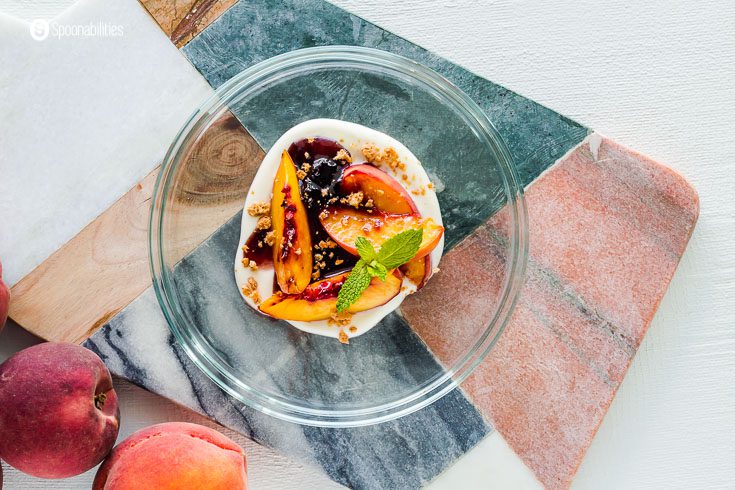 What Toppings Go Great on Grilled Peaches?
Be creative with grilled peaches and add any topping that you have available at home. Here are some ideas for you.
Pour on some maple syrup and a dollop of whipped cream, and for a crunch, add chopped pecans.
Sprinkle on some cinnamon, vanilla ice cream, and toasted coconut flakes.
Make homemade whipped cream and infuse the cream with rum or any liquor.
Use the grilled peaches without a topping as a savory side dish with grilled meats.
How to Bake Peaches
Baking peaches is so easy, but takes a little bit of extra cooking time; around 8 to 12 minutes at 385 degrees. Follow the steps on how to cut the peaches as previously explained. Place the halved peaches in a baking dish and fill the center with a spoonful of black cherry preserves and bake. Top with crème fraîche and crushed amoretti cookies or chopped nuts, and serve right away while they're still warm.
Peaches baked this way are perfect, and I love this flavor combination. But here's another idea of how you can bake them and swap the topping. Geoffrey's mom's favorite method for baked peaches is when you prepare the peaches in the baking dish, add some butter on the peach's flesh, sprinkle on some brown sugar and cinnamon, and bake for 8 to 12 minutes. You can top them with whipped cream and caramel sauce. Yum!
Broiled peaches are the perfect symbol of an easy summer dessert but you can start to see peaches in your supermarket in early February, at least here in Florida.
It doesn't matter how you cook your peaches, the heat will bring out their natural sweetness. Just enjoy them with whatever you have at home. But I can assure you these broiled peaches with black cherry preserves, and crème fraiche are out of this world!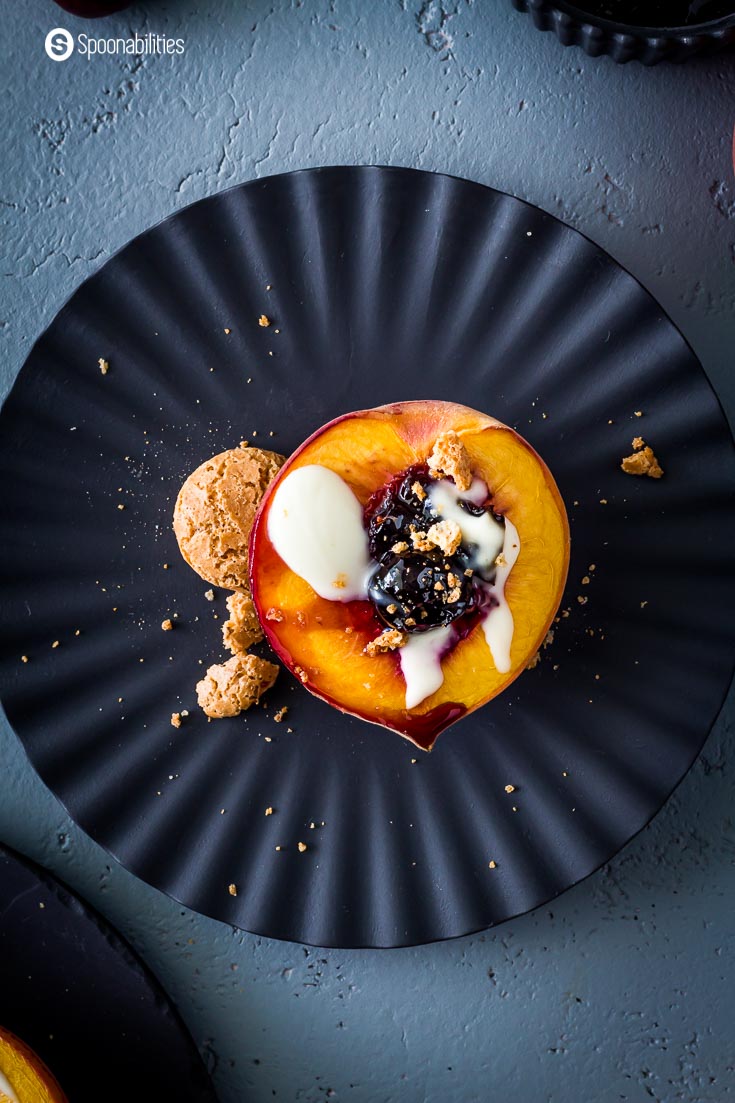 What Spices go well with Peaches?
Herbs and spices that go well with peaches are allspice, cinnamon, cloves, vanilla, nutmeg, mint, basil, ginger, honey, tarragon, rosemary, cardamom, and lemongrass.
Also, you can combine peaches with other fruits and vegetables: any berries go well with peaches, or lemon, fennel, endive, grapes, lime, and other stone fruits like nectarines, apricots, cherries, and plums. You can combine greens like arugula and tomato with peaches for a great salad.
Do Peaches get Sweeter as they Ripen?
The amount of sweetness of the peach will depend on how ripe the peach was when harvested. Peaches will get juicier and softer as they ripen on a kitchen counter at room temperature, but they will contain the same percentage of sugar as when they were picked. What changes is the fruit's chemistry as it sits at room temperature; the acid content decreases as the fruit ripens, so the fruit tastes sweeter.
Now allow me to tell you a bit about Geoffrey's favorite jam.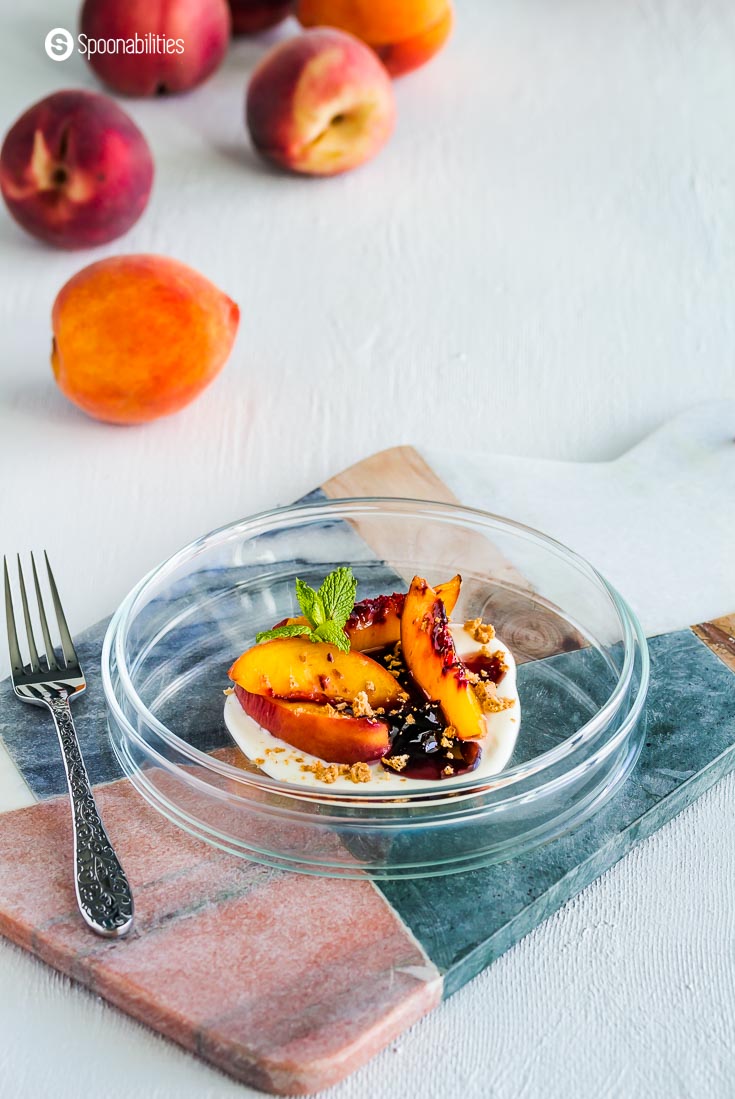 The finest Black Cherry Jam I've Found
L'Épicurien is a family-owned French business, and they specialize in all types of 'confitures' — jams, spreads, honey, sauces, you name it, they've got it. What makes these guys so unique is their production process, in their words, "still (and will remain) entirely humanized." That's worthy of a shout-out.
Their jams are the real deal, always between 55% and 75% pure fruit, and no preservatives, flavorings, or colorings. They also run their business in an environment-friendly way, and for these and many other reasons, we're with them all the way.
L'Épicurien Black Cherry Jam was voted their fourth favorite product amongst their customers, and it's easy to see why. Expect intense black cherry flavors with the right balance between sweetness and acidity. It's just decadently satisfying and incredibly versatile in the kitchen. If you want to taste this jam for yourself, grab some off the virtual shelf in our store.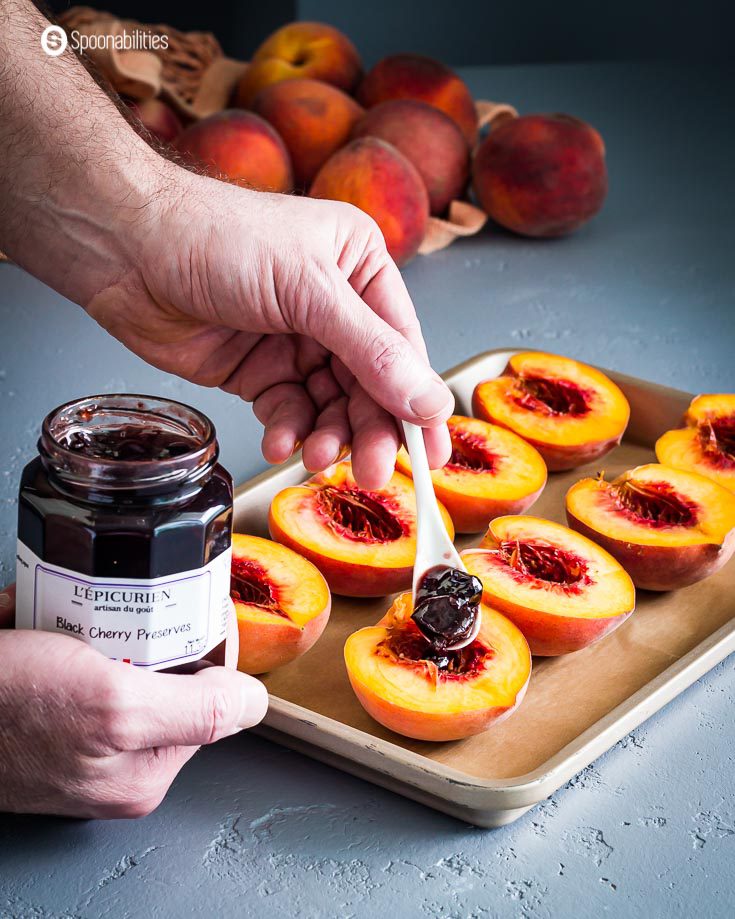 What Else can I do with Black Cherry Preserves?
If you have some left-over Black Cherry Jam from this broiled peaches recipe, get some bread, toast it, add some ricotta cheese, and top with the cherry preserve. This toast will make an excellent appetizer for your next get-together or brunch or breakfast. Or you can turn the cherry preserve into a savory sauce like we did with "Chipotle Cherry Sauce over Broiled Salmon."
I hope you get a chance to make these broiled peaches with black cherry preserves, and crème fraiche. Did you make this or another recipe? Tag @Spoonabilities on Instagram or add a photo or comment on Pinterest, so we can find you!
And we love to hear from you in the comment section below.
Carlos Leo
Your Recipe Concierge!
Interested to read more about stone fruits? Check out this blog post "The Season of Stone Fruits: Peaches and Cherries."
We have a small selection of recipes made with peaches, if you want to check them out:
Print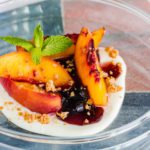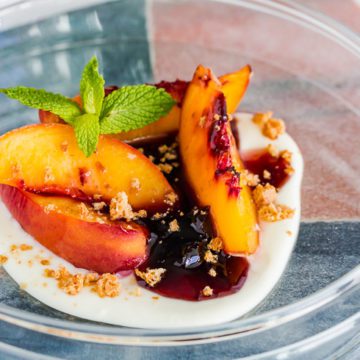 Broiled Peaches with Black Cherry Preserves, and Crème Fraiche
---
Author:

Carlos Leo

Total Time:

13 minutes

Yield:

8

1

x
Description
Tender and caramelized broiled peaches are the stars of the show. With ripe, sweet, and juicy peaches, you don't need much else. A spoonful of black cherry jam and a dollop of crème fraiche complete the warm fruit for an all-natural, colorful dessert. In the blog post for this easy baked peach dessert recipe, learn how to cook peaches via three cooking methods: baked, grilled, and broiled.
---
---
Instructions
Adjust top oven rack about 5 inches from the broiler, and turn the broiler on to pre-heat.
Line a small shallow baking pan with aluminum foil.
Cut the peaches in two halves and remove the pit.
Place peaches cut side up.
Spoon in a teaspoon or two of the Black Cherry Jam into the hole where the pit was.
Place the peaches in the oven, and broil for about 6-8 minutes until they are caramelized but not burnt
Serve warm, topped with crème fraiche, if desired.
Notes
See recipe post for many topping and cooking variations
Prep Time:

5 minutes

Cook Time:

8 minutes

Category:

Dessert

Method:

broiled

Cuisine:

International
Keywords: broiled peaches, grilled peaches, baked peaches, peach dessert, summer dessert, easy dessert recipe, fruit dessert, stone fruit dessert
Recipe Card powered by
Available via these affiliate links:
Disclaimer: Links that open in another site, i.e. Amazon, may be affiliate links where at no additional cost to you, as an Amazon Associate I earn from qualifying purchases, should you decide to purchase the item. Read our Disclosure Policy.