The Best Carrot Cake Recipe you'll find. Why? Because I actually have a list of the best carrot cakes I've ever tried, and this one checks all the right boxes. In a nutshell, there's nothing like a homemade carrot cake just like the one mom used to make; a moist cake and a cream cheese icing with just the right amount of sugar. As far as making this dessert recipe, you don't even need a stand mixer, and you can adapt to a vegan carrot cake or a gluten-free carrot cake, and even customize this cake to your individual taste. Let's grab a fork and dig in.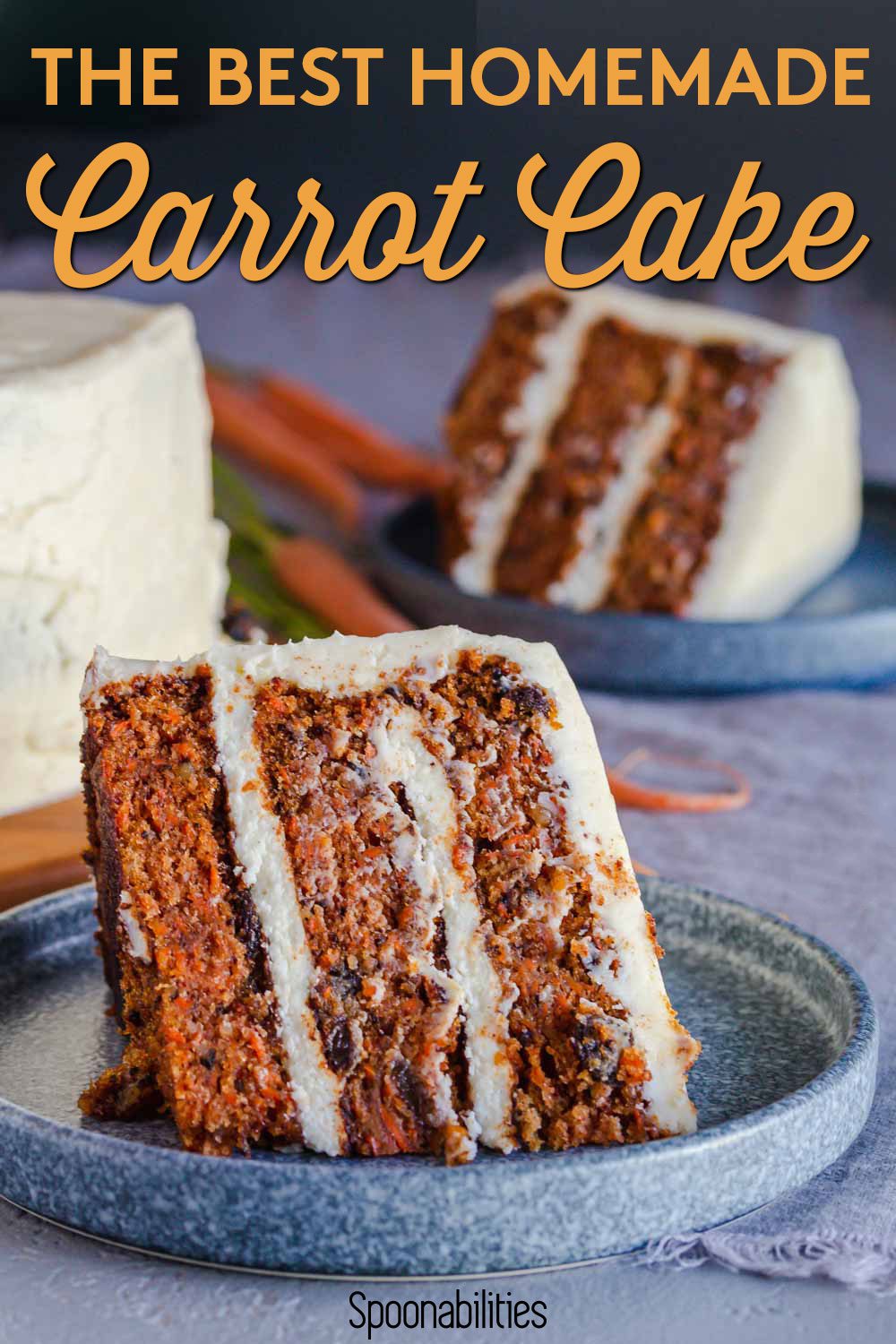 Hello my friends! Geoffrey here, giving you a sweet break from Carlos's savory dishes. I can't tell you how excited I am about sharing THE BEST EVER carrot cake recipe with you.
Carrot cake is my all-time favorite cake, and when I was younger, my mom would always make it for me especially for my birthday. Years ago I had asked her for the recipe, but she couldn't find it and said it was probably hiding in one of her cookbooks. When she passed, I made sure to grab all her cookbooks; but for all the earmarked corners, handwritten notes, and torn-out pages in those cookbooks, there was no homemade carrot cake recipe to be found. 😊
Carrot Cake Recipe Video Steps
Why Am I a Carrot Cake Recipe Expert?
Because carrot cake is my favorite dessert, and every time Carlos and I go to a restaurant and I see carrot cake on the menu, I get a piece. Unfortunately though, all carrot cakes are not alike. My memory is not the best so often when we would revisit a restaurant I would say "Ooo, they have carrot cake" not remembering that I tried theirs already and didn't like it. So, I started a "carrot cake list" on my phone that has all the restaurants that serve carrot cake with my notes: good, bad, ok, moist cake but bad icing, dry cake but icing is good, etc., etc. Ok, maybe I'm not an expert, but I have data.
So I'm not going to be shady and tell you all the places not to go, because some of them are great restaurants – just don't get the carrot cake. But, I will tell you that the one place that up until now has the best carrot cake is Beaker & Gray in Wynwood, Florida. I don't leave there without a piece in my mouth and a piece to go.
A number of years ago, a friend of a friend made a carrot cake for my friend's birthday, and it was pretty darn close to my mom's. I asked him for the recipe and he said "NO!" He knew how good it was, but I pestered him and eventually he gave it up. I've made the recipe a few times now, making adjustments along the way, and can now faithfully share with you "the best homemade carrot cake on the planet."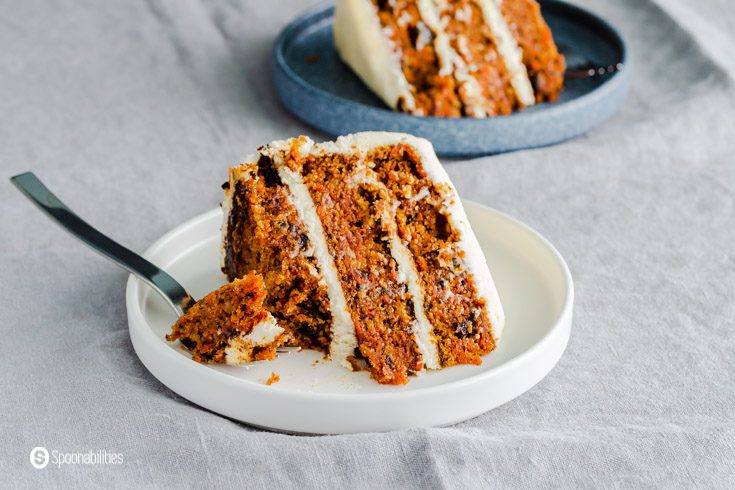 Is Carrot Cake an Easy Recipe?
Homemade carrot cake is a very easy recipe. The only part that takes a little bit of work is the freshly grated carrots, but that's what your food processor is for, right? I'm mean, you can use a box grater and do it by hand, but nobody is going to know if you used a food processor... and I certainly wont tell.
This recipe is so easy you don't even need a stand mixer; the ingredients blend seamlessly with just a few minutes of folding them manually, and that feels great, like a proper OG homemade carrot cake that mom used to make. Topped with a cream cheese frosting, you end up with a decadent cake, not too sweet, moist, and intensely flavorful.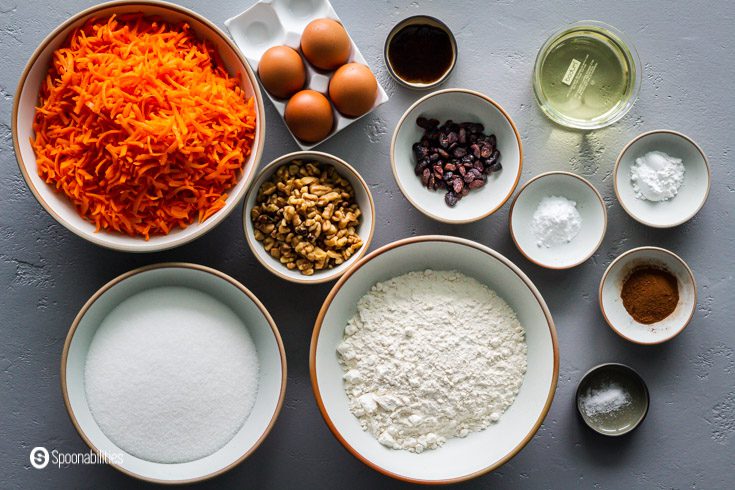 Like this recipe so far? Be the first to know when we release new ones!
---
Carrot Cake Recipe FAQS
There are some common questions regarding carrot cakes, and since I've spent the last few years immersed in the topic, I'd love to answer some of them for you.
Is carrot cake healthy?
Carrots are insanely good for you; they have antioxidants, fiber, vitamin K1, and potassium. They also have beta carotene, which your body turns into vitamin A. Having said that, carrot cake is cake, and it's packed with sugar. Add the sugar and cream cheese in the frosting, and you've got yourself a calorie bomb. I recommend using low-fat cream cheese for the icing – you can't tell the difference, and feel free to adjust the sugar in both the cake and the icing if you want, but don't come crying to me saying it's not the best carrot cake you've ever had. So, enjoy in moderation... if you can.
What does carrot cake taste like?
If you've never tried a carrot cake before, why not? Get ready to be amazed. It's moist, and no, it doesn't taste like carrots since they caramelize in the oven merging with the other ingredients. Vanilla and cinnamon also help carry the carrot flavor for a very pleasing experience. This is not at all a savory cake.
Can carrot cake be made into cupcakes?
Yes. This best carrot cake recipe can be used to make cupcakes with no modifications needed. Keep in mind that not all recipes are the same, and others might not work for cupcakes. In short, our recipe is suitable for cupcakes, we've tried it, and it works. Just adjust the baking time to about 30 minutes before checking their done with a toothpick. Carrot cake cupcakes are always a treat.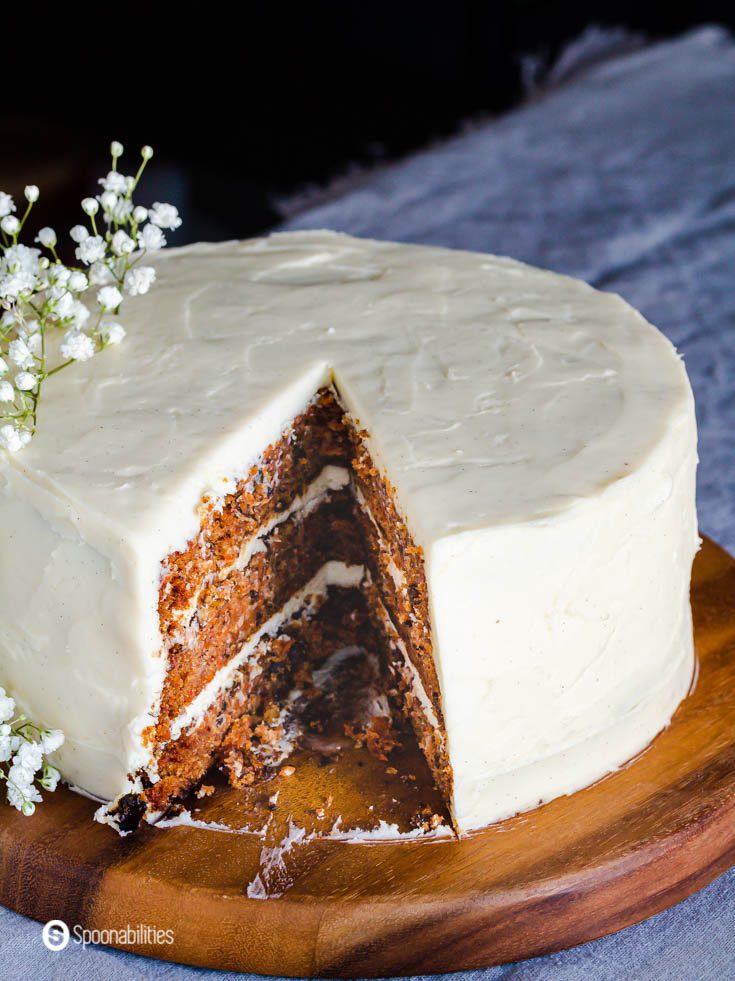 Carrot Cake Variations
Homemade carrot cake is very versatile in that you can add different nuts, fruits and spices to jazz it up. It lends itself to creativity. I invite you to make this best carrot cake recipe your own. Here are a few suggestions:
Add or switch the nuts. If you don't like walnuts, substitute peanuts, pecans, or your favorite nut.
Use other spices. Although cinnamon is pretty standard and I don't suggest leaving it out, you could add in some cardamom, all spice, or even a little pumpkin spice if you dare.
Fruit it up. There are raisins in the cake, and if you love raisins like I do, add more than a half cup. You can also add in some coconut flakes and crushed pineapple if that suits your taste.
Make it gluten free or vegan. If you use almond flour, the carrot cake instantly becomes naturally gluten-free. The wheat flour to almond flour substitution ratio is not the same, so be aware of that. Use a vegan egg substitute, or bananas, to switch out the eggs, and your cake is now vegan. (I'm not vegan or gluten intolerant, so don't yell at me if this is not 100% correct, and I would appreciate hearing from you if you have an update to this info).
Try different flavored frosting. Ok, so I'm putting this here, but I personally would never do this. IMO, the cream cheese frosting is what makes the cake a carrot cake. But to each her own.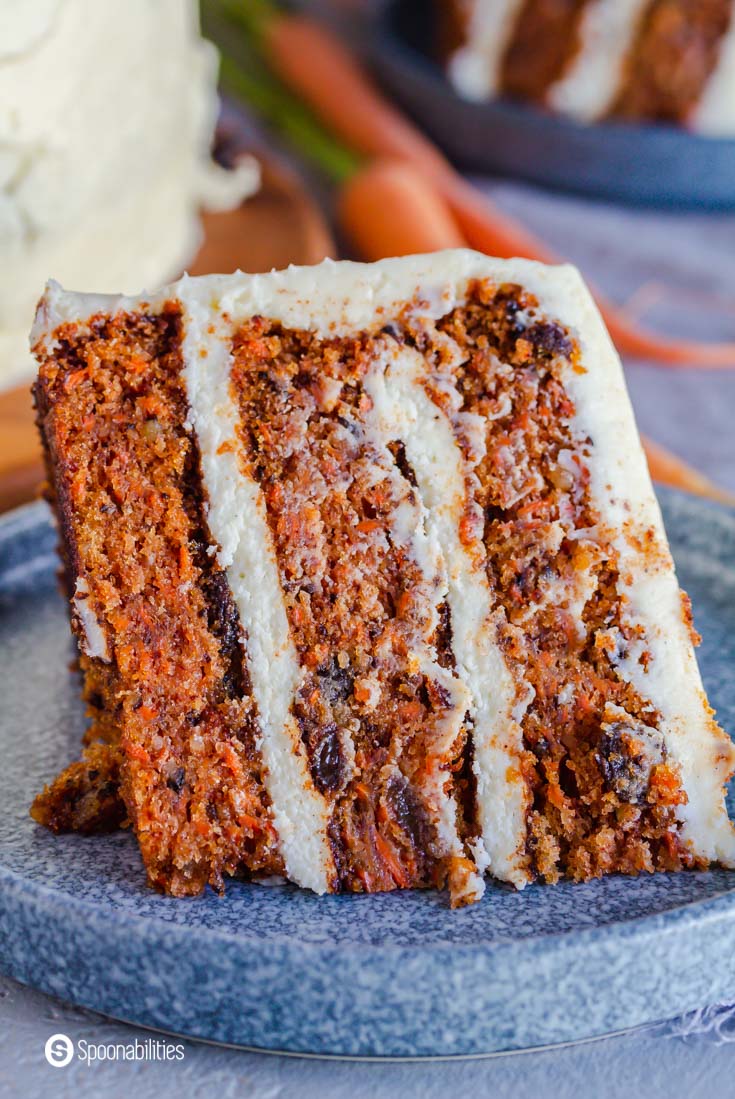 Can carrot cake be frozen?
Actually, because of the cake's moisture, carrot cakes are ideal for long term storage in the freezer. The cream cheese frosting is also freezer friendly. Just make sure your cake has completely cooled down. I cut and wrap individual pieces in plastic wrap and then wrap those in aluminum foil or store in an airtight container, and freeze. There's nothing better than having a month or so go by and remembering you have a piece of carrot cake in the freezer screaming to be eaten.
If you were wondering how to make the best, moistest, most delicious carrot cake, or how to make the perfectly balanced cream cheese frosting, look no more. I'm sure you can tell I'm pretty proud of this one. I hope you get a chance to make this homemade carrot cake. What are you waiting for? Get to it!
Did you make this or another recipe? Tag @Spoonabilities on Instagram or add a photo or comment on Pinterest, so we can find you!
Love to hear from you in the comment section below.
Warm Regards,
Geoffrey
Chief Tasting Officer and part-time baker
Want more Cake Recipes?
Print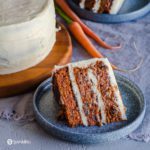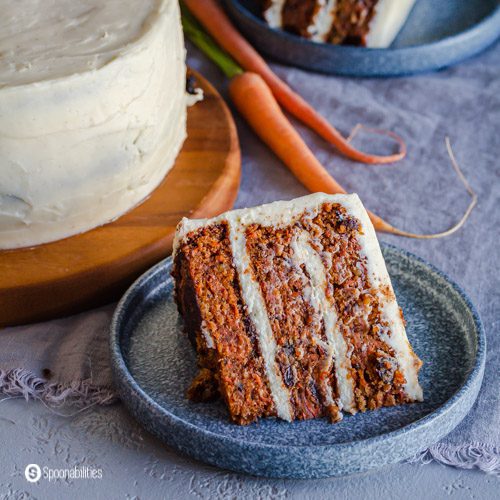 The Best Carrot Cake Recipe with Cream Cheese Frosting
---
Author:

Carlos Leo

Total Time:

55 minutes

Yield:

1

6

1

x
Description
The Best Carrot Cake Recipe you'll find. Years of research in finding the recipe as close as possible to the homemade moist carrot cake mom used to make. You don't need a stand mixer either, and you can quickly adapt it to vegan and gluten-free diets.
---
For cake:
1

-

½

lbs

. (about 4 cups) cleaned and grated carrots

2

cups

white sugar

4

eggs

1

-

½

cups

vegetable oil

2

cups

flour

2 teaspoons

baking powder

2 teaspoons

baking soda

2 teaspoons

cinnamon

2 teaspoons

vanilla paste

½

cup

raisins

½

cup

chopped walnuts
pinch of salt
For cream cheese icing:
6

oz

softened cream cheese (low-fat works too)

6 tablespoons

room temperature butter

¾ teaspoon

vanilla paste

1.5

cups

sifted powdered sugar
---
Instructions
Preheat oven to 350°F.
Butter the insides of (3) three 9" cake rounds, line the bottom with parchment paper cut to size, and sprinkle with flour, shake out excess flour, and set aside. You can also use baking spray – spray bottom both above and below parchment paper.
Beat sugar and eggs until thick and then slowly beat in oil gradually.
Sift together flour, baking powder, baking soda, cinnamon, and salt.
Stir flour mixture into the wet mixture and add in vanilla.
Fold in carrots, walnuts, and raisins.
Spoon equal amounts of batter into each of the 3 cake pans. (If possible, I recommend weighing the batter in each pan so that you know you have equal amounts for each cake.)
Bake for 35-40 minutes, or until the top springs back when touched.
Cool cakes on wire rack for 10 minutes, then flip them out to cool completely.
Blend the cream cheese, butter, vanilla and powdered sugar together and mix well for the icing
Frost between the layers, around the sides and the top.
Prep Time:

20

Cook Time:

35

Category:

dessert

Method:

Baking

Cuisine:

American
Keywords: carrot cake homemade, carrot cake cupcake recipe, carrot cake from scratch, cream cheese frosting, cream cheese icing, healthy carrot cake
Recipe Card powered by
Serve Carrot Cake with:
Available via these affiliate links:
Disclaimer: Links that open in another site, i.e. Amazon, may be affiliate links where at no additional cost to you, as an Amazon Associate I earn from qualifying purchases, should you decide to purchase the item. Read our Disclosure Policy.