Chicken Scarpariello is a hearty, Italian-American, one-pot, dinner recipe of braised chicken, sausage and peppers. If you have ever been far from home and homesick for a comforting home-cooked meal, chicken scarpariello is the cure for such matters of the heart. Juicy braised chicken thighs, spicy Italian sausages, and a zesty red vinegar and wine sauce creates a satisfying meal that just tastes like home. If this ain't comfort food, then I don't know what it is.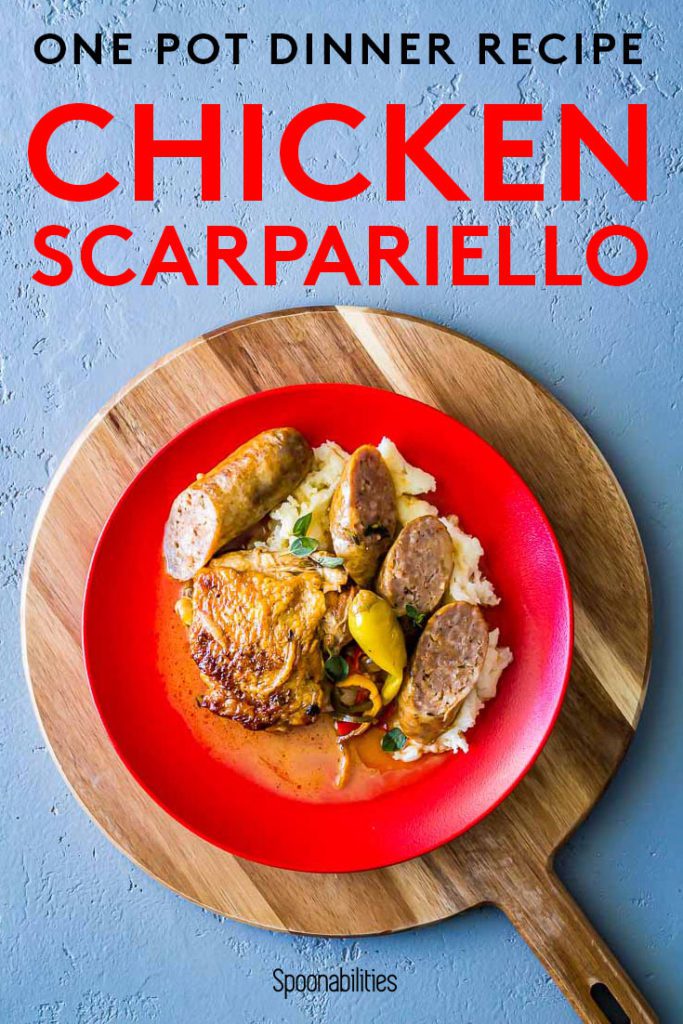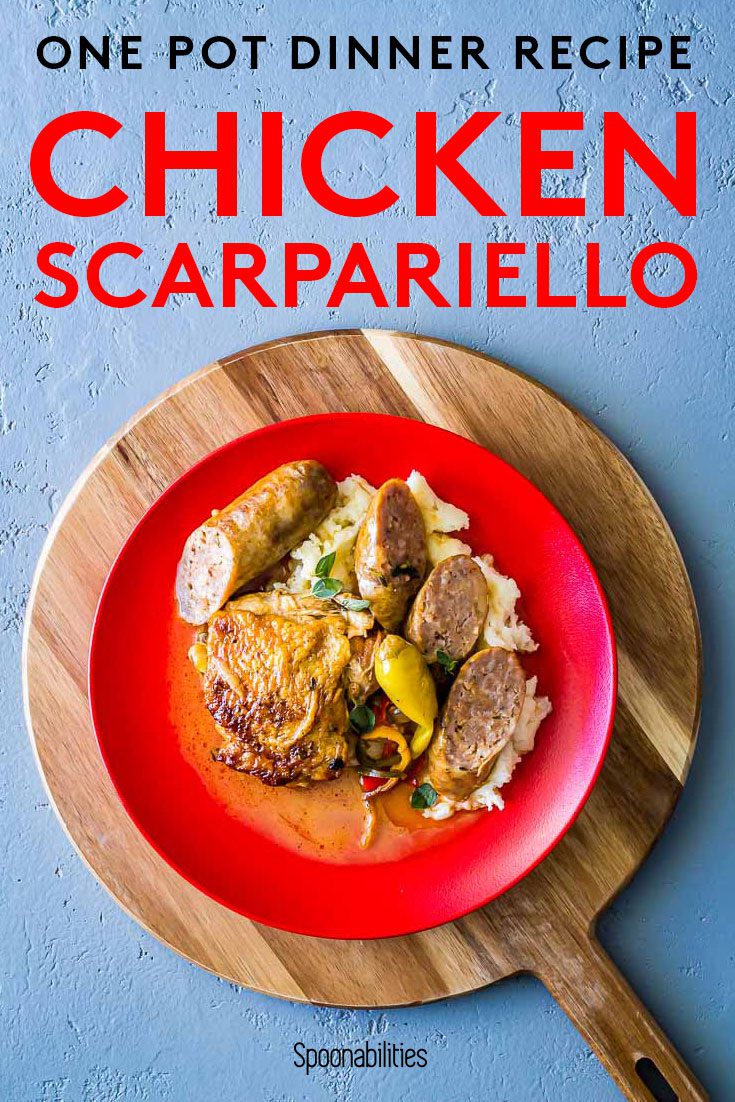 Blog post contains products you can purchase in our online shop, and affiliate links.
Read our Disclosure Policy.
Hello my friends. Today I want to guide you through a beautiful one-pot dinner that has become an Italian-American staple, the Chicken Scarpariello.
Where did Chicken Scarpariello come from?
The recipe for this one-pot meal has its origins in New York City and was probably brought by boat with the first Italian immigrants to come to America. The name means "chicken shoemaker-style," and what do all shoemakers have in common? They're crafty and resourceful. This is probably why the stew has the odd combination of both Italian sausages and chicken, but you know what? You gotta love resourcefulness!
If you've never tried this dish before, expect the rich flavors of Italian sausage combined with tender chicken thighs, brought together by good olive oil and the appealing addition of white wine and red wine vinegar. The tanginess of vinegar balances the meat's unctuousness, becoming a thin, tangy sauce with a light but flavorful feel.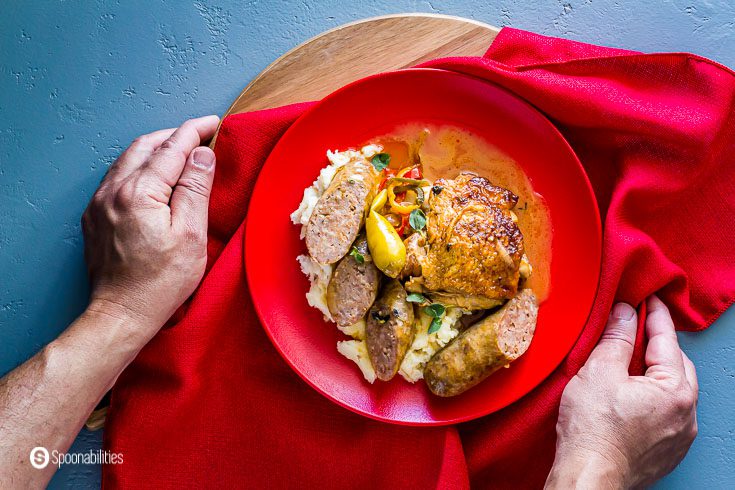 Not Your Typical Chicken Scarpariello
We're also adding some sweet onion and bell peppers, which are traditional ingredients. But instead of the usual sweet peppadew peppers, we're adding some Greek pepperoncini peppers and jalapeño for an amped-up version of the classic. The recipe also has mild and hot sausage. You can also use any of your favorite sausages. I added one andouille sausage just for the heck of it. If you're looking to make a heartwarming meal, the mouthful of meaty goodness of chicken scarpariello is precisely what you need.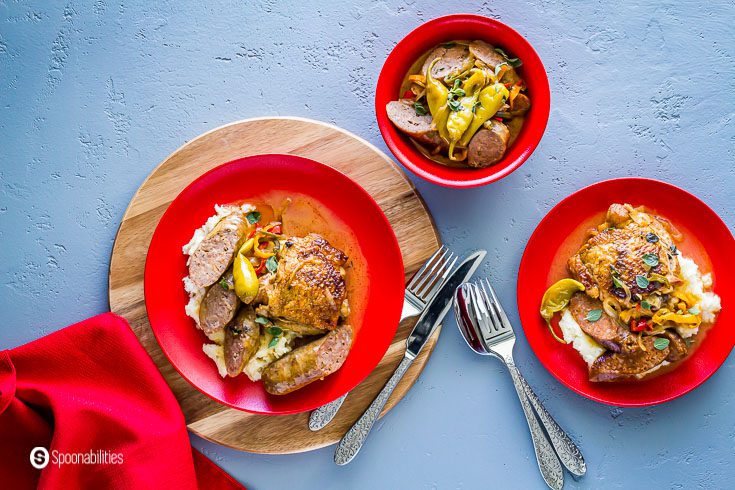 Let Your Dutch Oven Do All the Work
You want to use a heavy cast iron saucepan or a Dutch oven for this one; you want that sausage nicely charred and the chicken skin golden and crispy. Once the liquid ingredients come in, it's all about braising our meat in the oven.
I know what you think. Home-cooked braised recipes are laborious and time-consuming. But have no fear, this one-pot recipe is as easy as 1-2-3. It's nothing more than searing your meat, stir-frying your veggies, and letting everything braise for 30 minutes in the oven. The ingredients do the rest as the flavors merge and combine. Though the result tastes as if you spent all morning in the kitchen, we'll let the truth be our little secret.
Like this recipe so far? Be the first to know when we release new ones!
---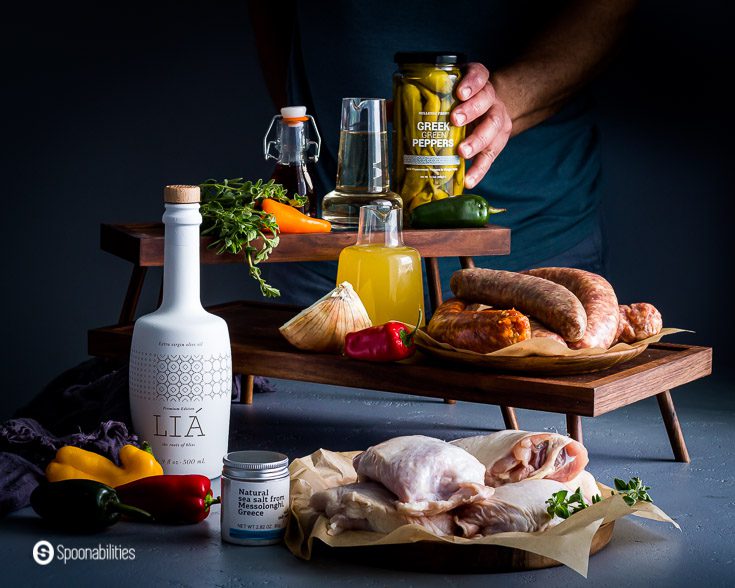 Know Your Ingredients for Chicken Scarpariello
Let's go deeper into some ingredients we're using today. Here's everything you need to know to get the conversation started over dinner.
What's the deal with Greek Green Peppers? You'll find these pale-yellowish green peppers labeled as friggitello too and are part of the sweet Italian chili pepper repertoire. They're also known as Golden Greek peppers and are the mild variant of pepperoncini. This dish is traditionally made using hot pickled cherry peppers, or peppadew peppers. In this recipe, we are using Greek Green (mild pepperoncini) Peppers, which are available today in our online shop.
Then there are the Italian Sausages: We're talking American-style Italian sausages, which are made with ground pork meat, more often than not flavored with fennel. You'll find hot, sweet, and mild varieties. The hot ones have a hefty addition of red pepper flakes in the mix while the sweet ones are infused with sweet basil leaves. Mild sausages are, well, just mild. We are using both hot and mild sausages in this recipe.
Good Quality Olive Oil: We are using our favorite LIA Greek Olive Oil, which is our top selling olive oil in a beautiful white bottle. Some of our customers leave it as décor on their countertops.
Red Wine Vinegar: This is the ingredient, along with the Greek green peppers, that create a zesty vinegary pan sauce.
Chicken Broth: The broth balances and mellows out the pickled vinegar flavor.
White Wine: It's the traditional vehicle and best ingredient to create a fantastic sauce.
Chicken Thighs: The benefit of using chicken thighs is that it will give you juicy and tender meat with crispy skin.
Bell Peppers: Bell pepper is a traditional ingredient for chicken with sausage and peppers. Besides the taste, I'm using orange, green, and red peppers for a touch of color. I'm also using jalapeno peppers.
Garlic, Onion & Oregano: I cannot cook without garlic and sweet onions. They add such a great flavor to any dish. Dried oregano goes a long way to make any dish extra special, and we use Daphnis & Chloe Aegean Isle Oregano.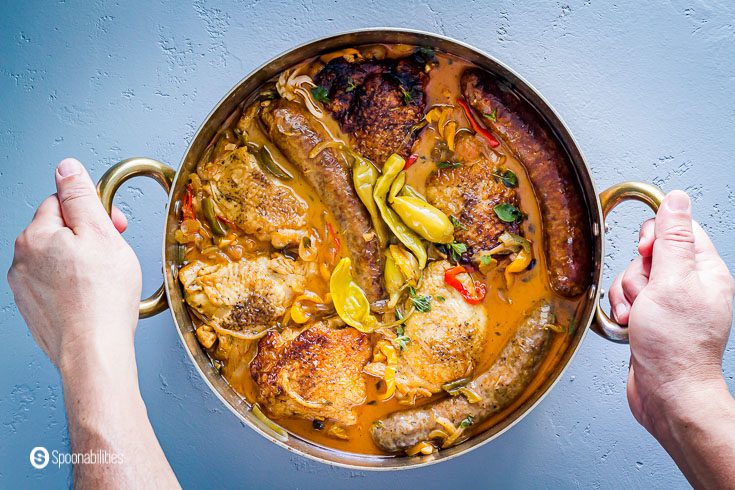 How to Make Braised Chicken with Sausage and Peppers
This Chicken Scarpariello recipe is made in three easy steps: Brown, sauté, and braise.
Season & brown: Season the chicken thighs and sear both sides. Sear the sausages but don't season them.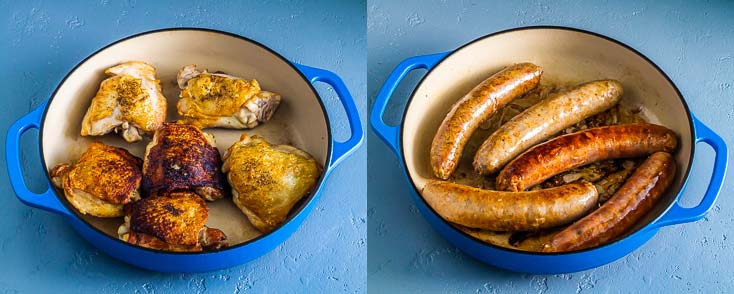 Sauté: Sauté the vegetables until soft and beginning to brown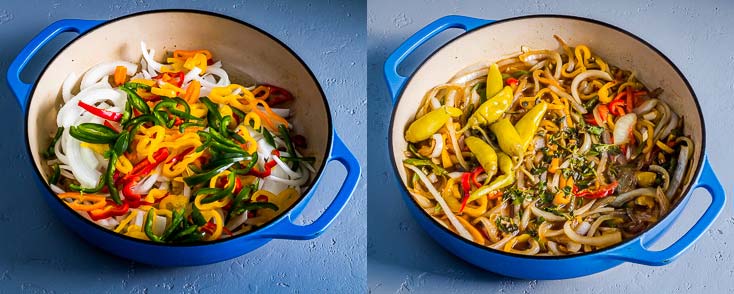 Braise: Deglaze the Dutch oven with the chicken broth, wine, and red wine vinegar. Adjust the seasoning, gently nestle in the chicken thighs, sausages, and veggies. Add the Greek green peppers and braise for 30 minutes.
Our chicken scarpariello has tons of restaurant-level flair, but it's still a dish of the people, and so easy to make at home. If you are interested to see more Italian comfort food recipes, we have some options for you:
I hope you get a chance to make this Braised Chicken with Sausage and Peppers. Did you make this or another of our recipes? Tag @Spoonabilities on Instagram so we can find you! And we love to hear from you in the comment section below.
Carlos Leo
Your Recipe Concierge!
Print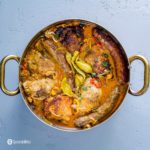 Chicken Scarpariello | Braised Chicken with Sausage and Peppers
---
Author:

Carlos Leo

Total Time:

1 hour

Yield:

1

0

1

x
Description
Chicken Scarpariello is a classic, Italian-American, one-pot dinner recipe of Italian sausages and chicken thighs braised together with bell peppers, Greek green peppers, sweet onions, red wine vinegar, wine, chicken stock, spices, and aromatics, all which make this a dish that can only be described as the taste of home.
---
Chicken & Sausage:
6

bone-in, skin-on chicken thighs

1 teaspoon

Sea Salt

½ teaspoon

ground black pepper

2 Tablespoons

LIA Extra Virgin Olive Oil

3

Italian hot sausages (.

75

lbs)

3

Italian mild sausages (.

75

lbs)
Veggies:
1

small red bell pepper, seeded and Julienne cut

1

small yellow bell pepper, seeded and Julienne cut

1

small green bell pepper, seeded and Julienne cut

2

jalapeño peppers, halved lengthwise, seeded, and Julienne cut

1

large sweet onion, sliced

1 teaspoon

minced garlic

4

to

8

Hellenic Farms Greek Green Peppers, left whole,
Sauce:
---
Instructions
Season chicken thighs with salt and pepper.
Brown: Heat olive oil in a Dutch oven or large pot over medium heat. Brown the chicken thighs five minutes per side, starting with skin side down. Remove the chicken thighs to a plate. Add the sausages and sauté until brown, about 4 minutes total. Make sure you brown all sides. They will not be cooked all the way. Remove with a slotted spoon and set aside.
Sauté: Remove all but 2 tablespoons oil from the pot and sauté the bell peppers, jalapeños, onion, and garlic until soft and beginning to brown, about 5 minutes.
Braise: Add the Greek Green Peppers, chicken broth, wine, vinegar, and oregano. Adjust seasoning with salt and pepper if necessary. Bring to a quick boil over high heat. Nestle sausage and chicken in the pot. Braise covered over low heat. It will take about 30 minutes. See notes about chicken temperature.
Notes
To confirm if the chicken is done, insert an instant thermometer to the thickest part of the chicken thighs and make sure registers 165 degrees.
We partner (affiliate links) with Drizly delivery service, so if you don't have the dry white wine, you can have it delivered.
Prep Time:

15

Cook Time:

45

Category:

Dinner

Method:

Braising

Cuisine:

Italian-American
Keywords: Italian-American recipe, Italian recipe, Braised Chicken with Sausage & Peppers, Italian sausages, chicken thighs recipe, sausage recipe, dinner recipe, vinegar based sauce, red wine vinegar, Greek green peppers, hot pickled cherry peppers, peppadew, pepperoncini, sausage and peppers, comfort food
Recipe Card powered by
Available via these affiliate links:
Disclaimer: Links that open in another site, i.e. Amazon, may be affiliate links where at no additional cost to you, we may receive a small commission should you decide to purchase the item. Read our Disclosure Policy.