Roasted Red Pepper Pasta with Sicilian Olives is a simple pasta recipe you can make for a healthy, quick & easy weeknight meal. This delicious recipe is made using Egg Tagliatelle Homestyle Pasta, sweet roasted red peppers, and Sicilian olives. We have just partnered with Flora Fine Foods to bring you a monthly recipe & exciting giveaways of their exceptional products that you can use in all your recipes. Check our Instagram account @spoonabilities to find out more about the giveaway.
Blog post may contain affiliate links. Read our Disclosure Policy. All photographs are copyright Carlos Leo, Spoonabilities
Hello my friends. I hope you guys are having a fantastic month. As I mentioned in my last Instagram post, October is a special month for us. This past Saturday, October 13th was my Birthday, the 16th Geoffrey and I celebrated the 14th year of our journey together, and on the 18th was our third wedding anniversary ❤️‍. This is a very exciting month.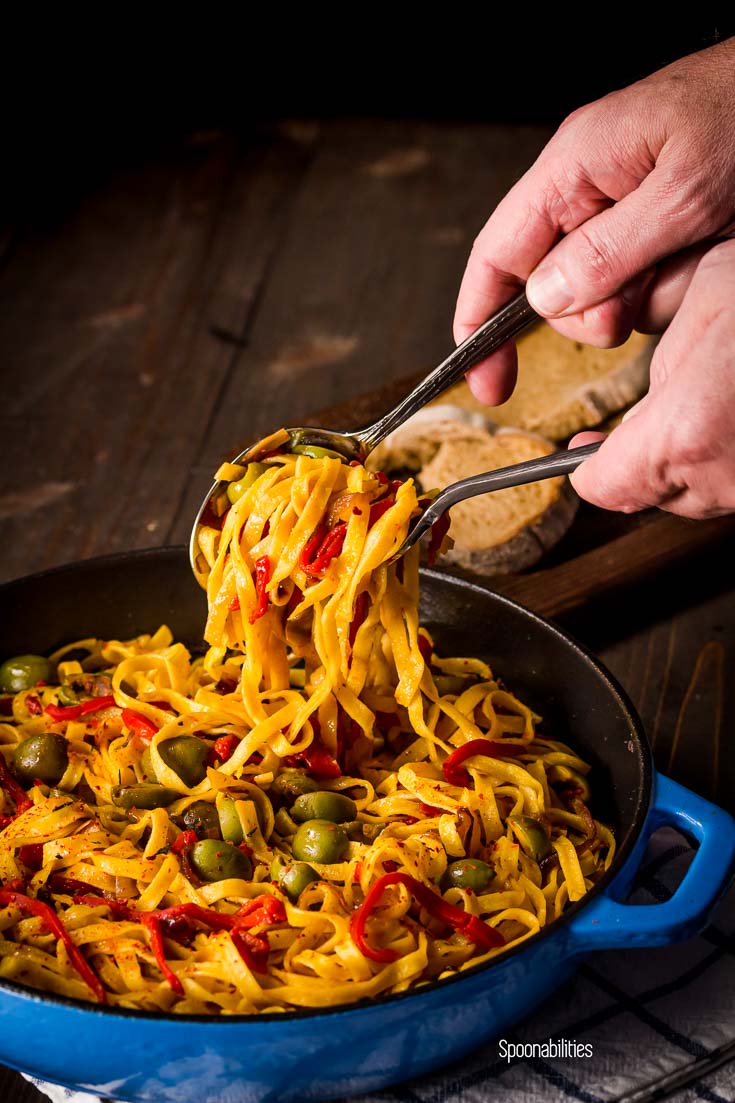 This week is all about quick & "Easy 1-2-3" recipe ideas to help you ease your weeknight meal work. As your Recipe Concierge, I will also help you be creative to use the half open jars leftover from this recipe. We'll use the ingredients in more delicious dishes without breaking the bank, using what you already have in your pantry. For this week's recipe, I want to showcase each product in a simple way, and decided this Roasted Red Pepper Pasta was the best choice.
How to Make Roasted Red Pepper Pasta
While the Egg Tagliatelle Homestyle Pasta is cooking, the prep work for this Roasted Red Pepper Pasta will be thinly slicing the onion, garlic, and roasted red pepper, as well as cutting the Sicilian olives in half. Heat the olive oil in a pan and sauté the onions for about 7 minutes. Add the garlic and the thyme until fragrant. Then, add the roasted red pepper and the Sicilian olives and sauté for about 3 minutes on medium-low heat.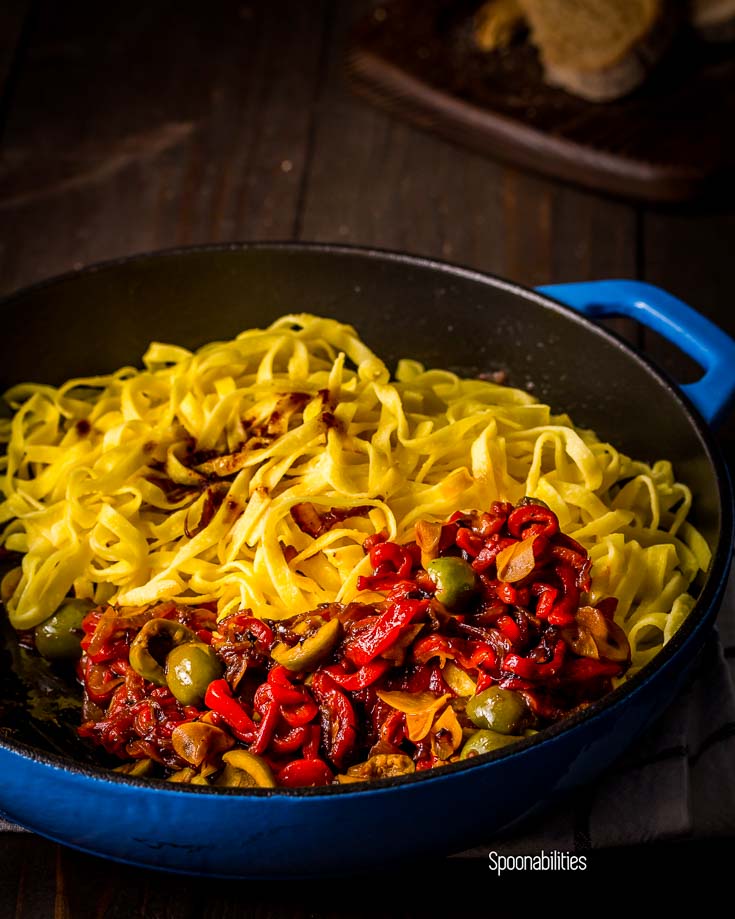 In another small saucepan, simmer the soy sauce, sugar, salt, pepper, and aleppo pepper for about 3 minutes. When the Tagliatelle pasta is cooked to your liking, add the pasta to the skillet with the roasted red pepper mixture, the soy sauce mixture and a half a cup of the pasta water; toss together. Serve in a bowl and sprinkle more aleppo pepper and thyme.
If you want you can add parmesan cheese or crumble goat or feta cheese on top. I serve mine with parmesan cheese because that's what I have in the refrigerator (all the time). This pasta pairs well with Pinot Noir, in case you wanted to know. Also, as part of our "no jars left behind" motto, I cooked the whole bag of pasta but only used enough pasta to match the amount of roasted red pepper sauce. I reserved some for the next day when I made a different sauce, which I describe below.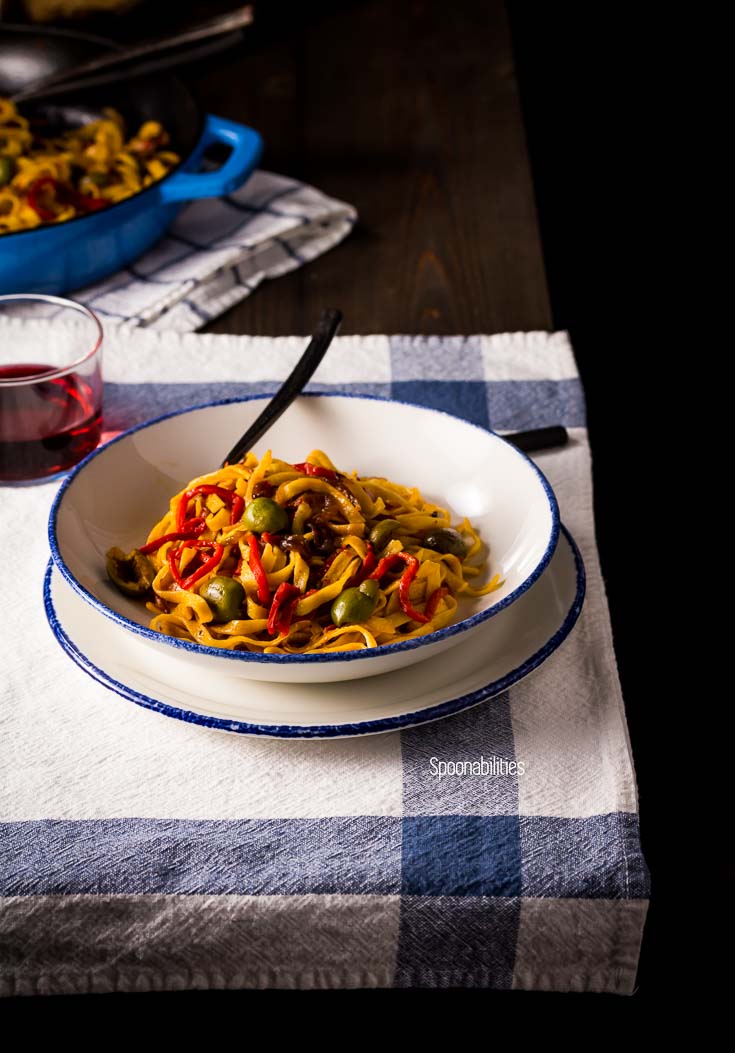 This Roasted Red Pepper Pasta is vegetarian, healthy and as easy to make as "1-2-3" with just a few ingredients. If you are vegan, you can substitute the Egg Tagliatelle Homestyle Pasta with vegan pasta, or if you want a healthier pasta use whole-grain pasta. Check out Flora Fine Foods for their entire pasta offerings and which supermarket near you carries their products.
Talking about Flora Fine Foods, they reached out to me three weeks ago and asked if we wanted to partner with them for some social media collaboration. I have to tell you I was in shock because this is my very first partnership with a brand. They started the email appreciating the work that I was doing on Instagram, and as a blogger. This was music to my ears because social media is hard and constant work, and I still think my pictures and writing need a lot of work. But, I guess it's not as 'bad' as I think.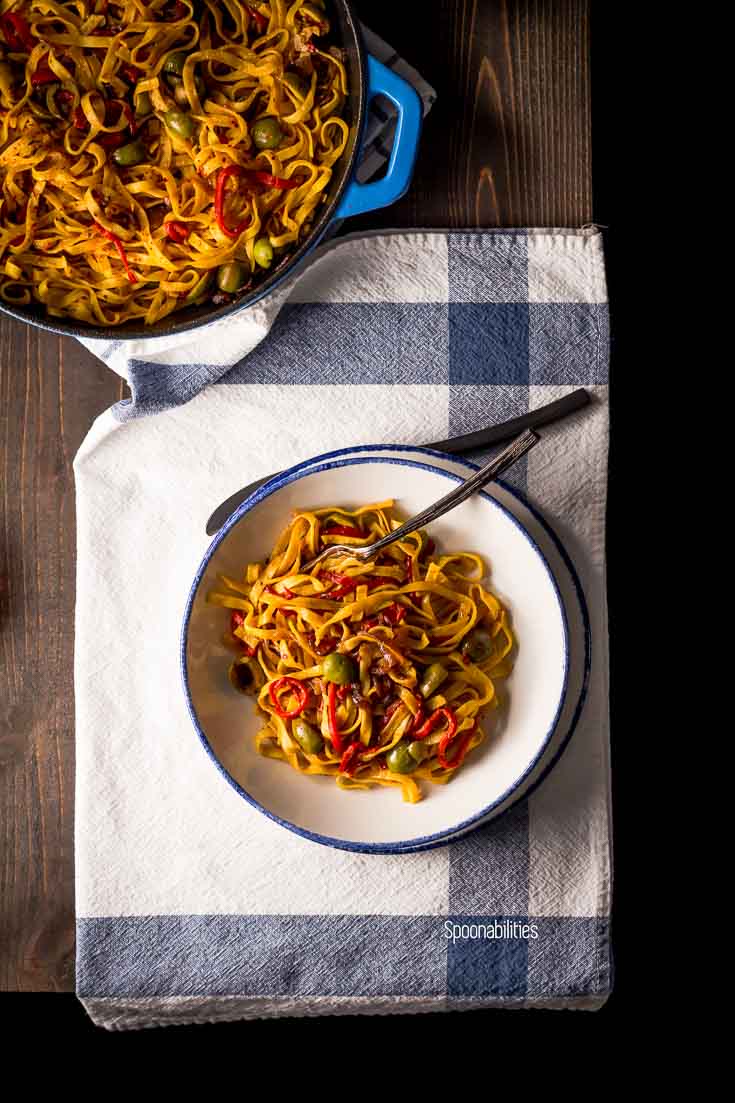 I was super excited, but before accepting this partnership, I went to the supermarket and to their website to make sure I identify fully with their products and their company. I'm very honest and open with YOU, and want to makes sure they had high quality products. From the very beginnings of Spoonabilities, my plan was, when the time came, to only partner with brands that fit the Spoonabilities core values. I didn't realize until I was at the supermarket that I already use and enjoy some of their products. Here are some of the reasons why I'm excited to partner with Flora Fine Foods:
They are a family owned company
They are a South Florida based company
I have used and loved their products before
I love Italian food and they import authentic Italian products.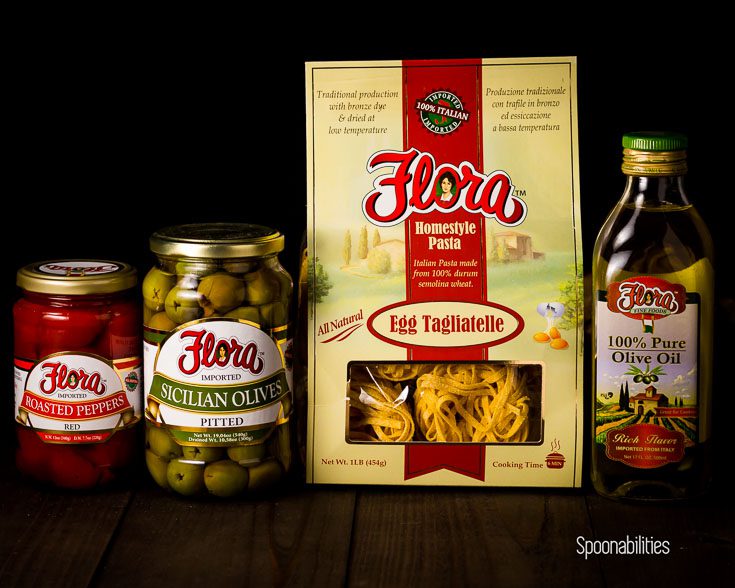 For the first collaboration with Flora Fine Foods, I decided to take the approach to showcase each product without hiding the ingredients in a sauce. So, when I was looking through this amazing cookbook called Balaboosta from Einat Admony, I was inspired by a Linguine recipe. But as always, I made a bunch of changes to make it my own.
Here are the products I chose to use from Flora Fine Foods:
Egg Tagliatelle Homestyle Pasta
Olive Oil
Sicilian Pitted Olives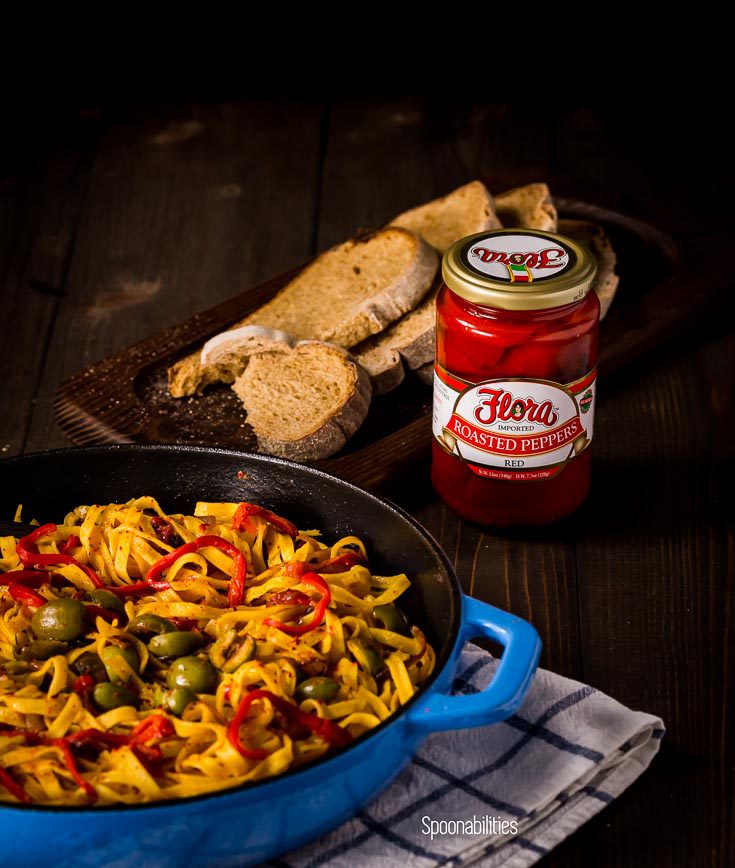 No Jars Left Behind…
Now you're asking: "what else I should do with the leftover ingredients from this recipe?" I got you covered and will share some of ideas.
Uses for Leftover Jar of Roasted Red Peppers:
Uses for Leftover jar of Sicilian Olives - also known as Castelvetrano olives:
Sicilian Marinated Olives: Drain the olives to remove the brine and give a quick rinse. Add them to a bowl in a single layer and add lemon juice, lemon peel, chopped garlic, a sprig of thyme, extra virgin olive oil, and flavored salt. Keep in the refrigerator overnight. Note: remove from the refrigerator a least 30 minutes before serving so the olive mixture liquefies.
Fried olives on a bed of Labne with infused olive oil drizzle. For the infused olive oil, heat the amount desired and add any ingredient that you would like to flavor. I will suggest Aleppo pepper or chile flakes, garlic or Za'atar. The possibilities are endless.
Martini cocktail
Stuffed olive with any kind of cheese or use roasted red pepper.
Mediterranean pasta salad using the olive oil, Sicilian olives, roasted red pepper, marinated artichoke, mozzarella and another kind of pasta shape from Flora Fine Foods.
More Recipes made with Flora Fine Food
UPDATE: If you haven't read (or made) the other recipes made with Flora Fine Food products, after you read this post, check out the following mouthwatering recipes inspired by Italian & Mediterranean food:
If you need more ideas, don't hesitate to e-mail me because I can give you a bunch of great ideas. That is part of being "Your Recipe Concierge."
Remember with just a few ingredients to can make a great pasta dish. Just be creative and play with different flavors. I hope you get to make this Roasted Red Pepper Pasta with Sicilian Olives, and share it with us in the comments below or tag @Spoonabilities in social media.
Carlos
Your Recipe Concierge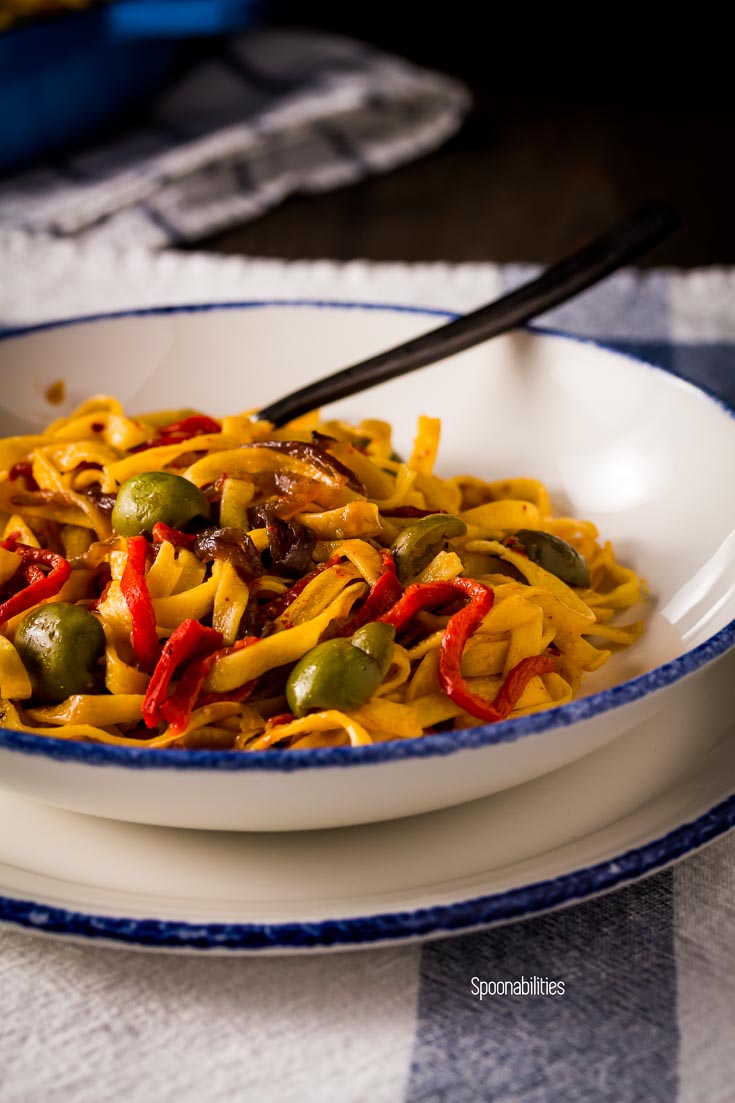 Print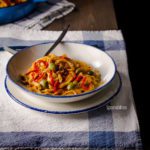 Roasted Red Pepper Pasta with Sicilian Olives
---
Author:

Carlos Leo

Total Time:

28 minutes

Yield:

4

serving

1

x
Description
Roasted Red Pepper Pasta with Sicilian Olives is the perfect recipe for a quick & easy meal for any weeknight. For this pasta dish, we used Egg Tagliatelle Homestyle Pasta, sweet roasted red peppers, garlic, and meaty, buttery Castelvetrano Sicilian olives. You can make this delicious "Easy 1-2-3" recipe in under 30 minutes.
---
1

cup

Roasted Red Peppers 12oz, thinly sliced.

1

pound

Egg Tagliatelle Homestyle Pasta

3 Tablespoons

Olive Oil

¾

cup

Sicilian olives, pitted and halved

1

medium red onion, thinly sliced

4

garlic cloves, thinly sliced

2 teaspoons

soy sauce

1 teaspoon

sugar

1 teaspoon

salt

¼ teaspoon

fresh thyme
Pinch of freshly ground black pepper

¼ teaspoon

Aleppo Pepper
---
Instructions
Fill a large pot with water and add a generous amount of salt. Bring the water to a boil. Add the Egg Tagliatelle pasta and cook for 6 minutes or follow package instructions to your liking.
While you are waiting for the water to boil: Heat the 2 Tablespoons olive oil in a large skillet over medium heat. Add the onion and sauté until translucent - about 7 minutes. Add the garlic & thyme and cook until light golden-brown color. Add the roasted red peppers and olives, and sauté for another 2 minutes.
In a small bowl, whisk together the soy sauce, sugar, salt, black pepper, and the Aleppo Pepper. Pour the sauce into the skillet and cook together, lowering the heat to a simmer for 3 minutes.
Drain the pasta, but reserve about ½ cup of the cooking liquid. Add the Tagliatelle and reserved cooking liquid to the skillet and toss together with the sauce. Remove from the heat and serve immediately. Sprinkle on more Aleppo Pepper and Parmesan if you wish.
Notes
The sodium shows a bit high because the nutrition calculator is counting the liquid brine from the olives and roasted red pepper.
I used a half of the cooked noodles to mix with the sauce.
Vitamin A 30%, Vitamin C 34%, Calcium 8%, Iron 19%, Vitamin E 20%, Vitamin K 24%
Prep Time:

10 minutes

Cook Time:

18 minutes

Category:

Dinner

Method:

cooking

Cuisine:

Mediterranean
Nutrition
Serving Size:

1 ½ cup

Calories:

646

Sugar:

5.1 g

Sodium:

703 mg

Fat:

14.8 g

Carbohydrates:

34.5 g

Fiber:

7.5 g

Protein:

6.2 g
Recipe Card powered by
Available via these Amazon links:
Disclaimer: Links that open in another site, i.e. Amazon, may be affiliate links where at no additional cost to you, we may receive a small commission should you decide to purchase the item. Read our Disclosure Policy.