Pecan Pie Bundt Cake is a holiday recipe combining the flavors of classic pecan pie with a moist cake using L'Abeille Occitane Orange Blossom Honey instead of corn syrup. Sweet and nutty, this dramatically tall bundt cake is crowned with a ring of decadent pecans and a brown sugar syrup drizzle that gives an extra gooey goodness to an already festive cake. Pecan Pie Bundt Cake is a fantastic alternative holiday dessert to share with your family and friends during Thanksgiving, Christmas, and any special occasion.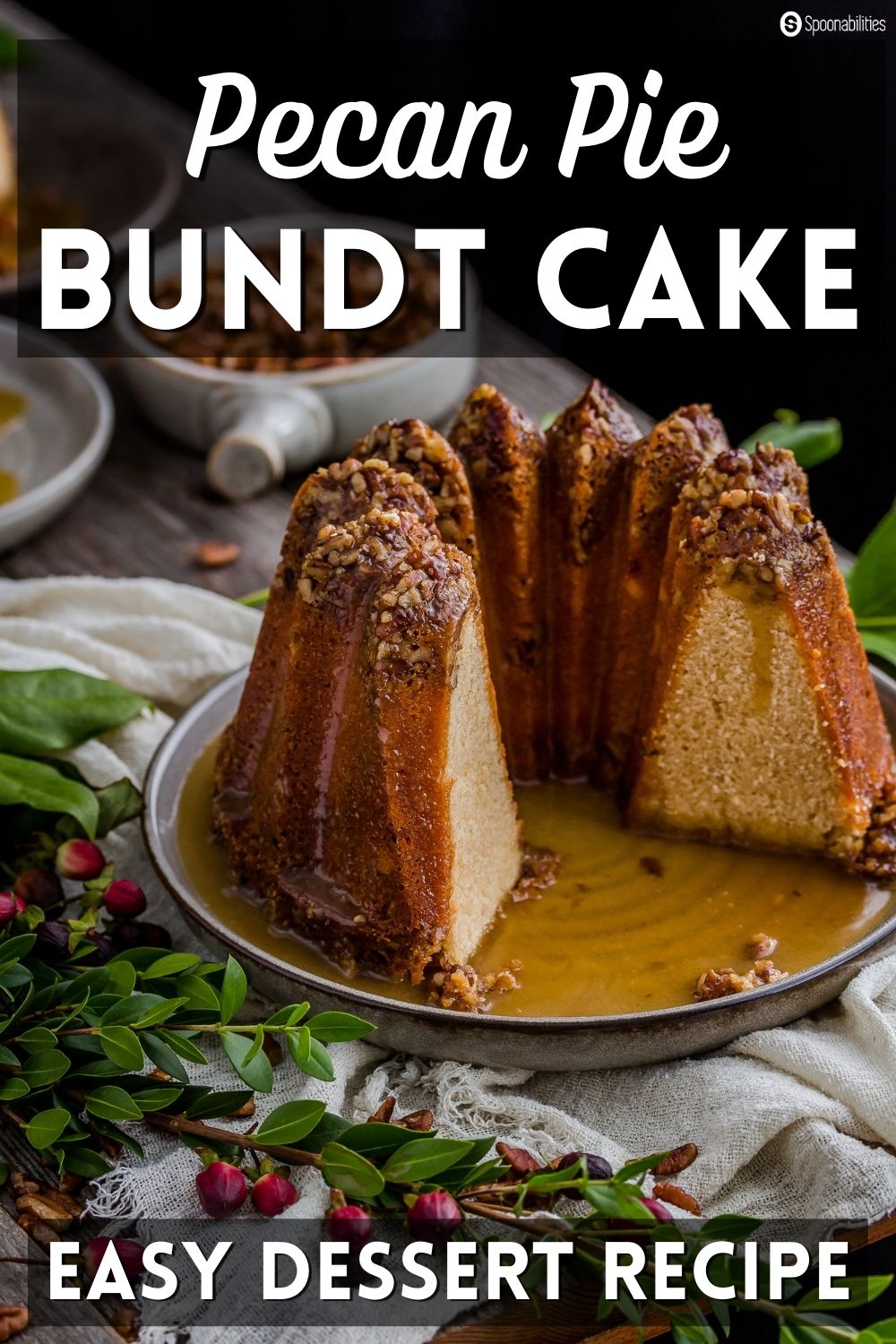 Hello my friends. I'm over the moon excited to share with you this Pecan Pie Bundt Cake. This is the first photo shoot that I'm so very proud of because I feel I'm reaching a new step in becoming a better food photographer. During the last several months, I have been studying pretty hard learning from different photography e-books, and studying (and admiring) photographs from all of my favorite food photographers and food bloggers.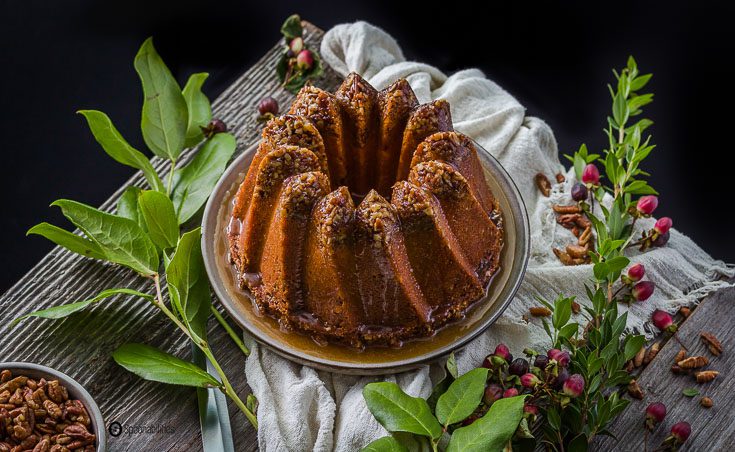 Is Pecan Pie Bundt Cake the Magical Viral Post?
This journey of food blogging for me has come with more downs than ups. But, I'm aware of the long road ahead for me to be able to achieve being the food photographer that I want to be; eventually be recognized as a decent food photographer by others; and most importantly, reach a respectable amount of traffic on the Spoonabilities.com website. My ultimate goal is for one million people to find out about, see, and enjoy my photography as well as want to try my recipes based on the pictures and posts that I write. I would love for Spoonabilities to become more than what is right now a hobby. They say it only takes one post to make this kind of viral magic happen, and I hope and wish this Pecan Pie Bundt Cake recipe is that magic. If not, I truly believe if you dream big, work hard and smart, set your mind to something, and stay positive, you will reach your goal... even without a magical viral post.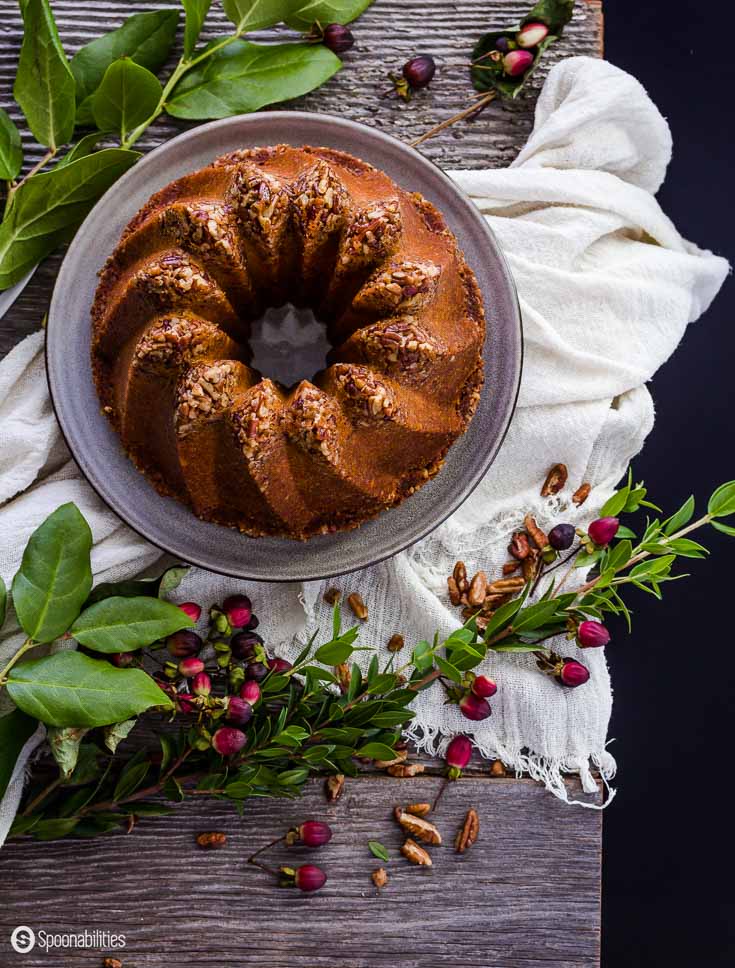 Like this recipe so far? Be the first to know when we release new ones!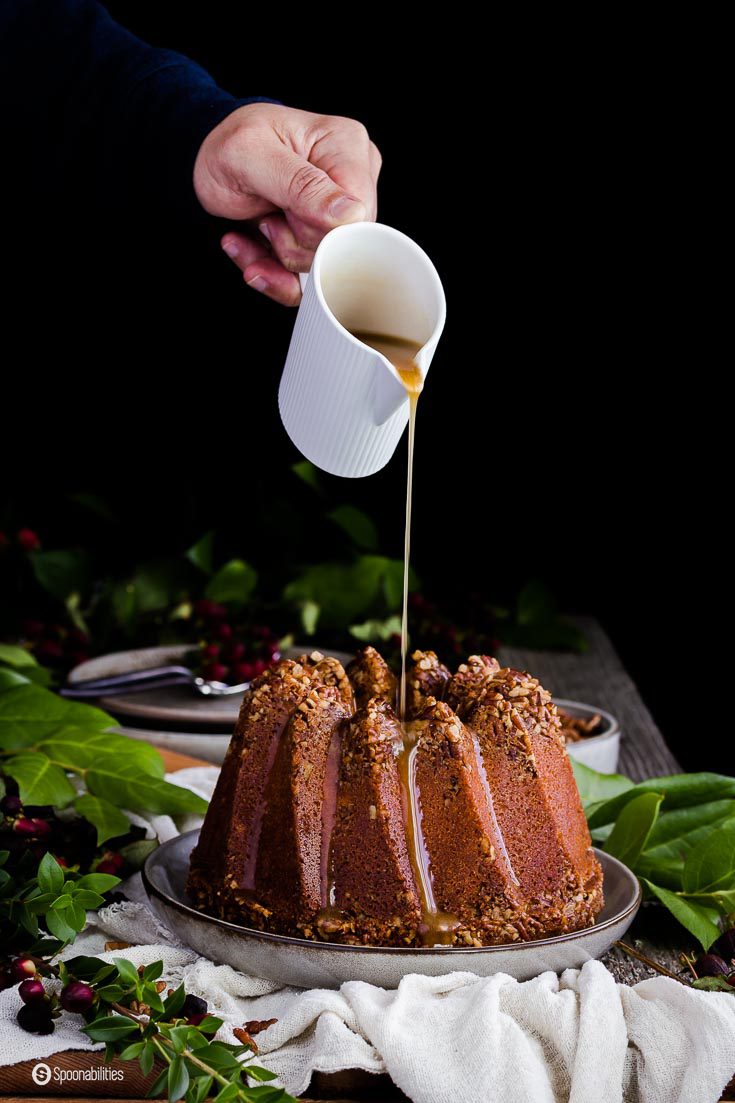 Our mission at Spoonabilities: No Jars Left Behind
This Pecan Pie Bundt Cake recipe is a true reflection of our mission to use leftover ingredients from the pantry or refrigerator in every recipe. One way that I do that is to make substitutions based on what I have available already. Right now, I have a ton of butter in the refrigerator from all the baking I have been doing this season. So, the original recipe asked for all-vegetable shortening to be used to grease the Bundt cake pan, and I was not planning to buy shortening for one-time use. So, butter it is, which makes the cake taste all that better anyway.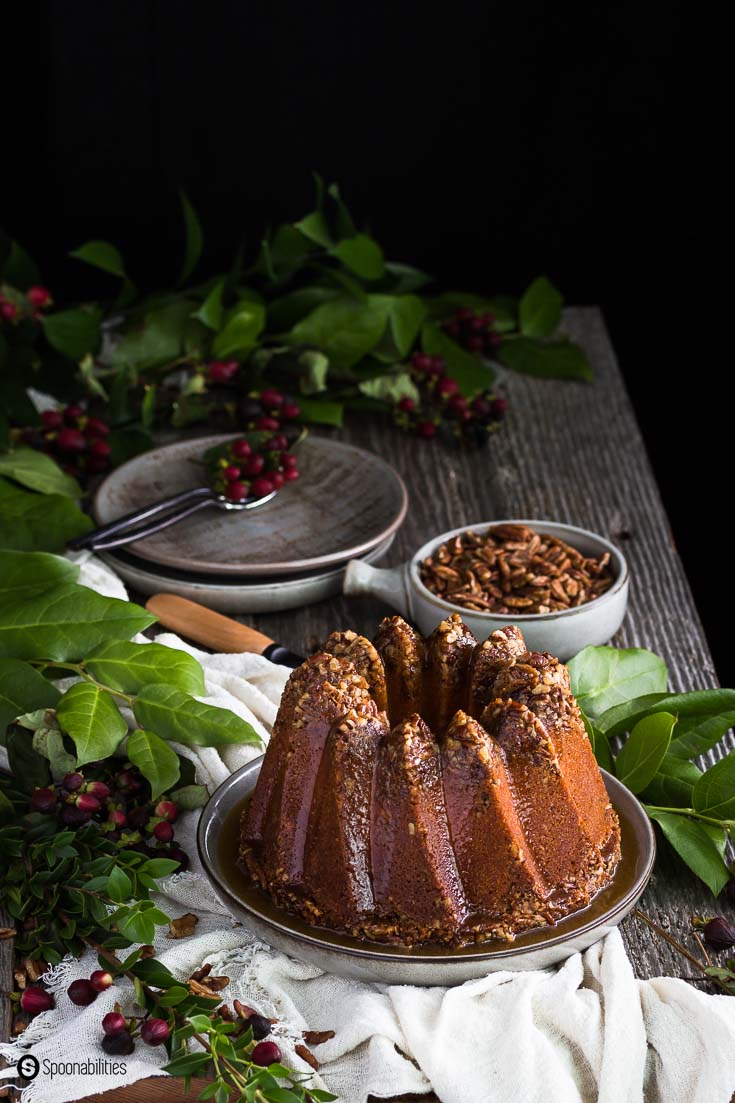 Another ingredient which is traditional in Pecan Pie is corn syrup, but for some reason I'm not a big fan of corn syrup. So, I substituted the syrup with honey. I always have an open jar of honey to have with my tea, and currently I'm trying our newest arrival L'Abeille Occitane Orange Blossom Honey imported from France and available for purchase in our online shop. I was really worried about this substitution because I was afraid that the taste of the honey would be to strong and overpower the whole cake. It didn't, and it actually made it so much better. The cake was amazingly delicious and moist.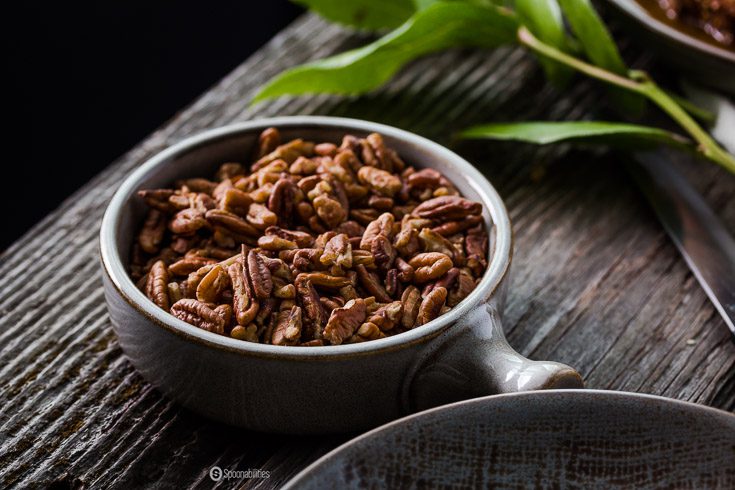 Pecan Pie Bundt Cake is pretty quick to prepare - between 10-15 minutes. First, grease the Bundt cake pan with butter and sprinkle some chopped pecans all around the edges of the mold. The small pieces of pecan will stick to the sides and most of them will go to the bottom of the cake pan. Try and make sure they are evenly distributed. As you can see in the photos, the pecans create a nice dramatic crown on top of the cake. This is the reason why I chose the Kugelhopf Bundt cake pan from Nordic Ware because it has a distinctive angled, sweeping shape that creates a dramatic cake.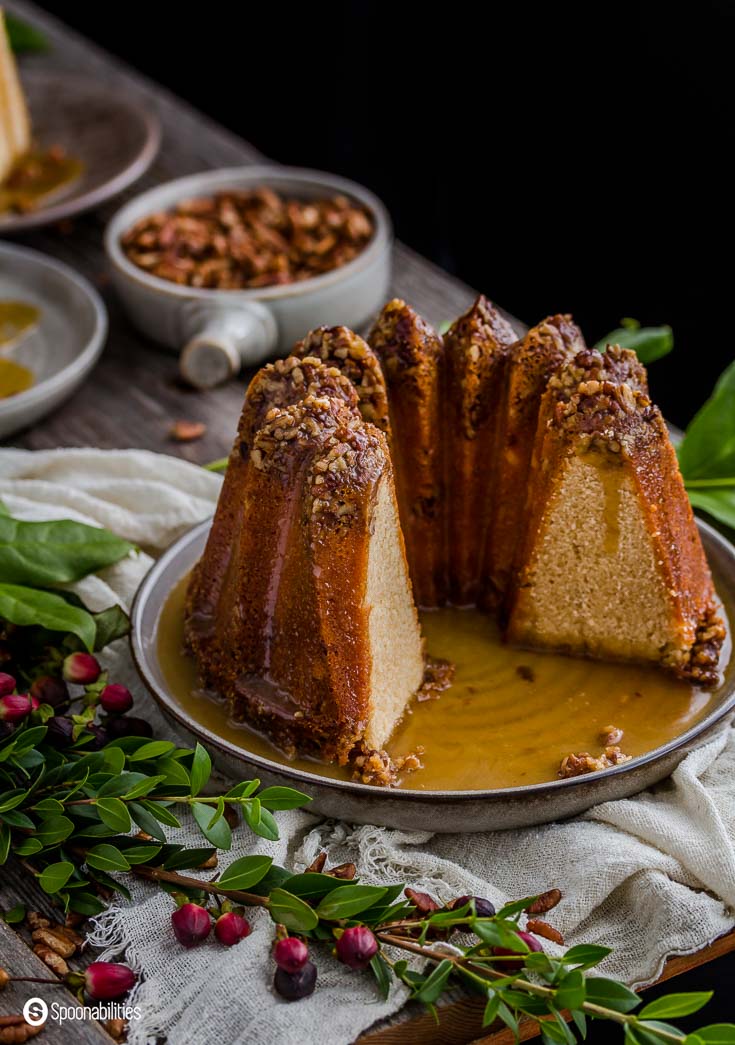 Dare I say this Pecan Pie Bundt Cake is Sexy?
I'm sure you can see from the pictures that this Pecan Pie Bundt Cake is luscious and rich. The cake itself turned out so moist and delicious, and then the crown of decedent pecans lining the top of the tall tower of a cake just takes your taste buds over the top. Dare I say that this cake is sexy? The drizzle can be called liquid sugary gold. It's made of brown sugar, butter and a little cream. Not only does it make the top of the cake glisten, but as it was slowly dripped down the sides it soaked into every delicious bite of the super tall cake. I highly recommend keeping some aside too and drizzling more on the sides of the individual slices. Your guests will go crazy with desire over this cake!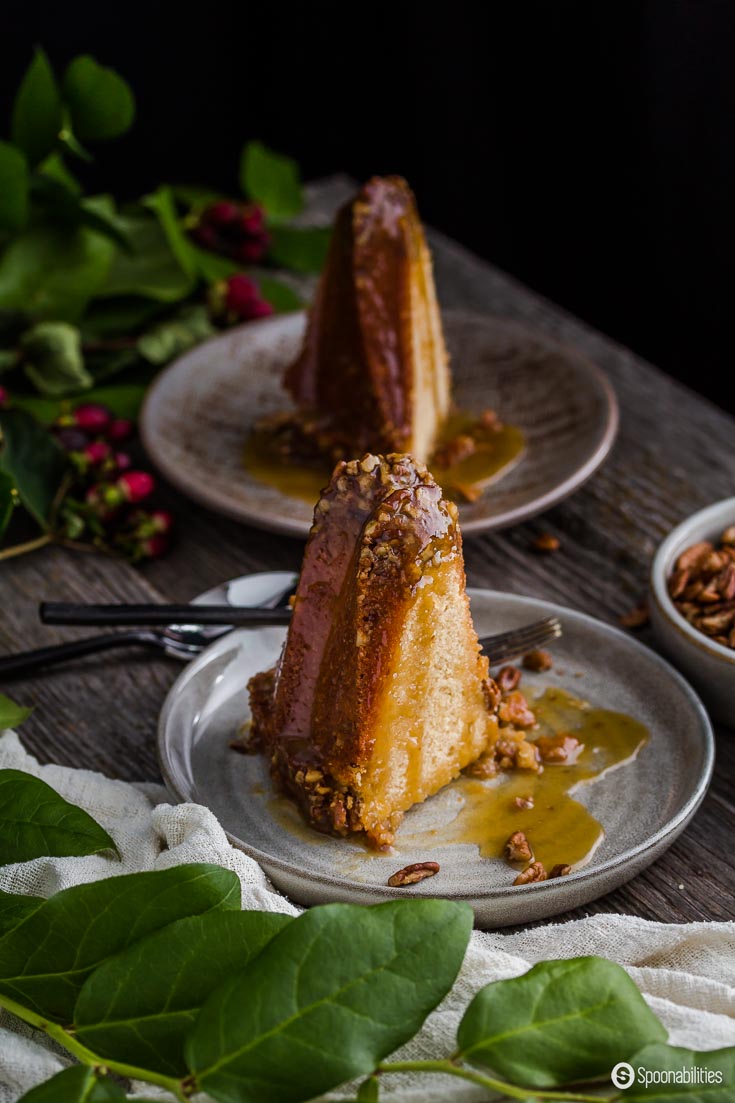 Do you know France has one of the oldest honey industries in the world?
France has one of the oldest and best managed honey industries in the world. France has 22 different regions and every one produces honey. The largest producer is the Rhone-Alps region and the smallest is the island of Corsica. L'Abeille Occitane which is located in Luberon, north of the Aix en Provence in France, is known worldwide for their exquisite, all-natural honey varieties. The company's specialty is creating single variety honeys by collecting honey from bees fed on specific individual plants and trees. No artificial flavoring is used during any part of the process, making sure every jar is filled with only the purest luscious honey.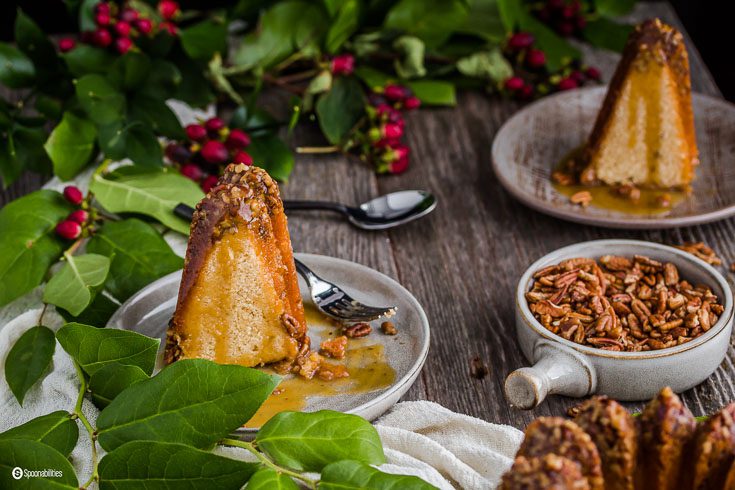 Honey Health and Fun Facts:
I believe that one of the reasons this cake turned out so moist and rich is that I used honey instead of corn syrup. Beyond that, I was fortunately enough to use one of our special honeys from France. Here's some interesting facts about honey.
It takes the lifetime of 12 bees to make one teaspoon of honey!
Studies show that honey is one of the easiest foods to digest and is known for its cancer-fighting properties, aids in the prevention of osteoporosis and breast cancer, and contains anti-bacterial, anti-viral and anti-fungal substances.
The unique mixture of ingredients in honey is good for preventing fatigue and enhancing athletic performance. Honey is a good source of antioxidants and is extremely high in protein content which is why it is athletes' favorite.
It's the only food in the world that has everything humans need. It will not spoil and never goes bad.
Consider that all these awesome properties of honey are in the Pecan Pie Bundt Cake ;).
More recipes using Honey
Check out these other recipes I made with honey:
How is Honey Extracted from Beehives
If you're curious about how honey is extracted from beehives, although it's not in France, watch this video. Warning: If you don't like or are scared of bees, don't watch. Enjoy!!
More Cake Recipes
If you did a good job making this bundt cake and want some more cake recipes to try, check these out:
I hope you get to make any and all of these delicious recipes. Leave me a comment below with what you think about this recipe, and let me know if you will give it a try. Share this recipe with your social media friends and tag us @spoonabilities and use the hashtag #Spoonabilities. Thank you.
Happy Tasty Happenings!
Carlos
Your Recipe Concierge
Print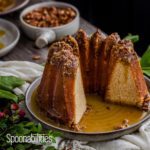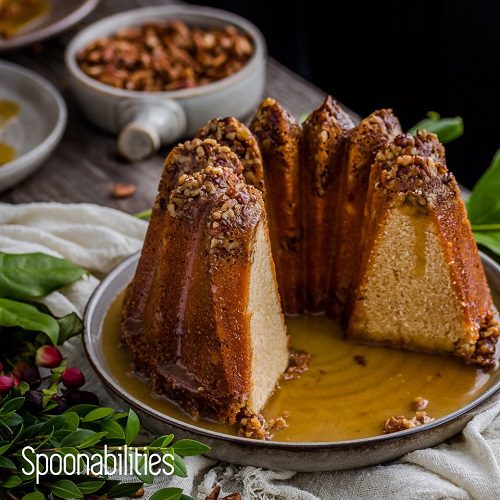 Pecan Pie Bundt Cake
---
Author:

Carlos Leo

Total Time:

1 hours 45 minutes

Yield:

12

-

16

slices

1

x
Description
Pecan Pie Bundt Cake is a combination of the traditional flavors of the classic pecan pie, and the sweet & moist taste of cake, in the unique Kugelhopf Bundt pan shape. The sweet brown sugar drizzle makes this cake luscious. It is one of our new favorite holiday baking recipes.
The surprise ingredient for this delicious Pecan Pie Bundt Cake is the use of Orange Blossom Honey from France instead of traditional corn syrup.
If you like this recipe, join our newsletter.
---
Cake
2 Tablespoons

butter

1

cup

finely chopped pecans

1

cup

unsalted butter, softened

1 ¾

cups

granulated sugar

1 Tablespoon

vanilla extract

4

large eggs

2

cups

all-purpose flour

1 teaspoon

baking powder

¾

cup

Orange Blossom Honey

½

cup

whole buttermilk
Drizzle
½

cup

firmly packed light brown sugar

¼

cup

unsalted butter

2 Tablespoons

coffee creamer - I use Hazelnut flavor.
pinch salt
---
Instructions
Preheat oven to 325°.
For the cake:
Grease the 10-cups Kugelhopf Bundt Pan with butter. Sprinkle pecans in the pan and swirl pan to coat. Leave remaining pecans in bottom of pan, but make sure they are evenly distributed
Using a stand mixer, beat butter, sugar, and vanilla at medium speed until fluffy - about 4 to 5 minutes, stopping to scrape the sides of the bowl. Add eggs, one at a time, beating well after each addition.
In a medium bowl, whisk together flour and baking powder. In a small bowl, stir together honey and buttermilk. Gradually add flour mixture to butter mixture alternately with buttermilk mixture, beginning and ending with flour mixture, beating just until combined after each addition. Spoon batter into prepared pan.
Bake until a wooden pick inserted near center comes out with a few moist crumbs, about 1 hour.
Let cool in pan for 10 minutes. Invert cake onto a wire rack, and let cool for 30 minutes.
For the drizzle:
In a small saucepan, bring the brown sugar, butter, coffee creamer, and salt to a boil. Remove from heat. Slowly drizzle over warm cake.
Note: I drizzle mine the next day, and it works great because the cake is more stable. I think due to the Bundt cake mold style if I do it with the cake still warm, pecan pieces from the top of the cake may fall off.
Notes
Vitamin A 22%, Calcium 7%, Iron 9%, Vitamin B12 4%, Vitamin E 5%, Vitamin K 3%
Prep Time:

15 minutes

Cook Time:

60 minutes

Category:

Dessert

Cuisine:

American
Nutrition
Serving Size:

13 serving

Calories:

549

Sugar:

53.9 g

Sodium:

86.1 mg

Fat:

28.3 g

Carbohydrates:

71.4 g

Fiber:

1.4 g

Protein:

5.6 g

Cholesterol:

112.1 mg
Recipe Card powered by
Available via these Amazon links:
Disclaimer: Links that open in another site, i.e. Amazon, may be affiliate links where at no additional cost to you, we may receive a small commission should you decide to purchase the item. Read our Disclosure Policy