Pumpkin Carrot Bundt Cake has the all year around appeal and favorite flavors of a carrot cake with the added bonus of a creamy cheesecake layer, accentuated by the fall flavors of pumpkin puree and Vermont maple syrup. All those delicious flavors in the dramatic form of a bundt cake with cream cheese drizzle running down the spiral sides.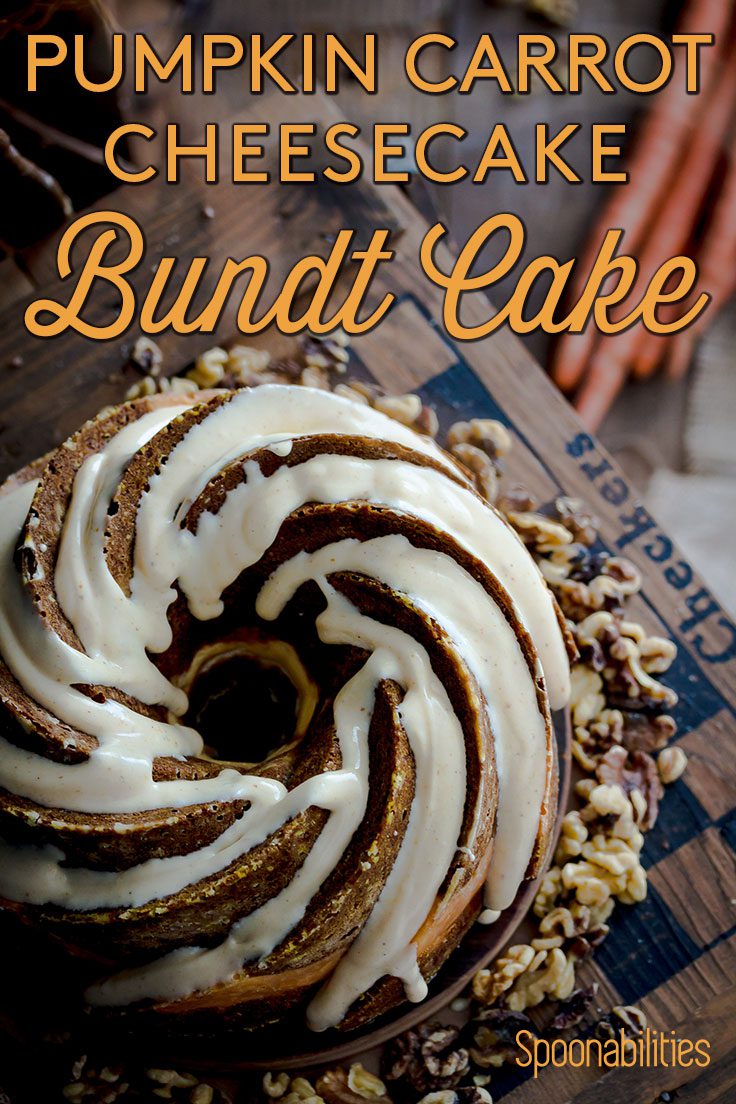 Blog post contains products you can purchase in our online shop, and affiliate links.
Read our Disclosure Policy
Hello my friends. This week's recipe is inspired by Geoffrey's favorite dessert which is carrot cake. He is crazy for this dessert and he actually has a tally in his phone rating each carrot cake that he has tried, and where he tried it, as he searches for the very best carrot cake. For this fall season I wanted to make his favorite cake, but for this recipe I also was looking to include spices from the autumn season. So, I came across a recipe from the food blogger Jo-Anna at her blog called a Pretty Life. She has a beautiful carrot pumpkin bundt cake, which she adapted from the book Looneyspoons.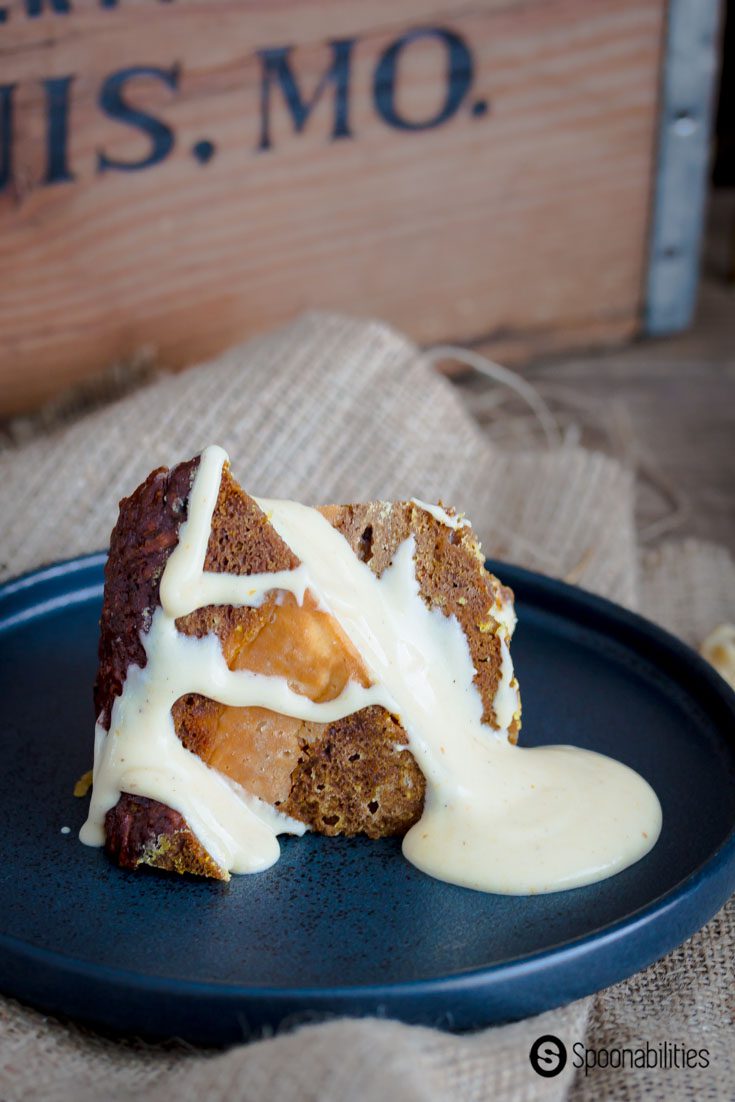 I decided to make this recipe because knowing Geoffrey, he would love this Pumpkin Carrot Bundt Cake recipe with the cheesecake filling. I tried to keep the recipe similar to the original but of course I made some modifications. For example for the drizzle I substituted buttermilk for cream and butter, as well as added Organic Vanilla Bean infused Vermont Maple Syrup for an additional taste of autumn. Also, I wanted the color of the drizzle to be in the beige/cream tone.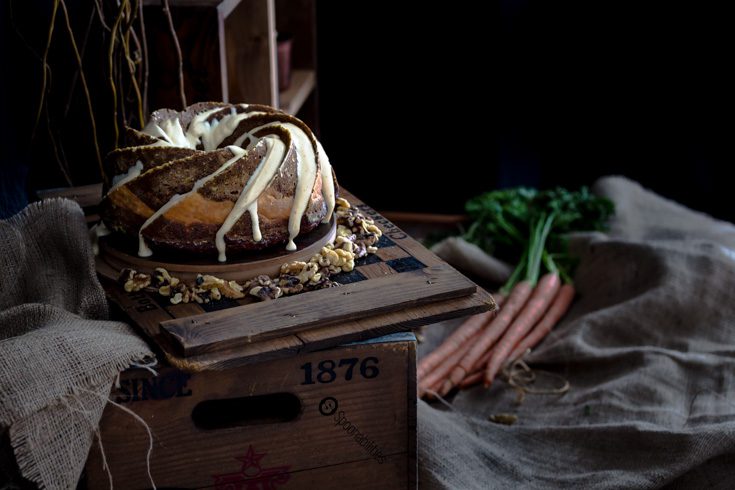 Opening the Shoe Closet to make a Carrot Bundt Cake
Another reason why I want to make a bundt cake is that throughout this year, I have been buying so many cake molds in different shapes and sizes because I want to try them all. I now have so many that they are stacked up in the shoe closet because I ran out of room in all the other pantries. :) So, I knew that the next cake I made had to use one of those cake molds. I find their shapes so intriguing and dramatic.... and Geoffrey would kill me if they just sat there any longer without using at least one. Don't believe me? Here's a picture of them in our shoe closet. I'll spare you looking at our shoes on the other shelves below.

My Photography Inspiration for this Pumpkin Carrot Bundt Cake
Honestly, I don't yet have a signature food styling preference for my photographs. But, I'm leaning toward rustic elements, wooden boards, brown & dark tones, and the food must be bright and mouthwatering. I believe besides the beautiful pictures, the photos need to inspire you to go to the kitchen and start to cook or bake. I hope that I am at least accomplishing that part.
Like this recipe so far? Be the first to know when we release new ones!
---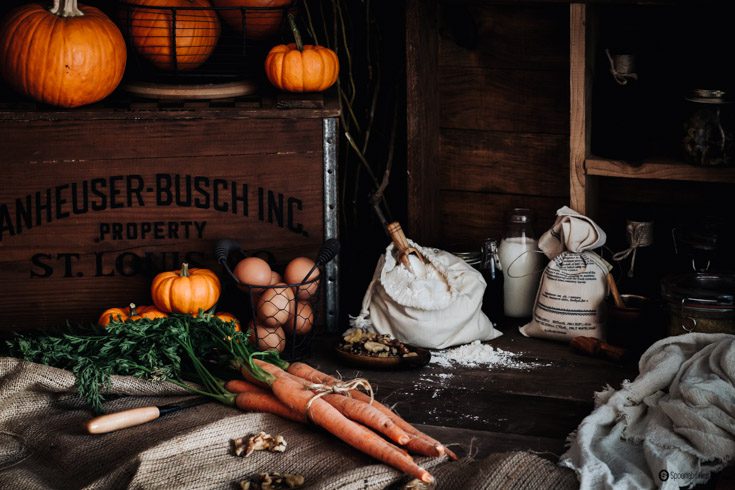 Of course, my main inspiration for this Pumpkin Carrot Bundt Cake was to make Geoffrey's favorite dessert. But other elements inspired me as well like the fall season, and the sexy shape and golden color from the Heritage Bundt Pan. Lately Instagram has been an excellent source of inspiration for me through the different food bloggers and food photographers that I follow there. If you want to see who I follow, follow us on Instagram and see.
For this Pumpkin Carrot Bundt Cake recipe, I was inspired to re-create an old bodega or food market in the middle of nowhere in the 1940's. I think I did pretty well with the final result. What do you think?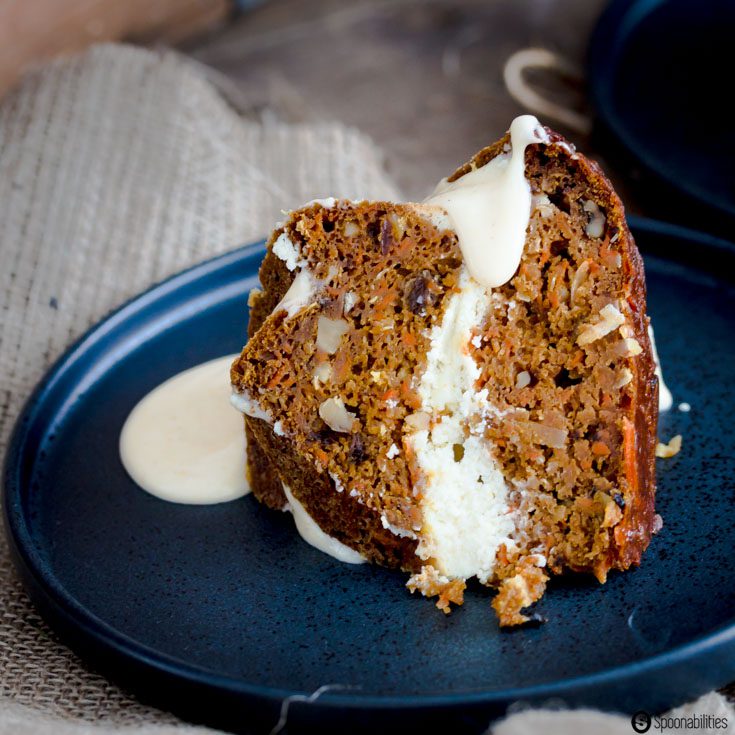 Inside the Pumpkin Carrot Bundt Cake
Now, let's talk about this Pumpkin Carrot Bundt Cake because this cake tastes pretty damn good!! This bundt cake has all the great flavors of a traditional carrot cake like coconut flakes, walnuts, raisins and aromatic spices. The pumpkin puree adds the memorable flavors of the fall season. Then, when you get to the center of the cake, you find a delicious cheesecake layer. Ohh.. and then the drizzle takes this cake over the top with the combination of cream cheese, vanilla maple syrup, powdered sugar, and buttermilk.
What else can you ask for in a perfect pumpkin carrot cake? Well, if you want it to come out of the bundt mold looking perfectly, you need to make sure you prepare the pan properly. Here's a video from our friends at PlatterTalk to show you how it's done: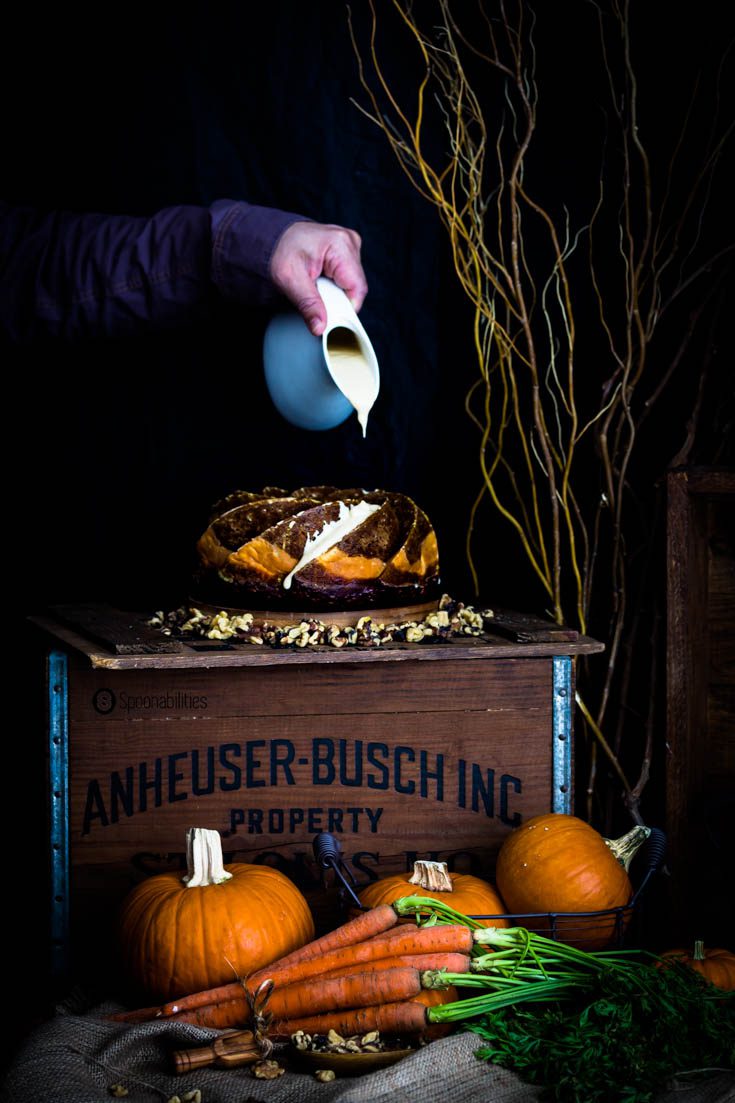 You may not know this but I have three official recipe testers; Geoffrey and two of my neighbors. One of my neighbors in the building sent me a text message after he tried this Pumpkin Carrot Bundt Cake saying: "Oh.. my goodness that cake was something else. It was like eating a cheesecake and carrot cake at the same time. So freaking delicious. The cake was everything!"
Top Fall Favorites, Cakes and Pumpkin Recipes
If this bundt cake inspired you, check out our other top favorite fall desserts & our readers' favorite pumpkin recipes:
Check out more cake recipes as well :
So now it's up to you to tell me what you think about this special Pumpkin Carrot Bundt Cake. It's easy to make and even easier to eat! Leave me a comment below.
Happy Autumn! Happy Pumpkin Season!
Carlos
"Your Recipe Concierge"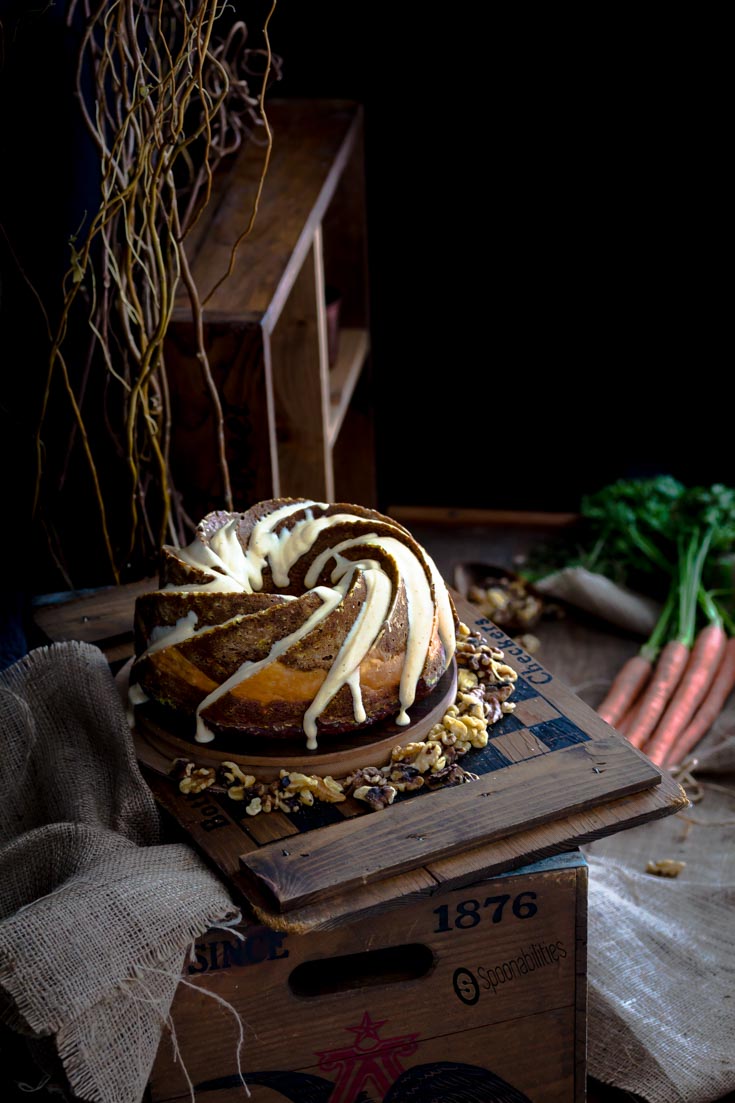 Print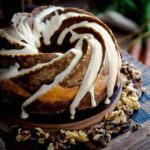 Pumpkin Carrot Bundt Cake with Cream Cheese Filling
---
Description
Just imagine the combination of a moist carrot cake, pumpkin puree, and a layer of cheesecake all in the form of a bundt cake for a dramatic effect. And as if that isn't enough, this Pumpkin Carrot Bundt Cake has a cream cheese vanilla maple drizzle all over the top.
---
Carrot Pumpkin Bundt Cake:
1 ¾

cups

flour

1 Tablespoon

cinnamon

2 teaspoons

baking soda

1 teaspoon

baking powder

½ teaspoon

nutmeg

½ teaspoon

ground ginger

¼ teaspoon

salt

1

cup

pumpkin puree

1

cup

lightly packed brown sugar

¾

cup

buttermilk

¼

cup

LIA Extra Virgin Olive Oil , or you can use vegetable oil

3

eggs

1 teaspoon

vanilla bean paste

2

cups

finely grated carrots

½

cups

shredded sweetened coconut

½

cup

walnuts, finely chopped

½

cup

raisins. I use more because we love raisins
Cheesecake Layer
12

ounces

(1.5 packages) cream cheese, at room temperature

¼

cup

granulated sugar

1

large egg, at room temperature

1 teaspoon

pure vanilla bean paste
Cream Cheese Drizzle:
---
Instructions
Carrot Pumpkin Bundt Cake:
Preheat oven to 350 degrees F.
Prepare a bundt cake mold by greasing and dusting it with flour. This cake is very moist so you need to do this step!
In a bowl combine the flour, cinnamon, baking soda, baking powder, nutmeg, ginger and salt. Set aside.
In a mixer, combine the pumpkin, brown sugar, buttermilk, oil, eggs and vanilla. Mix well.
Add the dry ingredients slowly to the wet mixture, and gently combine.
Stir in the carrots, coconut, nuts, and raisins.
Pour half the cake batter into the prepared bundt pan
Cheesecake Layer
In a medium bowl using a hand-held or stand mixer equipped with whisk attachment, beat the cream cheese for 1 minute on medium speed until completely smooth and creamy. Add the sugar, egg, and vanilla. Beat on high speed until completely combined.
Spread the cheesecake mixture in an even layer on top of the cake batter. It's thick so do your best.
Pour the remaining cake batter on top.
Bake for 1 hour, or until a toothpick inserted into the center of the cake comes out clean. NOTE: Ovens vary and this is a moist cake. Don't be discouraged if your cake takes longer than 1 hour. It's done when the toothpick comes out clean.
Cool the cake in the pan for at least 15 minutes before turning it out onto a cooling rack.
Cream Cheese Drizzle
Beat together the cream cheese until it is smooth. Add in the buttermilk and Maple Syrup, and mix until smooth.  Slowly add the powdered sugar, and mix until smooth.
Drizzle the icing all over the cake. You can be creative where you want to icing to be
Notes
Vitamin A 44%, Vitamin C 6%, Calcium 19%, Iron 25%, Vitamin B12 17%, Vitamin E 4%, Vitamin K 20%
Prep Time:

15

Cook Time:

60

Category:

Dessert, Holidays

Method:

baking

Cuisine:

American
Nutrition
Serving Size:

12

Calories:

456

Sugar:

49.6 g

Sodium:

486.6 mg

Fat:

19.5 g

Carbohydrates:

67.8 g

Fiber:

3.3 g

Protein:

5.7 g

Cholesterol:

74.3 mg
Keywords: carrot cake, budnt cake
Recipe Card powered by
Available via these Amazon links:
Disclaimer: Links that open in another site, i.e. Amazon, may be affiliate links where at no additional cost to you, we may receive a small commission should you decide to purchase the item. Read our Disclosure Policy