Saganaki (fried feta) is a traditional Greek mezze made by pan-frying a feta cheese block covered in a panko-sesame seed crust. Serve this easy appetizer by drizzling over some honey & aged balsamic vinegar. The texture of this Greek fried cheese is crunchy on the outside and soft and melted on the inside. Grab some pita chips and enjoy!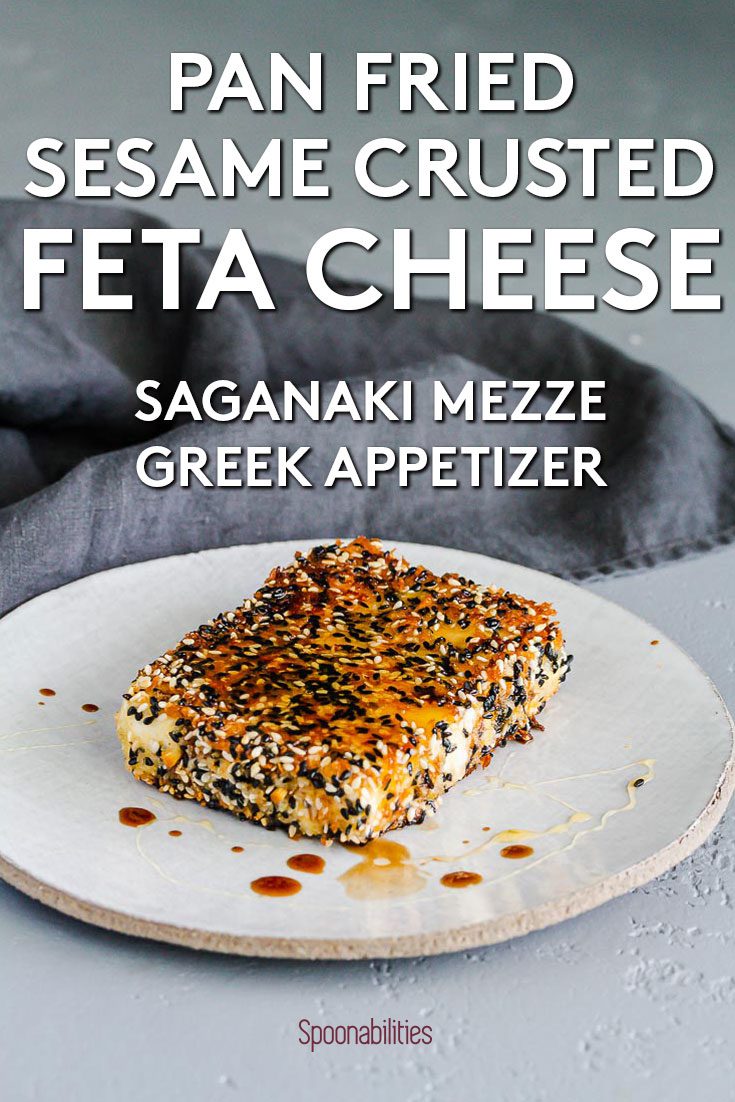 Blog post may have affiliate links; read our disclosure policy. Photographs ©Carlos Leo, Spoonabilities
Hello my friends. Are you looking for a nice center table appetizer for a dinner party, a get-together with friends or date night? You know presentation is everything, so we bring you a beautiful piece of pan-fried feta cheese covered with a crunchy and nutty panko and sesame seed crust.
Our version of this authentic Greek Fried Cheese is colorful and aromatic; you won't want to break this one apart, but you must! It's as tasty as it is pretty. This is Spoonabilities Sesame Crusted Feta with Aged Balsamic and Honey; the most exciting dish you can cook with a block of feta cheese.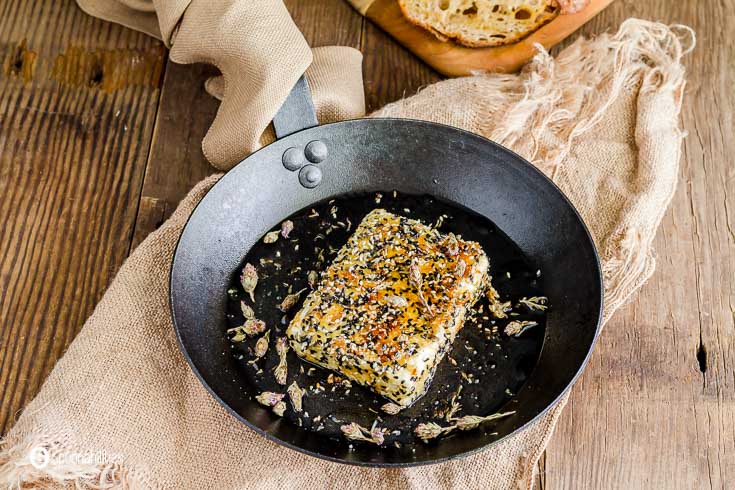 The last few weeks have been all about creating new and exciting recipes with three main objectives: Taste, beauty, and ease. It all started with Geoffrey bringing home a fresh block of feta. I thought to make another quinoa pomegranate bowl with Greek vinaigrette, but then I remembered a recipe that I have been saving for a while from a local Greek restaurant.
The result of this Saganaki cheese is outstanding. Nutty aromas from the sesame seeds, the golden color and crunchiness from the coarse panko, and the salty and melted cheese inside blew me away, and I hope it does the same to you. What takes this cheese appetizer to the next level is a drizzle of woody aged balsamic and honey — it's a burst of flavor and texture!
I've cooked this recipe several times now for different audiences, and the result has always been the same. Everyone wants to dig in right away, and it's gone within minutes.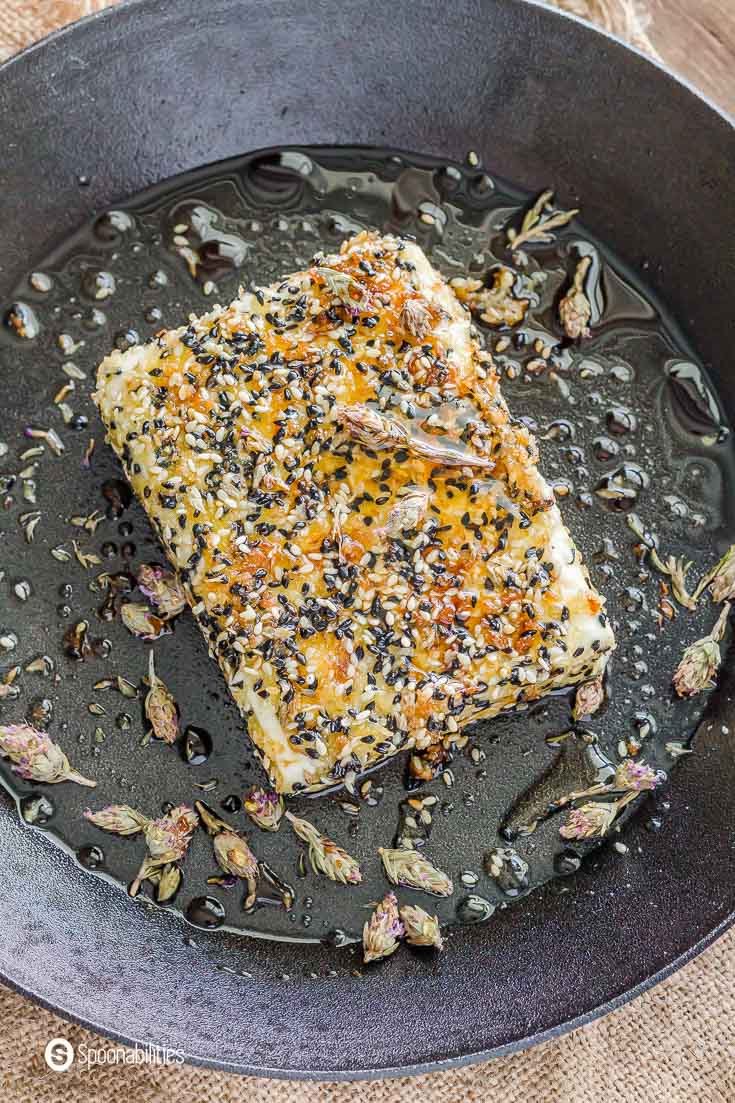 What is Saganaki?
In Greek cooking, saganaki is the name of a number of different dishes made in a small frying pan, the most popular being a fried cheese appetizer. The saganaki Greek appetizer is literally named after the frying pan in which it's made, which typically has two handles. This classic Greek mezze is often dramatically served in restaurants by flambéing it at the table where the cheese bubbles and generally puts a big smile on everyone's face.
Although saganaki is typically acknowledged as the cheese cooked in a frying pan, there are other saganakis like mussels saganaki, shrimp saganaki, and mushroom saganaki.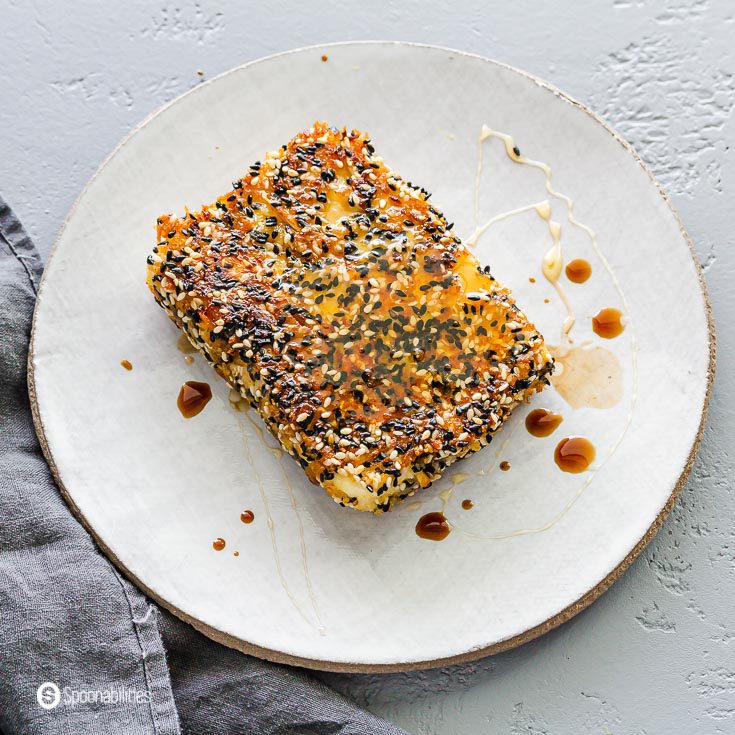 How to Make Pan-Fried Feta Saganaki in Four Easy Steps
1. Prepare three stations with one bowl each: one with flour, another with a beaten egg, and the third with a mixture of panko, white sesame seeds, and black sesame seeds.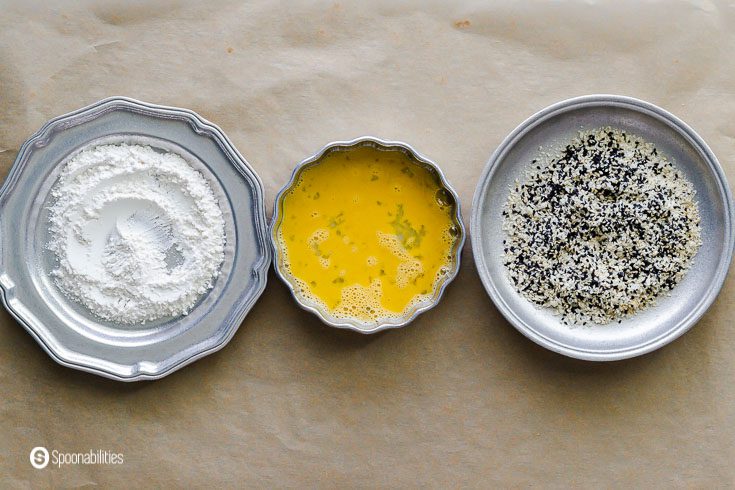 2. Carefully take the feta block and first coat the cheese with flour, then with the egg, and finally coat all sides with the panko-sesame mixture.
3. Pan-sear the coated feta cheese for about one or two minutes and make sure you sear/fry every side.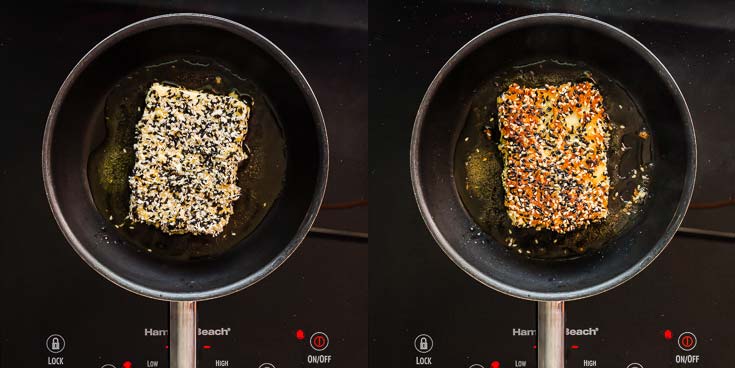 4. You can serve this fried feta cheese on a small plate, or I leave it in the same frying pan and drizzle over some TREA Greek Honey, and a good woody aged balsamic vinegar. Eat it with crackers or pita chips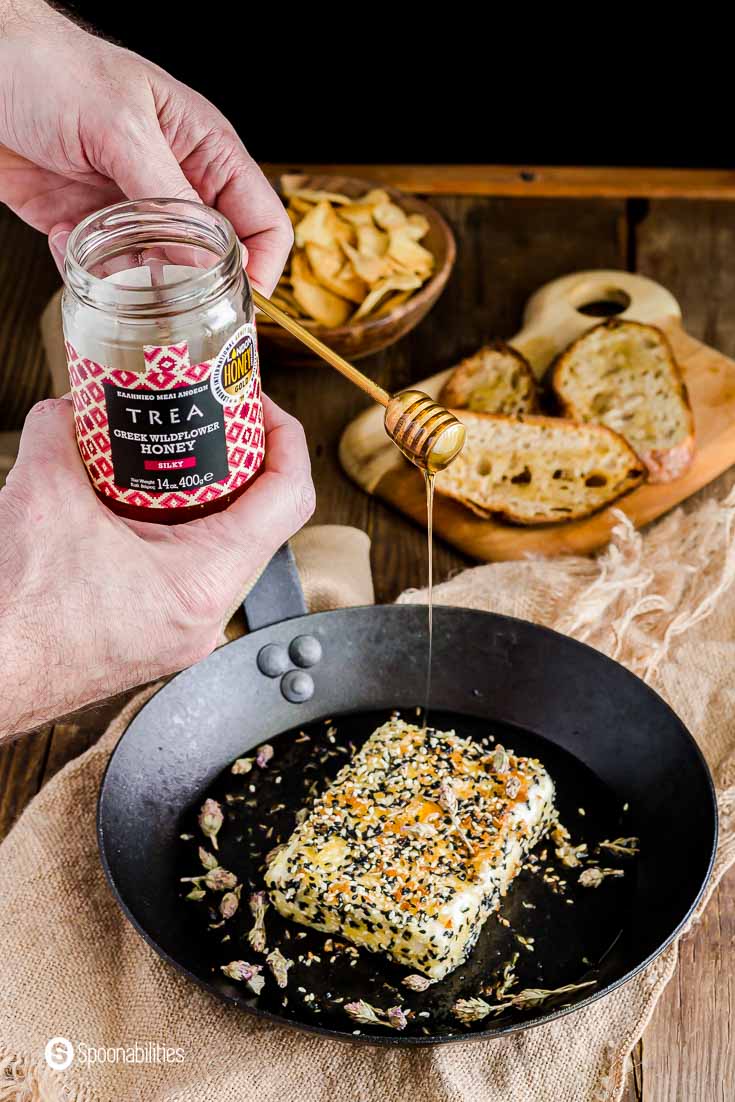 Pro Cooking Tips:
You can use all-purpose flour or rice flour for the first coating.
I recommend serving the sesame crusted fried feta in the same pan to keep it warm for a longer time.
Handle with care while you are frying the cheese. Use two spatulas, one for turning the cheese and the other to hold the other side to prevent breakage.
Like this recipe so far? Be the first to know when we release new ones!
---
Here are a few more notes you might want to read before attempting to make the perfect sesame crusted fried feta.
Key Ingredients behind Sesame Crusted Pan-Fried Feta
Don't use just any oil. For the perfect sesame and panko crust, you'll want to use a high quality olive oil. I use LIÁ Premium Extra Virgin Olive Oil. The stuff is gorgeously aromatic and pure. It's made with fine Greek olives, and you can tell the difference.
DO use aged balsamic vinegar. Although we're adding just a drizzle of balsamic vinegar, it totally makes the dish. I use FIVE Estate Balsamic Vinegar, because I'm in love with this Greek brand. They age the vinegar for six years in small oak and chestnut barrels ending in a thick, sweet, and tangy vinegar hard to beat.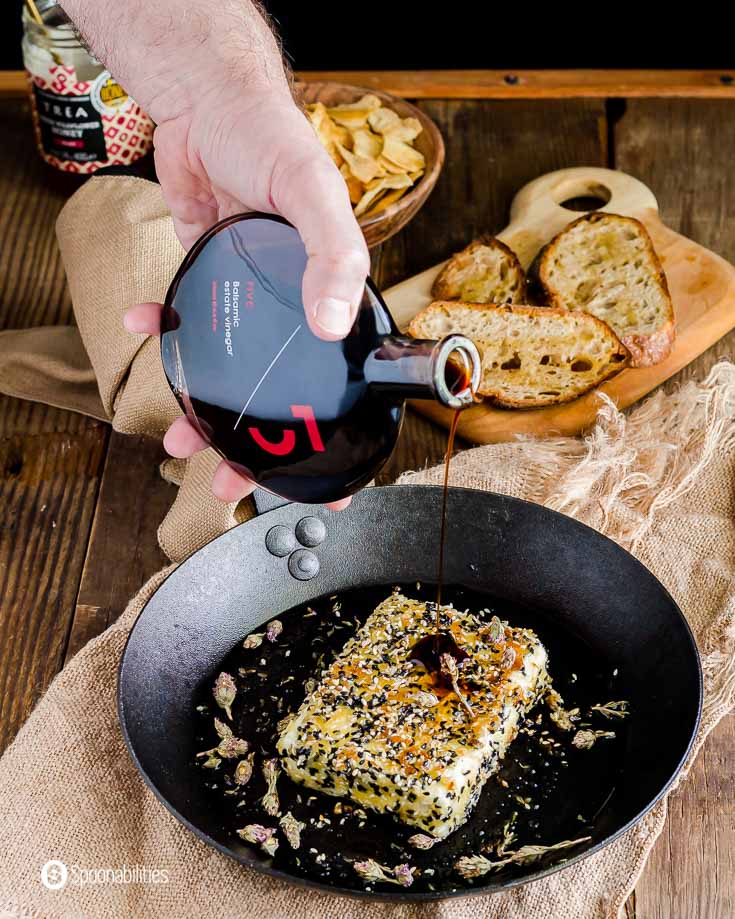 If you can, use Greek feta. I know there's a lot of feta-style cheese out there, but there's a certain characteristic about authentic Greek feta that makes it impossible to substitute; I guess it comes from happier sheep.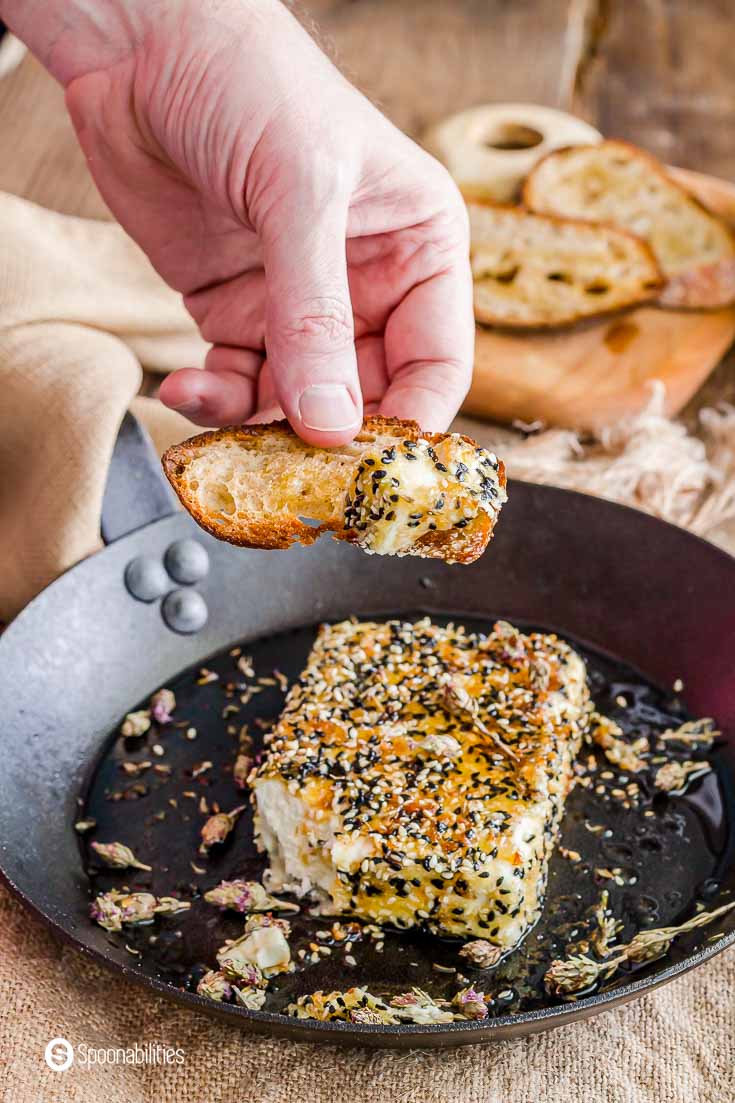 What Cheeses can you use to make Saganaki Fried Cheese?
If you don't want to use Greek feta, or you want to try something different, you can use these Greek cheeses for saganaki:
graviera,
halloumi,
kefalotyri,
kasseri,
kefalograviera,
sheep's milk feta cheese,
formaela cheese,
vlahotiri from Metsovo.
If you want to use another non-Greek melting cheese for frying, go for it. It's all good. Try cheeses like:
mozzarella,
cheese curd,
Dominican queso blanco,
paneer, or
Mexican queso blanco.
Let's crust some feta. I didn't mention this before, but your kitchen will soon be filled with the most gorgeous aromas of toasted sesame seeds and olive oil, and that's always a big plus. Serve this beauty with crackers, artisan bread or pita chips.
I hope you get a chance to make this pan-fried feta. When you make this or any of our recipes, tag @Spoonabilities on Instagram or add a photo or comment on Pinterest, so we can find you! And we love to hear from you in the comment section below.
Carlos Leo
Your Recipe Concierge!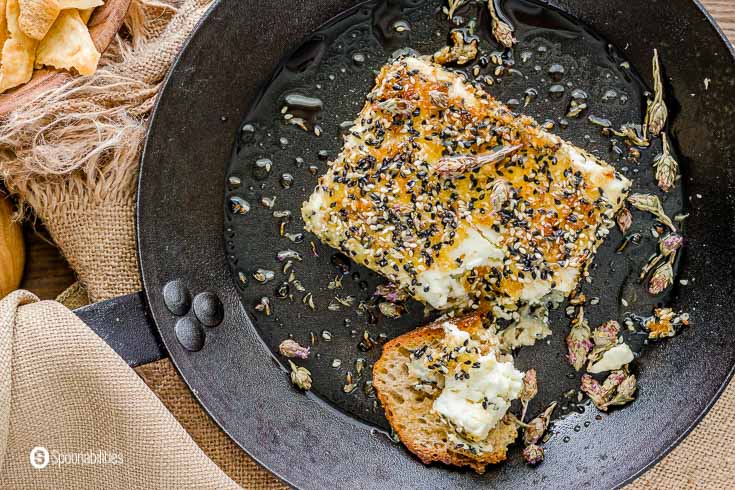 Interested to see more appetizer recipes?
Print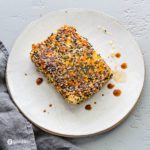 Saganaki Fried Feta with Sesame Crust, Honey & Aged Balsamic Vinegar | Greek Appetizer
---
Author:

Carlos Leo

Total Time:

20 minutes

Yield:

6

1

x
Description
Saganaki fried feta is a simple and easy recipe made with just a few ingredients. A block of crumbly and briny feta cheese coated with a crispy and nutty panko and sesame seed crust. Then, pan-fry for two or three minutes for a perfect crust and a soft center. Serve this fried feta with a drizzle of honey and a good, aged balsamic vinegar. This traditional Greek mezze will create a beautiful center table appetizer.
---
---
Instructions
Prepare three stations with one bowl each: one with flour, another with a beaten egg, and the third with a mixture of panko, white sesame seeds, and black sesame seeds.
Heat the olive oil on medium-high heat in a small fry pan
Coat the feta in the flour, then the egg, and finally the breadcrumbs and seeds, making sure that the feta is evenly coated at each step. Carefully place the coated feta in the hot oil and fry each side until golden brown, about a minute or two each side.
Place the feta on paper towels to remove any excess of oil.
Serve by placing the feta on a plate, or leave in the frying pan and drizzle with balsamic vinegar and honey. Serve immediately with bread, crackers or pita chips.
Prep Time:

15 minutes

Cook Time:

5 minutes

Category:

Appetizer

Method:

frying

Cuisine:

Greek
Keywords: fried cheese, Greek cheese, feta cheese, Saganaki, Greek appetizer, Greek Mezze, pan-fry, queso frito, queso dominicano, honey, aged balsamic vinegar, Greek olive oil, Greek food, easy appetizer, holiday appetizer
Recipe Card powered by
Available via these affiliate links:
Disclaimer: Links that open in another site, i.e. Amazon, may be affiliate links where at no additional cost to you, as an Amazon Associate I earn from qualifying purchases, should you decide to purchase the item. Read our Disclosure Policy.