Pumpkin Hummus is the perfect appetizer for Fall holiday parties, even if the party is you and your spouse on the sofa. Made of chickpeas, pumpkin puree, tahini, Greek extra virgin olive oil, roasted garlic, cumin, and parsley, you will LOVE this quick, easy, and delicious pumpkin recipe.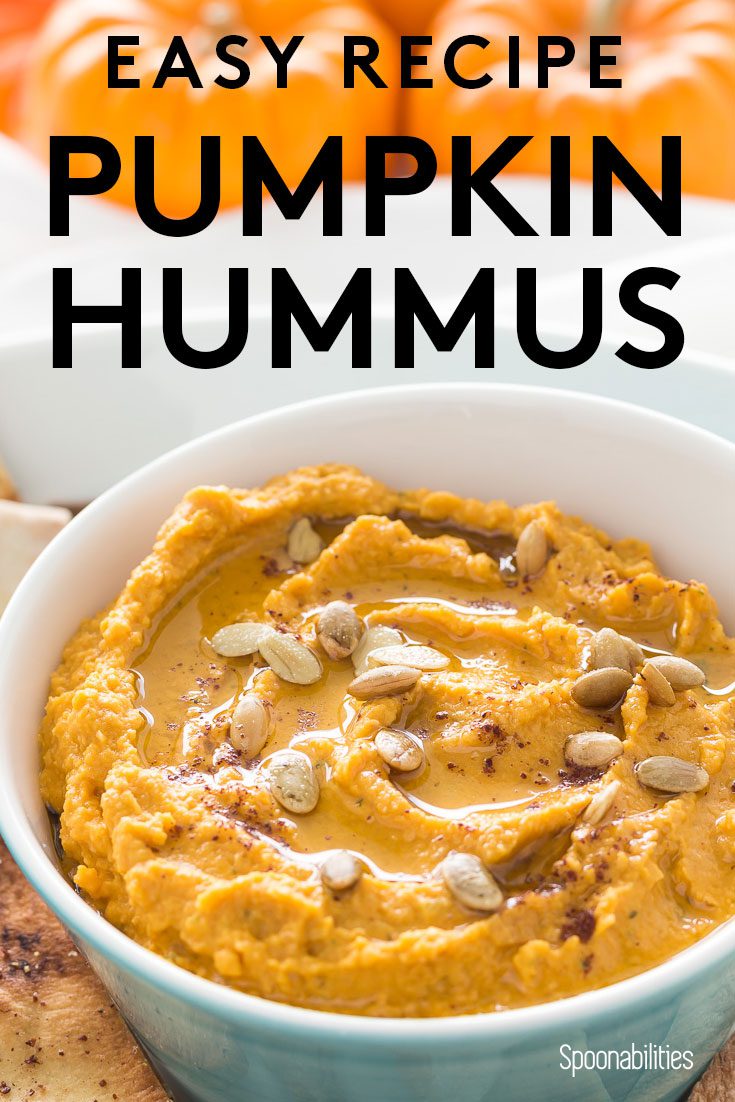 Blog post may contain affiliate links. Read our Disclosure Policy. All photographs are copyright Carlos Leo, Spoonabilities
Hello My Friends,
Today I bring you one of my favorite "go to" recipes for an appetizer whenever I have people over - hummus. This time I made a couple of changes to my classic hummus recipe to transform the dish into a seasonal snack or holiday party bite during this Fall Season… Pumpkin Hummus with Roasted Garlic.
I enjoy cooking with spices and Middle Eastern flavors, and one of the spices that I'm addicted to is cumin. I use cumin seeds, and ground cumin, in as many dishes as I can. Even though I love cumin, I don't want to overpower the dish with such a strong flavor, so it's good to be careful so you infuse the flavor and the fragrance into the food, but not overwhelm it.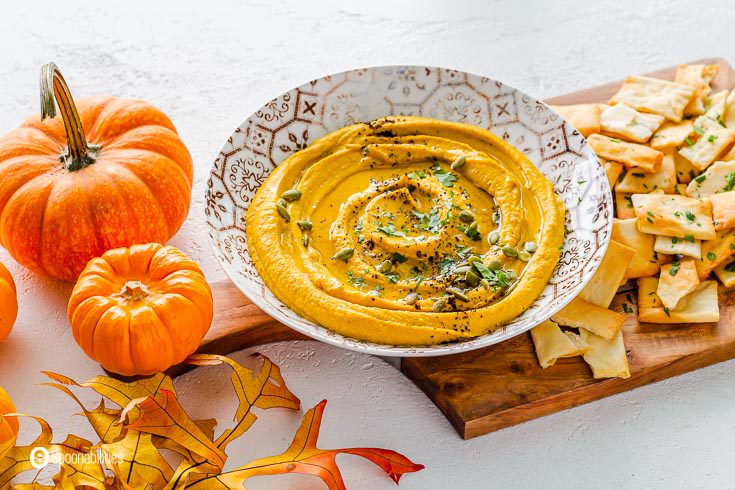 This pumpkin hummus is super easy, and you only need a few ingredients and the food processor, and in less than 5 minutes you have a healthy appetizer.
Pro Tip: It's great just newly made, but tastes even better if you let the hummus marinate in the refrigerator for several hours. I like to make it the night before a party, and by the next day all the flavors come together nicely.
It's surprising that I haven't shared my classic hummus recipe with you yet, but I will work on that recipe and hopefully you will have it soon here at Spoonabilities. I do have a roasted red pepper hummus recipe, so do check that one out.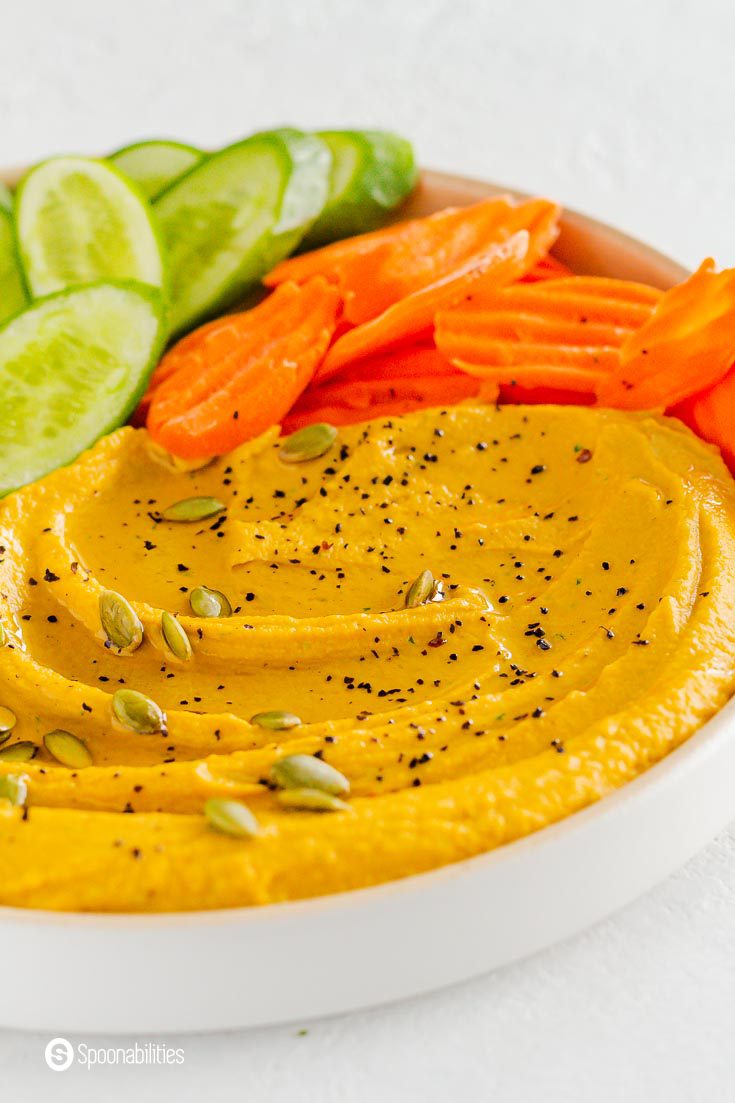 How to Make the Smoothest and Creamiest Pumpkin Hummus with Roasted Garlic
The key to having a smooth and creamy pumpkin hummus is to remove the outer skin from the chickpeas. This step is optional, but I can assure you it's worth spending an extra few minutes to get it done. I have two tips for you on the best way to peel the chickpeas:
First tip: Place the chickpeas in a colander and rinse. Take a small amount of the chickpeas and with your two hands, rub the chickpeas together, and you will see how the skin starts to pull off. Takes a few batches to complete a whole can of chickpeas.
Second tip: After you rinse the chickpeas, place a large kitchen towel on the countertop. Add the chickpeas to one half of the towel and cover them with the other half. Rub the chickpeas carefully. You will see how the skin starts to pull off. Remove the ones already peeled and the skin. Keep doing this process until they are all clean.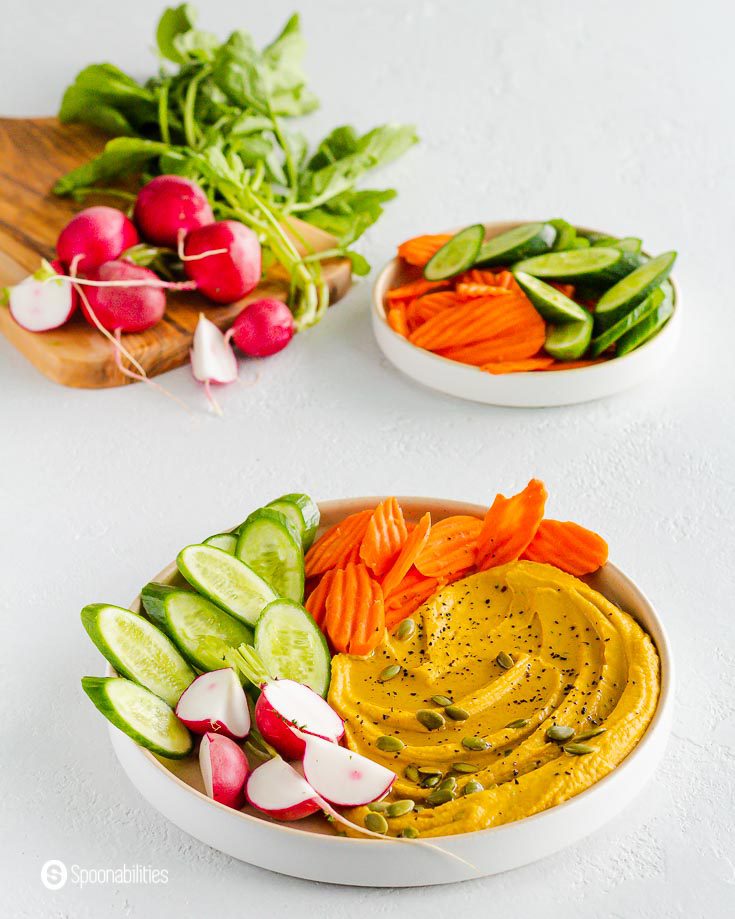 How to Make Pumpkin Hummus
The ingredients for my classic hummus are: chickpeas, LIA extra virgin olive oil, ground cumin, roasted garlic, tahini, lemon juice, parsley, sea salt, and black pepper. The only addition to make it seasonal is a can of pumpkin puree.
First, add all the ingredients in the food processor. Feel free to add other spices like paprika or sumac.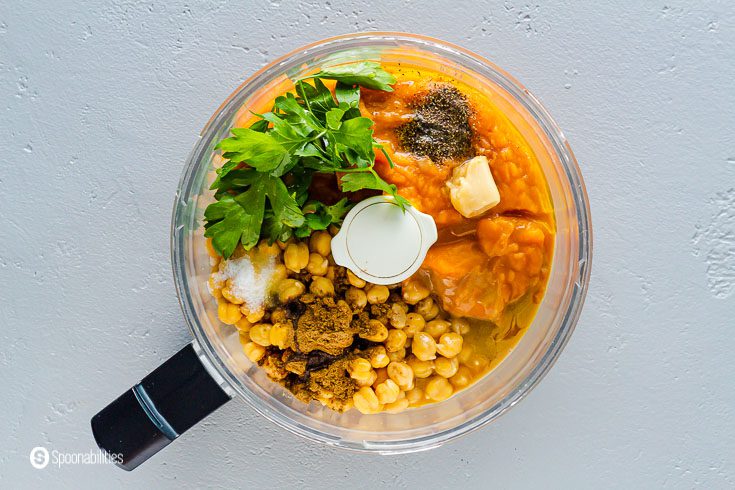 Blend all the ingredients until they become smooth and creamy.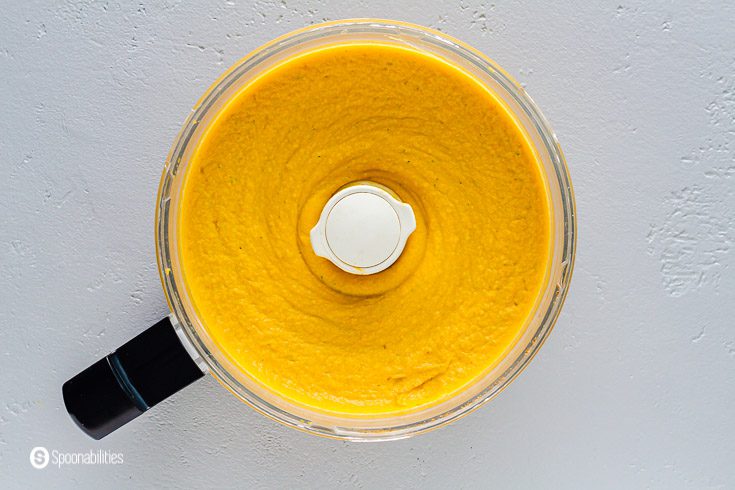 Serve with homemade pita chips or with fresh vegetables like carrots, radishes, and cucumber. I recommend to refrigerate for an hour or overnight before serving. But, again it's optional.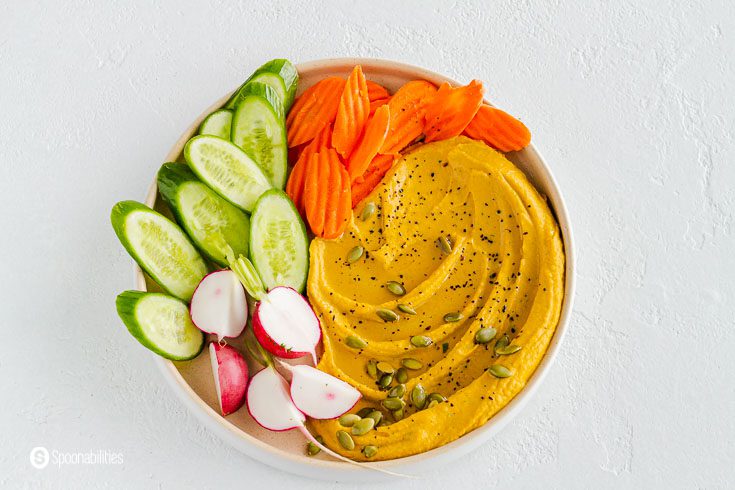 How to Make Roasted Garlic
I love to use roasted garlic because roasting mellows down the raw garlic flavor, and adds a wonderful sweet garlic flavor to the dish. However, if you want to use raw garlic for this pumpkin hummus, that's perfect too. I recommend roasting extra garlic to add to pasta sauces, vinaigrette, sauces for any protein, or to spread on toasted bread. I use it in almost anything that I will use garlic. You can use a whole head of garlic or loose garlic cloves for this roasted garlic recipe.
If you are using a head of garlic, cut off the top and place the garlic in a piece of tin foil. Season with sea salt and drizzle with LIA extra virgin olive oil, wrap it, and roast in the oven for about 30 minutes. You can put the wrapped tin foil garlic in the oven right on the oven rack, or put it in a small oven-proof dish.

If you are using loose garlic cloves, you will follow the same process as above, but place the garlic in a tiny oven-proof dish with a lid, and add more olive oil to keep it moist and prevent it from drying out.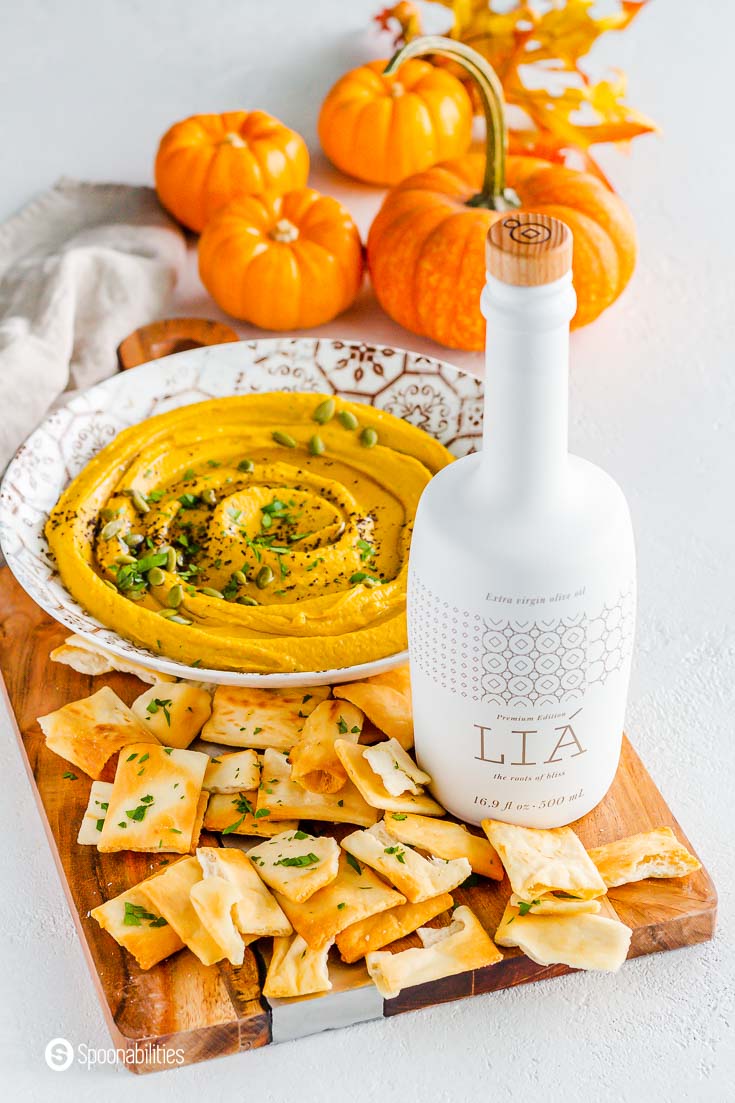 Different Ways to Eat Pumpkin Hummus
There are many ways to eat pumpkin hummus besides on pita bread or with chips. Here are some examples:
In a sandwich or wrap instead of mayonnaise
On a lamb burger
On toast with avocado and marinated tomatoes
Scramble some eggs and add a spoonful of hummus
Deviled eggs with hummus and add a spicy flavor like sriracha, Thai chili sauce or paprika
In a pizza or quesadilla
In a salad
Filled vegetable roll-ups with zucchini, yellow squash, cucumber
Serve the hummus with fresh vegetables like cucumber, radishes, celery, and carrot
My new favorite way is to spread the hummus on a plate and top it with cooked ground lamb, beef, or pork. Garnish with crumbled feta cheese.
Make your own chips
For this Pumpkin Hummus, I made my own pita chips. You can too! Just cut the pita bread into triangles; sprinkle on a little Greek extra virgin olive oil, salt, pepper, and sumac. Bake for 10 minutes. Or if you want to take a more traditional approach, make some homemade naan bread and enjoy.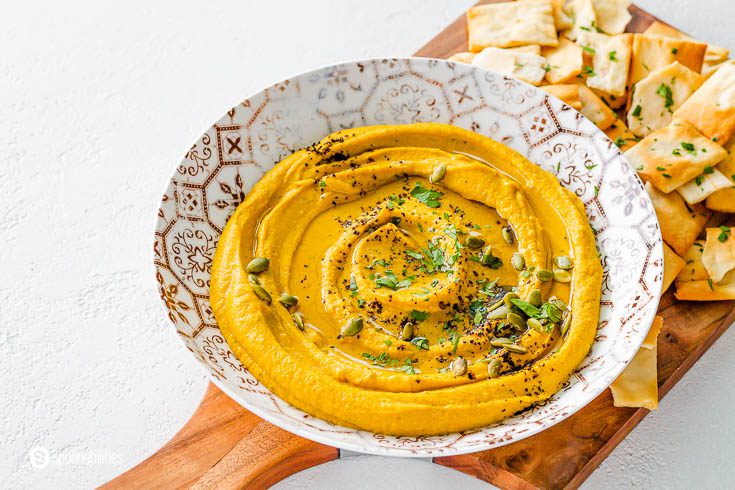 This Pumpkin Hummus recipe is:
savory
quick & easy
paleo friendly
vegan
vegetarian
full of Fall flavors
has a smoky taste
a great party dip
healthy snack
Looking for More Appetizer Recipes?
I hope you get to enjoy this tasty Pumpkin Hummus.
When you make this or any of our recipes, tag @Spoonabilities on Instagram or add a photo or comment on Pinterest, so we can find you! And we love to hear from you in the comment section below.
Happy Harvest Season,
Carlos
Print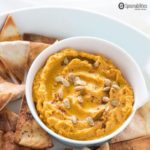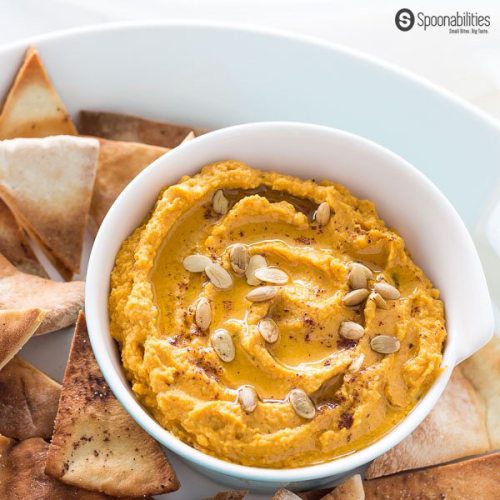 Pumpkin Hummus with Garlic & Cumin
---
Author:

Carlos Leo

Total Time:

10 minutes

Yield:

8

1

x
Description
Pumpkin Hummus is the perfect appetizer for Fall holiday parties. Made of chickpeas, pumpkin puree, LIA Greek EVOO, tahini, garlic, cumin, and parsley, you will LOVE this quick, easy and delicious recipe.
---
1

(15.5-ounce) can chickpeas, drained and rinsed

1 Tablespoon

LIA Extra Virgin Olive Oil

1 teaspoon

of ground cumin

3

cloves of roasted garlic or raw garlic

1

(15-ounce) can pumpkin puree

3 Tablespoons

tahini

1 Tablespoon

lemon juice

¼ TeaSpoon

parsley, chopped

¼ TeaSpoon

ground black pepper

¾ TeaSpoon

Pure Greek Sea Salt
Add water if needed - 1 or 2 Tablespoons
Garnish
¼ TeaSpoon

sumac

¼

cup

pumpkin seeds
---
Instructions
Combine chickpeas, pumpkin purée, tahini, lemon juice, parsley, cumin, garlic, LIA extra virgin olive oil, salt and pepper in a food processor, and process until creamy and smooth.
Transfer to a bowl, cover and refrigerate for at least 1 hour and up to 5 days.
Garnish with pumpkin seeds & sumac.
Notes
Adjust salt as needed
Refrigerate up to 5 days
Hummus doesn't freeze well. Don't freeze it
Prep Time:

10 minutes

Category:

Appetizer

Method:

food processor

Cuisine:

Middle Eastern
Nutrition
Serving Size:

1

Calories:

166

Sugar:

4.1 g

Sodium:

305 mg

Fat:

8.2 g

Trans Fat:

1.4 g

Carbohydrates:

18.7 g

Fiber:

5.8 g

Protein:

6.6 g
Keywords: Dip, snack, appetizer, snack, appetizer, entertaining, Weeknight, make ahead , light, gluten free, vegetarian, vegan, kids, middle eastern food
Recipe Card powered by
Available via these Amazon links:
Disclaimer: Links that open in another site, i.e. Amazon, may be affiliate links where at no additional cost to you, we may receive a small commission should you decide to purchase the item. Read our Disclosure Policy.