Learn how to make an orange creamsicle alcoholic drink. This creamy and citrusy summer drink is livened by the botanical complexity of gin, and not just any gin, but Tanqueray Gin infused with Sevilla orange. What a beauty! Our creamsicle drink with gin is perfect for outdoor entertaining and pairs well with fresh preparations and grilled goodies. This orange creamsicle cocktail is substantial, fruity, and very well balanced; this is one fruity drink you'll want to make often, especially in the summertime!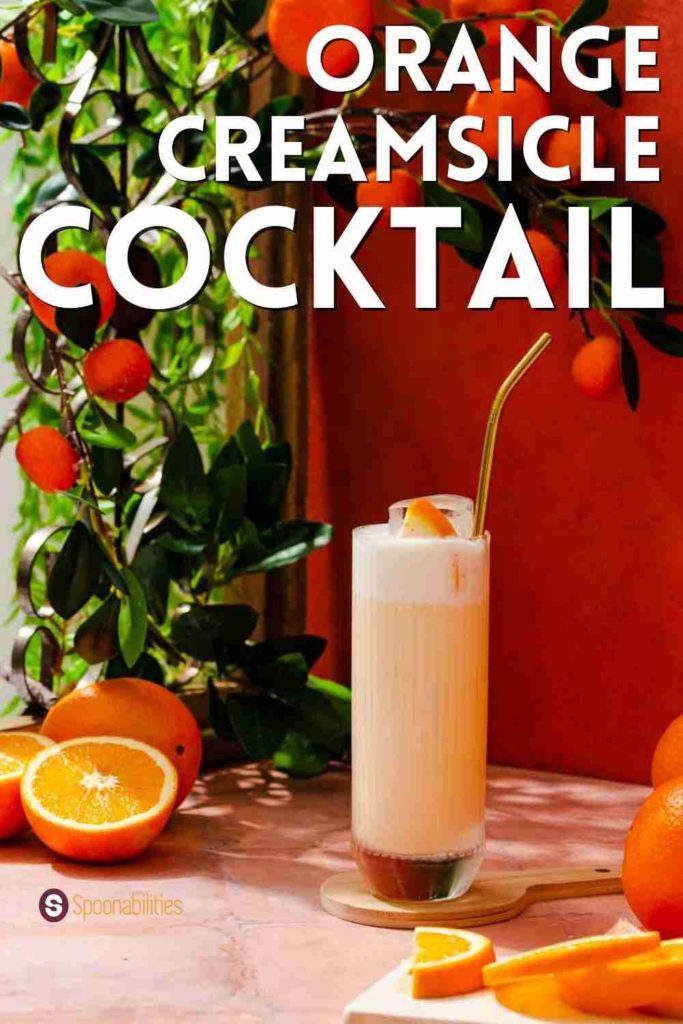 Hello my friends. This cocktail recipe is inspired by the citrusy and creamy Morir Soñando, a bright and sunny Dominican summer drink. I'm also telling you about the exciting, flavored gin that takes this recipe to another level.
This year we want to develop our mixology skills, experimenting and creating new cocktails inspired by classic cocktails, types of alcohol or non-alcoholic drinks turned into alcoholic versions. I'm currently testing some tasty cocktails recipes with my favorite nightcap liqueur Grand Marnier.
Jump to:
Morir Soñando Cocktail Step-by-Step Video Instructions
The Story Behind the Orange Creamsicle Cocktail
Is it hot outside? Or is it just me? For the warmest months on the calendar, tropical drinks are the order of the day. Still, some cocktails are more exciting than others and are boozy ways to get the party started Dominican style if you catch my drift.
I had some leftover Morir Soñando the other day. If you don't know what I'm talking about, check out my previous recipe for this rich Dominican drink! The combination of evaporated milk and freshly squeezed orange juice, livened by a dash of vanilla extract, and served chilled over ice, is fantastic and so traditional that it will give your get-togethers a Caribbean vibe!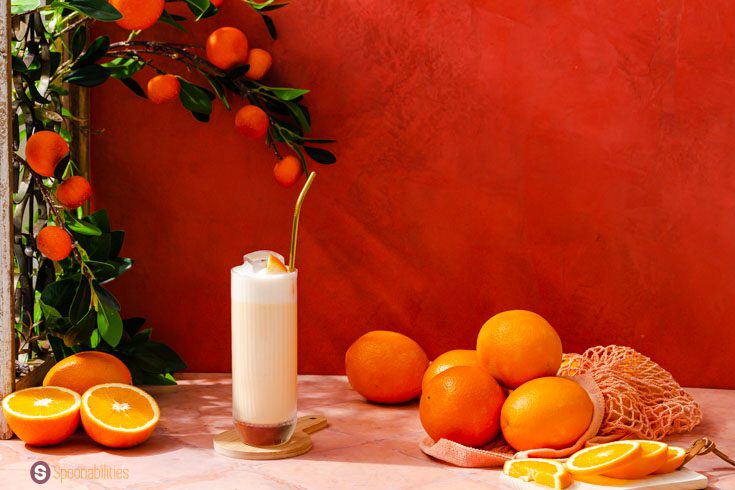 Still, the weather called for more than a non-alcoholic, tropical drink, and although making a pitcher of the thick, citrusy delight is tons of fun, this is just the beginning. So, Geoffrey and I set out to create a boozy and fruity cocktail with the golden drink, and by combining the non-alcoholic drink with a spirit, you get a vibrant Morir Sonando with alcohol that's in its own category. They turned out awesome! As a result, this summer cocktail tastes like a Caribbean Creamsicle! That's the initial story behind this orange creamsicle alcoholic drink creation.
Drooling over this recipe? Be first to receive new recipes!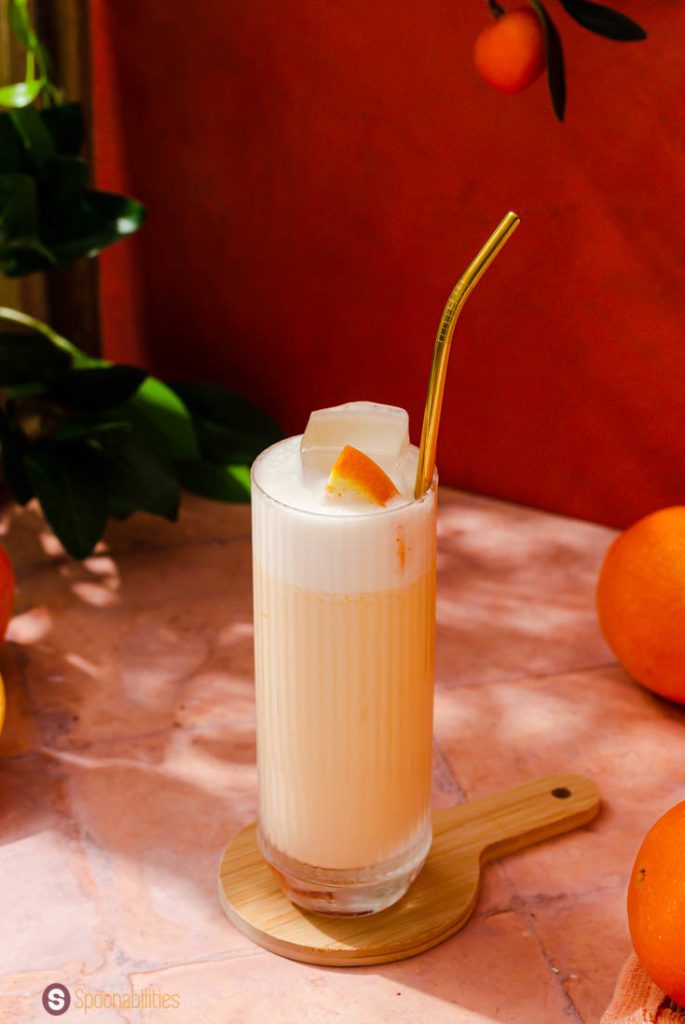 Morir Soñando & Creamsicle: Where They Both Started
Allow me to tell you a little bit about the Morir Soñando - the base behind our orange creamsicle alcoholic drink. I'll be brief since you can find out everything about this Dominican drink in its own recipe, Morir Soñando, which translates to English as "to die dreaming." It's the combination of evaporated milk, sugar, vanilla, and orange juice; and the dairy and juice combo is only possible if working with cold ingredients. Beware that the acidic orange juice can curdle the milk if too warm!
FAQs: Creamsicle Frequently Asked Questions
Where was the creamsicle invented?
Oakland, California is the location where Frank Epperson, an 11-year-old boy invented the first creamsicle in 1905 by putting fruit juice around vanilla ice cream. He called it the "Epsicle" which then became a popsicle, and then a creamsicle, and then also a dreamsicle.
How do You Spell Creamsicle?
Yes, I know it may seem superfluous to put this here, but when I was researching what a regular creamsicle drink is, I found out that many people misspell the word as "creamcicle" or "creamsickle." It's properly spelled "creamsicle," and is pronounced, "cream·si·cle." Hope that helps.
What is the difference between a creamsicle and a dreamsicle?
Not many people know the difference between these two orange-flavored popsicles, and routinely use either word as if they are the same. However, there is a difference between them. The creamsicle typically has vanilla ice cream with an orange sherbert (sherbet) exterior coating. The dreamsicle has an ice milk interior with the same orange sherbet exterior.
When is National Creamsicle Day?
Yes, there is a national holiday for just about everything you can think of, and National Creamsicle Day is August 14th every year. Go out and enjoy either the traditional popsicle or this orange creamsicle cocktail on that day.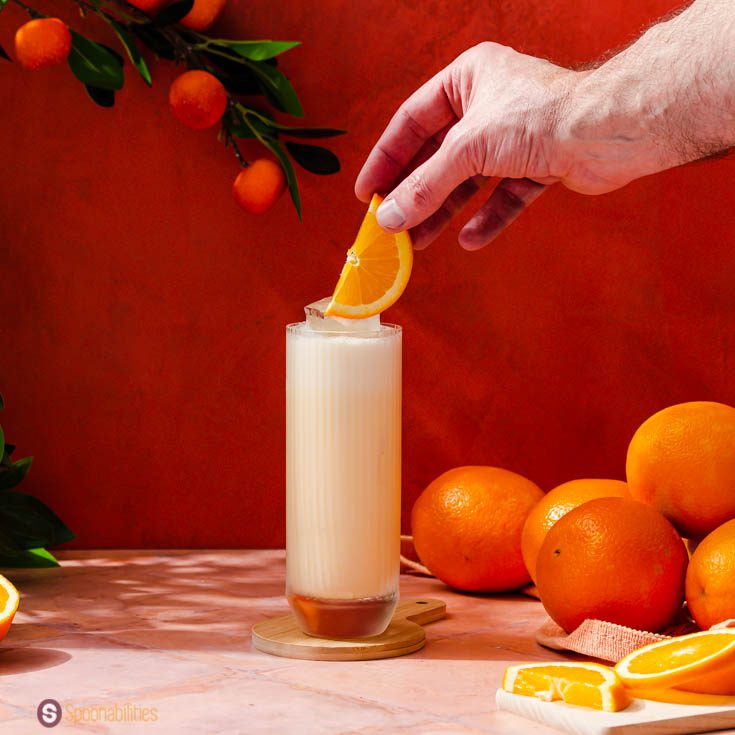 Ingredients for this Dominican Orange Creamsicle Cocktail
Making an orange creamsicle alcoholic drink is straightforward. Combine equal parts of freshly squeezed orange juice and evaporated milk, sweetened with vanilla syrup, and add a shot of booze. Shake, shake, shake, and you're done. But having a little background can help give you the confidence to make your own variations, so let's get into that a little.
Popular Dominican Drinks
People often make Dominican drinks with rum, making the fruity libations taste tropical and inviting. Some most popular Dominican drinks like MamaJuana (coming here soon), Mabí, rum punch, and many others are proof of it. Gin cocktails, though, can also be thirst-quenching and just as fruity!
Gin Flavored with Seville Oranges
We first tested the orange creamsicle by adding Dominican dark rum to our Morir Soñando base, and we found the cane sugar spirit was overpowering. So, we had a plan for the next of our weekend brunches at Beaker & Gray, our favorite restaurant in Wynwood. When we go to Beaker & Gray, we have our "reserved seating" at the corner of the bar, where we can watch the bartenders crafting unique and tasty cocktails.
During our next visit to this hot restaurant in Wynwood, Florida, we were chatting with our bartender friend Joe about this Dominican drink that we were testing. We asked him what would be the best spirit for the creamsicle. We were looking for a spirit to complement the citrusy and milky Morir Sonando. Joe recommended Tanqueray Flor de Sevilla, and he gave us a taste. Eureka! The orange creamsicle cocktail was born.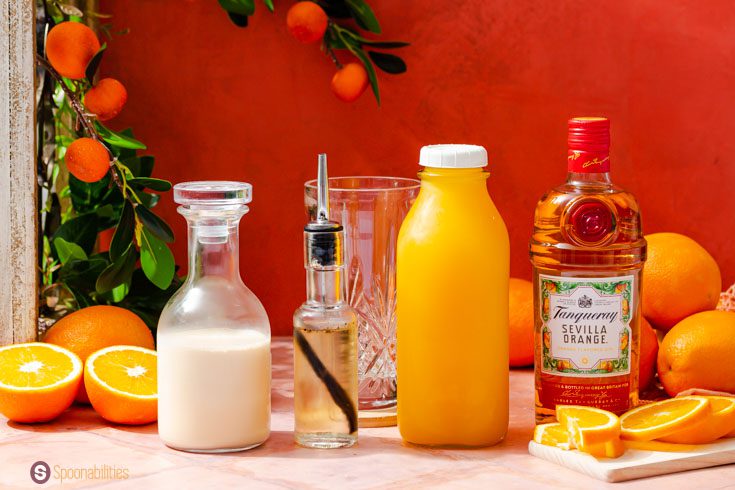 Tanqueray Flor de Sevilla is an extraordinary gin. The Mediterranean version of the London Dry Gin is infused with Seville oranges, peppery coriander, angelica, licorice, and juniper. Well, it brought out the orange personality in our Dominican creamy drink for the perfect Morir Sonando with alcohol.
The charming spirit is evocative of the warm Mediterranean breeze and shows a fruity and spicy nose over an herbal palate that very much tastes like the classic Tanqueray but livelier! It comes without saying Tanqueray Flor de Sevilla makes a mean gin & tonic, much warmer and citrusy than the regular kind. And wait until you try it in a negroni — the gin's orange aftertaste mirrors the fruit in Campari wonderfully. For an adventurous use of this pretty spirit, use it in our recipe to make our blood orange cocktail with ginger beer, one of our favorite and most popular gin cocktails ever. By the way, we are not sponsored by Tanqueray or anything like that.
How to Make a Dominican Orange Creamsicle Cocktail
Making an orange creamsicle alcoholic drink is straightforward. Combine equal parts of freshly squeezed orange juice and evaporated milk, sweetened with vanilla syrup, and add a shot of booze. Shake, shake, shake, and you're done. Here are the exact steps.
4 Steps to Make an Orange Creamsicle Cocktail
Make the vanilla bean syrup by combining equal parts water and white sugar in a small saucepan. Split a whole vanilla bean in the center, throw it into the saucepan, and let it steep for half an hour. Then, pour the syrup and the split vanilla bean into a small container or a simple syrup bottle. Let cool in the refrigerator for several hours or overnight. If you don't have time to make the syrup, substitute the syrup by adding a ¼ teaspoon of vanilla bean extract and a tablespoon of white sugar.
Squeeze fresh orange juice and let it get cold in the refrigerator for several hours, and at the same time, put the can of evaporated milk in the fridge too.
Get your bartender tools out and fill up your shaker with ice. Then, pour equal parts evaporated milk, vanilla bean syrup, and cold, freshly squeezed orange juice. Shake for 15 seconds.
Fill a tall glass with ice, pour in the orange creamsicle cocktail, and garnish with an orange slice.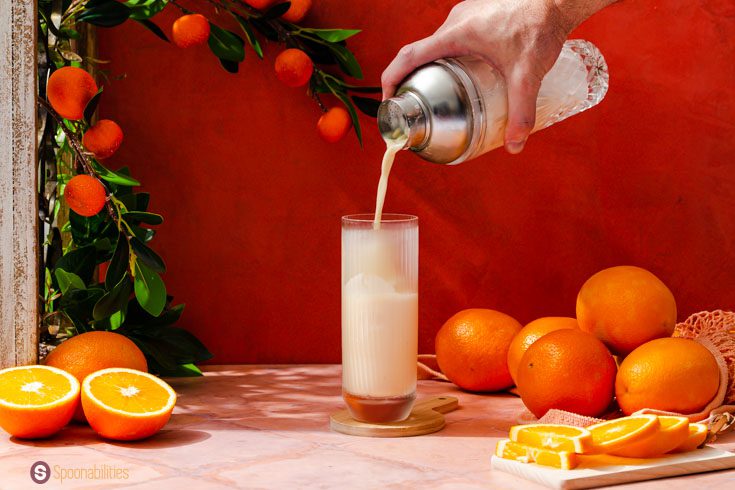 Variations for Your Orange Creamsicle Cocktail
In making this alcoholic fruity drink, we've discovered there are many possibilities to vary one or more ingredients to give the cocktail a different vibe.
Swap Out the Gin for Another Alcohol
What type of alcohol should you use for a grown-up version of the creamsicle-tasting drink? Here are some spirit recommendations to create other variations to booze up your Morir Soñando:
We've tried them all, and although I don't even remember how we survived that, I do remember they were all beautiful combinations!
Make a Vegan Orange Creamsicle
You can turn the morir soñando cocktail into a vegan orange creamsicle alcoholic drink by swapping the evaporated milk for evaporated coconut milk. You can use other nut milk too, but they may not taste the same.
Swap out the orange juice for a new experience
You can also make this cocktail with other citrus fruits like:
passion fruit,
lime juice (do half lime juice and half orange or lemon)
blood orange juice,
tangerine juice, or any other citrus.
Make a Boozy Orange Creamsicle Dessert
You can convert our creamsicle cocktail into a creamsicle float simply by adding a small scoop of vanilla ice cream on top of the glass, and in this version don't use ice cubes. Geoffrey does not approve the use of a "small" scoop of ice cream and thinks you should try 2-3 scoops of ice cream in the glass, and then pour the morir soñando in. Your choice!
Later this summer I'm thinking of taking the popular frozen treat paleta, and try making a Morir Soñando paleta or creamsicle ice pop. I might do the original orange flavor, and then a popsicle with one of the citrus flavors mentioned above.
Let's Start Mixing this Creamsicle Cocktail!
Let's get started with our final recipe below, and I hope you enjoy reading about this orange creamsicle cocktail as much as we did making it. Let us know when you make it by tagging @Spoonabilities on Instagram or give us a comment on Pinterest.
Thank you for showing your support by leaving a comment in the section below or go to our YouTube channel and show us some love by subscribing and liking our videos. We greatly appreciate it!
Carlos Leo
Your Recipe Concierge!
Print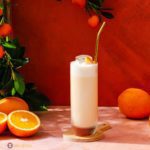 Orange Creamsicle Alcoholic Drink Recipe
---
Author:

Carlos Leo

Total Time:

5 minutes

Yield:

1

1

x
Description
Learn how to make an orange creamsicle cocktail - a creamy, citrusy summer drink livened by the botanical complexity of orange-flavored gin. This cocktail recipe is inspired by the Dominican drink Morir Soñando but with alcohol.
If you like this recipe, why not join our newsletter list.
---
2.5

oz

chilled, freshly squeezed orange juice

1.0

oz

vanilla bean simple syrup

½ cup sugar,

½

cup

water,

½

split vanilla bean.

2.5

oz

chilled evaporated milk

1.5

oz

Tanqueray Sevilla Orange Gin
---
Instructions
Using a cocktail shaker filled with ice, add in the chilled orange juice, vanilla simple syrup, chilled evaporated milk, and the orange gin.
Shake for 20 seconds and strain into a tall glass filled with ice.
Garnish with a fresh half slice of orange.
Notes
I recommend using freshly squeeze orange juice.
All the ingredients must be chilled. If the ingredients are at room temperature the drink will curdle.
If you want to use other alcohol, you can use regular vodka, orange or vanilla flavored vodka, orange flavored gin or regular gin, light white rum, or flavored orange rum.
You can make a vegan version by swapping evaporated milk with evaporated coconut milk.
We partner (affiliate links) with Drizly delivery service, so if you don't have the alcoholic ingredients, you can have them delivered.
Drink responsibly. If you are under the legal drinking age limit for your state or country, this recipe is not for you. Sorry.
Prep Time:

5 minutes

Category:

Drinks

Method:

Shaken

Cuisine:

Dominican, Latino
Keywords: gin cocktails, orange gin cocktail, Dominican cocktails, Dominican alcohol, Dominican alcoholic drinks, orange Creamsicle drinks, alcoholic summer drinks, summer drinks with booze
Recipe Card powered by
Ingredients and Equipment available via these links:
Disclaimer: Links that open in another site, i.e. Amazon, may be affiliate links where at no additional cost to you, we earn a small commission should you decide to purchase the item. Read our Disclosure Policy.
Interested in more Creamy Dominican Recipes?