Brandy and Eggnog Bundt Cake is a fun recipe for a timeless holiday dessert. We're baking a cake with all the flavors of the Christmas season: eggnog, butter, nutmeg, vanilla, and a touch of brandy, in a fluffy cake with a golden crust, thanks to the classic bundt pan. I'm also telling you about Amoretti's Eggnog Brandy Compound and the secret behind our creative recipes.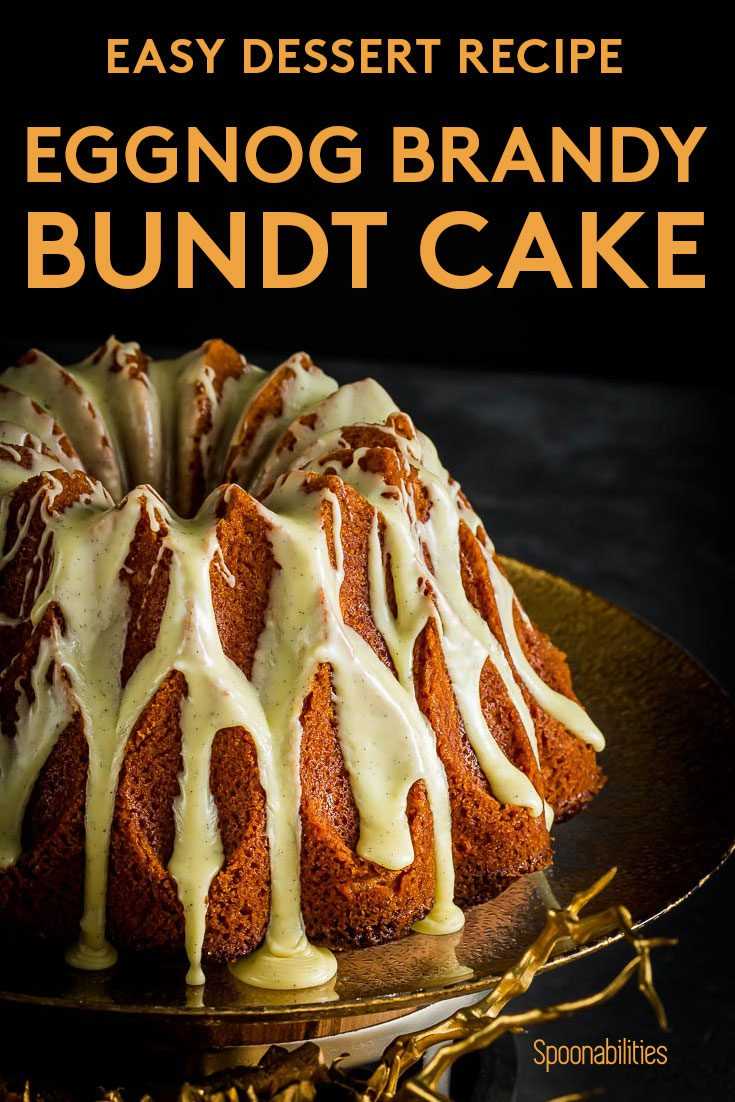 Blog post contains products you can purchase in our online shop, and affiliate links.
Read our Disclosure Policy.
Hello my friends. Even though we're in Florida, I can feel the cold northern winds already. This means it's time to get some winter baking done. The holiday season is here, and you know what? We're excited! This is our favorite time of the year because it's the only time Geoffrey and I share the kitchen at the same time.
Today we're combining two of our most cherished memories of the get-togethers with family - Geoffrey's holiday craving for eggnog and my heartfelt passion for classic bundt cakes. The fact that the eggnog is mixed with a splash of brandy doesn't hurt either, as it keeps you warm and cozy. We are actually including an eggnog and brandy substitute you're gonna love. The result is a beautiful Brandy Eggnog Bundt Cake that just screams for cold weather. Besides, nothing keeps you warmer than baking some treats, especially with your loved ones.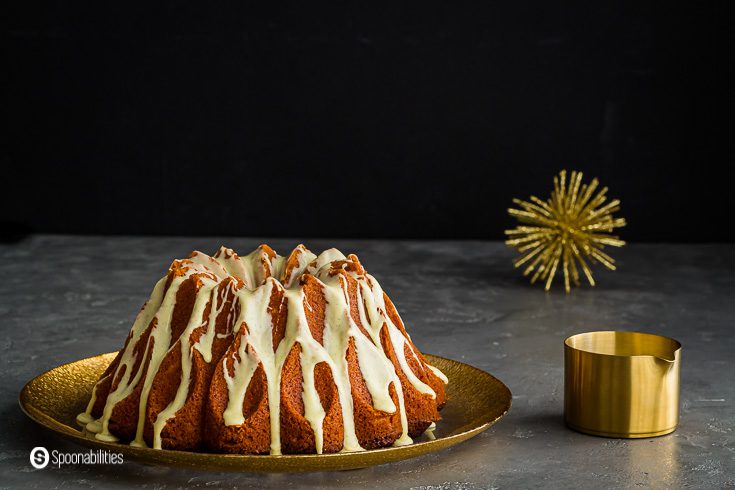 Today we're creating the classic (and very Instagrammable) bundt cake. Did you know the bundt pan was invented in the 1950s by a man named H. David Dalquist in Minnesota? By the '60s, he was making and selling 30,000 pans a day; that's an influencer right there.
We're sure you have at least one bundt cake mold somewhere, because we all do for some strange reason. Truth be told, we have several different shapes and sizes of bundt cake molds. We don't use them enough though, and that changes today. Bundt cakes will never fall out of fashion, they're just too beautiful!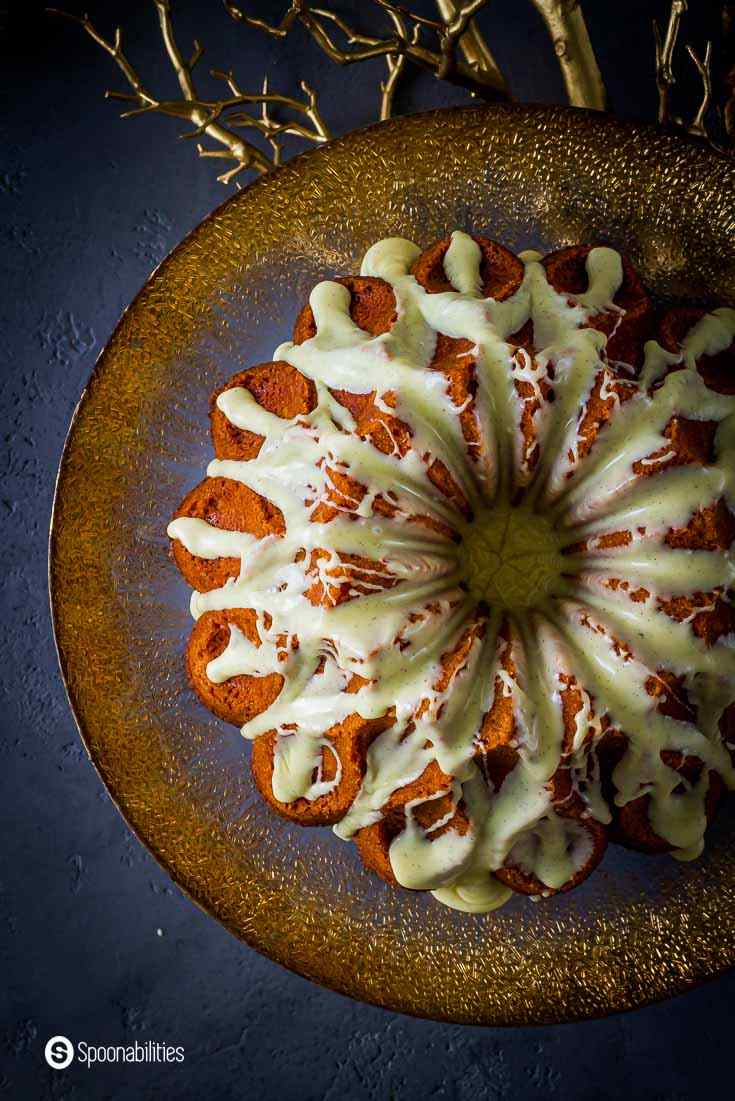 What's also quite cool is that we're using Eggnog Brandy Compound by Amoretti. This is an all-natural, shelf-stable compound, with no high fructose sugar. It's still good even after opened, and according to Geoffrey, a so-called expert on the topic, it has bloody good eggnog flavor!
This whole bundt cake project takes just over two hours, although you're only actively doing anything for half an hour. Therefore, there's time to catch up with your cooking (or eating) buddies over a glass of eggnog because that's what baking is all about. No, not drinking, spending time with your kin.
Like this recipe so far? Be the first to know when we release new ones!
---
Some people ask me how I come up with inventive recipes so often, and after giving it a little thought, I've come to realize it's all about having the proper ingredients in hand.
Having a natural Greek olive oil, for example, invites you to cook. When you have a jar of artisan fig mustard, herbal teas from Daphnis & Chloe, or L'Epicurien Holiday Spreads, just to not-so-secretly mention some gourmet items we carry in our shop, creativity flows, and then the magic happens!
That's kinda what happened with today's brandy eggnog bundt cake. Having Amoretti's Eggnog Brandy Compound in your pantry, a gorgeous product, really makes it easy to see where you want to go with your recipe. You don't have eggnog brandy compound? Don't worry! In the recipe card, we provide the amounts of eggnog and brandy you can use so you can still make this brandy eggnog bundt cake this weekend.
If you are ever interested in cooking or baking, but don't know what to do, just browse around and see which products call your attention, assemble your gourmet pantry, and just start cooking. The quality of the ingredients make the dish, so if you can, don't be skimpy. I promise with quality ingredients you'll be cooking better than ever!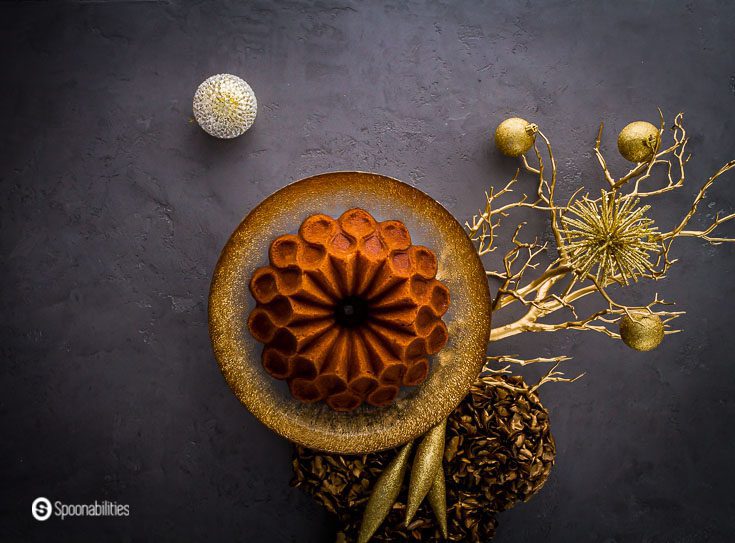 Want to make more stunning bundt cake recipes?
Once your kitchen is filled with nutmeg and vanilla aromas, and you drizzle the boozy eggnog brandy icing over your still steaming golden bundt cake, you can officially say the holiday season is here. If you're ready to make a delicious eggnog bundt cake, then let's get started. Let's celebrate the holiday season properly together.
I hope you get a chance to make this Brandy Eggnog Bundt Cake. Did you make this or another recipe? Tag @Spoonabilities on Instagram or add a photo or comment on Pinterest, so we can find you! And we love to hear from you in the comment section below.
Carlos Leo
Your Recipe Concierge!
Print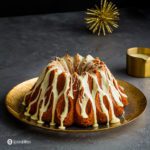 Brandy Eggnog Bundt Cake
---
Author:

Carlos Leo

Total Time:

1 hour 40 minutes

Yield:

1

4

1

x
Description
The Brandy Eggnog Bundt Cake checks all the right boxes for a comforting, homemade baked treat. It's a new classic, and it tastes gorgeous! Adding eggnog to the batter makes our cake super moist, and an eggnog drizzle makes this tasty bundt cake a looker!
Adapted from Southern Living Magazine, with several changes.
---
For Cake:
1

+

½

cups

softened, unsalted butter

3

cups

granulated sugar

6

large eggs

3

+

¾

cups

all-purpose flour

1

+

½ teaspoons

sea salt

1 teaspoon

baking powder

½ teaspoon

baking soda

¼ teaspoon

grated nutmeg

1

cup

heavy cream

1 tablespoon

vanilla paste

1

+

½ Tablespoons

Eggnog Brandy Compound

Alternative if you don't have this compound: Use ¼ cup brandy +

2 tablespoons

of eggnog

Flour cake pan spray, I highly recommend this product to prevent the batter from sticking to the mold
For Drizzle
1 Tablespoon

Eggnog Brandy Compound

Alternative if you don't have this compound: Use 2 tablespoons brandy +

3 tablespoons

of eggnog

1 Tablespoon

vanilla

2

cups

(divided 1+1 cup) powdered sugar

½

cup

(divided ¼ cup and ¼ cup) heavy cream
---
Instructions
Preheat oven to 350ºF.
Beat butter with an electric mixer on medium speed until smooth, about 1 minute. Slowly add your granulated sugar, beating until combined, about 2 minutes.
Add eggs, 1 at a time, combining after each addition. Beat on medium for 1 minute after adding the last egg.
Sift or whisk together flour, salt, baking powder, baking soda, and nutmeg in a medium bowl.
Stir together the cream, vanilla, and eggnog compound in small measuring cup.
Combine flour and cream mixtures into the butter mixture with the mixer on the lowest speed, in the following sequence:

first third of flour mixture,
first half of cream mixture,
second third of flour mixture,
final half of cream mixture,
final third of flour mixture.
Mix each batch until just combined. Scrape bowl between each incorporation as needed.
PRO TIP: Use a heaping 1 cup measuring cup for flour mixture, and heaping ½ cup measuring cup for cream mixture.

Transfer batter to a greased and floured 15-cup bundt cake mold. (see notes)
Bake for 70 minutes or until a toothpick inserted in middle of cake comes out clean.
Cool baked cake in the pan on a wire rack until pan is just cool enough to handle - about 20 minutes. Turn cake out onto rack to cool for at least 1 hour.
For Drizzle:
Stir together powdered sugar, eggnog compound, vanilla, and cream in a large bowl until smooth. Add additional powdered sugar or cream until you reach the desired consistency.
Transfer cooled cake to a platter; pour eggnog drizzle over cake. Wait 5 minutes before slicing, if you can.
Notes
Substitution for the compound in the cake: Use ¼ cup brandy + 2 tablespoons of eggnog
Substitution for the compound in the drizzle: Use 2 tablespoons brandy + 3 tablespoons of eggnog
If using a smaller size bundt mold, cake may bake above the rim. Trim as needed to level. For this recipe, we use a 10 cup mold and filled to the top of the mold design and made rest in another pan
We partner (affiliate links) with Drizly delivery service, so if you don't have the alcoholic ingredients you can have them delivered. Drink responsibly.
Prep Time:

30 minutes

Cook Time:

70 minutes

Category:

Dessert

Method:

Baking

Cuisine:

American
Keywords: Holiday baking, eggnog recipe, Bundt cake, holiday dessert, Eggnog cake
Recipe Card powered by
Available via these affiliate links:
Disclaimer: Links that open in another site, i.e. Amazon, may be affiliate links where at no additional cost to you, as an Amazon Associate I earn from qualifying purchases, should you decide to purchase the item. Read our Disclosure Policy.