Rotisserie chicken salad with grapes is an ideal recipe if you have little time and want to eat something tasty. This salad has it all. The taste of rotisserie chicken, toasted almonds, grapes along with celery, mayo and sour cream make this salad one of our favorites. Perfect for a quick lunch or dinner, this recipe is packed with flavor and will keep you full and satisfied.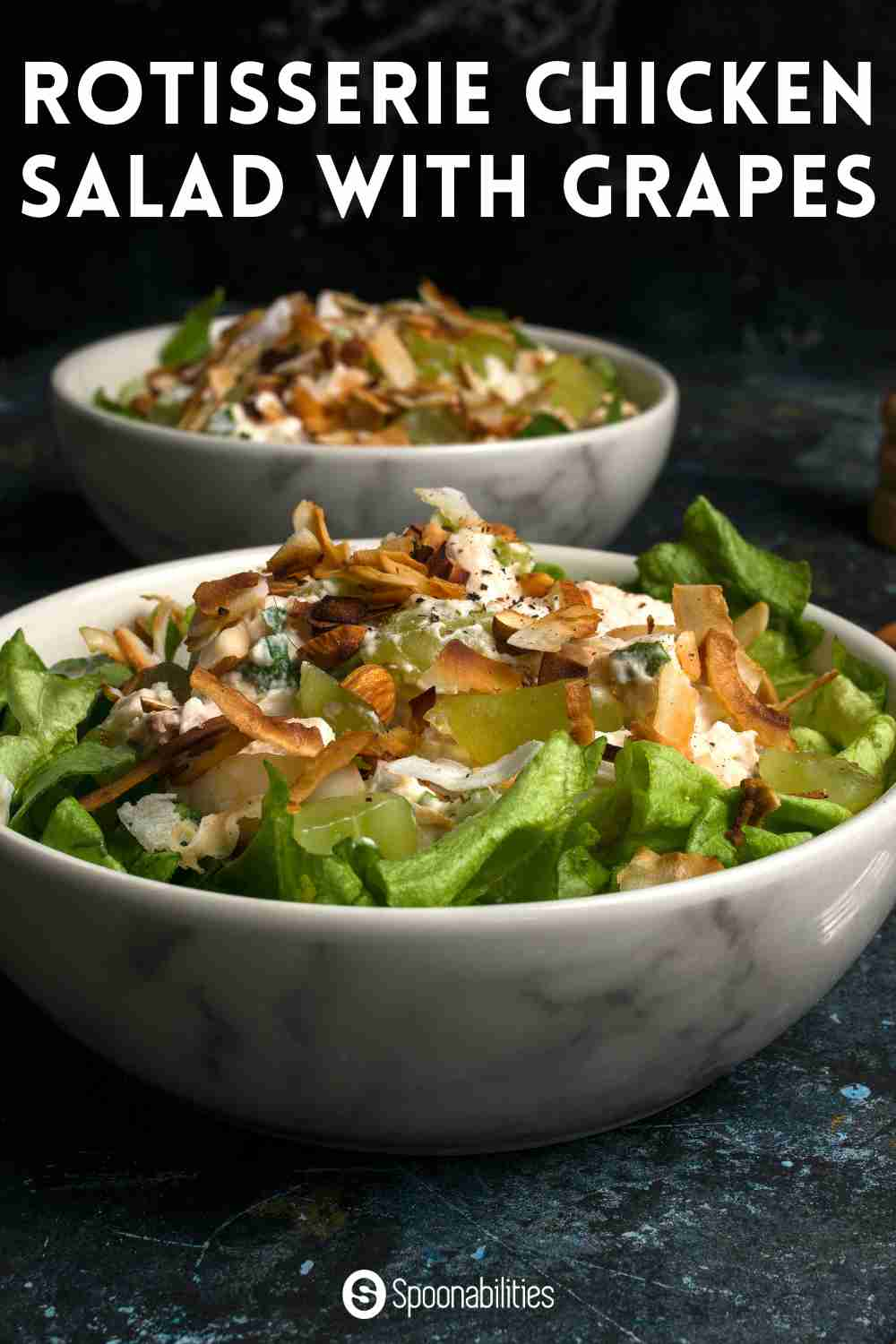 Hello my friends.
I'm sure sometimes it happens that you don't feel like cooking a recipe that takes a bit of time. That was me when I just happen to have had some leftover rotisserie chicken. So, using other ingredients I had at home, I made this enhanced chicken salad recipe that combines the flavors of juicy rotisserie chicken with sweet grapes and a tangy dressing to create a salad that is both satisfying and nutritious. Let's get to it.
Best Time to Make Rotisserie Chicken Salad
This rotisserie chicken salad is perfect to eat any time of day. Whether you're looking for a quick and easy dinner or a nutritious lunch, this dish works great! It's also best to make it ahead of time rather than the same day; that way the ingredients have enough time to blend together, and all the flavors come out. So it's also a great way to plan ahead and not have to prepare anything when you need it, like for a potluck or picnic.
This salad is a great way to use up leftover rotisserie chicken, or you can cook a fresh chicken specifically for this recipe. But why would you want to? Rotisserie chicken is available in so many supermarkets these days, so you always have some available.
Why is rotisserie chicken so popular?
In North America, rotisserie chicken became popular in the 20th century when it became widely available in grocery stores and supermarkets. The convenience of being able to purchase a fully cooked chicken made it a popular choice for families and busy individuals. Also, the slow-roasting process helps to evenly cook the chicken and gives it a crispy skin and moist meat.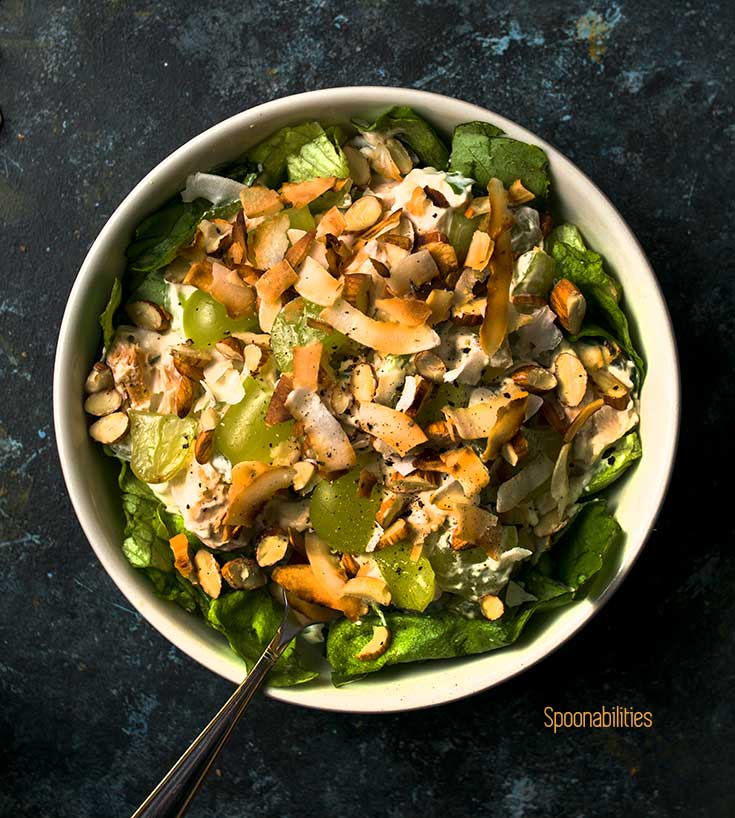 Rotisserie Chicken Salad Ingredients
The first step in making this delicious chicken salad recipe is to gather all the ingredients.
Rotisserie Chicken
Start by picking up a rotisserie chicken at your local supermarket or where you usually get one. Then start by shredding the rotisserie chicken into bite-sized pieces. Can you use boiled or grilled chicken? Sure. But the flavor of rotisserie chicken is so much better, and that's what I recommend.
Toasted Slivered Almonds
We are going to use toasted almonds. I like using slivered almonds, but if you can't find any you can use whole almonds like I did for these photos, and just cut them in halves or pieces. If you don't get them toasted, don't worry, it's very fast and easy to toast them yourself. This will give the almonds a more intense fragrance and taste.
How to Toast Almonds
Easiest way to toast almonds is in the oven. Set your oven to 350°F. Spread the nuts in a single layer on a baking sheet. Bake for 7-8 minutes or until they are fragrant and golden brown, stirring once. Stay close to the oven as the nuts can easily go from toasted to burnt. Once done, remove them immediately and place them on a plate to prevent further cooking.
Toasted Coconut Flakes
Just like the almonds, we are going to toast the coconut flakes. Can you use grated coconut instead of coconut flakes? Absolutely! Use whichever you have already at home or easily find at your local market. To toast the coconut flakes, use the same method and instructions as mentioned above for the almonds. Just be extra careful because they will crisp up faster than the almonds. You can toast the coconut and almonds at the same time. That's what I do. But you might have to take the coconut out of the oven first.
Prepare the Remaining Ingredients
Dice up the celery and set it aside. Cut the grapes into quarters or halves. Gather the mayonnaise, sour cream, salt, ground black pepper, lettuce leaves, and you are all set to toss it together.
Nutritional Benefits of this Chicken Salad Recipe
Not only is this salad delicious, but it's also healthy. The rotisserie chicken provides protein, which is essential for building and repairing muscles. The grapes add sweetness and flavor, as well as a source of antioxidants. The celery provides fiber and hydration, while the lettuce is a low-calorie, low-carb option for a base. And the almonds and coconut add healthy fats, which are important for your heart.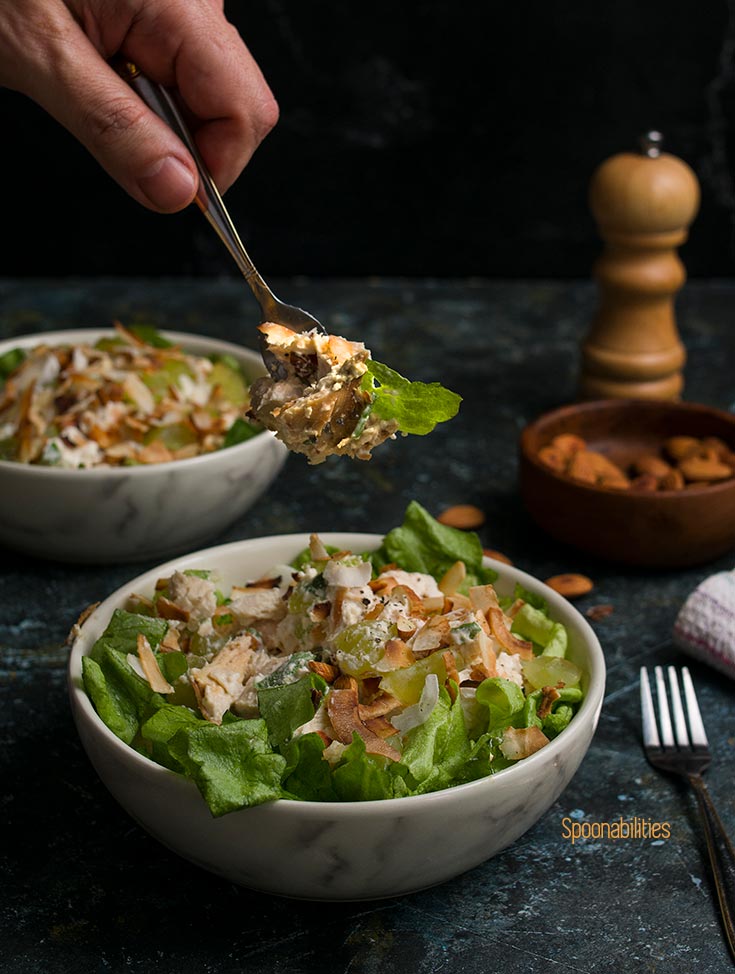 Two questions you might be wondering about
Where did rotisserie chicken originate?
The exact origin of rotisserie chicken is not known, but it is believed to have originated in France in the 19th century. Rotisserie cooking in general has its roots in medieval cuisine and early modern kitchens, where a spit was the preferred method of cooking meat in large households. In these settings, a servant, often a young boy, was responsible for turning the metal rod slowly to cook the food, earning him the title of "spit boy."
Why is rotisserie chicken called rotisserie chicken?
The word "rotisserie" originated from French, appearing in Paris shops in the mid-15th century. In larger restaurants that follow a kitchen system of delegating responsibilities, the "rotisseur" chef is responsible for all spit-roasted, oven-roasted, and grilled foods.
How to Make Rotisserie Chicken Salad
The first step in making this salad is to combine all the ingredients. Start by shredding the rotisserie chicken into bite-sized pieces if you haven't already. Then add the halved grapes, diced celery, mayonnaise, and sour cream. Mix everything together until well combined. Next, season the salad with salt and freshly ground black pepper to taste. This will help to bring out the flavors of the chicken and other ingredients.
Once the chicken and other ingredients are combined, it's time to serve the salad. Start by laying a bed of lightly packed torn lettuce leaves on a large serving platter. Spoon the chicken mixture on top of the lettuce. Finally, top the salad with toasted slivered almonds and coconut. This adds an extra crunch and nutty flavor to the salad, making it even more delicious.
Like this recipe so far? Be first to know when we release new ones!
How to Customize Chicken Salad with Grapes
This salad is so versatile and easy to customize. If you prefer a sweeter or tangier flavor, you can adjust the amount of sour cream or grapes.
Add Your Favorite Chicken Salad Ingredients
You can also add many other ingredients that you love which will add more flavor and nutrition. Here are just a few:
walnuts, or other nuts instead of almonds
raisins
chopped carrots
chopped red onion
chopped fresh dill
lemon juice
garlic powder
paprika
any other of your favorite spices
Serve with Something Besides Lettuce
If you don't want to serve the chicken salad on top of a bed of lettuce, you can serve it on its own or with any of these options:
on crackers
on bread or toast (including making a sandwich)
in tortillas, making a rotisserie chicken salad wrap
with pita chips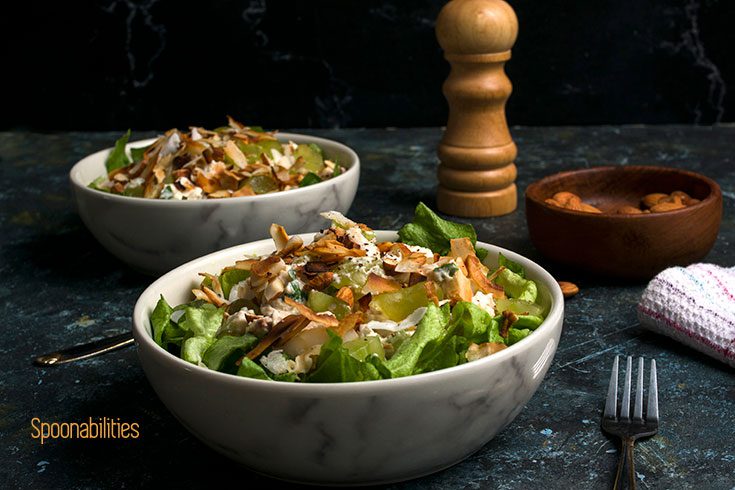 How to Store Rotisserie Chicken Salad
The best way to store chicken salad is in an airtight container in the refrigerator. Be sure to use the chicken salad within 2-3 days for optimal texture and flavor.
Can Chicken Salad be Frozen?
Yes, you can freeze chicken salad for up to three months; however, the texture may not be as good. Make sure the container is airtight, and put a piece of plastic wrap on top of the chicken salad. This will help keep the grapes from getting frostbite… but no promises. For serving chicken salad that was frozen, thaw overnight in the refrigerator and enjoy!
Great option for busy weeknights, packed with flavor and nutrition.
This rotisserie chicken salad recipe is a must-try for anyone looking for a delicious and healthy meal. It is quick and easy to make, and the combination of flavors and textures is simply unbeatable. It's a great option for busy weeknights, and it's packed with flavor and nutrition. So, why not give it a try today? Your taste buds will thank you!
Leave us a comment below and let us know what you think about this recipe and if you used any of the customization ideas we mentioned. And please share this and your version on social media tagging @Spoonabilities on Instagram or comment on this Pin.
Can't wait to hear from you.
Carlos Leo
Your Recipe Concierge!
Print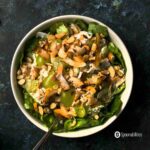 Easy Rotisserie Chicken Salad with Grapes
---
Author:

Carlos Leo

Total Time:

15 minutes

Yield:

2

salads

1

x
Description
Rotisserie chicken salad with grapes is a nutritious and delicious salad. You don't even need to cook. Using rotisserie chicken and other ingredients, you will have a simple recipe made in a few minutes. It's also extremely versatile. See notes for how to customize it to your liking.
If you like this recipe, why not join our newsletter.
---
2

cups

cooked, shredded rotisserie chicken

2 Tablespoons

sour cream

2 Tablespoons

mayonnaise

¼

cup

of halved grapes

3 Tablespoons

diced celery
Salt, and freshly ground black pepper

5

cups

lightly packed torn lettuce leaves

2 Tablespoons

toasted slivered almonds

2 Tablespoons

toasted flaked coconut
(see optional ingredients in notes)
---
Instructions
Combine chicken, grapes, mayonnaise, sour cream and celery. Season with salt and pepper.
Serve on bed of lettuce. (see optional serving ideas in notes)
Top with toasted almonds and coconut.
Notes
Easily customize this recipe to your liking by adding walnuts, or other nuts instead of almonds, raisins, chopped carrots, chopped red onion, chopped fresh dill, lemon juice, garlic powder, paprika or any other of your favorite spices.
Instead of a bed of lettuce, you can also serve with some crackers, on bread including making a sandwich, inside a tortilla to make a wrap, or with pita chips.
Prep Time:

10 minutes

Category:

salad

Method:

mixing

Cuisine:

American
Keywords: easy lunch, quick snack, premade meal, portable meal, dinner salad
Recipe Card powered by
Want More Chicken Recipes?
Here are a few related recipe ideas you might enjoy: