Welcome the Fall Harvest by roasting some fresh pumpkin (or calabaza) for a creamy and aromatic Roasted Pumpkin Bisque. The pumpkin is roasted with honey, extra virgin olive oil, and Ras el Hanout for an added Moroccan touch of flavor. The roasted pumpkin is then simmered with apple juice, vegetable stock, sautéed leeks and vanilla paste, and then blended until it's creamy and silky. Serve in a bowl with a center well of chopped apple, roasted pumpkin seeds and whipped coconut cream. This creamy soup is vegetarian, gluten-free, dairy-free, and paleo.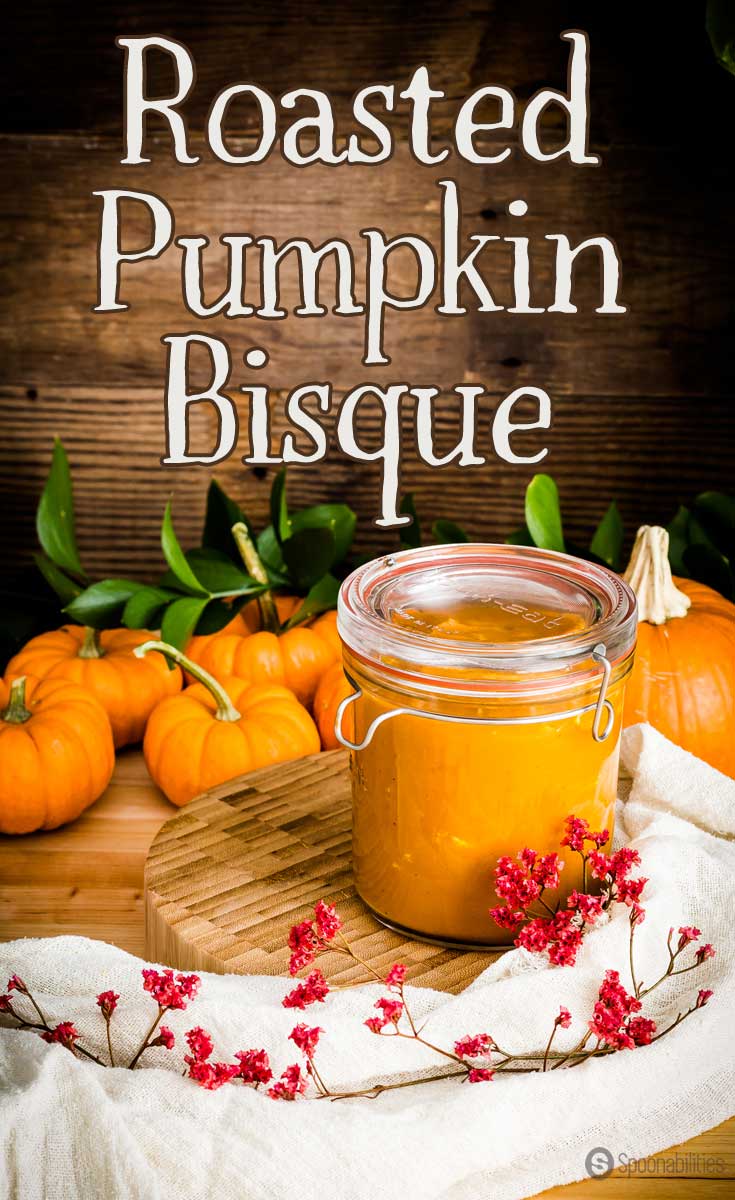 Hello my friends.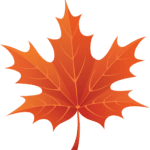 This week we are releasing new pumpkin recipes for this Fall season. I feel so pump-up because I am so confident about all the yummy recipes I selected for this autumn season. This Pumpkin Bisque recipe is inspired by one of my trips to Grand Cayman a couple of years ago. I tried Pumpkin Bisque at the Ritz-Carlton Grand Cayman in their restaurant Seven, and of course, I asked for the recipe. I didn't know if they would give it to me, and surprisingly the next day the chef sent me the recipe by email, along with a sautéed mushrooms recipe. How cool is that?!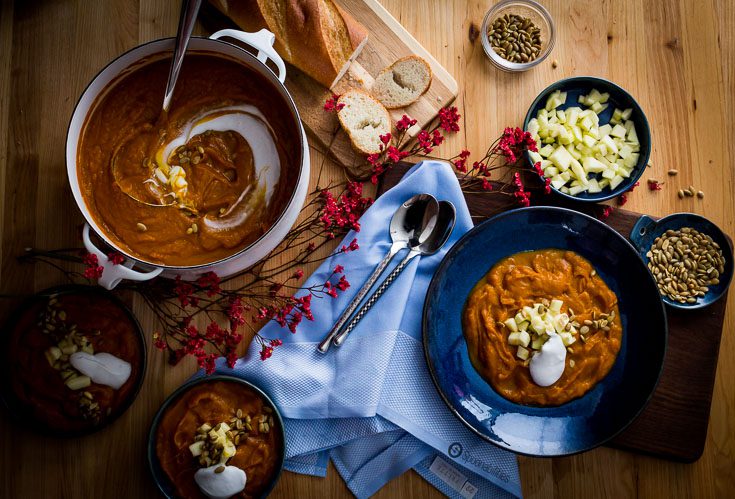 Like this recipe so far? Be the first to know when we release new ones!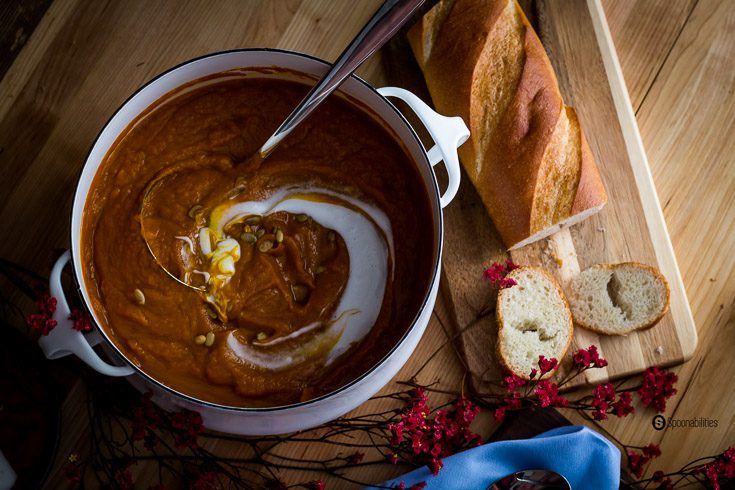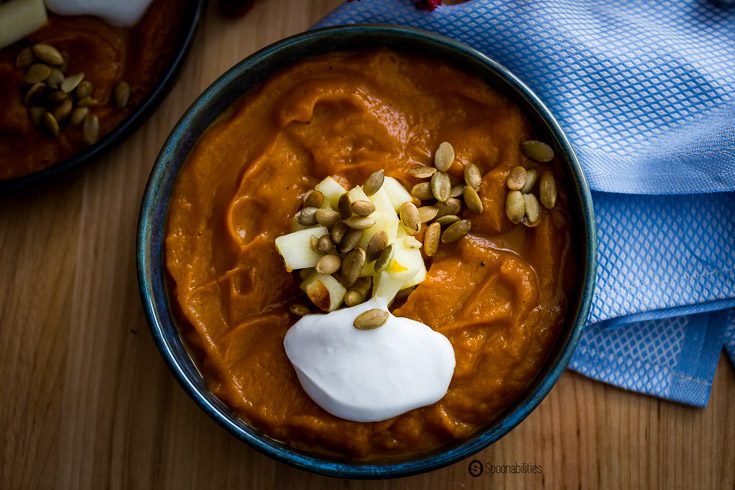 This pumpkin bisque recipe has only a few ingredients, and the seasoning is very light. I find this soup to be a classic comfort food with warm notes that are perfect for cold nights during autumn, or a wonderful soup as a first course for Thanksgiving dinner. As always, I like to make changes to the original recipe to my liking, but this time I tried not to add too many ingredients and lose the flavor profile of what attracted me to the soup in the first place.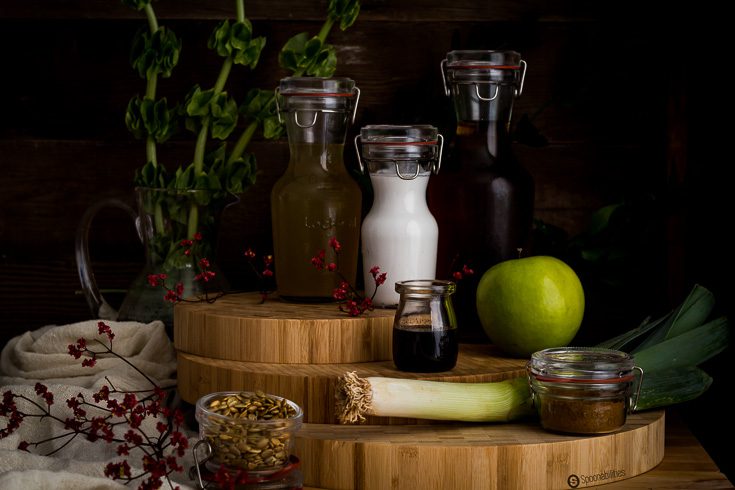 The way the chef created this recipe was cooking the pumpkin with chicken stock, but I love to roast my vegetables for soups because roasting the vegetables gives a deeper flavor and intensifies the sweetness. Another ingredient I added was Ras el Hanout to give a slight Moroccan warm and aromatic taste. And, the last ingredient I added was Provence Flowers Honey by L'Abeille Occitane which is .
For this Pumpkin Bisque, I want to keep it vegetarian, gluten-free, dairy-free and Paleo friendly. So, the chef used quenelle whipped cream and I substituted whipped coconut cream, and replaced the chicken stock for vegetable stock. If you want to make this recipe vegan, all you need to do is replace the honey with maple syrup.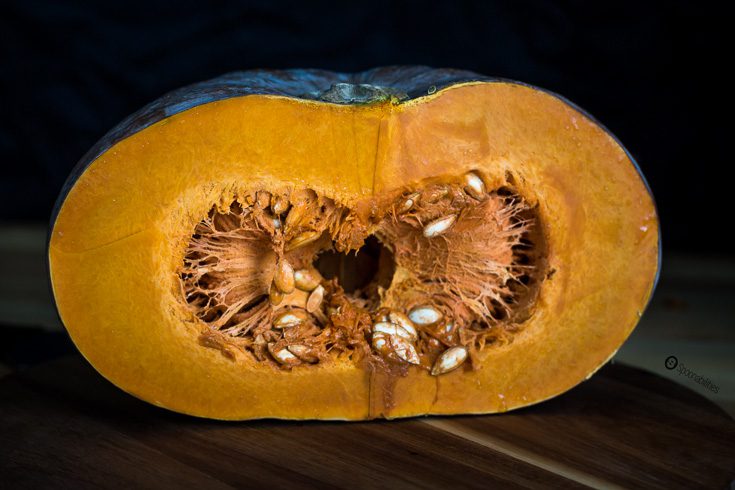 Do you know the difference between a pumpkin soup, bisque and chowder?
I didn't know until I started to write this post. I thought I knew, but definitely learned a thing or two and I want to share all the information I found during my research.
Difference between bisque, soup, and chowder:
Bisques and chowders are two kinds of thick soup. They both are soups
Soup is in a more liquid form and is made out of broth with pieces of vegetables or meat and a very lose broth.
Bisque and chowder have a French origin.
Bisque comes from the French words "bis cuites" meaning twice cooked, which unexpectedly has the same origins as the word biscuit.
Chowder comes from the French word chaudière
Bisques and chowders, both words are used often used to describe non-seafood dishes as well.
Bisque is smooth, while chowder is thick and chunky.
Bisque is thick, smooth, creamy and rich seasoned.
Bisque and chowder are classically based on a strained seafood broth of crustaceans like lobster, langoustine, crab, shrimp or crayfish.
In today's culinary world, bisque is also made without seafood broth and made out of vegetables. The pumpkin bisque is vegetarian.
Typically chowder is made with small pieces of vegetables, seafood, or meat. It also usually includes milk or cream, and gets its thick texture from hearty vegetables like potatoes.
The main difference that sets bisque apart from chowder is that chowder's thickness comes from the vegetables. Bisque comes from pureed shellfish into a fine paste, and this is used to thicken the soup.
Now we use thickeners for both soups like rice, flour or cornstarch.
You can use wine, brandy or cognac for bisque or chowder.
Bisque has more cream than soups if you count cream soups. The difference is that in a bisque you add the cream early during the cooking process, and in soups it is added later. For this pumpkin bisque I didn't do either one. After I served the soup in the bowl, I added a small spoon of whipped coconut cream in a quenelle shape.
In bisque, the cream acts as a thickness agent, and in soups, it will be pasta, potatoes, rice, flour or cornstarch.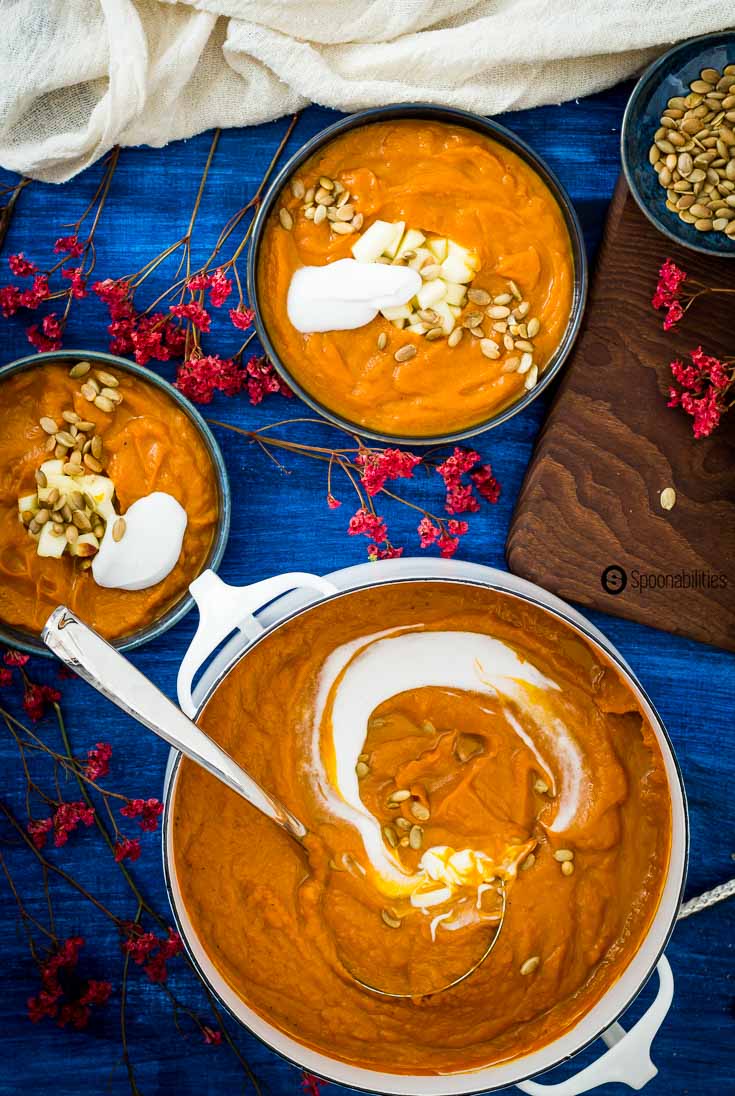 For this pumpkin bisque, I didn't use wine, shellfish or cream during the cooking process. The flavor of the soup all comes from the roasted pumpkin, seasoning and remaining ingredients. I decided to take a different route when presenting the soup. I created a mountain in the center of the bowl of chopped Granny Smith apple and roasted pumpkin seeds. I then poured the soup around the pile of the apple mixture, and I topped with whipped coconut cream (full-fat) in the shape of quenelles.
How to Make a Quenelle
Video by Saveur.com
I'm having a nice bowl of hot creamy roasted pumpkin bisque right now as I write to you, and it's like heaven. From the first spoonful, you get to taste the distinctive characteristic pumpkin/calabasa flavor, and in between you get a hint of the acidity from the apple juice. The toasted pumpkin seeds (pepitas is Spanish) and the small pieces of the apple give the right crunchy texture. The Ras el Hanout adds just the right amount of Moroccan taste without overpowering the soup. And, the whipped coconut cream is the element that helps to balance all those flavors in one perfect bite.
I started to write the beginning of this post before I made the Pumpkin Bisque because of two reasons. First, I had some leftover fresh pumpkin from a Pumpkin Hummus recipe that I made again this week, so I knew I needed to use up the pumpkin. After all, our mission at Spoonabilities is "no jars left behind" and that includes products that are not in a jar. Second, my goal is to have photos, blog, and recipe ready faster than in the past. I'm giving myself a tremendous challenge during this fall season because I want to share with you a least two recipes per week. As you know, I have a demanding full-time job, and during my breaks and off-work time I squeeze in "Spoonabilities time" for blogging, cooking and editing photos. It is exhausting but gratifying, and I want to bring you a lot of tasty recipes during this fall/winter season. So grab a bowl of pumpkin bisque, relax, and join me for my favorite season of the year.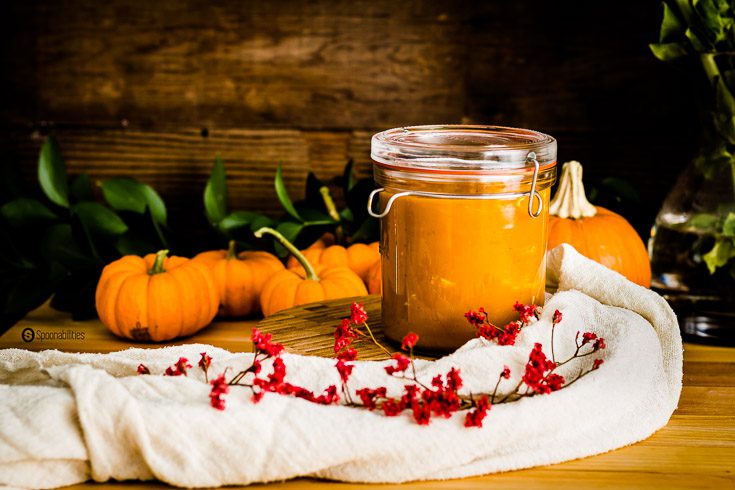 If you want to see some of our most popular pumpkin recipes that are always in demand, check out 8 Sweet Pumpkin Spice Recipes you are going to want to make, and if you are crazy about this pumpkin bisque, you are going to love Roasted Butternut Squash Soup with Feta Honey Toast.
Have a happy week!
Carlos Leo
"Your Recipe Concierge"
Print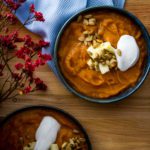 Roasted Pumpkin Bisque : A Healthy Fall Soup
---
Author:

Carlos Leo

Total Time:

1 hours 5 minutes

Yield:

7

-

8

people

1

x
Description
Roasted Pumpkin Bisque is the perfect creamy comfort food for any cold night during the fall/winter season or as the soup course for Thanksgiving dinner. Made from real pumpkin (or calabaza) roasted with Provence Flowers Honey, Eleon Greek olive oil, and Ras el Hanout for a Moroccan aromatic touch, this bisque is blended with sautéed leeks, apple juice, vanilla paste, and vegetable stock. This vegetarian soup is dairy-free, gluten-free and paleo friendly.
---
Ingredients for Roasting the Pumpkin:
For the Bisque:
3

cups

apple juice

3

cups

vegetable stock

1

leek, chopped and sautéed with salt & pepper

¼ teaspoon

vanilla paste
To Present the Pumpkin Bisque:
1

Granny Smith Apple, peeled and diced

2 Tablespoons

pumpkin seeds, toasted

1

can coconut cream - whipped and presented in a quenelle shape
---
Instructions
Preheat the oven to 375 degrees.
Half the pumpkin from top to bottom; remove and discard the seeds. Cut the pumpkin into smaller pieces.
Sprinkle Ras el Hanout, salt & pepper & 1 Tablespoon olive oil. Rub to make sure every piece gets seasoned. Then drizzle on the honey. 
Place the pieces with the skin facing down in a baking pan.
Bake approximately 45 minutes until the pumpkin is soft. Let it cool for 20 minutes. Remove the meat from the skins and with a spoon gently scrape the remaining pulp off.
Sauté the chopped leeks over medium heat in olive oil. See instructions below.
Toast pumpkin seeds in a 9-inch fry pan or a cast-iron pan until puffed and golden, 4 to 5 minutes. Sprinkle salt if you wish.
In a large stock/soup pot, add the roasted pumpkin meat, apple juice, vegetable stock and the vanilla paste.
Using a hand blender, blend the ingredients until the bisque is smooth and there are no more chunks.
Taste and adjust seasoning as needed with salt and pepper.
Heat the soup over low heat until it's heated through it.
Topping Mixture and Plating:
Peel and dice the apple. I washed the pieces of apple with lime and lemon juice to prevent oxidation. Then, mix with the toasted pumpkin seeds.
Whip the coconut cream until it's fluffy.
Add the topping mix in the center of the bowl like a lonely mountain.
Pour the hot soup around the apple mixture and top with whipped coconut cream - quenelle shape. See instructions below.
Step-by-step how to cook leeks:
Cut the root end and the dark green leaves. The dark green leaves of a leek are bitter in taste and tough in texture.
Cut the leek in half lengthwise and slice the leek lengthwise once more
Chop the leek into small pieces and separate the pieces.
In a colander wash the leeks under running water. Drain and dry well.
Heat olive oil in a frying pan. Add the leeks.
Cook, constantly stirring, until they become caramelized - approximately 5-10 minutes.
Whipped Coconut Cream:
Place the can of coconut cream in the refrigerator for a least 8 hours.
I used a metal mixing bowl and I put some ice cubes inside and put it in the freezer until I was ready to make the whipped cream. When, you take out the bowl some pieces of ice may stick to the bowl.
Add the cold coconut cream and whisk with the hand blender until it's fluffy.
To make the quenelle, use two spoons and form a oval shape. See the video in the blog post that shows you how.
Prep Time:

20 minutes

Cook Time:

45 minutes

Category:

Dinner

Cuisine:

American
Recipe Card powered by
Available via these Amazon links:
Disclaimer: These Amazon links are affiliate links where at no additional cost to you, we may receive a small commission should you decide to purchase the item. Read our Disclosure Policy.