Spanish Hot Chocolate, or simply "chocolate caliente" in Spanish, is one of my favorite hot drinks.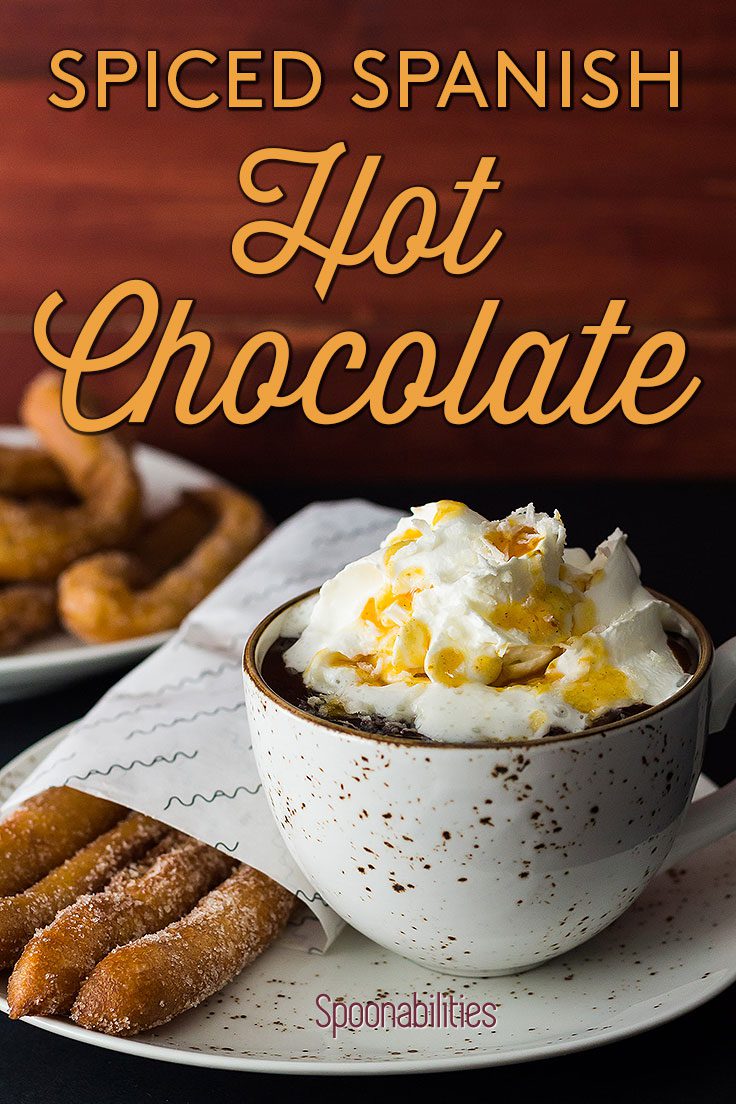 Hello my friends! I have been waiting for a long time to post my favorite hot drink that I always get the second I land in Barcelona, Spain whenever I visit my sister. A super rich, thick, decadent authentic Spanish Hot Chocolate. If that's not tempting enough, this dreamy drink must go with sugary CHURROS. YES, I made Churros too!
My Chocolate Barcelona Family Adventure!
Early in the morning, right after they pick us up from the airport, the first thing my sister and brother-in-law do is stop at one of the street vendors in beautiful Barcelona. The vendor only sells churros and the traditional thick Spanish hot chocolate. I have never tasted chocolate so amazingly delicious!
One of the best benefits of traveling from the United States at night and arriving in Spain early in the morning is that we arrive just in time for a very satisfying, chocolatey and sugary breakfast. Can I tell you again?... I die for this Hot and Thick Chocolate!
Barcelona is our favorite city to visit. Even when our plan is to go to other countries in Europe, Barcelona is a "must stop" on our way in or out of Europe.
We have a lot of fun visiting my sister and brother-in-law, and my three beautiful nieces. Did I mention they are triplets? Yes, they are identical and I have trouble getting their names correct. They love to tease us and get us frustrated trying to figure out who is who.
Let's play a game today
One day, I decided to take them to the park for a fun full day with their uncle and their "Principe" - that's what they call Geoffrey. At the same time, I was afraid because I didn't know if I was able to handle three girls without it going out of control. You know what? I got a fantastic idea, and it worked out to perfection.
I told them: "Let's play a game today. We all will start the day with 100 points and every time somebody doesn't follow the rules, I will deduct points. By the end of the day, whoever has the most points will win a surprise gift." They got so excited about the game, and we had one of the most fantastic (and easy) times together.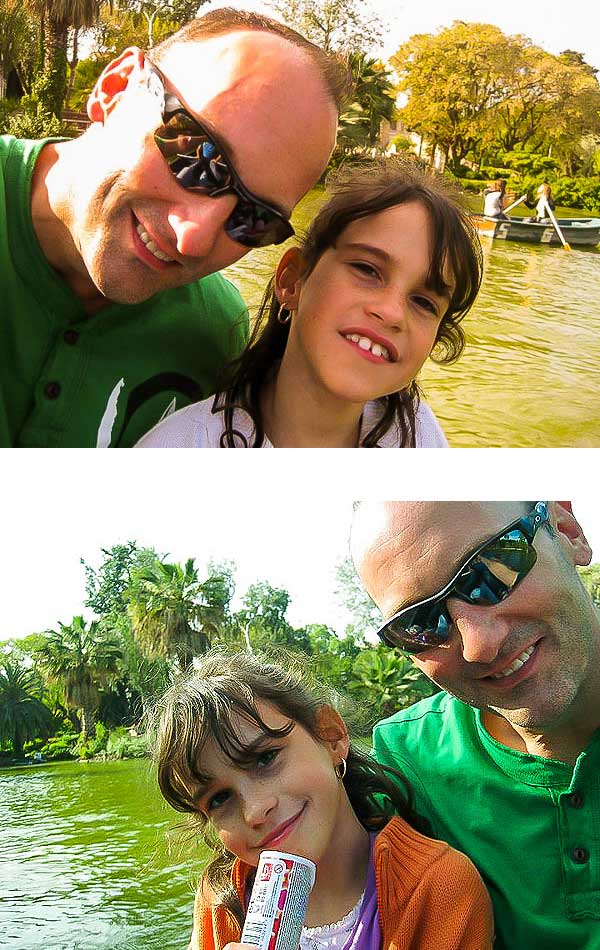 Throughout the day they kept asking me how many points they have, and what was the score, and what was the surprise. They looked so happy and excited, and I was over the moon with them. I love them so much. (Just to clarify, I have two more nieces and I love them all equally.)
We did everything at the park; we took a small row boat and rowed around a small lake, we ate ice cream, we jump over and around a big tree like monkeys, we laid in the grass, and at the end of the day we went to eat dinner. Dinner time was the time to tell which one of them was the winner, and the awarded gift. After the restaurant, we went to a toy store, and I finally told them: "You all are winners!! Go through the store and get whatever you want!" ...and I really did say "anything"!!!
The Best Day Ever!
But the most emotional and humble moment for me from the whole day is when at the toy store, with everything in the store to choose from, Laia, Anna, and Sofia each came to me with a tiny toy animal and said this is what they wanted. They were so adorable, and from such an early age they learned to value things that are important to them and not the material things. The next day my sister told us that the triplets said they had the BEST DAY EVER! You can imagine how I felt because I achieved my goal to spend quality time with them.
I hope I didn't bother you too much with my long story, but every recipe that I cook has a special story and place in my heart. I wanted to share this with you.
And finally... here is my new twist to the authentic Spanish Hot Chocolate.
The BEST Spiced Spanish Hot Chocolate
When I was researching the recipe for an authentic Spanish Hot Chocolate, I started to get different ideas such as Mexican Hot Chocolate. I had to pull myself back because I wanted to stick with my original idea. First, I thought that the secret ingredient to make this thick, rich, tasty chocolate was using cream and a lot of chocolate tables but I was wrong. The secret ingredient is cornstarch! Also, you can use xanthan gum or a gluten free alternative like chia and flax seed. These ingredients are used for baking or in soup as a thickener or binding agent.
For this recipe, I made several changes to adapt the chocolate to be more seasonal and add a little bit of my Caribbean flair.
You need to get a good quality chocolate bar and it doesn't need to be expensive. My suggestion is to get a dark raw chocolate bar without sugar or spices added. This way you can control the flavor profile that you want to achieve. This is my preference because I can decide how much sugar or how many spices I want to add.
Like this recipe so far? Be the first to know when we release new ones!
---
First, in a medium saucepan combine the whole milk, coconut milk, and warm on low to medium heat. Then add the chocolate, cinnamon, nutmeg, cardamom, sugar, vanilla, and instant espresso powder. Stir until the chocolate melts and the other ingredients combine.
To thicken the hot chocolate, spoon some of the hot milk chocolate liquid into a small cup, add the cornstarch and mix well until the lumps disappear. Then, pour the mixture back into the saucepan and stir until reaching the thickness and creamy consistency that you want.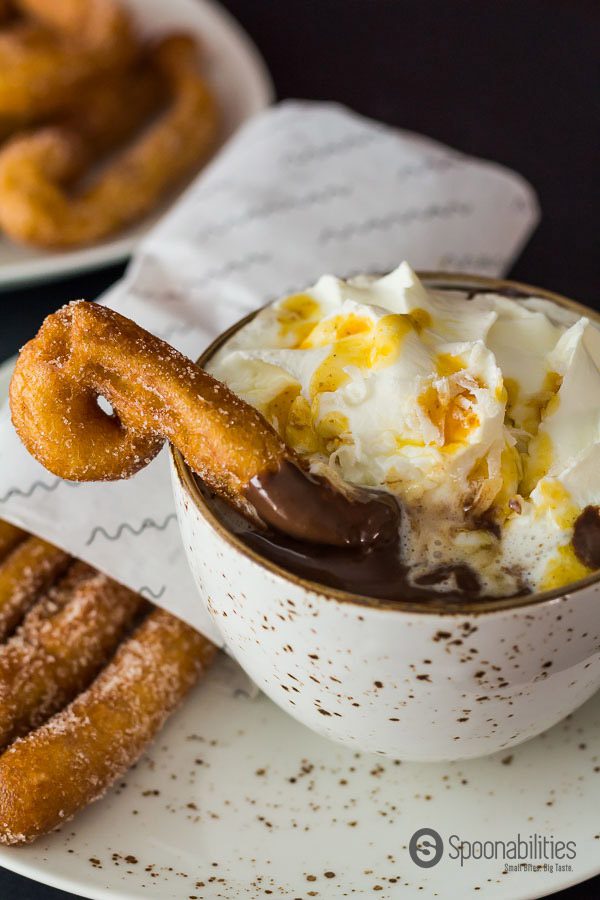 In a large coffee mug pour in the hot chocolate, add some whipped cream, sprinkle some coconut flakes and drizzle with Cinnamon Infused Vermont Maple Syrup or you can also drizzle caramel sauce on the hot chocolate. Go ahead and indulge yourself. We won't tell.
Enjoy this wonderful hot chocolate with CHURROS which you can make with my Churros Dipped in Salted Caramel Sauce recipe.
If you got all the way to the end of this post, I want to THANK YOU for reading, and I hope you enjoyed my story as much as I enjoyed writing this for you.
Carlos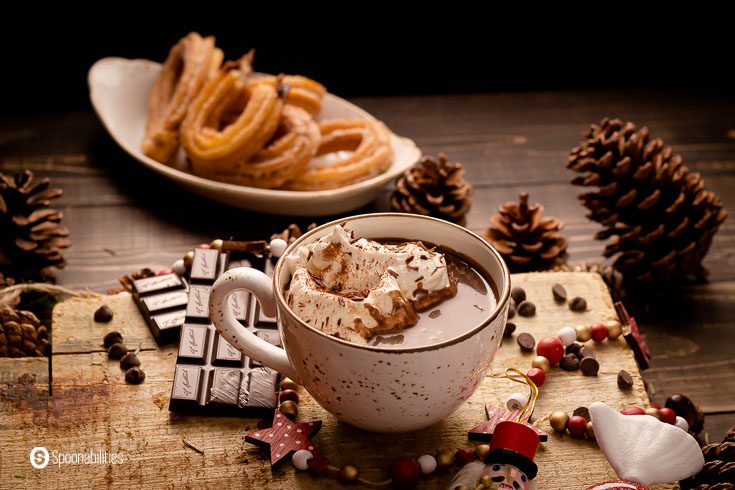 Print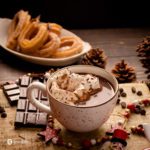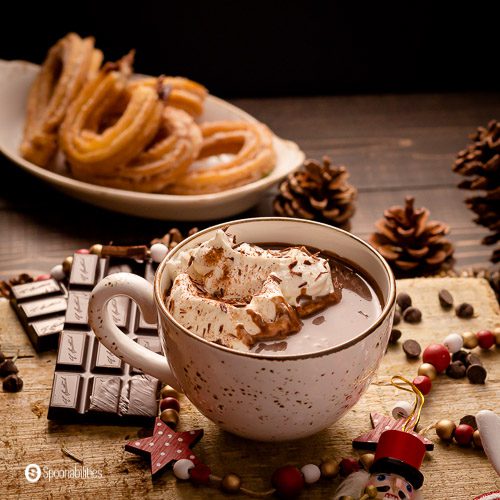 Spiced Spanish Hot Chocolate
---
Author:

Carlos Leo

Total Time:

18 minutes

Yield:

5

1

x
Description
This thick, rich and decadent Spiced Spanish Hot Chocolate recipe is my favorite hot drink. Inspired by authentic Spanish Hot Chocolate, it is enhanced with the flavors of coconut milk, cardamom, vanilla, instant espresso powder, and both coconut flakes and Cinnamon Maple Syrup drizzle on top. I always get a Spanish Hot Chocolate the second I land in Barcelona, Spain whenever I visit my sister. Now you can make it in your own kitchen!
---
3

cups

Whole Milk

1

cup

Coconut Milk

8

oz

Dark Chocolate

¼ teaspoon

Cinnamon

⅛ teaspoon

Nutmeg

¼ teaspoon

Cardamom

½ teaspoon

Vanilla

1 teaspoon

Instant Espresso Powder

1 teaspoon

Cornstarch
OPTIONAL TOPPINGS:
¼

cup

Sweet Coconut Flakes
Whipped Cream
---
Instructions
Warm the milk and coconut milk in a large saucepan on low-medium heat.
Add the cinnamon, nutmeg, cardamom, vanilla, and instant espresso powder. Stir constantly to make sure everything is combined.
Pour some of the hot milk in a cup and mix with the cornstarch until the lumps dissolve. Add the mixture back into the saucepan. Whisk until the cornstarch is well mix and there is not lumps.
Add the dark chocolate and stir until the chocolate is melted.
Keep stirring until you get the thickness desired. It may take between 5 and 10 minutes to reach a thick consistency.
Serve in a large mug and add a spoonful of whipped cream, sprinkle on some coconut flakes and drizzle on some Cinnamon Maple Syrup.
Notes
The whipped cream and other toppings not included in the nutritional facts
Prep Time:

3 minutes

Cook Time:

15 minutes

Category:

Drinks

Method:

heating

Cuisine:

Spanish
Keywords: Spanish chocolate, hot chocolate, spiced hot coco, hot coco, spiced hot drinks
Recipe Card powered by