Brown Butter Roasted Turkey Breast for Two is the ultimate recipe for a small-crowd holiday dinner. It's Thanksgiving turkey reinvented; a moist bone-in turkey breast recipe with a warming buttery and herbaceous feel and a spicy kick. I'll also tell you the story behind the brown butter, and red chili flakes, and why I love them.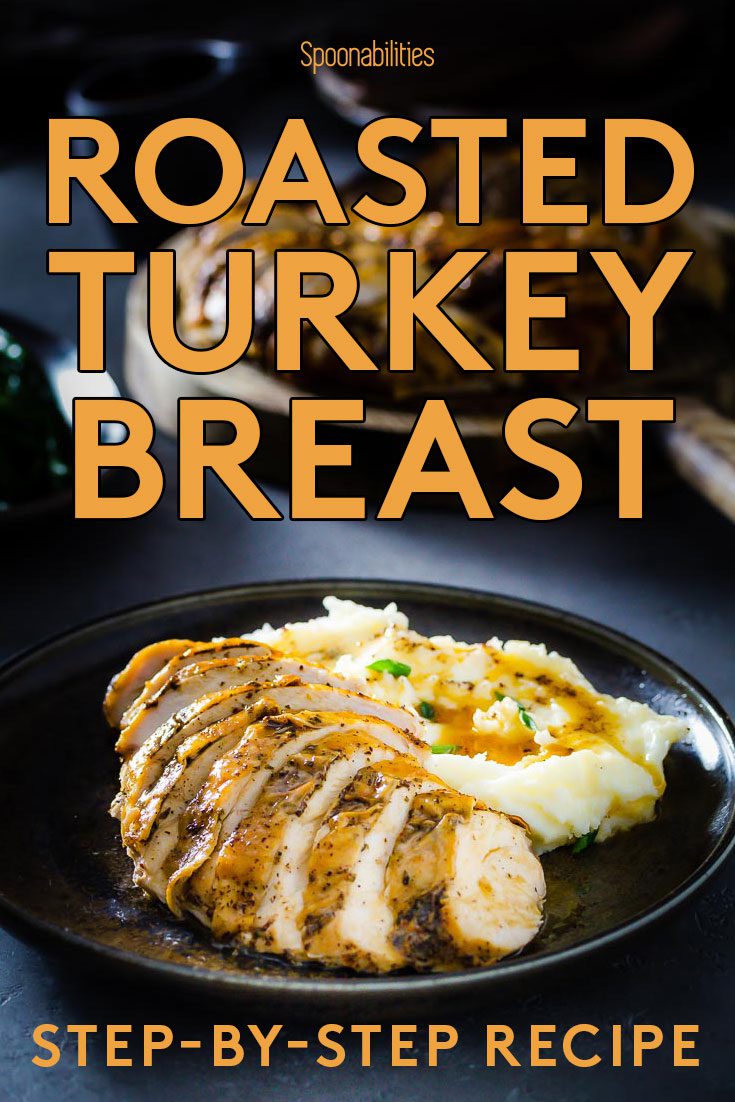 Blog post may contain affiliate links. Read our Disclosure Policy. All photographs are copyright Carlos Leo, Spoonabilities
Hello my friends. Officially inaugurating the holiday season, I'm sharing with you an easy recipe for a gorgeous, roasted turkey breast, but we're also solving a problem.
Why is it that all the recipes for roasted turkey call for a whole bird? I mean, Geoffrey and I are known for cramming down our fair share of turkey during the holidays, but a whole bird? That's not going to happen. That's why we created this recipe for an exceptional dinner for two. Two people sharing the table, thankful for each other, over a decadent meal. We named it the Brown Butter Roasted Turkey Breast, and you'll soon find out why.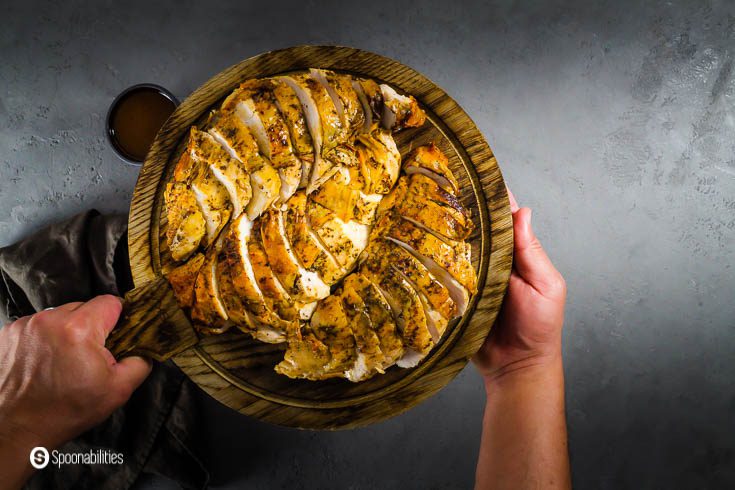 You'll love this easy, flavorful roasted turkey breast. Beautifully seasoned, and provocatively tender turkey meat with golden skin that just calls for a celebration. This is an easy turkey recipe too, and those are scarce!
We're working with whole bone-in turkey breasts, with the skin and all. This is the secret behind a tender and juicy turkey; all the flavor comes from the bones and skin. And you know we're not missing out on the dripping gravy, it's the best part! All with two skin-on, bone-in turkey breasts. Forget about your carving knife this year.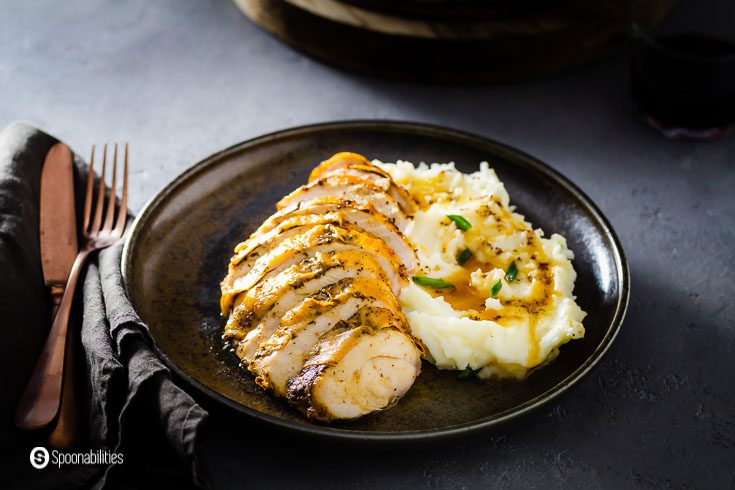 How to Make Perfectly Roasted Turkey Breast
Today we're mixing Brown Butter along with Smoked Chili Flakes and other herbs, spices and lemon juice, and rubbing it all over our turkey breasts and right under their skin. Picture a buttery golden skin, with the most enticing mild spiciness and all the aromatic herbs infused into the fork-tender turkey meat. Every bite is a burst of flavor!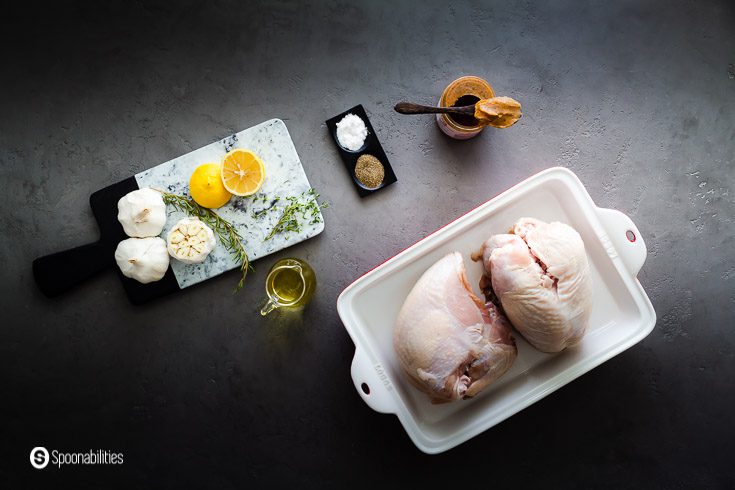 Prepare the herb-butter mixture by combining the brown butter, finely chopped rosemary and thyme, grated garlic, Daphnis & Chloe Smoked Chili Flakes, sea salt, ground pepper, and lemon juice.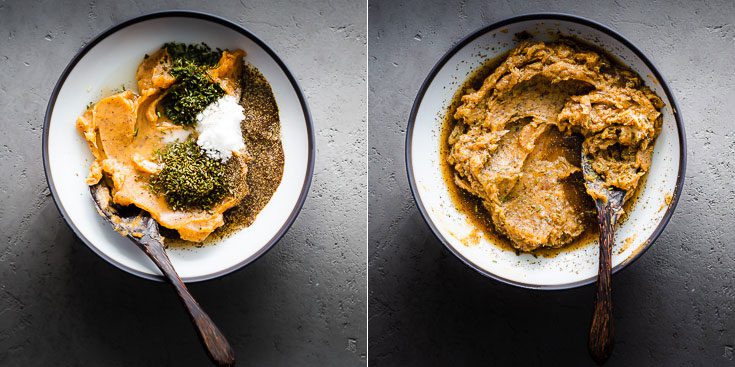 Gently loosen the skin from the bone-in turkey breast. We are cooking a whole turkey breast, two halves with the bone attached. You can use two halves not attached too.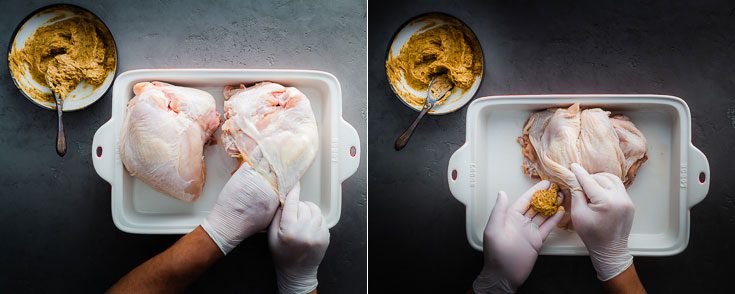 Rub the brown butter-mixture under the skin and all over the top of the skin.
Place the turkey breast in a baking dish with some rosemary and thyme sprigs, lemon juice, a whole head of garlic with the top cut off, and white wine. Crack the center of the breast plate (the bone) as much as you can to position the breast as flat as possible.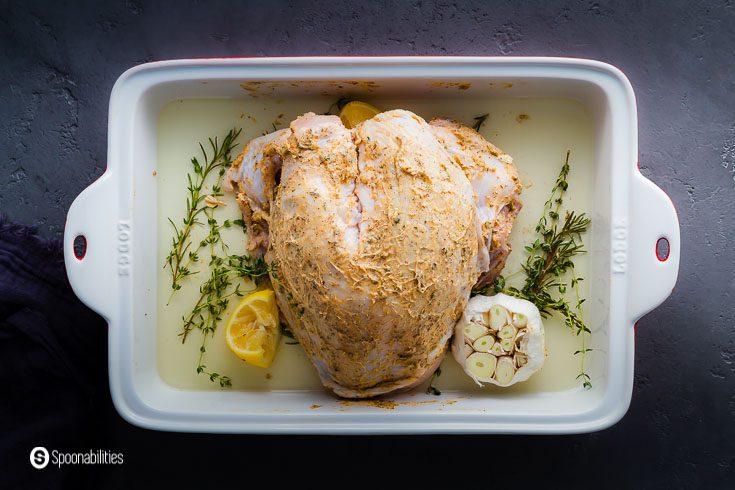 Put it in the oven to bake the buttered turkey breast. The baking time will depend on the weight of the turkey breast. Check the pro tip notes below. I cooked this turkey for 1-½ hours or until the internal temperature reaches 170 degrees.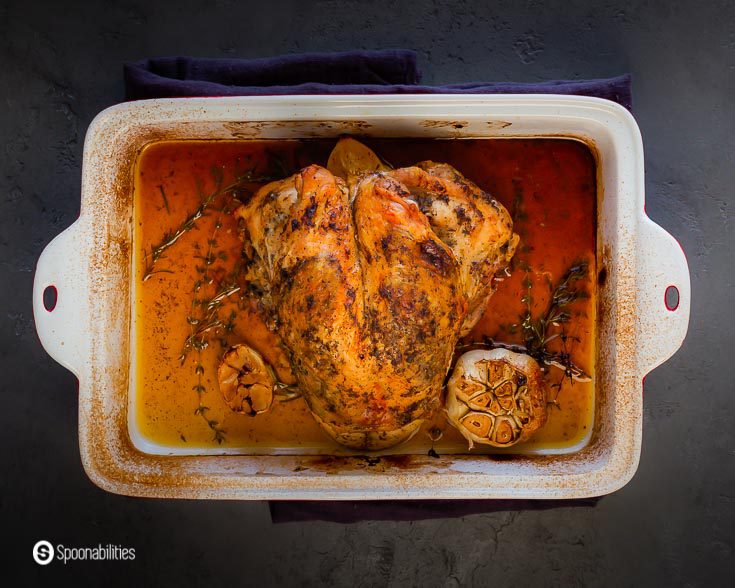 Transfer the turkey breast to a platter and cover loosely with tin foil. Let it rest for 10 minutes before carving.
Now use the dripping juices to make gravy as you normally do. I add Worcestershire sauce, chicken broth, and flour to thicken up the sauce.
Serve with your favorite side dishes (we have some suggestions below)
Like this recipe so far? Be the first to know when we release new ones!
---
Before I ever share a recipe with you, I've already worked out several versions of the dish, because there's lots of trial and error going on, and Geoffrey is a very enthusiastic multi-dish judge. Once we come up with the perfect recipe, we post it here for you. This time, what really did the trick was using brown butter and smoked chili flakes. Let me tell you more about these flavor enhancers.
What Is Brown Butter and Why You'll Love It
As you know, we're quite picky when adding new products to our gourmet online shop, and more often than not, these artisan products take our cooking to dramatic levels. Today it's all about Black & Bolyard Grass-fed Brown Butter.
Andrew Black and Eric Bolyard met while cooking at one of the best restaurants in the world, Eleven Madison Park, and found they both loved exciting new flavor combinations. The cooks ended up launching their line of caramelized, grass-fed, non-GMO butter from American farms, and Black & Bolyard was born.
Geoffrey and I are super proud of offering these fabulous, infused kinds of butter at Spoonabilities, and we cook with them a lot.
Sometimes turkey is boring and bland. For a flavorful turkey, the combination of the brown butter, smoked chili flakes, herbs, garlic, and lemon juice takes the flavor of this herb-roasted turkey breast to the next level.
Ingredient Substitutions:
Brown Butter: If you don't want to get the brown butter we have in our online shop, you can make your own. In this recipe for pumpkin bread, I show you how to do it. You can also use softened regular butter if you're not feeling using brown butter or making your own. If you do make your own brown butter, be sure to let it get cold and solid before using it for this recipe.
Herbs: You can use any combination of herbs and spices to infuse flavor: sage, thyme, rosemary, etc., along with the lemon juice or lemon zest, and garlic. Use the herbs that you love the most and your turkey will be the best you've ever tasted.
What Size Turkey Breast Do You Need?
Besides "how long do I cook my turkey?", knowing what size to get in the first place is the biggest question everybody has.
Here is a simple guide: Estimate 1-1.25 pounds per person. For example, 8-10 pounds will yield 6-8 servings. If you want some leftover for the week, estimate 1.5 pounds per person.
Or the easiest way to pick the right size turkey for two is to get a split turkey breast, but you will be sorry that you didn't make extra for leftovers because this turkey is the BEST herbed roasted turkey breast. Geoffrey approved it!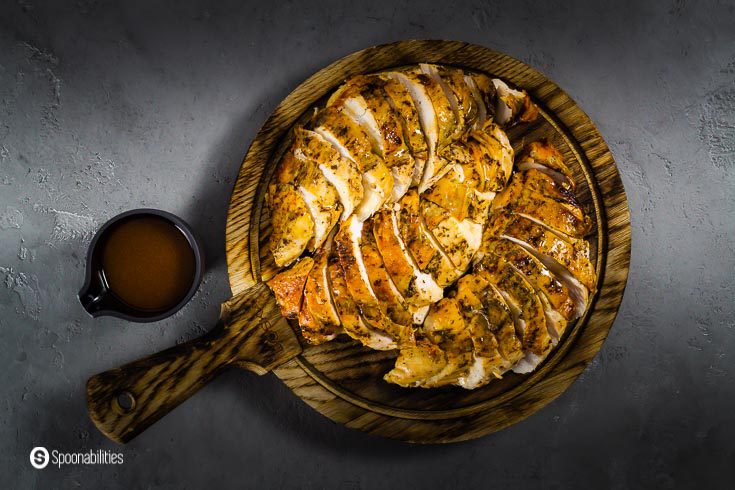 What's the Correct Turkey Cooking Time?
Bone-in turkey breast takes around 20 minutes per pound. Insert a kitchen thermometer in the thickest part of the meat 30 minutes before your turkey is scheduled to be ready to check the temperature. The turkey is ready when it registers 165°F. It's super important to use a kitchen thermometer for accurate doneness for cooked turkey breast.
Bone-in Turkey Breast Roasting Chart
Preheat your oven at 450F degrees, and when the oven is ready, reduce the temperature to 350F degrees before roasting.
4-6 lbs. roast for 1-1.5 hours
6-8 lbs. roast for 1.5-2 hours
8-10 lbs. roast for 2-2.5 hours
10-12 lbs. roast for 2.5-3 hours
More Turkey Roasting Pro Tips
Thaw bone-in turkey breast before roasting if it's frozen. Usually a frozen turkey breast will thaw in about 24 hours in the refrigerator.
Remove the turkey from the refrigerator and let it sit at room temperature for an hour before you plan to roast the bird.
The real secret for a tender and juicy turkey is to cook the turkey breast with the bones and the skin. The advantage to roasting a turkey breast is it's easier to maintain moist and juicy white meat.
There is no need to baste the turkey breast while is roasting, or brine your turkey before roasting.
Cover the split turkey breast with aluminum foil if you see the skin begins to brown too much.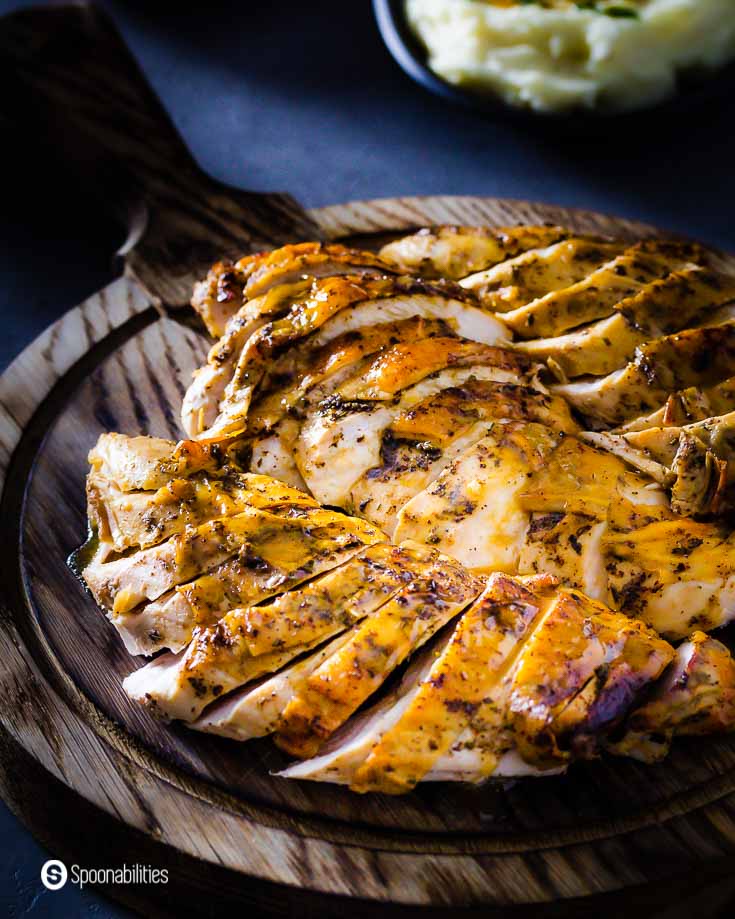 Unique Side Dishes for Your Roasted Turkey
Let's get started to make a roasted turkey breast for two. But don't forget your side dishes. Serve this turkey breast with mashed potatoes and blanched green beans for the most colorful and satisfying meal and here are some more side dish options you may not have thought of: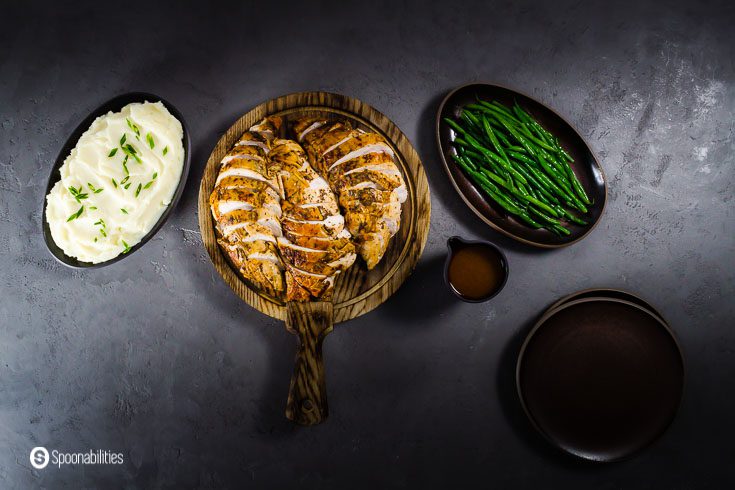 I hope you get a chance to make this brown butter turkey breast. When you do, tag @Spoonabilities on Instagram or add a photo or comment on Pinterest, so we can find you! And we love to hear from you in the comment section below.
Carlos Leo
Your Recipe Concierge!
Print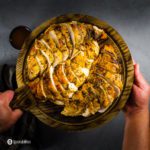 Roasted Turkey Breast with Chili-Herbs Brown Butter | Thanksgiving Dinner for Two
---
Author:

Carlos Leo

Total Time:

1 hour 55 minutes

Yield:

1

6

1

x
Description
Oven-roasted turkey breast for two is seasoned with a delicious brown butter, smoked chili flakes, rosemary, thyme, garlic, and white wine. Put together an intimate meal with all the flavors of Thanksgiving dinner. This bone-in turkey breast recipe is easy to make with simple ingredients, and is juicy, and very flavorful.
---
2

skin-on, bone-in turkey breasts (

3.5

-

4

lb. each)

1 ½ teaspoons

Daphnis & Chloe Smoked Chili Flakes

4

+ sprigs rosemary (finely chop

1.5 teaspoons

, and reserve rest to put in the oven with the turkey)

6

+ sprigs thyme (finely chop

1.5 teaspoons

, and reserve rest to put in the oven with the turkey)

2

heads of garlic (grate

4

cloves with a microplane, and cut the top off of the other head - See photo)

2 teaspoons

sea salt plus some to sprinkle on the skin before putting in the oven

1 teaspoon

freshly ground black pepper

2 Tablespoons

freshly squeezed lemon juice (a

half a

lemon). Reserve the whole lemon to put with the turkey breast in the oven.

2

cups

dry white wine

2 teaspoons

Worcestershire sauce to make gravy with pan drippings.

¼

cup

all-purpose flour for gravy
---
Instructions
Preheat: Arrange an oven rack in the bottom third of the oven and preheat to 450°F.
Make herb butter: In a bowl, mix together the Brown Butter, Smoked Chili Flakes, chopped thyme, chopped rosemary, grated garlic cloves, lemon juice, salt and pepper.
Gently loosen skin from turkey breasts and rub the butter under skin and all over outside of breasts.
Prepare for baking: Scatter some thyme and rosemary sprigs, the full head of garlic, and the unsqueezed lemon half on the baking pan, and arrange turkey breasts, skin side up, on top. Scatter the rest of the thyme, rosemary, garlic, and squeezed lemon half around the baking dish. Sprinkle on some salt and pepper. Pour the wine into the bottom of the roasting pan.
Put the turkey in the oven: Lower the oven to 350°F and roast the turkey for 1.5 hours. After 1 hour, check the temperature. Note: The weight of your turkey will determine the actual cooking time. Estimate 20 minutes per pound. The turkey is done when the internal temperature reaches 165°F in the thickest part of the breast meat.
Let it rest: Transfer turkey breasts to a platter and cover loosely with aluminum foil and let rest 10 minutes before carving.
Cut the turkey breast into serving sizes and place in a serving plate or on a wooden board.
Make the gravy: In a small saucepan, add the pan drippings, and 2 teaspoons of Worcestershire sauce. Put 1 cup of chicken broth in a larger measuring cup, and add ¼ cup of all-purpose flour. Whisk until combined and then add it to the saucepan.
Prep Time:

25 minutes

Cook Time:

90 minutes

Category:

Dinner/holiday

Method:

roasting

Cuisine:

American
Keywords: Roast turkey, roasted turkey, baked turkey, oven roasted turkey, thanksgiving dinner, thanksgiving turkey, holiday dinner, Christmas dinner, dinner for two
Recipe Card powered by
Available via these Amazon links:
Disclaimer: Links that open in another site, i.e. Amazon, may be affiliate links where at no additional cost to you, we may receive a small commission should you decide to purchase the item. Read our Disclosure Policy