Mini Caramel Apples is one of the simplest and easiest recipes ever. Only four ingredients and a few steps. But once it's made you will have to wait around two hours before you get to taste this sweet treat which is perfect for any holiday season.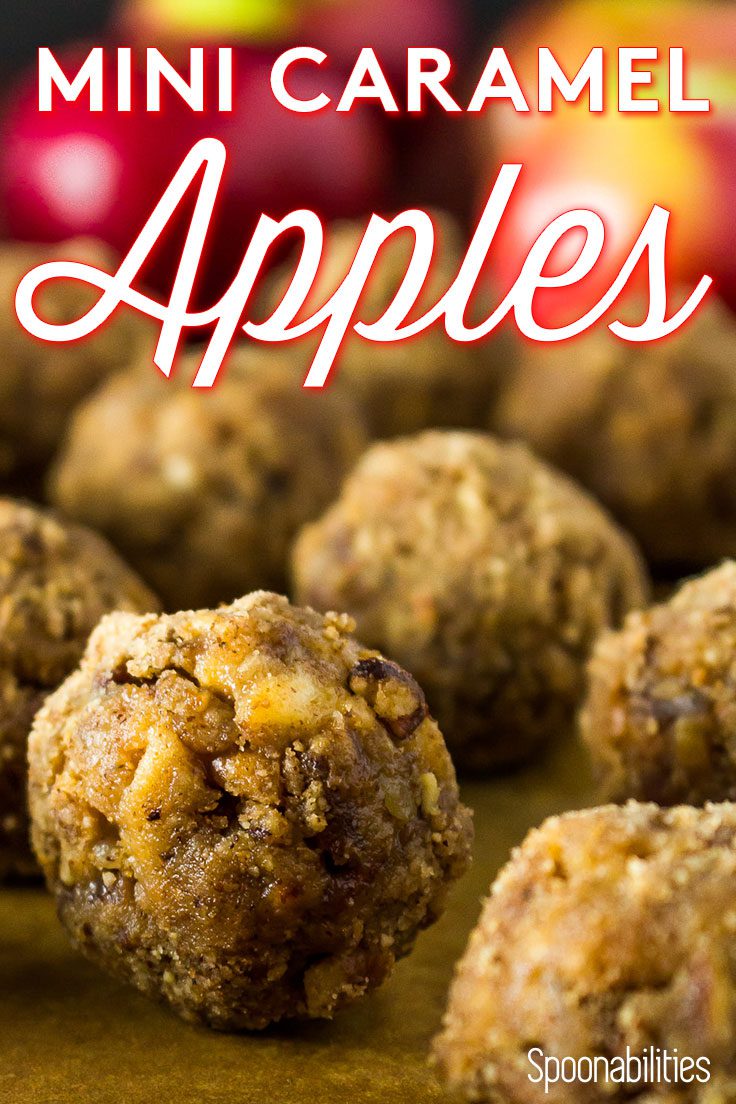 Hello my friends, today I have for you one of the simplest and easiest recipe ever... Mini Caramel Apples!! This dessert or snack recipe is kid friendly. With just one bite, you can give your kids their daily fruit portion :) from the apple, a fun crunch from the toasted pecans, holiday aroma/flavor from the cinnamon, and a sweet and delicious taste from the caramel sauce.
Jump to: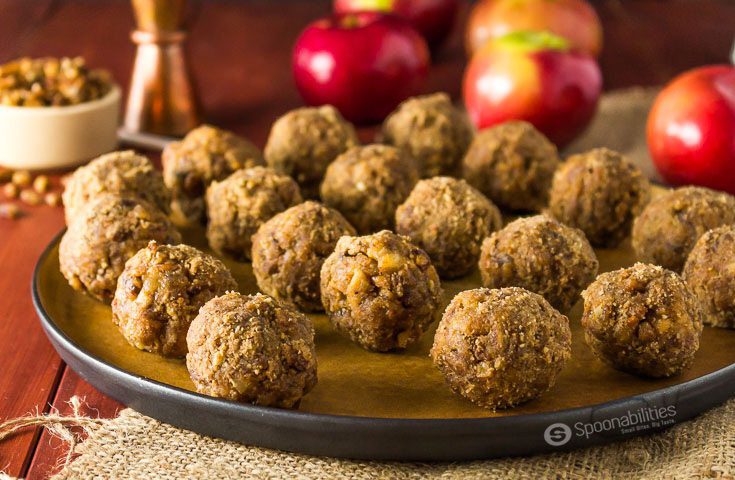 Caramel Decisions to Make
When I started to plan this recipe for Mini Caramel Apples, I knew that I wanted to make something with apples, caramel, and nuts. The first idea that I got was the traditional whole large apple covered in caramel and small pieces of nuts. Another idea was to create an apple caramel bar with a lot of toppings for a fun birthday party for the kids. All those ideas sound like a lot of fun for kids, but they sound too basic and traditional for me. You know me if you have been following me; I like to cook simple recipes but also add a twist.
Drooling over this recipe? Be first to receive new recipes!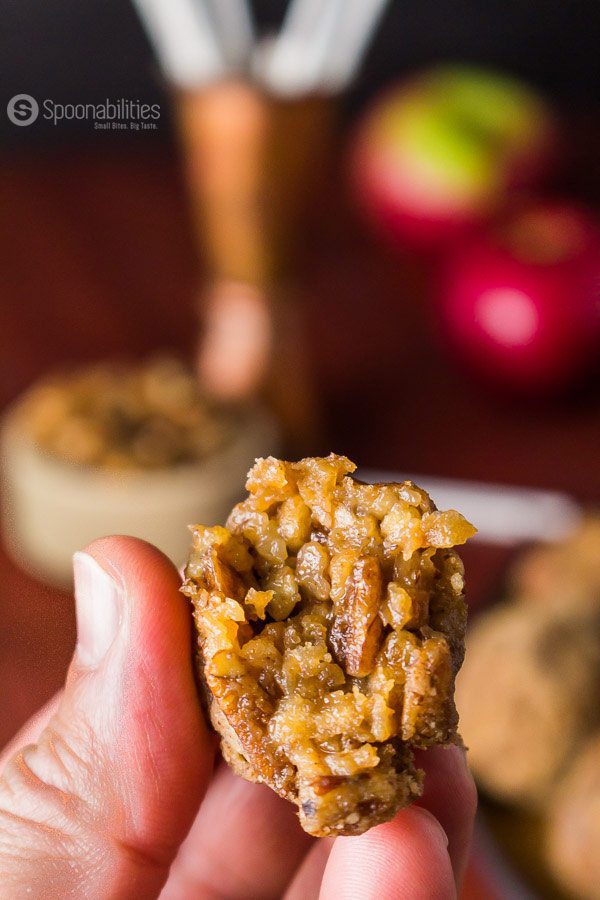 Instructions to Make Mini Caramel Apples
Okay, to the kitchen to explain this super easy caramel apple recipe. Turn the oven on to 225F degrees. Wash and peel the apples, then grate them using the food processor or a traditional grater. Take two cookie sheets and on one of them put parchment paper, spray on some butter and layer the grated apples evenly. Sprinkle on some ground cinnamon.
Place the pecans on the second tray (you don't need to butter this tray). After you have both trays ready, put them in the oven and set the timer for 1.5 hours. Make sure to check frequently and stir so that the apples and the pecans toast and dry evenly.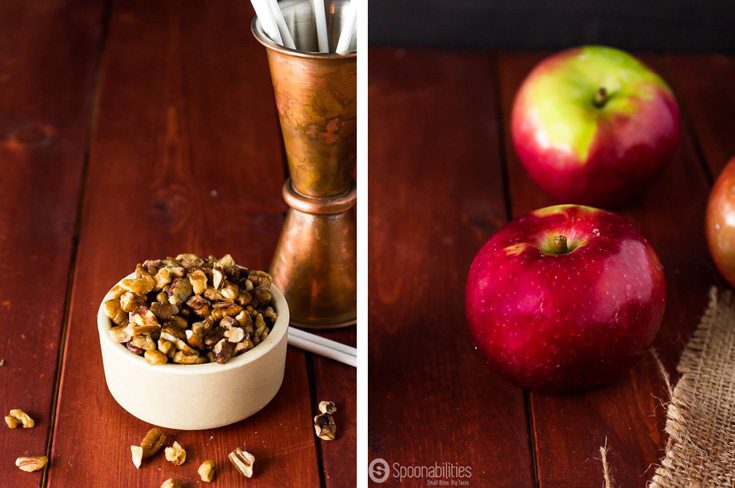 After the oven time is up, scrape the apple from the tray into a medium bowl. In a plastic bag crush some of pecans in small pieces, then add them to the bowl with the apples. With the rest of the pecans, crush them very fine or use a coffee grinder. Most of them will be powdered and some in very tiny pieces. Set aside.
Take the jar of caramel sauce and heat it in the microwave for 10 or 15 seconds, and stir it in the jar. We just need the caramel to be soft and workable. Pour the caramel sauce into the pecan-apple mix and mix well. Cover and leave it in the refrigerator for 3-4 hours. In my case I forgot about it, and I left the mixture in the fridge overnight. It's okay.
Next, form a small ball using a small ice cream scoop. When you try to form a ball with your hands, it will be very sticky, and it will be better to use gloves during this step. Place the mini caramel apple balls on the plate and roll them around in the powdered pecans, until they are well covered.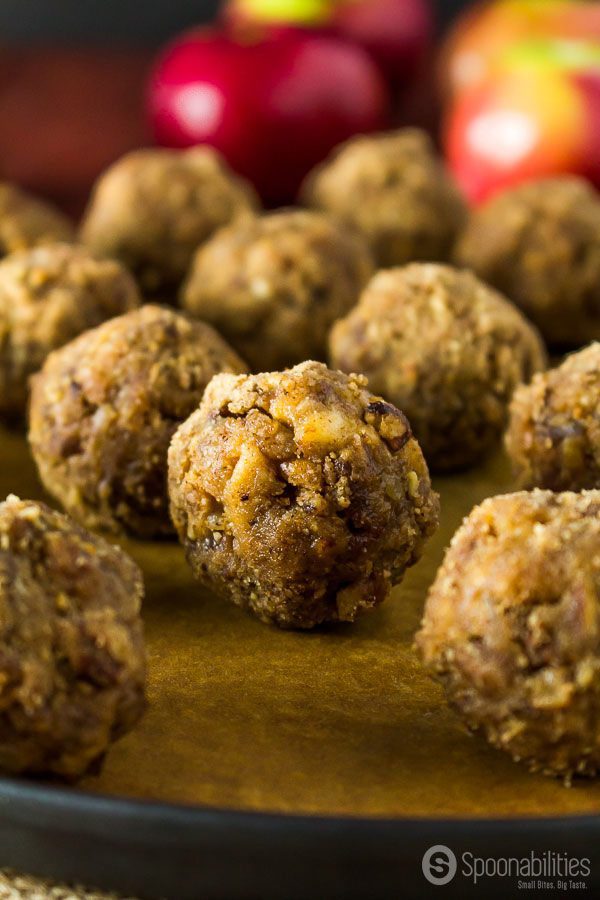 Place the Mini Caramel Apples Bites in an airtight container and keep them in the refrigerator. Perfect for snacking throughout the day for a boost of sugar and energy. After you try this recipe, with the leftover caramel sauce you can make my first drink recipe with caramel sauce that everyone is loving called Caramel Apple Cider Vodka Punch!
UPDATES: This recipe is also part of our special group of caramel sauce recipes called 6 Creamy Dreamy Caramel Sauce Recipes, and don't miss our other seasonal & holiday recipes.
Have a happy and fun week!
Carlos
Your Recipe Concierge
Print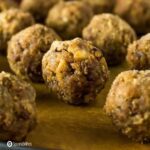 Mini Caramel Apples Recipe
---
Author:

Carlos Leo

Total Time:

5 hours 30 minutes

Yield:

25

Balls

1

x
Description
Mini Caramel Apples are easy to make with 4 ingredients. Tasty holiday treat or snack for kids and adults. Made with caramel sauce, apples, pecan, & cinnamon. You can make around 20-25 balls. It will depend the size of the ball.
If you like this recipe, why not join our newsletter list
---
2

peeled and grated Granny Smith apples

1

jar of Caramel Sauce

12

oz

pecan halves

2 teaspoons

ground cinnamon
Butter or cooking oil spray
---
Instructions
Preheat oven 225 degrees Fahrenheit
Place parchment paper on a cookie sheet and spray with butter. Place the grated apple evenly on the tray. Sprinkle the ground cinnamon on top.
Add pecans to a second cookie sheet.
Place in oven for 1.5 hours, turning apples and pecans a few times to dry out evenly.
Take apples and pecans out of the oven. Scrape apples into a bowl.
Crush in small chunks 8oz of the pecans. Add to apples.
Crush the remaining pecans until mostly powder and little pieces. Put aside.
Put the Caramel Sauce in the microwave for 10 seconds and stir. And, put it for 5-10 more seconds
Add the Caramel Sauce to the pecan and apple mixture. Stir well.
Place in fridge for 3-4 hours (I did it overnight).
Take mixture out of the refrigerator. Using a small ice cream scoop, form small balls. If you use gloves it is easier to give the round shape.
Roll balls in the powdery pecans.
Store in a container in the refrigerator.
Prep Time:

240 minutes

Cook Time:

90 minutes

Category:

Dessert

Method:

baking

Cuisine:

American
Keywords: deconstructed caramel apples, deconstructed dessert, fall dessert, autumn desserts, caramel apple balls, caramel apple bites, apple balls sweets, apple caramel sauce, apples and caramel sauce
Recipe Card powered by
Ingredients & Equipment available via these links:
Disclaimer: Links that open in another site, i.e. Amazon, may be affiliate links where at no additional cost to you, we may receive a small commission should you decide to purchase the item. Read our Disclosure Policy.