An espresso martini is fairly easy to make. Mix together vodka, coffee liquor, creme de cacao, and espresso in a cocktail shaker. But if you want a nice thick frothy top to hold a 3 espresso bean garnish, there are a few pro tips you need to know before you can call yourself a weekend mixologist.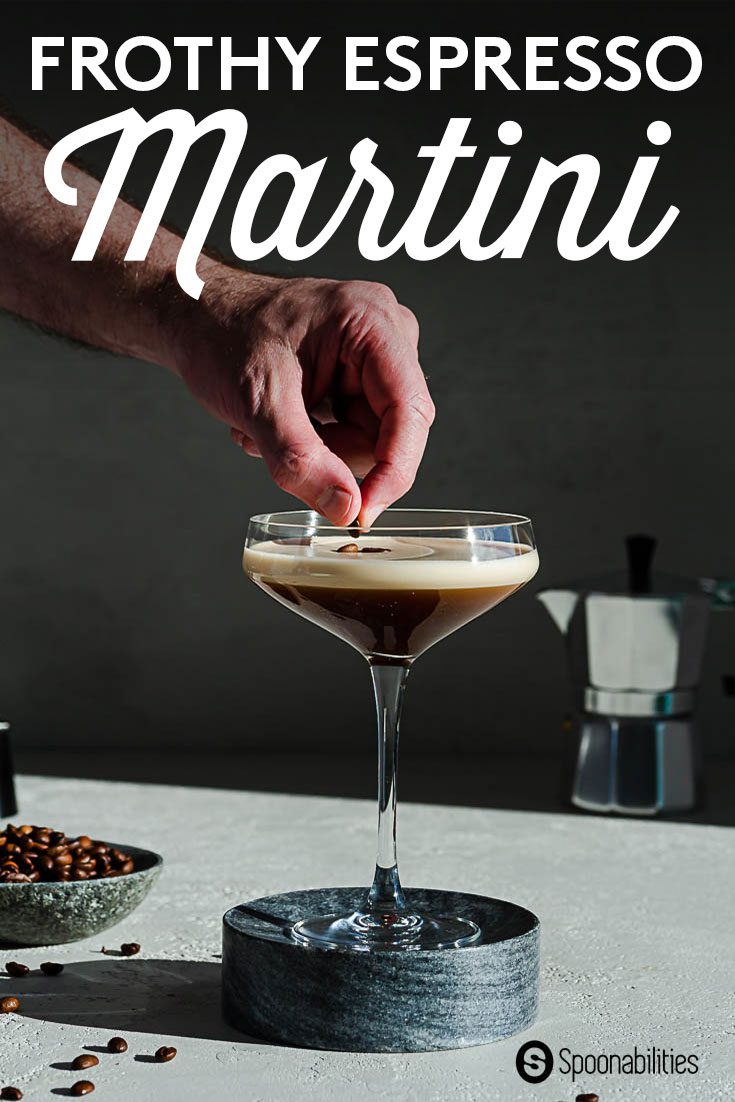 Hello my friends.
What do you do when you want to have a cocktail, and you need a little pick-me-up at the same time? You have an espresso martini of course. A frothy espresso martini is the perfect drink to get your night started, or something to brighten your eyes half-way through your night. If made perfectly, there's nice foam on top where you put a few espresso beans as a garnish. If you are out on the town with friends, just don't ask the bartender to make 23 of them... story ahead.
23 Espresso Martinis & 3 Unhappy Bartenders
Last year we were in Grand Cayman and had a wonderful time, part of which was sitting at the Anchor & Den Bar where we met two of the bartenders, Danny and Bojan. One night we asked Danny what drink bartenders hated making the most. He said an espresso martini because there's the extra step of brewing the espresso and waiting for it, so the total drink takes a long time, and they get backed up on making other drinks. When he had some free time, he made us one. The next night when we were at the bar, a guy came up and ordered 3 espresso martinis for him and two girls he was with from the large convention group that checked into the hotel that afternoon. The girls loved the cocktails and started telling all their coworkers about them. Twenty minutes later, they ordered 23 espresso martinis (no lie, no exaggeration). We watched as all three bartenders hustled to make them, and I can't say it was done with a smile. Sorry guys. Of course our joke the next few nights was to sit at the bar and order 23 espresso martinis.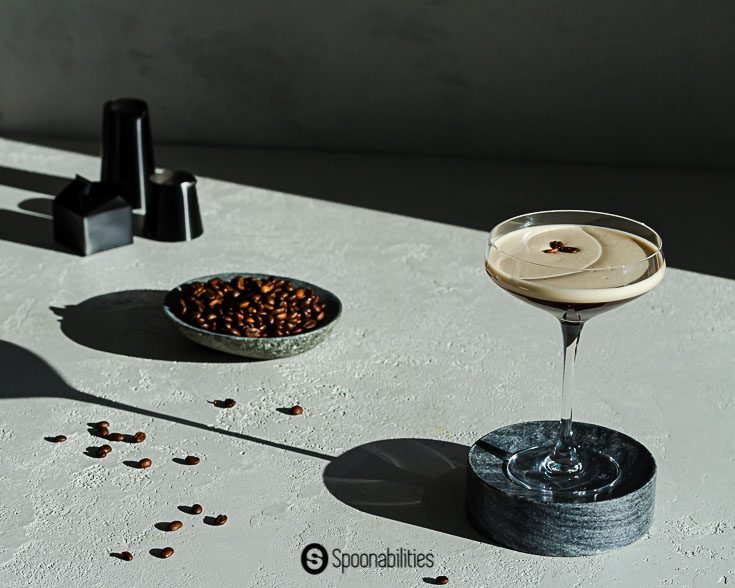 When we got home to Miami, we sent a DM to one of the bartenders to get their recipe, and I'm now sharing it with you. The recipe isn't anything too special as far as espresso martinis go, but I think Danny and Bojan made it look special by the glass they put it in, and the amount of foam that was on top from them shaking it up so long. So, it's a fairly easy recipe that you can definitely make yourself at home.
Steps to Making an Espresso Martini
Making an espresso martini is fairly easy. In a cocktail shaker with ice, you put in vanilla vodka (regular vodka is okay if you don't have vanilla vodka), coffee liquor (Kahlúa), creme de cacao, and a shot of espresso. Shake it and strain it into a martini glass. If you shook long enough, you will have a nice froth on top to hold 3 coffee beans as a garnish. That's it. Pretty easy. But if you want a nice foam on top, there are a four tips below to make you look like a pro.
Can I make an Espresso Martini with Coffee?
If you are making your espresso martini at home and you don't have espresso or an espresso machine, and you're not trying to impress anybody, just use coffee. If you're going to make coffee especially for this cocktail, make it extra strong. Also fyi, using coffee will not give you a foamy top unless you use pro tip #4 below. By the way, the time it takes to make this coffee cocktail in the recipe card below does not include making the espresso or coffee.

4 Pro Tips for Perfect Frothy Foam on your Espresso Martini
To get a very frothy top on top of your espresso martini, you need to shake, shake, shake the mixture for a few seconds past when you think your arms will fall off (minimum 20 seconds). The ice needs to near-freeze all the liquid and the ice needs to break up in the shaker. If you have the time (aka patience,) put your empty, clean martini glasses in the freezer so they are nice and cold. Also once you are done shaking, don't let the drink sit around. Pour it right into the chilled martini glass, put on the coffee bean garnish, and serve your cocktail. The froth is made from the drink being shaken and cold. As it warms up, the froth will go away.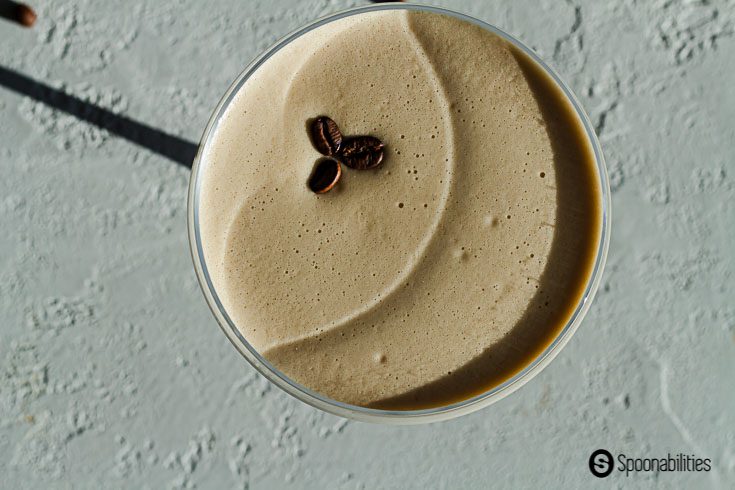 Espresso Martini Foam PRO TIP #1:
Using freshly brewed espresso including the crema (foam that comes out of the espresso machine) is imperative to a rich foamy martini. I also find that of the three alcohols, it's the coffee liqueur (Kahlúa) and the creme de cacao that help create the froth. If you find that you don't have enough froth for your liking, and can't bear to shake it any longer, add another ½ ounce each of kahlua and creme de cacao, and shake again. That may do the trick.
Espresso Martini Foam PRO TIP #2:
If you want extra caffeine in your drink, you may be tempted to put in more than 1 shot of espresso. Be warned that if you add the liquid espresso without the crema, it will dilute the mixture and you won't get that foam top as much as you expect. If you use coffee instead of espresso, it will still taste great, but give up trying to have a nice foam top.
Espresso Martini Foam PRO TIP #3:
Almost all of our drink recipes are for two people. When you are pouring drinks for two, and especially when there is foam involved, be sure to fill both cocktail glasses halfway, and then complete them. The foam will be at the end. If you pour one full drink and then the other, all the foam will be in one glass and not the other.
---
Espresso Martini Foam SUPER SECRET PRO TIP #4:
OK, don't tell this to anyone. Professional bartenders will either be mad at me for sharing this, or call it sacrilege and deny even knowing about it. But if you listen really close I can whisper it to you... If you have trouble getting your espresso martini to foam, add a half teaspoon of aquafaba. That's the juice that a jar of garbanzo beans (chickpeas) comes in. It doesn't affect the flavor and will definitely ensure you have a nice frothy top that sticks around for a long time. But you didn't hear about that from me ;)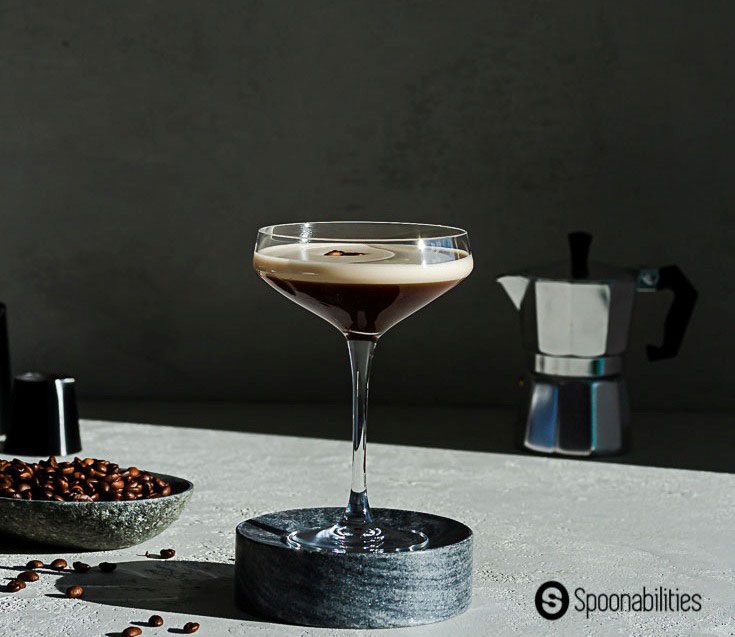 We brought back some other cocktails from our stay at the Anchor & Den. We're still working on publishing some of them, but for now you should seriously check out the Bloomsbury Garden Cocktail, and let us know what you think.
Interested in more Delicious Cocktails? Here are 9 more from our collection:
Hopefully you learned something new today about the espresso martini and how to get a great foam head. If so, let me know in the comments below. I would love to see how making this cocktail goes for you. Share your photo when you make this martini tagging @Spoonabilities on Instagram, and leave a comment or photo on pinterest so we can see what you made. Have fun!
Cheers,
Geoffrey
Spoonabilities' official cocktail maker and drinker
Print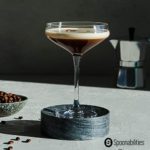 How to Make the Best Frothy Espresso Martini
---
Description
Making an espresso martini is fairly easy. You need a cocktail shaker, vodka (vanilla vodka if you have it), coffee liquor (Kahlúa), creme de cacao, a shot of espresso, and some espresso beans for a garnish. The only other thing you need is some stamina to shake for 20 seconds. If you want a nice foam on top, there are a few tips to make you look like a pro.
---
We partner (affiliate links) with Drizly delivery service, so if you don't have these ingredients you can have them delivered
---
Instructions
Put all ingredients in a cocktail shaker with ice and shake, shake, shake for at least 20 seconds.
Strain in a martini glass. If you shook it enough, there will be enough froth on top to hold 3 coffee beans as a garnish.
Equipment
Notes
Drink responsibly. If you are under the legal drinking age limit for your state or country, this recipe is not for you. Sorry.
We partner (affiliate links) with Drizly delivery service, so if you don't have these ingredients you can have them delivered
See Espresso Martini recipe blog post for 4 pro tips for perfect frothy foam to hold your espresso bean garnish
Prep Time:

2 minutes

Category:

cocktail

Method:

cocktail shaker

Cuisine:

Cocktails
Keywords: coffee martini, espresso cocktail, caffeine cocktail, frothy drink, alcoholic drink with foam
Recipe Card powered by
Suggested Ingredients & Equipment
Links that open in another site, i.e. Amazon, may be affiliate links where at no additional cost to you, as an Amazon Associate we may earn from qualifying purchases, should you decide to purchase the item. Read our Disclosure Policy.