The beauty of this Pea Shoot Salad lies within the texture and flavor of the yellow pea shoots and zucchini, the detail of the micro arugula, and the bright color of the red radishes, along with the creaminess of the fresh burrata and the crunchy nuttiness of hazelnut. On top of that, all this fresh produce is available all-year-round. But wait! A beautiful salad like this is not complete without a tasty champagne mustard vinaigrette which gives a peppery, nutty and mustardy finish.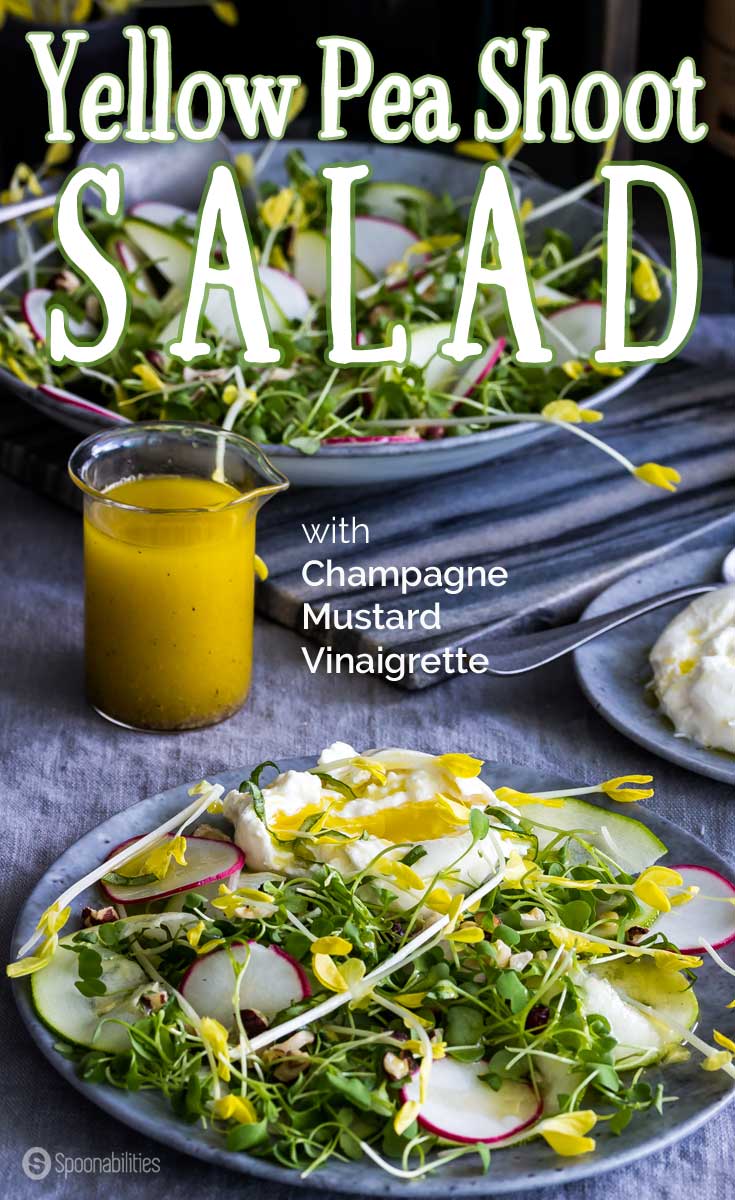 Blog post may contain affiliate links. Read our Disclosure Policy
Hello my friends. I have never been SO EXCITED to bring you a salad. Everything started when I contacted my friends from Bright Fresh through Instagram to find out where I can get their MicroGreens here in Miami. The sad news is that there isn't a supermarket carrying their products anywhere on the east coast. :(  As unfortunate as that is, they were super friendly and the very next day they so generously sent me, all the way from California, for free, some of their amazing products. Can you believe it? I was SO HAPPY when I received the box. :)
This sample box from Bright Fresh is the very first gift I have received since I started blogging. After my disappointment that I couldn't buy their products anywhere, you can imagine how excited I was when I opened the box and found those beautiful micro greens and zucchini blossoms just waiting for me to try.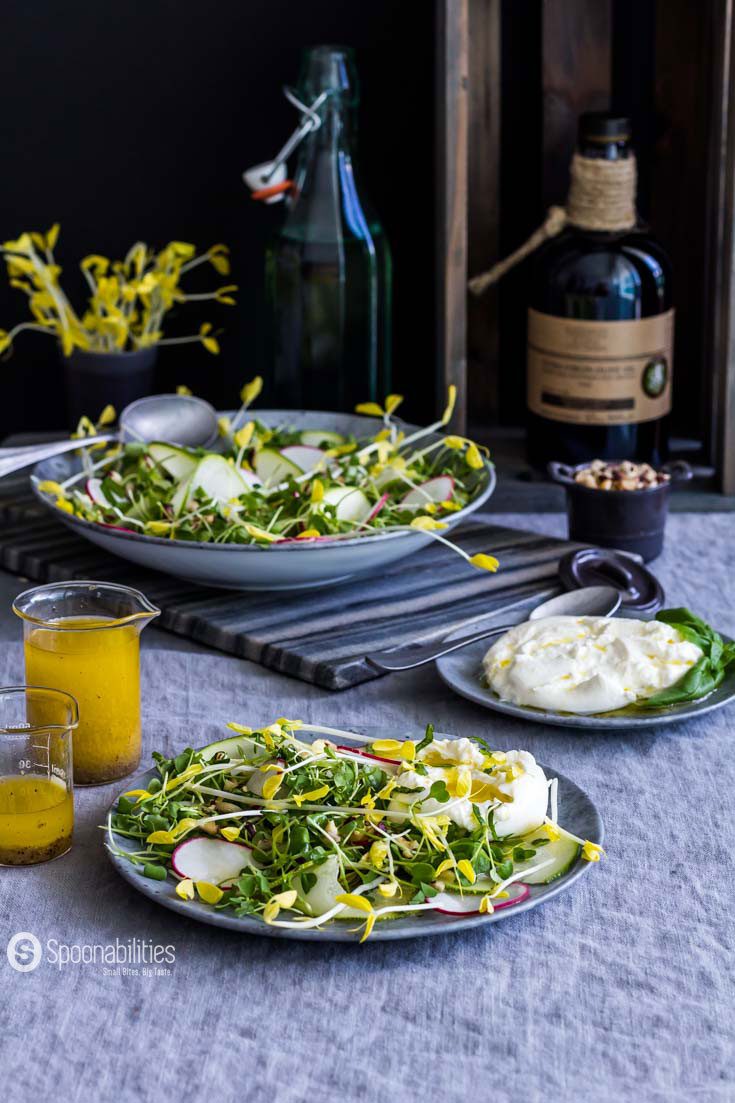 Right away my imagination went through the roof with so many recipe ideas using the micro greens. I also wanted to showcase them in their purest form, beauty, and taste. Oh and just to be clear, this post is not sponsored by Bright Fresh. I'm just expressing my love for their product.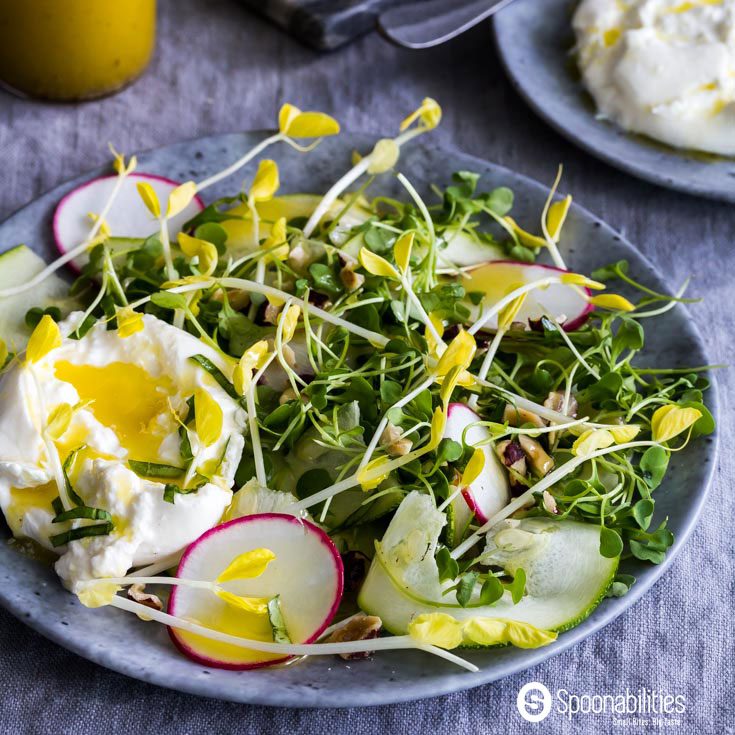 One of the other inspirations for this Pea Shoot Salad recipe is an already opened jar of Tarragon Dijon Mustard (available for purchase in our online shop) that is in my refrigerator. I love this mustard! As the "Recipe Concierge," it's my job to make sure that no jars get left behind in the fridge. During this month, you will receive several recipes using some of the different jars I still have open in the refrigerator. Earlier, I made and wrote about Ginger Apricot Chicken using a similar dijon mustard. It was delicious! Check it out. Can I tell you again how much I love these mustards?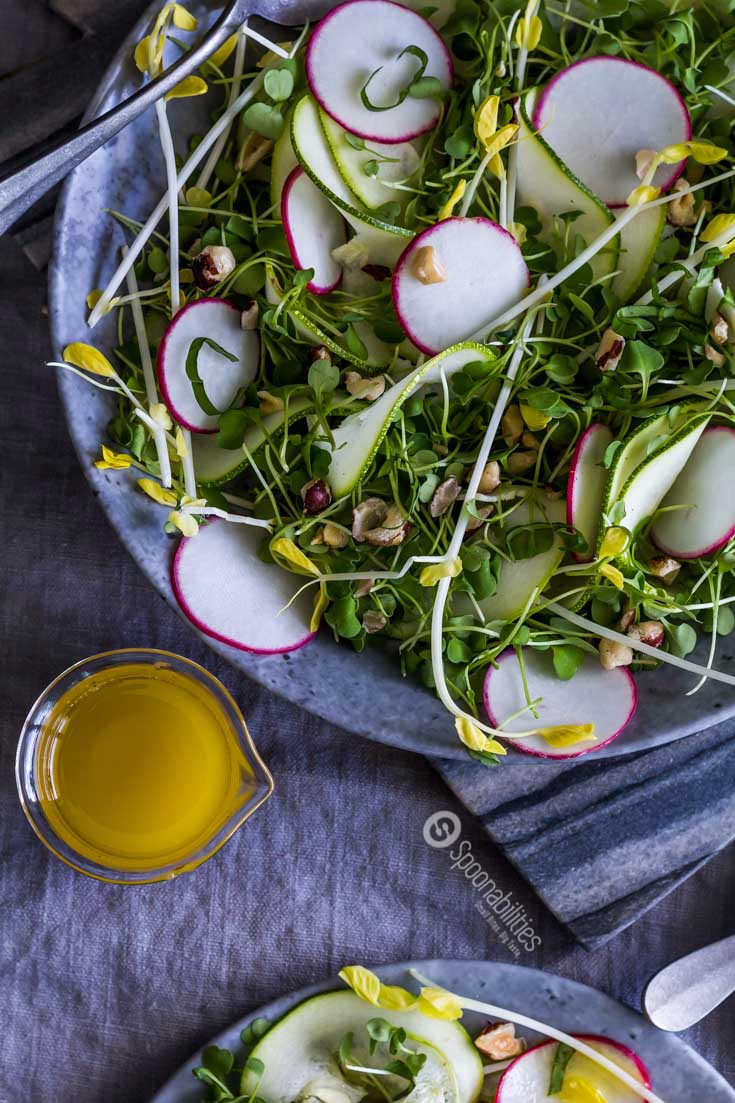 Main Ingredients of this Pea Shoot Salad
The star of this Pea Shoot Salad is the micro greens. But just like in the movies, the leading actor needs a leading lady in order to make a great film. In this case, the champagne mustard vinaigrette creates the extra flavor that elevates the dish. The ingredients for the salad dressing are Eleon Greek Extra Virgin Olive Oil, Tarragon Dijon Mustard, Orange Blossom Honey, shallot, salt & pepper. For a moment I thought to call this dish "Mediterranean Salad" instead of "Pea Shoot Salad" because all of the ingredients are inspired by, or produced in, the Mediterranean.
I discovered the base recipe for this salad awhile back in Food & Wine Magazine, and I kept it on reserve for the right moment.  I realized I had most of the ingredients in the refrigerator, and swapped out a couple ingredients like the fennel bulb for zucchini.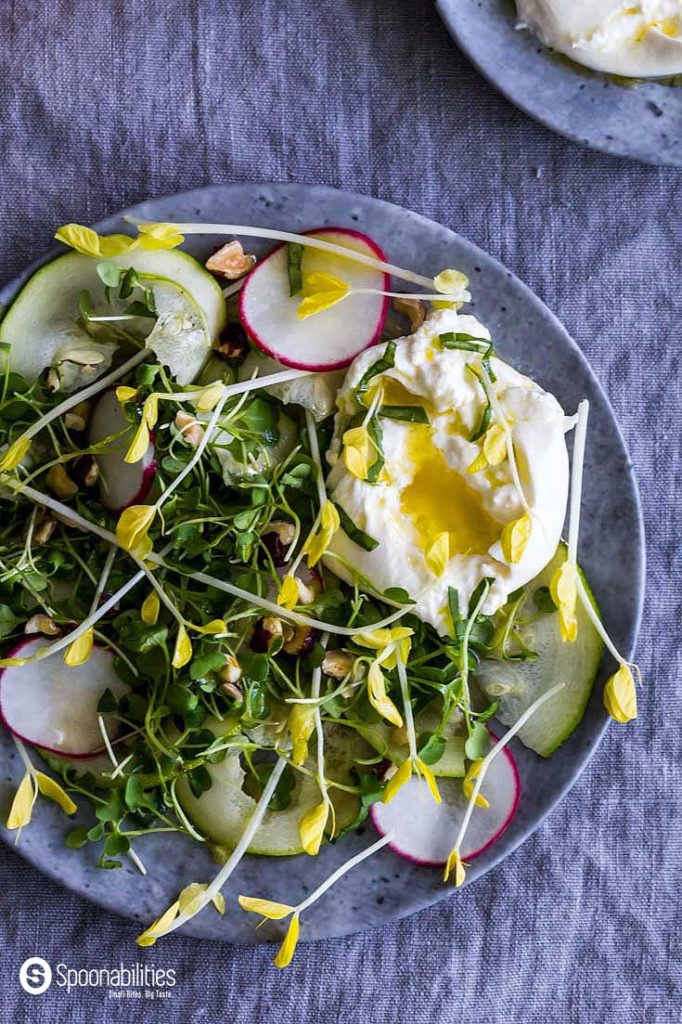 Preparing this Pea Shoot Salad is as Easy as 1-2-3
Like most salads, you can prepare this dish in no time. I prefer to make the salad dressing before I assemble the salad to allow the shallot to marinate with the flavor and richness from the extra virgin olive oil, champagne vinegar, mustard, and salt & pepper. While the dressing ingredients are getting to know each other, in a large salad bowl, in this order, place the zucchini ribbons, the micro arugula, the thinly sliced red radishes, the yellow pea shoots, and then sprinkle on the toasted chopped hazelnut. In a separate small plate put the fresh burrata with a pinch of salt and drizzle the extra virgin olive oil.
Like most salads, you can prepare this dish in no time.
Click To Tweet
I don't know about you, but I prefer to add the salad dressing after I serve the salad on my plate. I don't want the greens to get soggy if you have any leftover. The last step is to add the burrata and drizzle on some champagne mustard vinaigrette. Don't forget to sprinkle some more toasted chopped hazelnuts on top because you will love to have the nutty taste on this salad.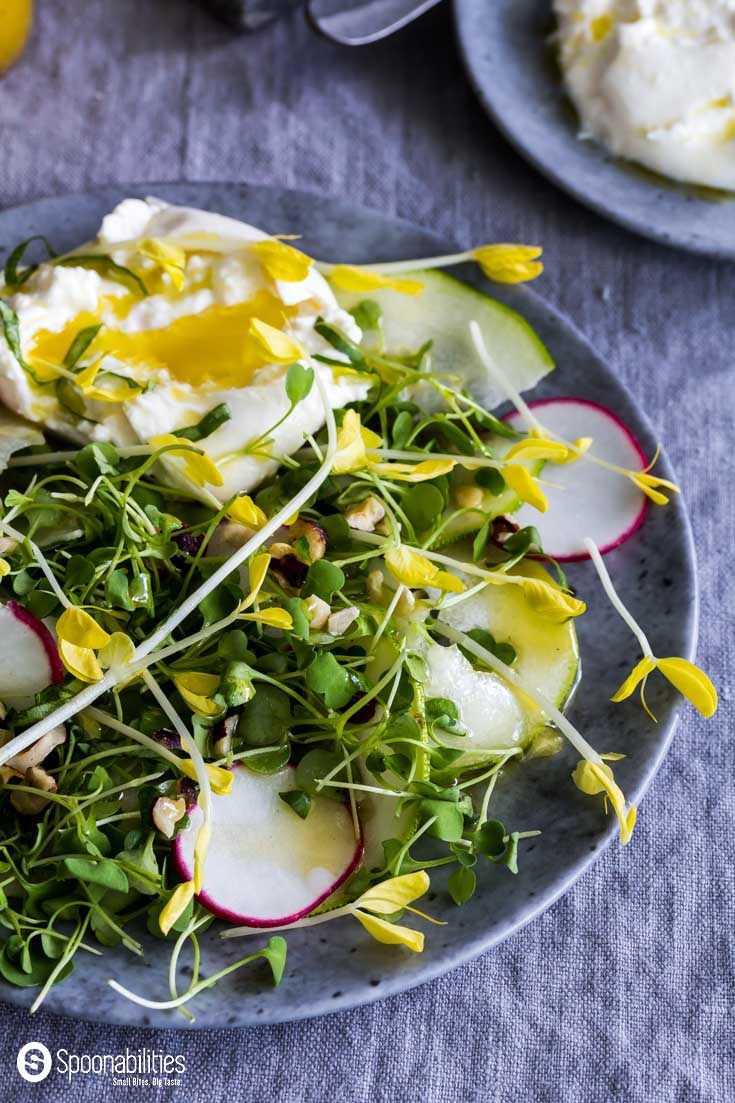 Pea Shoot Salad: Your dose of health benefit facts in this week's recipe
Pea Shoot Salad is simple and loaded with vitamins, nutrients and even protein!! So, I thought it might be great to create a little fact sheet for you highlighting all the benefits of this salad. That should give you all the more reason to try this recipe ASAP, right? The effortless part of deciding to make this salad is that all of the vegetables are in season all-year-round, and you can find them at any supermarket. So, you don't have to wait for the "perfect" time of year to make it.
Recent studies from the Agricultural Research Service at the USDA show that MicroGreens may contain a bigger concentration of nutrients than the mature plants. Backyard Boss also writes about all the health benefits of microgreens.
Yellow pea shoots provide vitamin C and protein.
Micro arugula is high in vitamins A and C, and calcium.
Red radishes have vitamin C, folate, fiber, and potassium. Like many radishes, red radishes contain active enzymes that are known to aid in digestion.
Zucchini squash is a low caloric food and is nearly 94% water. Additionally, they offer some vitamin A, vitamin C, calcium, and iron.
Hazelnuts contain heart-healthy fats, and they can have a high amount of vitamin E in addition to B vitamins, including folate. They also provide minerals, protein & fiber. They boost the nutritional profile of a salad.
Greek olive oil is part of the Mediterranean diet, and is:

rich in vitamins,
beneficial for people with diabetes,
improves bone mineralization and calcification,
lowers cholesterol,
lowers blood pressure,
reduces levels of obesity,
reduces risk of cancer,
lowers risk of arthritis
lowers the risk of having a heart attack.
I hope you find this Pea Shoot Salad recipe and information helpful as well as easy to make and enjoy. If you have a half-empty jar of something in your refrigerator, let me know what it is and I'll help you discover a new recipe to use it. Have a fantastic week.
Your "recipe concierge,"
Carlos!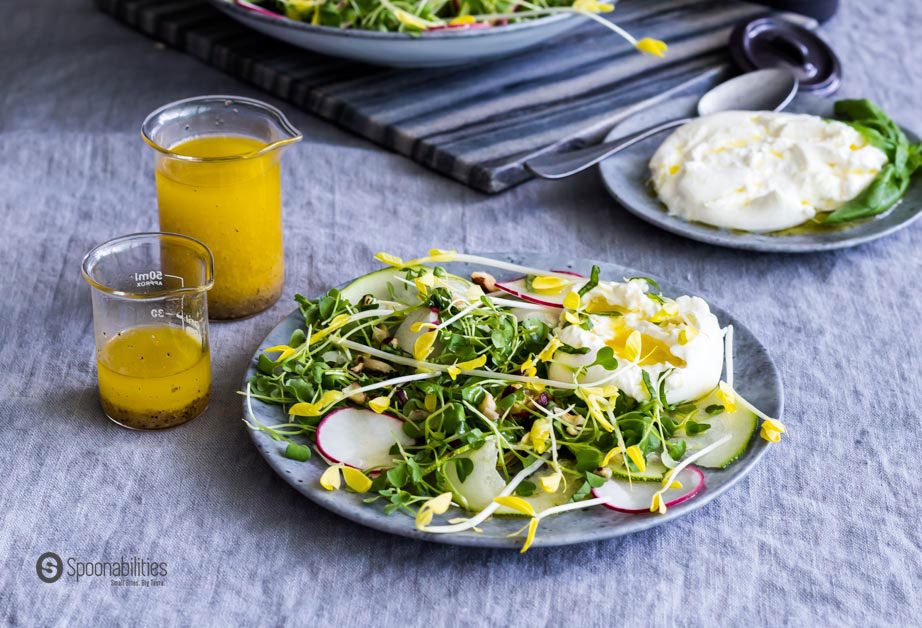 For more salads, check out our complete salad listing, including these new additions:
Print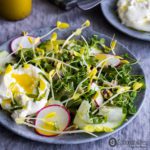 Yellow Pea Shoot Salad Recipe with Champagne Mustard Vinaigrette
---
Author:

Carlos Leo

Total Time:

30 minutes

Yield:

6

People

1

x
Description
Fresh Yellow Pea Shoot Salad with micro arugula, red radishes, zucchini, and hazelnut. This salad recipe has a tender texture, with a fresh spring pea taste and a peppery, nutty, mustardy undertone.  All the ingredients for this salad, such as the yellow pea shoots, micro arugula, red radishes, zucchini, and hazelnuts, can all be found year-round in your local supermarket or farmer's market.  The salad dressing is a Champagne Mustard Vinaigrette made with Greek EVOO, Orange Blossom Honey, and Tarragon Dijon Mustard.
---
½

cup

hazelnuts

3 Tablespoons

champagne vinegar

2/4 teaspoon

Tarragon Dijon Mustard

2/4 teaspoon

Orange Blossom Honey

2/4 teaspoon

minced shallot

½

cup

extra virgin olive oil. - I use Navarino Icons Eleon Extra Virgin Olive Oil
Salt
Freshly ground black pepper

1

large fresh burrata

5

ounces

micro arugula or baby arugula. I used micro arugula from Bright Fresh

3 ½

ounces

gold pea shoots. - I recommend from Bright Fresh if you can get it

4

large radishes, trimmed and very thinly sliced on a mandolin

1

zucchini in ribbons. - I use this spiral slicer Click to buy on Amazon
---
Instructions
Preheat oven to 375F. Spread the hazelnuts evenly on a baking sheet and toast until you can smell them and the skins start to come apart - about 15 minutes. Transfer the toasted hazelnuts to a kitchen towel and let cool for a few minutes. Then rub the nuts together hard enough so that the skins fall off. Coarsely chop the nuts.
In a large bowl add the micro arugula, pea shoots, radishes, zucchini ribbons and chopped hazelnuts and toss well.
In a separate bowl, whisk the champagne vinegar with the Tarragon Dijon Mustard, honey, and minced shallot. Add the extra virgin olive oil and whisk until blended. Season the vinaigrette with salt and freshly ground black pepper.
Plate the salad. Then mix the vinaigrette briefly and pour on top. Enjoy!
Notes
Vitamin A 27%,  Vitamin C 26%, Calcium 46%, Iron 11%, Magnesium 16% , Potassium 12%,  Zinc 19%,  Thiamin (B1) 9%,  Riboflavin (B2) 19%,  Niacin (B3) 3%,  Vitamin B6  10%, Vitamin B12 29%, Vitamin E 24% , Vitamin K 152%.
Prep Time:

30 minutes

Category:

Lunch, dinner

Cuisine:

International
Recipe Card powered by
Available via these Amazon links:
Disclaimer: Links that open in another site, i.e. Amazon, may be affiliate links where at no additional cost to you, we may receive a small commission should you decide to purchase the item. Read our Disclosure Policy