Summer is here and it's time to refresh your days with a quick and "Easy 1-2-3" two-ingredient ice cream. This ice cream is the combination of your favorite creamy vanilla ice cream and the sweet-tart flavor of Boysenberry Fruit Spread.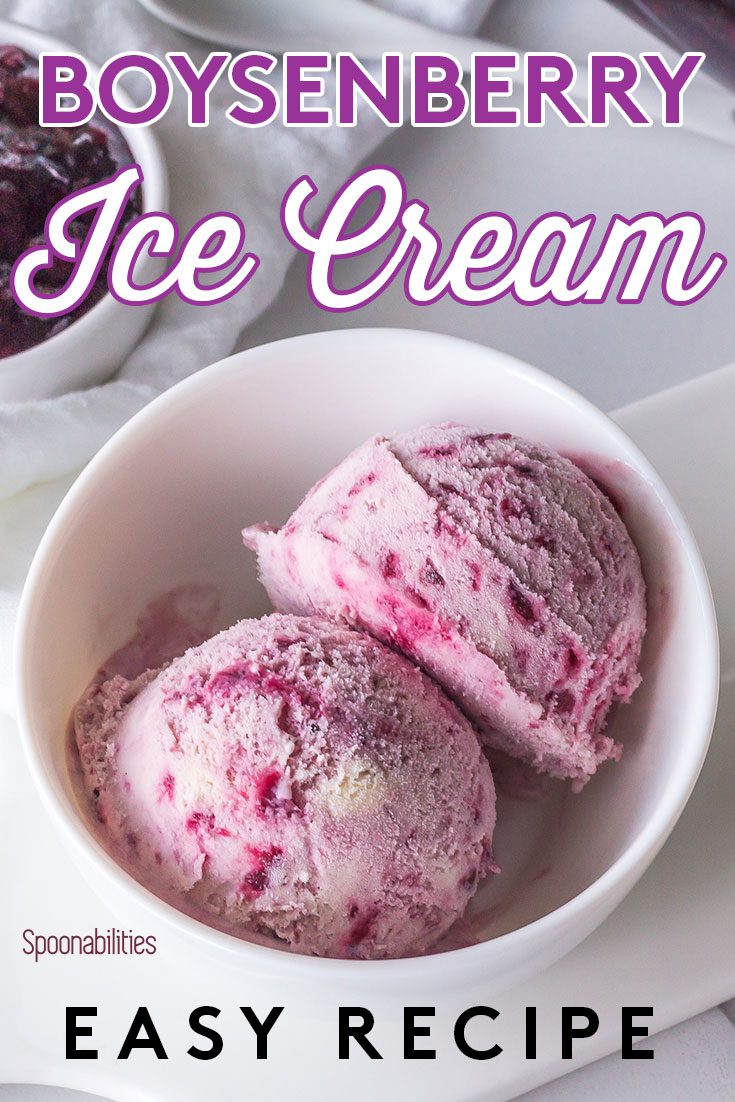 Blog post contains affiliate links. Read our Disclosure Policy
Hello my friends,
Summer is heating up in Miami so fast, and I have no other option but to bring along my "recipe survival kit" to help me deal with this heat. Some of the survival kit's components include:
this Boysenberry Ice Cream,
And, I'm pretty sure I will come up with some fun popsicles before the summer ends. But first let's give you a sneak preview of how easy this boysenberry ice cream recipe really is. Check out this video.
If you've read my previous posts, you know I like to give you some extra information that I discover and find interesting during my research when writing each recipe. And this boysenberry recipe is no exception.
Let's talk about Boysenberry...
What is a Boysenberry?
The boysenberry fruit is a hybrid cross between the European raspberry & blackberry, and the American dewberry & loganberry. A boysenberry has a sweet-tart flavor with a thin, delicate dark maroon colored skin with soft red highlights.
In other words, a boysenberry is a hybrid fruit cultivated by cross-pollinating the flowers from a raspberry, dewberry, loganberry, and a blackberry.
Botanically classified as rubus ursinus idaeus, it is categorized as a dewberry, and this plant is commonly found in North America. The boysenberry is a special treat for some people in the culinary world due to their fragile skin and extremely juicy consistency, and the shelf life is almost non-existent.
The boysenberry flavor is rich and intricate, and somewhat sweeter than a blackberry with a scarce hint of acidity.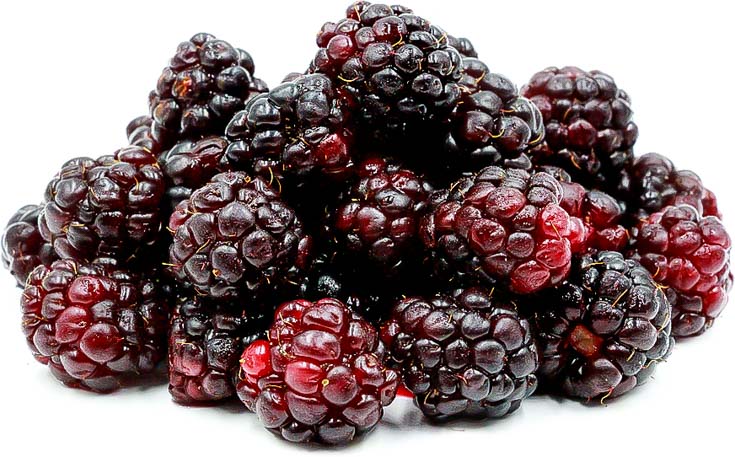 What benefits does a Boysenberry have?
As per the Specialty Produce website: Boysenberries have been unofficially considered a "superfood." They are a rich source of anthocyanins - natural antioxidants that help to preserve healthy brain cells as well as protect against oxidative damage that leads to brain aging as well as Alzheimer's disease. Boysenberries are a great source of vitamins A and C, iron, calcium, potassium, phosphorous, magnesium and dietary fiber.
Like this recipe so far? Be the first to know when we release new ones!
---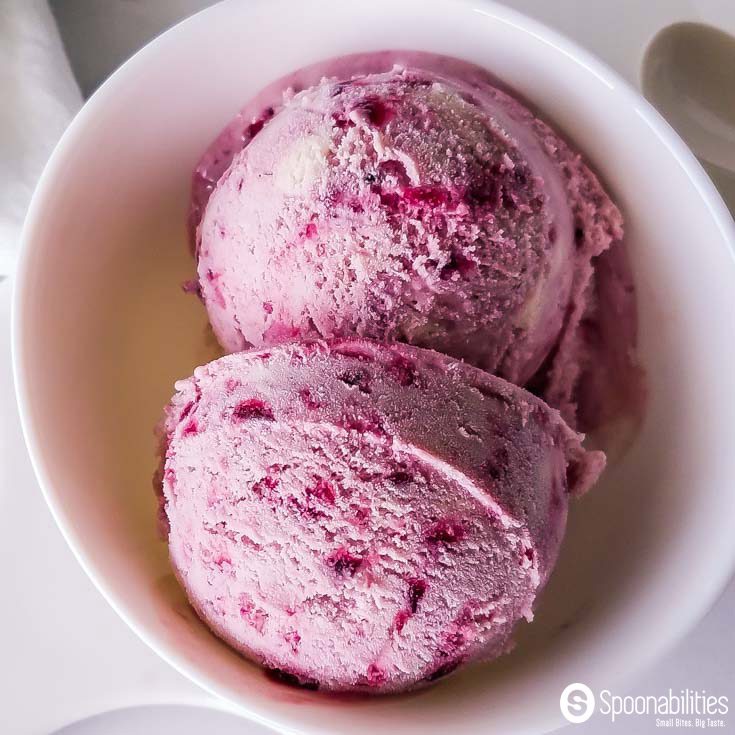 Suggested uses for Boysenberry
You can use boysenberries in most applications where you use blackberries;
Make jam or jelly,
Bake with them,
Use the fresh fruit as a topping in desserts or snacks,
Incorporate in savory dishes as an ingredient,
Create an excellent red wine reduction with herbs or spices, salt & pepper,
Pour over some poultry, wild game, beef or pork,
Spread on flatbread with goat cheese or any young cheese. Add Bayonne, French Prosciutto, Italian Prosciutto, Dry-Cured Duck Prosciutto, or Mangalica Ham.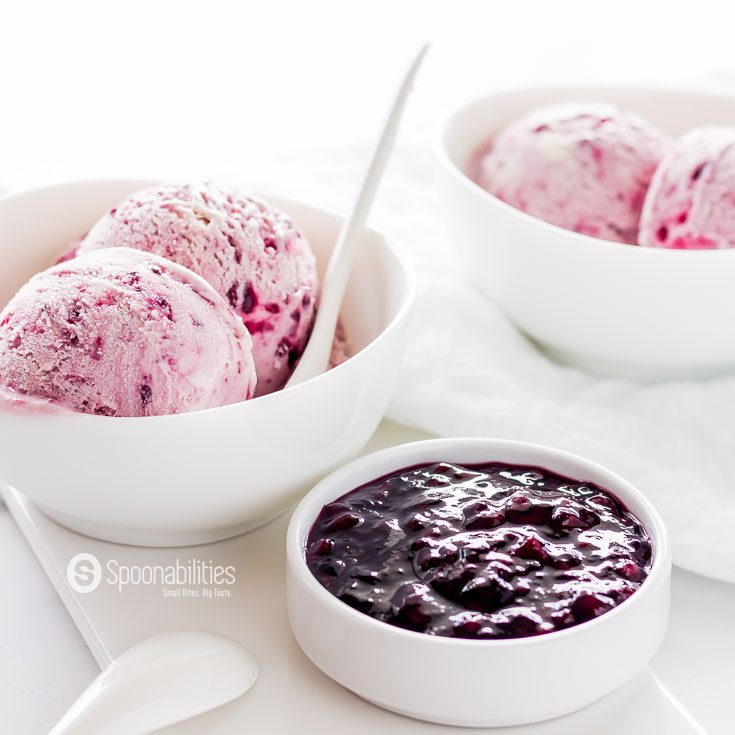 I didn't know what the flavor of boysenberry tasted like, but Geoffrey kept telling me to find this jam. It's one that he didn't see that often, but loved. I did find it and after I tasted it, honestly I love it too. We even spread Boysenberry Fruit Spread on pancakes, on our toasted English muffins, and put in my afternoon snack with Greek yogurt, cottage cheese, and homemade granola. Yes, I'm making my own Chai Tea flavored granola now too! I've been testing and tasting this granola recipe, and it will be published on the blog for you as soon as I perfect it and find the winning combination.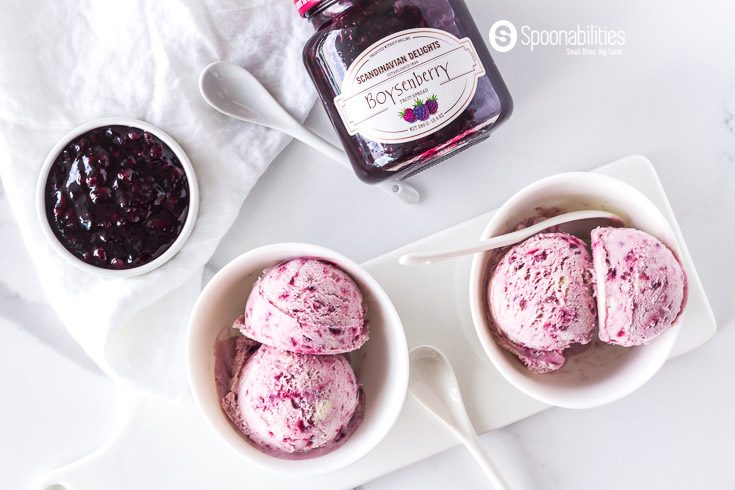 Two-ingredient Ice Creams
You may have noticed that all the components I mentioned in my summer "recipe survival kit" are specialty flavored ice creams. Making these kinds of unique flavored ice creams at home is the best solution to satisfy your craving for that very particular flavor without having to run all around town wasting time, gas and patience. However you can prevent all this aggravation by buying your favorite vanilla ice cream and a jar of some good-quality jam. If you prefer to make a homemade ice cream base, we have a very easy no-cook, no-egg vanilla ice cream base to start. And, if you really want to elevate the taste with a superior flavor, we have you covered here at Spoonabilities with our gourmet jams and preserves.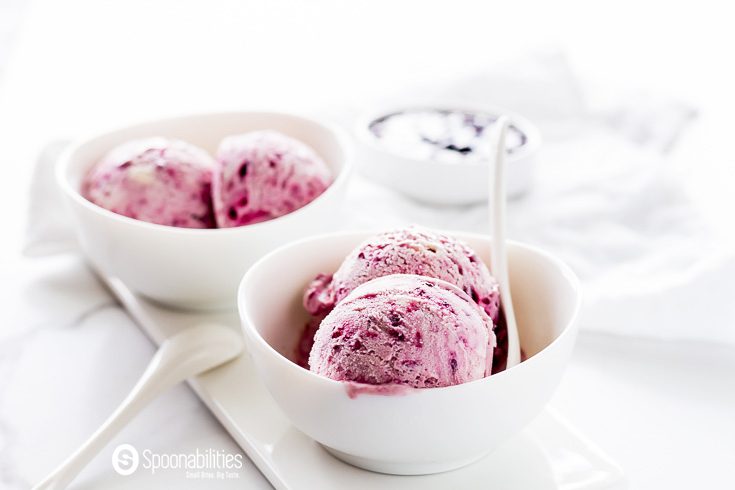 Boysenberry Fruit Spread is not the only jam or fruit preserve you can use to make your own semi-homemade ice cream. With this easy way to make uniquely flavored ice cream, you can use any jam or fruit preserves that you find in a specialty grocery store. I'm very confident about the quality and flavor of the products that we offer in our store; however they are just one option for you to consider. One of the main purposes of Spoonabilities is to give you unique options and ideas, and recipes using unique flavors and products.
More Ice Cream Recipes you will enjoy making
Here are some delicious homemade & semi-homemade ice cream recipes that we have made, and a special blog post about 3 Fun & Tasty Ice Cream Toppings. Give them all a try:
Somehow we need to find the way to keep this blog alive, and your support is essential to us. By being here reading our posts, checking out the recipes, and being interested to know more about us and the goodies we have in the store, you help us to keep going. So, thank you! We will be making some changes in the near future which we believe will give YOU more value, solutions, and ideas. We appreciate your support over the years, and we are very excited to move forward with a bright future and hope.
Have a wonderful summer!
Carlos
Print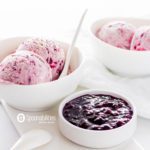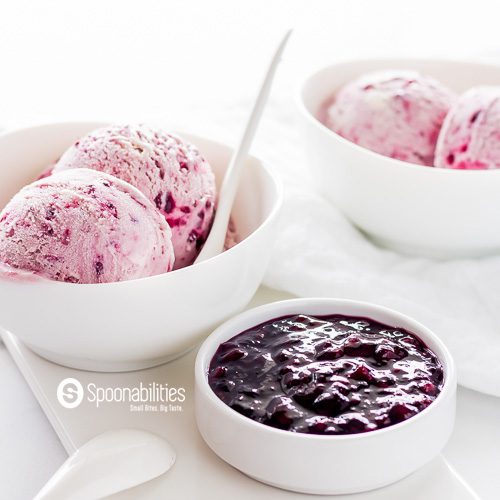 Two-ingredient Easy Boysenberry Ice Cream
---
Author:

Carlos Leo

Total Time:

180 minutes

Yield:

8

Serving

1

x
Description
Enjoy this summer season with one of my new favorites fruits: boysenberry. This berry is a cross between the European raspberry and blackberry, and the American dewberry and loganberry. Boysenberry has a sweet-tart flavor with a thin, delicate, dark maroon colored skin with soft red highlights.
This easy two-ingredient ice cream has your favorite vanilla ice cream brand and our new favorite jam, Boysenberry Fruit Spread.
---
---
Instructions
Let ice cream soften in the refrigerator for about an hour. (TIP: Set a timer to remember it's in there so it doesn't turn to liquid)
Stir together ice cream and Boysenberry Fruit Spread.
Transfer to plastic container; cover and freeze until firm. About 3-5 hours.
Notes
Vitamin A 9% , Vitamin C 3%, Calcium 9% Iron 1%
Prep Time:

5 minutes

Category:

Dessert

Method:

mixing

Cuisine:

American
Nutrition
Serving Size:

½ cup

Calories:

189

Sugar:

23.1 g

Sodium:

58.8 mg

Fat:

7.3 g

Saturated Fat:

4.5 g

Carbohydrates:

28.5 g

Protein:

2.4 g

Cholesterol:

29 mg
Keywords: semi-homemade ice cream, two-ingredient dessert
Recipe Card powered by
We no longer carry Boysenberry Jam in our online shop. It is available via Amazon below, and we highly recommend using any of these delicious jams to make your own semi-homemade ice cream:
[products ids="50242,50237,50016,47502,3020,48844"]
Available via these Amazon links:
Disclaimer: Links that open in another site, i.e. Amazon, may be affiliate links where at no additional cost to you, we may receive a small commission should you decide to purchase the item. Read our Disclosure Policy