Spiced Pumpkin Pancakes with Vermont Maple Syrup is easy and quick. Just add all the ingredients in an bowl, including my special Pumpkin Spice Pancake Mix, and combine everything to make sure it is well incorporated. Then you're all set to pour it in the pan. One of my Easy 1-2-3 recipes.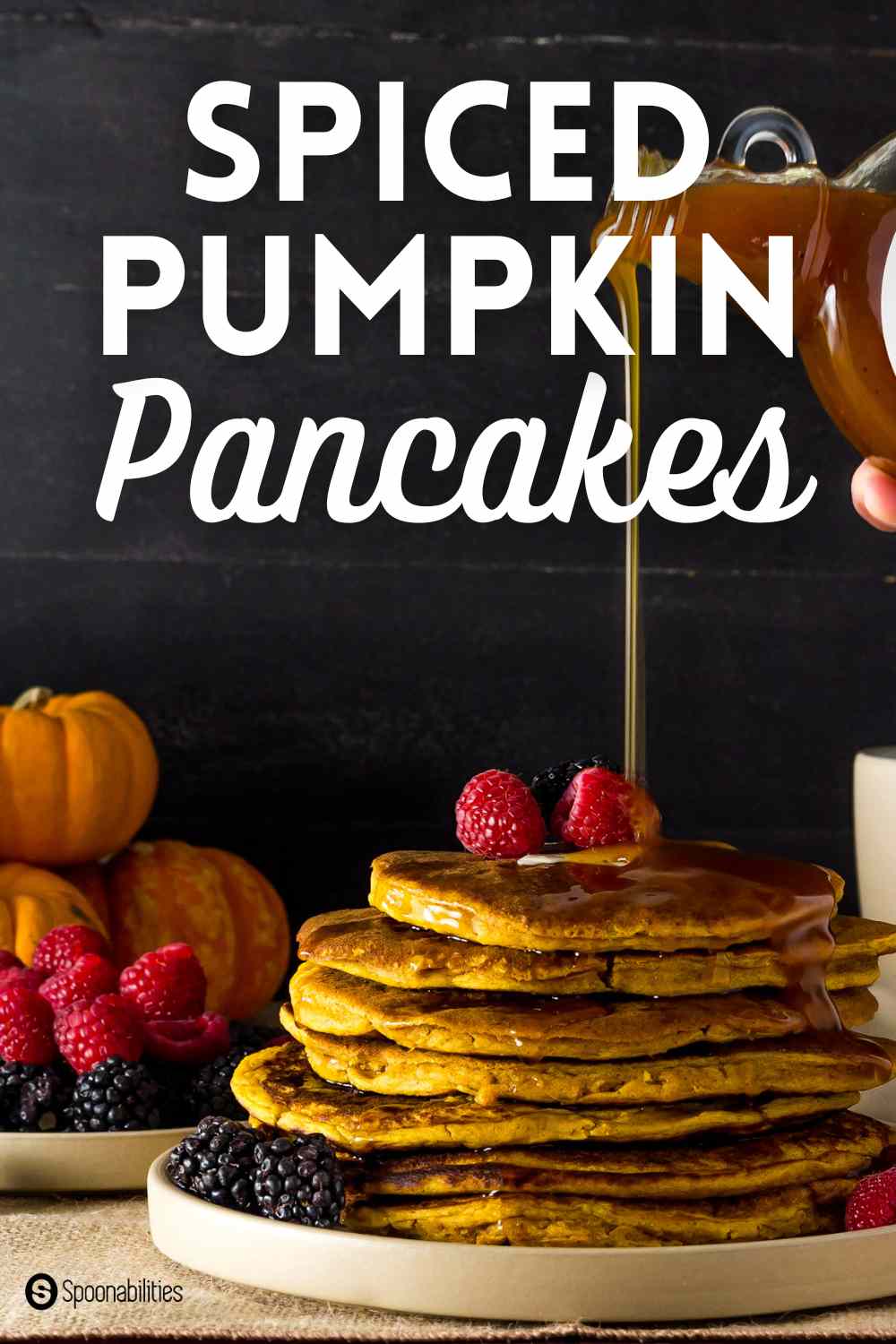 Hello my friends,
Cooking breakfast is unusual for me, and making pancakes is not in my recipe book. Breakfast is Geoffrey's territory. But this week I did my very first recipe for a Spiced Pumpkin Pancakes - it was actually my first pancake ever - can you believe it?  I love pancakes, and I'm like a little kid waiting for Sundays. Sunday is the official Pancake Day in our house. Geoffrey makes THE BEST banana cinnamon pancakes, and his pancakes come with a lot of love.
Related: Pumpkin Spice Mocha | Chocolate Oatmeal with Honey & Hazelnut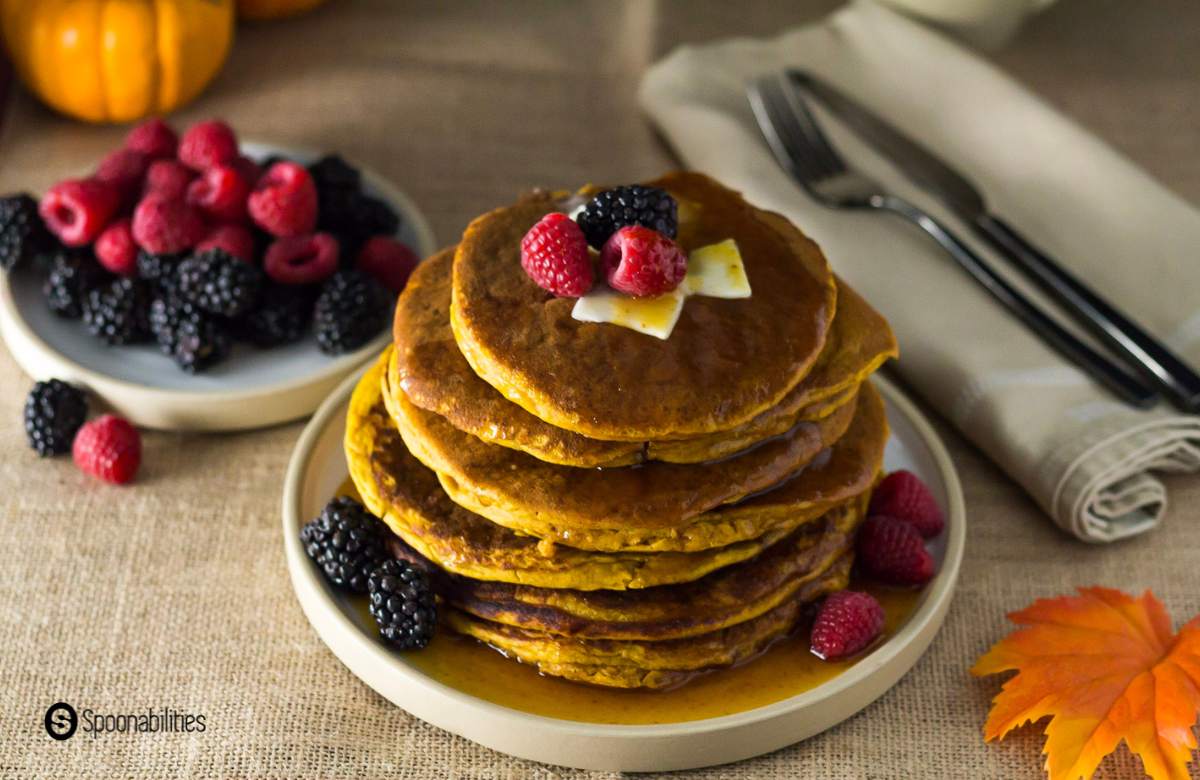 My second favorite pancake was made by a restaurant by our house called Balans Restaurant, which unfortunately has since closed down. From this place, I always order the Jumbo breakfast which comes with home fries potatoes, sausage, fruit salad, eggs, bacon, and pancakes. Their pancake is nothing out of this world, but what gives the distinctive taste is their maple walnut butter. This butter is sweet with small walnut pieces. It's just amazing!!!
Homemade Pumpkin Spice Pancake Mix
Now, let's talk about my special Spiced Pumpkin Pancake recipe. First, I made homemade Pumpkin Spice Pancake Mix from scratch. I use all-purpose flour, white whole wheat flour, pumpkin pie spice, baking powder, nonfat dry milk powder, sugar, and salt. Then, store it in a dry airtight container at room temperature up to six months.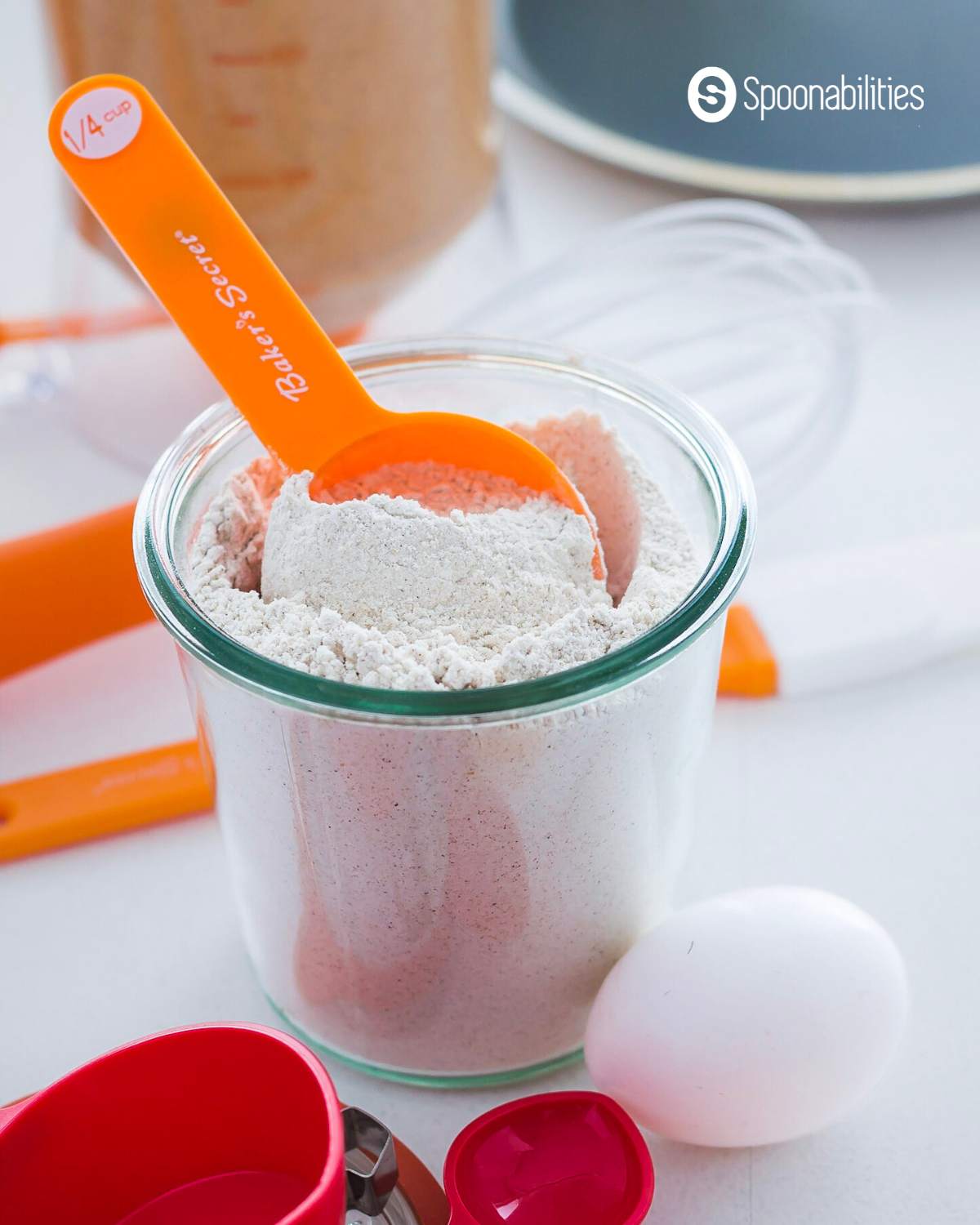 To keep to our weekly tradition, I decided to make my Spiced Pumpkin Pancakes last Sunday. I usually don't make breakfast because I tend to add and add and end up cooking a very elaborate meal. This is why Geoffrey is in charge because he makes a straightforward and quick breakfast, or brunch, or other meals by putting together various things I already made from the refrigerator.  He has a tough job, huh?
Like this recipe so far? Be first to know when we release new ones!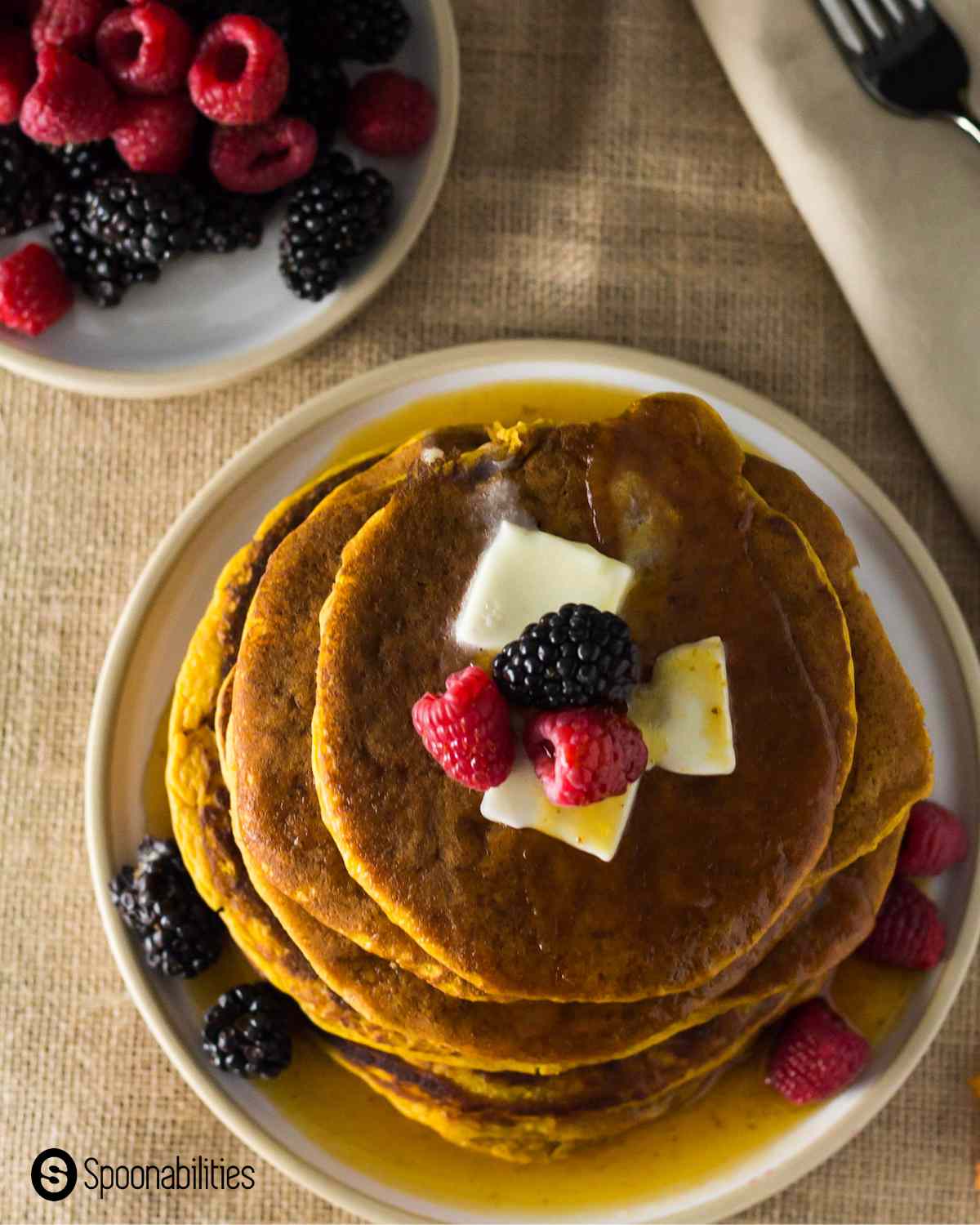 I'm an early riser, and I started to make the pancakes around 6:30 AM before Geoffrey woke up. I wanted to surprise him with breakfast already on the table with a hot cup of Dominican coffee, Prosecco with orange juice, and light, fluffy and very filling Spiced Pumpkin Pancakes with some fresh blackberries & raspberries.
Then I topped these delicious pancakes with Pure Organic Vermont Maple Syrup, which you can get at a discounted price from out gracious food products suppliers. I'm in love with this syrup, and I'm using it every afternoon to make a personal homemade Pumpkin Spice Mocha. Well, actually I'm using the Organic Cinnamon-Infused Vermont Maple Syrup. Don't tell Geoffrey because he doesn't know I'm doing this almost every day!  I think my cafe mocha is better than Starbucks. Yes, Really!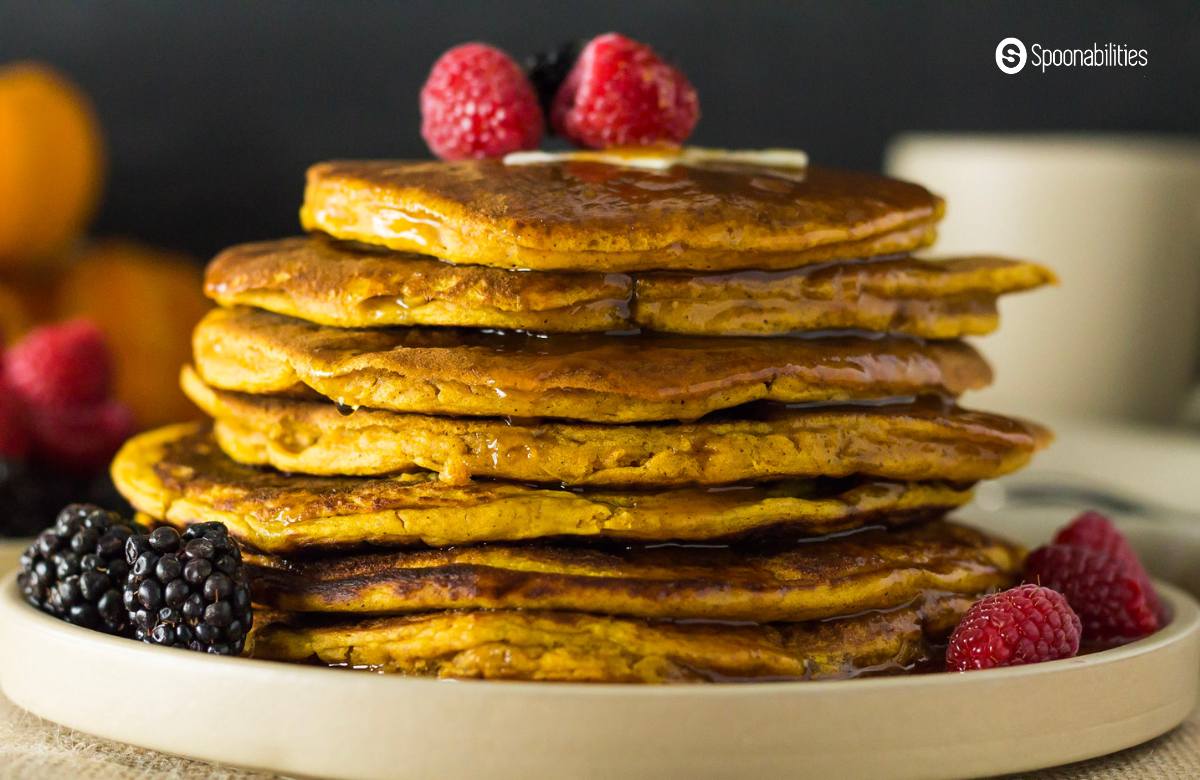 Making the Spiced Pumpkin Pancakes
Making the pancake batter is easy and quick. Just get a large mixing bowl and add one lightly beaten egg, milk, canned pumpkin puree, vegetable oil and the vanilla. Combine everything and make sure it is well incorporated before you go to the final step of adding 2 cups of the Pumpkin Spice Pancake Mix. Then, blend well. For my taste, the batter was too thick, and the first pancake was hard to spread on the pan. If this happens, just add ½ a cup more milk, and it will be perfect.
I'm surprised at the number of people who need help in making the perfect pancake - not the mix, but the cooking. So until I make a video myself, here is one that I found that should help you out:
I have been on and off blogging for a year. And, I always have wanted to photograph a large stack of pancakes besides the two simple pancakes with my cell phone. I finally got the opportunity to do it. I still have a lot to learn about shooting food and I'm still finding my style, but I'm proud of where I'm right now:). I love the high contrasts and the dark earthy-orange color in the pancakes.
Geoffrey loved the Spiced Pumpkin Pancakes and already asked me what is on the menu for next weekend. I said: "let me see what I can arrange for you," but we all know he'll be the one in the breakfast kitchen next Sunday.
If you love pumpkin spice like we do, this recipe is part of our special compilation of "8 Sweet Pumpkin Spice Recipes you are going to want to make." so, check it out. We also recommend these other fall season recipes that are not included in the compilation:
I hope you could try this Spiced Pumpkin Pancake recipe. And if you do, we'd like to hear from you in the comment section below. You could also share your creations with us on social media by tagging us @Spoonabilities on Instagram and on Pinterest.
Have a wonderful day!
Carlos Leo
Your Recipe Concierge
Print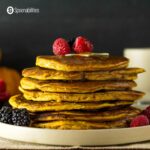 Spiced Pumpkin Pancake with Vermont Maple Syrup Recipe
---
Author:

Carlos Leo

Total Time:

7 minutes

Yield:

1

0

1

x
Description
Spiced Pumpkin Pancakes: Surprise your partner with a breakfast of Dominican coffee, Prosecco with orange juice, and light, fluffy and very filling Spiced Pumpkin Pancakes with some fresh blackberries & raspberries. The nutrition does not include the Vermont Maple Syrup on top. Recipe adapted from BH&G Best Pumpkin recipes.
If you like this recipe, join our newsletter to know about future ones.
---
---
Instructions
Combine wet ingredients: In a medium bowl, lightly beat the egg, and then combine with milk, pumpkin, vegetable oil, and vanilla.
Add 2 cups of pancake mix (see our Pumpkin Spice Pancake Mix recipe) and combine well. You can add more if you think the batter is too thin. Add more milk if too thick.
Measure: For standard-size pancakes, pour ¼ cup batter onto a hot, lightly buttered frying pan or grill; spread the center if necessary. You can add more to make bigger size pancakes.
Cook over first side on medium heat for 2 minutes until golden; turn over when top surface is bubbly and edges are slightly dry.
Serve with butter and pour on our delicious Vermont Maple Syrup
Notes
Reduce or raise heat after the first pancake depending on how it turns out.
Store leftover liquid pancake mix in the refrigerator for 2-3 days. Mix together before cooking.
Store any leftover cooked pancakes individually in the refrigerator; reheat in a microwave and toaster, or in a toasted oven.
Layer any cooked pancakes between waxed paper in the freezer up to 1 month
Prep Time:

5 minutes

Cook Time:

2 minutes

Category:

Breakfast

Method:

frying

Cuisine:

American
Nutrition
Serving Size:

1

Calories:

142

Sugar:

3.1 g

Sodium:

288.4 mg

Fat:

5.2 g

Carbohydrates:

21.7 g

Fiber:

2.7 g

Protein:

3.6 g
Keywords: flapjacks, silver dollars, fluffy pancakes, pan cakes, spiced pumpkin pancakes, pumpkin spice pancakes, pumpkin pancakes with pancake mix, pumpkin pie spice pancakes, pumpkin spice maple syrup
Recipe Card powered by
Available via these Amazon links:
Disclaimer: Links that open in another site, i.e. Amazon, may be affiliate links where at no additional cost to you, we may receive a small commission should you decide to purchase the item. Read our Disclosure Policy.
Looking for more delicious breakfast ideas? We have great ones here: